2 Views
Mercedes Trademarks 'EQ Power +' for Its Future Electric Car Portfolio
February 7th, 2017 9:00 AM
Share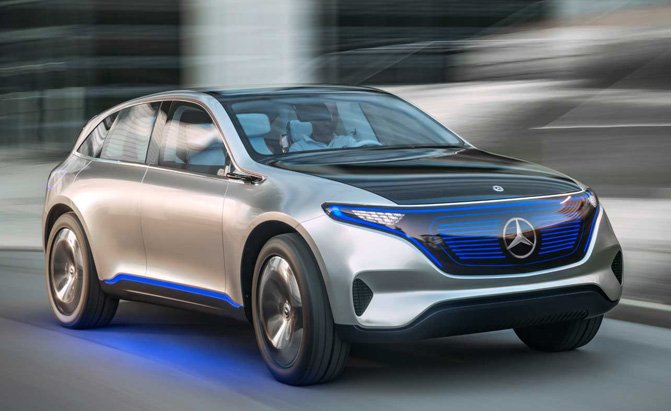 A new trademark suggests that Mercedes is preparing to expand its electric car lineup.
Daimler, parent company of Mercedes-Benz, has filed a trademark for EQ Power +, a badge that will probably show up on something electrified. The name has been protected with the European Union Intellectual Property Office for use on automotive vehicles.
"The EQ portfolio will encompass all future battery-electric cars as well as the associated products and services from Mercedes-Benz," says the brand's website.
SEE ALSO: 2017 Mercedes-Benz Generation EQ Concept Video, First Look
Mercedes recently revealed the EQ Concept, the first in a line of battery-electric cars that will launch before 2020. The strategy is to slowly replace all Mercedes models with electric versions, though the switch over will take some time.
Based on the name alone, the EQ Power + badge could be used on an electrified powertrain, or possibly on a hotter version of a regular EQ model.
Discuss this story at our Mercedes-Benz Forum
Stephen Elmer
Stephen covers all of the day-to-day events of the industry as the News Editor at AutoGuide, along with being the AG truck expert. His truck knowledge comes from working long days on the woodlot with pickups and driving straight trucks professionally. When not at his desk, Steve can be found playing his bass or riding his snowmobile or Sea-Doo. Find Stephen on <A title="@Selmer07 on Twitter" href="http://www.twitter.com/selmer07">Twitter</A> and <A title="Stephen on Google+" href="http://plus.google.com/117833131531784822251?rel=author">Google+</A>
More by Stephen Elmer
Published February 6th, 2017 11:39 AM
Popular Articles
Latest Comparisons
Car Buying Tools