1 View
Lamborghini is Already Working on the Next Performante Model
March 15th, 2017 5:27 PM
Share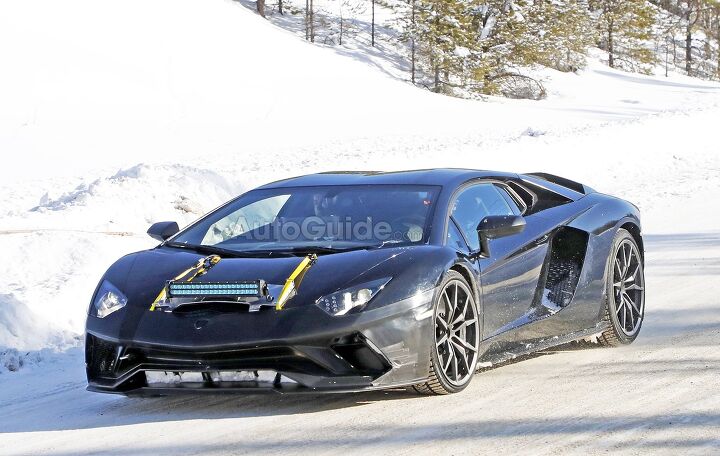 The Lamborghini Huracan Performante is the fastest production car to lap the Nurburgring, but it looks like the record could already be in jeopardy of being broken, and the threat comes from the inside.
These spy photos appear to show the Lamborghini Aventador Performante during testing. Its true identity is revealed thanks to a number of clues, including the high-mounted dual exhaust tips, mimicking those seen on the Huracan Performante model and the front spoiler that is taped at the corners and appears to be camouflaged.
Assuming it follows the same formula as its little brother, the Aventador Performante model should pack some extra firepower from its big V12, likely the same 750 horsepower found in the Superveloce model (SV). Plenty of carbon fiber body parts will also be part of the package, as will a large rear spoiler, which hasn't been fitted to the test car yet.
SEE ALSO: The Record-Setting Lamborghini Huracan Performante Costs $274K
The biggest change to the Performante model is the addition of the new Aerodinamica Lamborghini Attiva (ALA) system, a set of adjustable spoilers, wings and ducts that allows for variable aerodynamics. One central computer governs the ALA system, which reacts in less than 500 milliseconds to ensure the best aerodynamic setup is active at all times, capable of providing high downforce or low drag.
When it arrives, the Performante model is likely to sit on top of the Aventador range, above the new SV. Considering the SV sells for 327,190 Euros, you can expect the new Performante to go for even more.
Discuss this story at our Luxury Lifestyle Forum
Published March 13th, 2017 9:05 AM
Popular Articles
Latest Comparisons
Car Buying Tools