2 Views
Volkswagen Diesel Fix Hampers Performance: Report
March 31st, 2017 5:46 PM
Share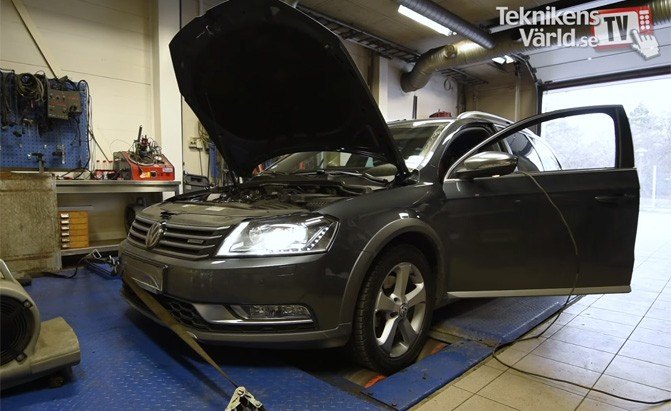 { "id": "13240798", "alt": "", "title": "", "video_link": "https://www.youtube.com/embed/mXG8cmH78JU", "youtube_video_id": "mXG8cmH78JU" }
{ "width": 634, "height": 357, "showRelated": true }
There's now proof that Volkswagen's diesel fix does affect the performance of the vehicle.
Swedish website Teknikens Värld tested 10 cars before and after the diesel fix and found that in many cases, performance and fuel economy decreased on the vehicles, despite Volkswagen promising that the car would be exactly the same as before. Strangely enough, some cars actually gained power after the fix, but still have higher fuel consumption.
The loss of power and torque is as much as 10 percent on some cars, while others saw their torque curves shift, meaning it's a higher rpm before more torque kicks in. This adds to the impression that the vehicle feels weaker.
SEE ALSO: European VW Owners Claim Diesel Fix is 'Ruining' Their Cars
One of the vehicles tested was a four-wheel-drive Volkswagen Passat Alltrack that measured 176 horsepower and 280 pound-feet of torque prior to the fix. After the fix, it registered 163 hp and 272 lb-ft of torque. It may not seem much, especially considering engine performance degrades over time, but it's likely a noticeable difference in day-to-day driving.
Prior to the fix, maximum torque came between 1500 and 2300 rpm, but after the repair the torque curve slopes. At 1500 rpm, it only produces 162 lb-ft of torque and it isn't until 1900 rpm that it reaches peak torque.
This isn't the first time owners in Europe have reported the diesel fix affects performance. We reported earlier this week that complaints have been pouring in with some owners saying the fix ruined their cars.
[Source: Teknikens Varld]
Discuss this story on our Volkswagen Forum
Published March 31st, 2017 8:36 AM
Popular Articles
Latest Comparisons
Car Buying Tools