4 Views
Tom Hanks' Tweets Get Him a Beautifully Restored Fiat 126p
July 13th, 2017 12:10 PM
Share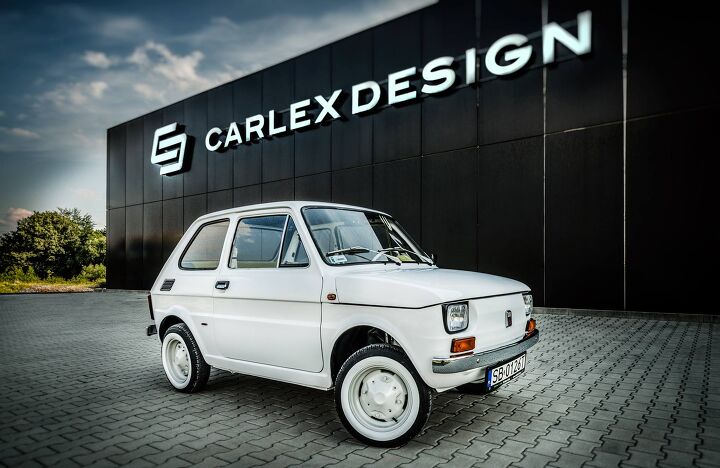 If you follow actor Tom Hanks on Twitter, you'll know he frequently gets "new cars."
Much like his personality, Hanks doesn't take social media too seriously and often shares lighthearted, silly posts. Sometimes it features gloves, sometimes shoes, and oftentimes it's him posing next to a car claiming it's his newest addition. They're never actually his cars, but some Polish car fans recently gifted him now he can say this restored Fiat 126p is his.
Philanthropist Monika Jaskólska has, for many years, been raising funds for the Bielsko-Biała Paediatric Hospital, and after seeing Hanks tweet out several photos next to a Fiat 126p, she decided to get Hanks one for his 61st birthday. The idea for the project revolved around charity and was supported by a number of individuals and companies, including Rafał Sonik, who funded the car. BB Oldtimer Garage took care of the restoration, while Carlex Design gave it a brand new interior. Both companies contributed to the project free of charge.
SEE ALSO: 2017 Fiat 124 Spider Review
One nice touch in the cabin from Carlex Design are the buttons and switches that resemble those of a typewriter, as Hanks loves collecting typewriters.
The car was used for the Bielsko-Biała for Tom Hanks charity event, which attracted a few thousand car enthusiasts, according to Carlex Design. All the funds raised during the event went on to benefit the Bielsko-Biała Paediatric Hospital.
"It took us three weeks to work out the car's interior, including the designing stage; the entire initiative involved eight people, including our jewellery atelier artists, who were involved in the process. Mastering such parts requires precision and diligence. The project was of extreme importance for all us, and we put all our energy and effort into it," admits Tomasz Krawczyk, Carlex Design Sales Department Manager.
I got a new car! Hanx pic.twitter.com/kzij8QEIyo
— Tom Hanks (@tomhanks) November 18, 2016
I'm so excited about my new car!! Hanx. pic.twitter.com/rNelj4qj9v
— Tom Hanks (@tomhanks) November 2, 2016
So excited about my new car! Hanx pic.twitter.com/e5es8RoR1s
— Tom Hanks (@tomhanks) October 29, 2016
Discuss this story on our Fiat Forum
Published July 12th, 2017 3:36 PM
Popular Articles
Latest Comparisons
Car Buying Tools