2 Views
Alfa Romeo Could Have Mid Range Giulia and Stelvio Veloce in the Works
November 20th, 2017 4:41 PM
Share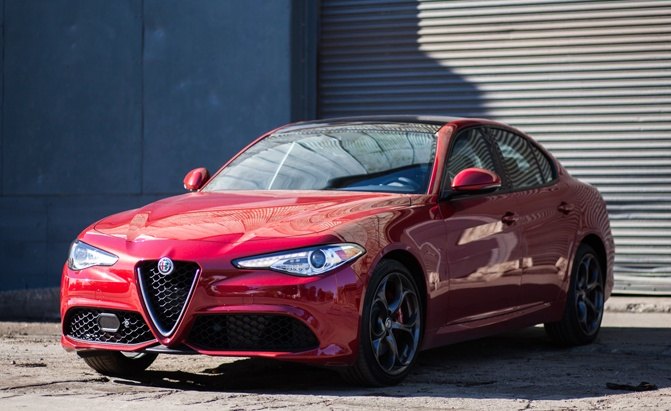 Alfa Romeo may be working on mid-range 'Veloce' model variants of the Stelvio crossover and Giulia sedan.
The intel fueling these rumors comes from a variety of different sources, so we'll focus on the Giulia Veloce first. The Truth About Cars' Bozi Tatarevic came across a page on Mopar Tech Authority, FCA's service reference portal, indicating that there's a 350 horsepower version of the automaker's 2.0-liter turbocharged four-cylinder in existence. Additionally, a separate FCA document discovered by Autoevolution also made mention of the same 350 hp 2.0-liter. FCA has denied that a Giulia Veloce would arrive for 2018 in a statement made to Car and Driver.
The story doesn't end there. Whilst poring over NHTSA Vin decoder documents, we noticed Alfa Romeo had submitted a document mentioning a mysterious 'Stelvio Veloce' model for 2018. We reached out to an Alfa Romeo spokesperson for comment on the supposed Stelvio variant, who told us the company doesn't comment on future product and that the only new Stelvio variant coming in 2018 "is the 505-hp Quadrifoglio model, which will come in the first quarter." It's worth noting that both of Alfa's statements in regards to the Giulia and Stelvio Veloce mentioned that new models weren't planned "for 2018," so it's possible they could arrive for the 2019 model year instead.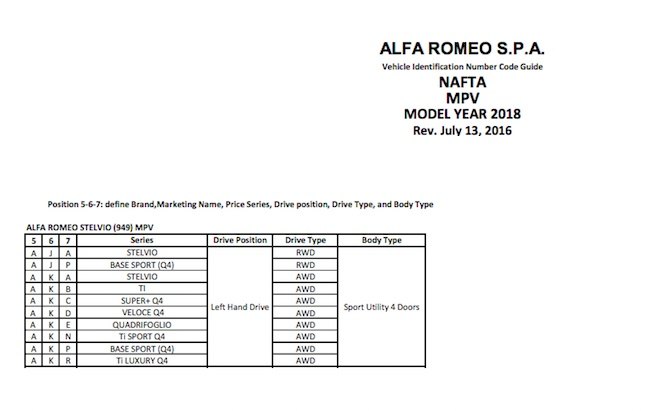 FCA's new 2.0-liter turbocharged 'Hurricane' four-cylinder engine is rumored to make around 300 horsepower, which leads us to believe the 'Veloce' engine is actually based off of that motor and not the Multi-Air 2.0-liter in the Ti. That could explain the large jump in power between the two engines despite having them having same displacement. A Giulia Veloce is already on sale in the UK and other European markets, where it's powered by the same 280 horsepower 2.0-liter as the Ti but benefits from sporty appointments such as different front and rear fascias and 19-inch wheels. We're expecting the same equipment for the rumored North American model (if it does arrive), only with more power.
If an Alfa Romeo Giulia Veloce and Stelvio Veloce is on the cards, expect it to debut sometime in 2018 before going on sale later in the year. We're sure hoping Alfa has such a model in the pipeline. At this price point, 270 hp and 505 hp is a large in output between the mid and range-topping model variants.
[Source: Car and Driver, Autoevolution]
Discuss this story on our Alfa Romeo forum.
Published November 13th, 2017 12:48 PM
Popular Articles
Latest Comparisons
Car Buying Tools