3 Views
Level 3 Semi-Autonomous Driving is Coming to the S-Class as an Option
January 18th, 2018 12:23 PM
Share
We're committed to finding, researching, and recommending the best products. We earn commissions from purchases you make using links in our articles. Learn more here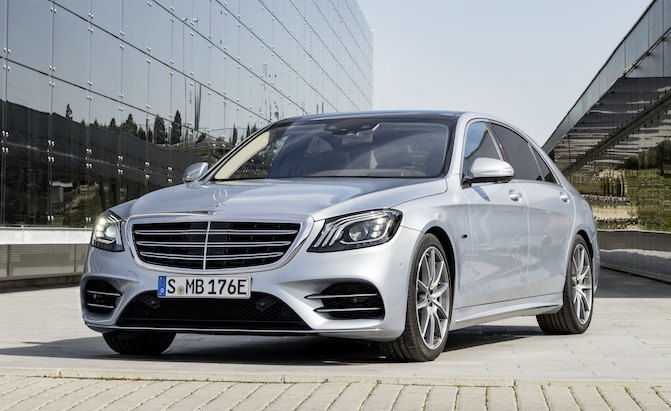 Mercedes-Benz will launch an SAE Level 3 semi-autonomous system on the S-Class by 2020.
Daimler is currently developing SAE Level 4 and Level 5 self-driving technology, which will be able to handle all aspects of the driving task without the need for human intervention. Before that, though, the automaker will roll out a Level 3 system that will be able to drive itself in nearly all scenarios with the expectation that the human driver will take over when needed. The Level 3 system should be presented before the end of the decade, with a production rollout expected in 2020.
"It is our goal in the next three years or so, to have the first application in the market for that Level 4/Level 5 technology," Head of R&D at Mercedes, Ola Källenius, told us at the 2018 Detroit auto show. "Prior to that in 2020, we're pursuing our first level 3 car where you can obviously have some parts of the driving experience autonomous."
SEE ALSO: 2018 Mercedes-Benz S-Class Can Practically Drive Itself

Naturally, the first vehicle to receive the Level 3 tech will be the range-topping S-Class. The self-driving hardware and software will be packaged as an option on the sedan, and Källenius said it would likely be priced similarly to other high-end optional extras on the full-size luxury vehicle.
"For a driver of an S-Class, it would be a sensible option," he said.
Additionally, Källenius described autonomy as "important," to the future of the S-Class.
In April of last year, Daimler announced it had partnered with Bosch to deliver Level 4 and Level 5 self-driving systems by the early 2020s. The two Stuttgart-based firms are working hand-in-hand on autonomy, and hope to introduce a robotaxi program that would serve individuals in certain parts of different cities around the world. It probably will be a long time before Level 4 and Level 5 systems appear on a vehicle you can buy due to the cost of integrating such technology into a vehicle, Källenius explained.
"Here it's also a two-pronged approach where the proliferation of the Level 3 system we can probably do it much quicker, because also the technical and cost infrastructure of Level 3 system is such that you can sell it as an option, whereas Level 4 and Level 5, at least in first generation, it's such a significant overall cost to the vehicle that the intelligent business case is a robotaxi."
Mercedes' partnership with Bosch is crucial to its technical strategy, as it allows for the automaker to retain the intellectual property to the system. The resulting Level 4 or Level 5 car could be rolled out through Daimler's Car2Go car-sharing program, but it could also be sold to third-party transportation companies if the automaker wanted to monetize the project further.
"So the whole topic of autonomous driving, if you think into the long-term future, it has a lot of (business) potential. So this is one of the reasons why we're doing this development together with Bosch and developing an IP so we also have the IP ourselves. This is a technology that as it proceeds that we want to be able to master. We want to understand it, and we want to own the IP."
Discuss this story on our Mercedes-Benz forum.

Sam McEachern
Sam McEachern holds a diploma in journalism from St. Clair College in Windsor, Ontario, and has been covering the automotive industry for over 5 years. He conducts reviews and writes AutoGuide's news content. He's a die-hard motorsports fan with a passion for performance cars of all sorts.
More by Sam McEachern
Published January 18th, 2018 11:53 AM
Popular Articles
Latest Comparisons
Car Buying Tools