5 Views
Top 10 Most Desirable Cars From the 2018 Geneva Motor Show
March 20th, 2018 9:17 AM
Share
Auto shows are a great way for automakers to speak directly with potential customers.
But the annual Geneva Motor Show isn't the same as other auto shows around the world. That's because Geneva is where the world's most exclusive and expensive exotics debut. It may be hard to imagine that attendees leave the show floor contacting their bank about financing a shiny new supercar, but that's exactly what happens at this show.
2018 Geneva Motor Show Full Coverage
Financial provider JBR Capital has released a list of the top 10 most in-demand cars from this year's show, based on which vehicles generated the most finance inquiries from customers. Since the company is based in the U.K., the list is represented by that country's buyers – but it's interesting nonetheless, and likely paints a picture for customers all around the world.
JBR Capital didn't specifically say which vehicles were inquired the most, so the list is ranked according to the vehicle's monthly payment.
10. Corbellati Missile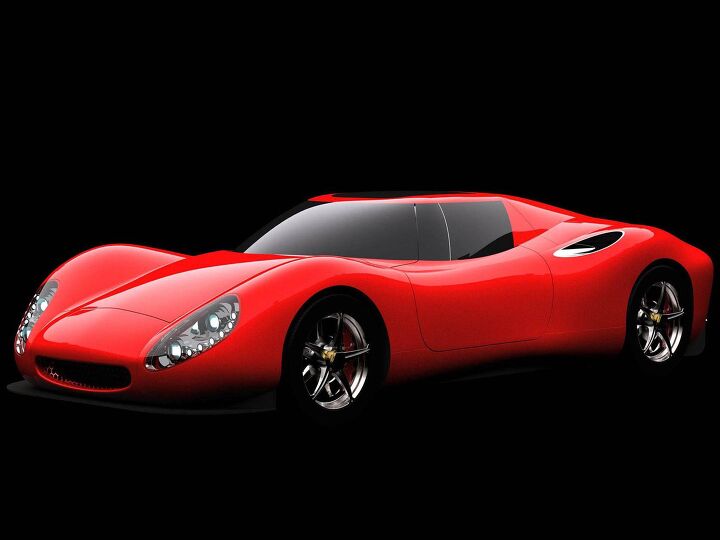 Unfortunately, no list price is available for the Corbellati Missile, but it was one of the top 10 most in-demand cars. It's completely understandable if you've never heard of Corbellati, since it is a relatively unknown automaker. The Missile, however, is a 1,800-horsepower hypercar and is the company's first attempt at building a car. Powering it is a 9.0-liter twin-turbo V8 engine that also has 1,733 pound-feet of torque. It appears that the Missile garnered plenty of attention since a good amount of people inquired about potentially financing one.
SEE ALSO: 1,800 HP Corbellati Missile Hopes to Top 310 MPH With 9.0L V8
---
9. Porsche 911 GT3 RS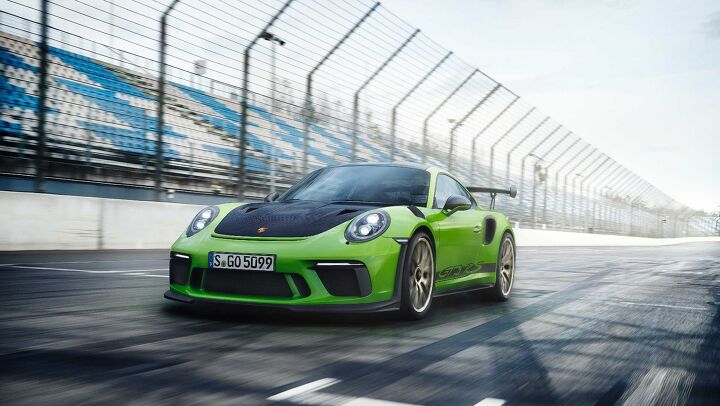 Given Porsche's popularity, it's little surprise the German automaker's latest debut in Geneva has people lining up. The 2018 Porsche 911 GT3 RS features a 4.0-liter naturally aspirated engine, generating 520 hp, which is 20 more hp than the previous GT3 RS. Although the car got mild updates throughout, there's a good amount of enthusiasts ready to buy. It has the lowest monthly payment at £1,561.61, based on a deposit of £14,200 and a final balloon payment of £85,200. Cash price? A cool £142,000. Pricing in the U.S. was announced, starting from $188,550 including destination.
SEE ALSO: 2018 Porsche 911 GT3 RS Delivers 520 Naturally Aspirated Horsepower
---
8. Ferrari 488 Pista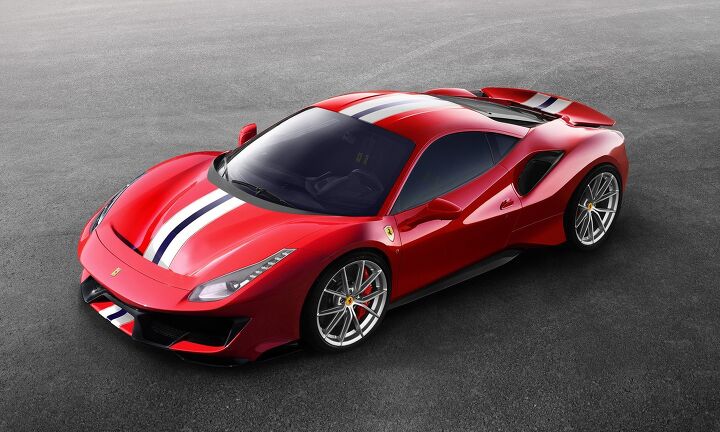 Stepping into the world of Italian exotics is the Ferrari 488 Pista, with a monthly payment of £2,485.47. That's based on a £37,950 deposit and a final balloon payment of £151,800. Cash price for the Ferrari 488 Pista in the U.K. is £253,000. That gets you a 3.9-liter twin-turbo V8 with 710 hp and a dry weight of 2,821 pounds, making the Pista lighter and more powerful than the 488 GTB. The Italian automaker says the sports car goes zero-to-62 mph in 2.85 seconds, on its way to a top speed of 211 mph.
SEE ALSO: Ferrari 488 Pista Lands With 710 HP Race Derived V8
---
7. Lamborghini Huracan Performante Spyder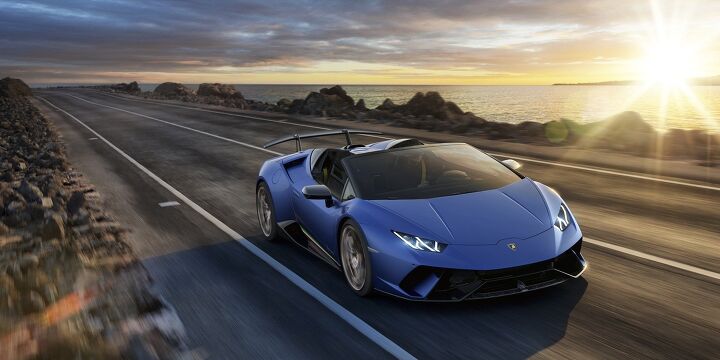 Naturally, if there are show goers inquiring about a Ferrari, there are others inquiring about a Lamborghini. Lambo's debut at the 2018 Geneva Motor Show was a convertible variant of its record-setting Huracan Performante. In the U.S., prices start at $308,859 including destination, but in the U.K. cash price for the Huracan Performante Spyder is £238,000. That results in a monthly payment of £2,625.81 with a £23,800 deposit and £142,800 final balloon payment.
SEE ALSO: Lamborghini Huracan Performante Spyder is One Aggressive Convertible
---
6. Rimac C_Two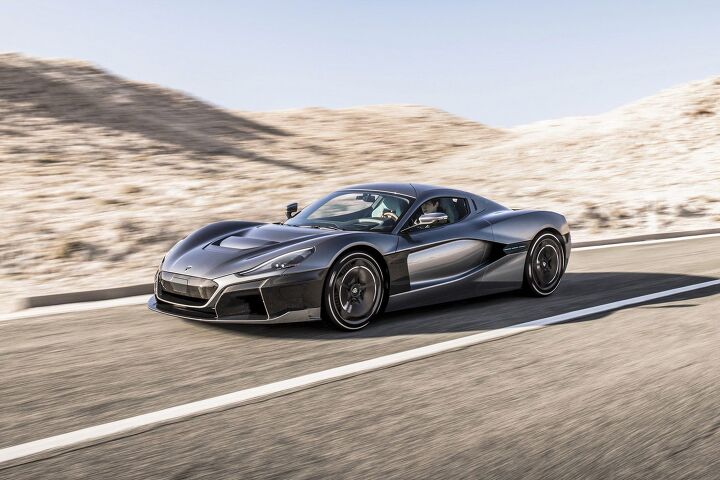 Rimac's successor to the Concept_One comes in the form of the C_Two, an all-electric hypercar like no other. Sporting 1,914 hp and 1,696 lb-ft of torque, the C_Two is powered by four electric motors, one mounted at each wheel. The company claims it'll hit 60 mph from a standstill in 1.85 seconds, with the capability of reaching 258 mph. Limited to 150 units, JPR Capital says the C_Two has a cash price of £1,000,000. That represents our first major jump on the list, considering the C_Two has a monthly payment of £8,648 with a £200,000 deposit and a £600,000 final balloon payment. That's one expensive car for Richard Hammond to potentially crash in the future.
SEE ALSO: Rimac C_Two Will do 0-60 MPH in 1.85s and Top Out at 258 MPH
---
5. Zenvo TSR-S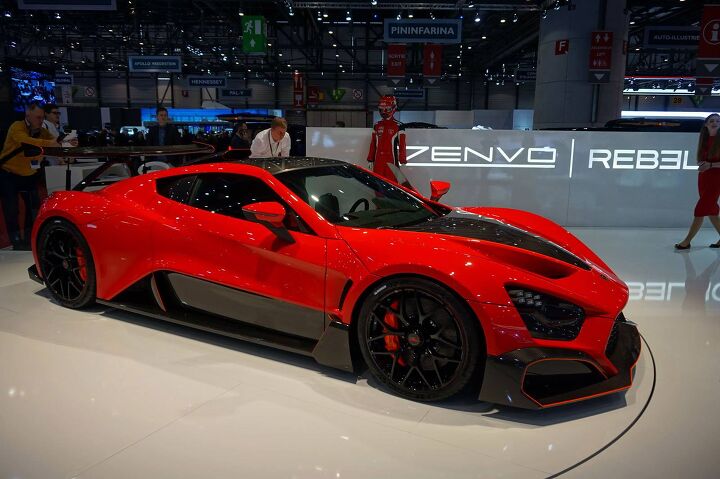 Danish automaker Zenvo wanted to remind the world it is still around at this year's Geneva Motor Show by unveiling the TSR-S, a street-legal supercar with 1,177 bhp and 811 lb-ft of torque from a 5.8-liter V8 twin-turbocharged engine. Weighing in at 3,296 lbs, the TSR-S has a zero-to-62 mph time of 2.8 seconds and an electronically limited top speed of 202 mph. Cash price is £1,200,000, which means a monthly payment of £10,381.29 with a £240,000 deposit. Once that is all said and done, there's a final balloon payment of £720,000.
SEE ALSO: Danish Supercar Maker Rolls Out a Street Car with Nearly 1,200 HP
---
4. McLaren Senna GTR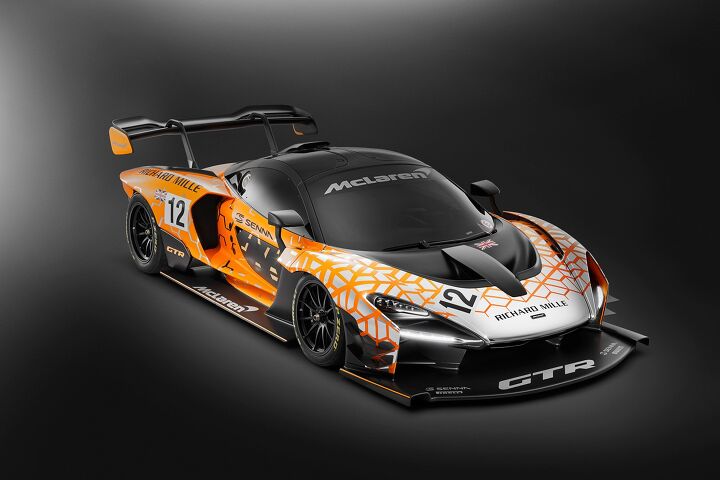 Now the real question is whether you purchase the wild McLaren Senna GTR or the Zenvo TSR-S, because they both have the same cash price, resulting in the same figures for a monthly payment, deposit, and final balloon payment. If you're looking to compare, the Senna GTR is for track use only and it will be limited to just 75 units. It's powered by a 4.0-liter twin-turbo V8 and exact figures haven't been announced, but the British automaker promises it will deliver from 800 hp to "at least" 813 hp. With 2,200 lbs of downforce, McLaren claims the SEnna GTR is the fastest vehicle on a lap time basis it has ever made, aside from a Formula 1 car.
SEE ALSO: McLaren Senna GTR Has 815 HP and 2,200 lbs of Downforce
---
3. Koenigsegg Regera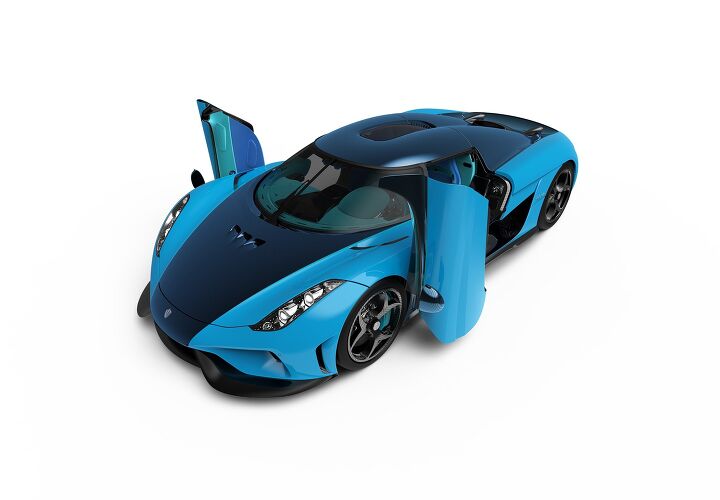 Koenigsegg continues to impress with potential buyers, despite not unveiling anything new at this year's Geneva Motor Show. Instead, customers are calling about buying a Regera, which has a cash price of £1,500,000. That equates to a monthly payment of £12,979.74 assuming a £300,000 deposit and £900,000 final balloon payment. The Swedish automaker did show off a pair of custom-built Regeras at this year's show, featuring the Koenigsegg Ghost package, which is a series of aerodynamic enhancements.
SEE ALSO: Koenigsegg Regera Offers Aero-Enhanced Ghost Package
---
2. Bugatti Chiron Sport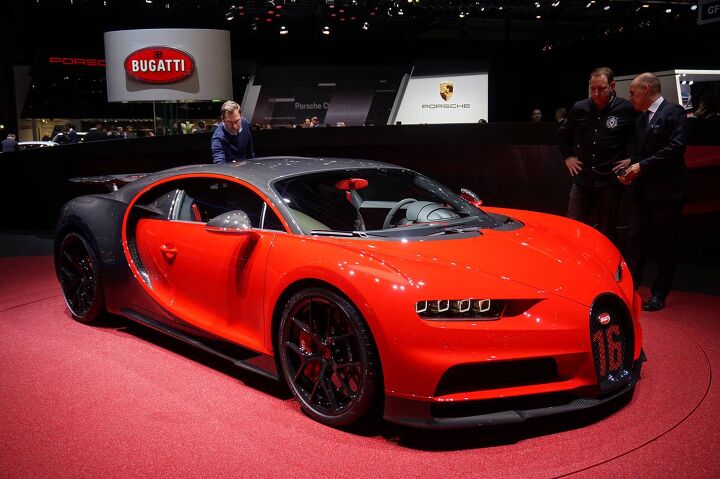 Bugatti continues to attract customers, introducing the Chiron Sport at the 2018 Geneva Motor Show. Sporting a cash price of £2,200,000, the Chiron Sport is hardly cheap, but the lighter and track-tuned Chiron promises to improve on handling compared to the standard Chiron. According to the French automaker, the changes were good enough to shave five seconds off the Chiron's lap time at the Nardo Ring. Along with taking out 40 lbs of weight, Bugatti gave the Chiron Sport a new controller for the adaptive dampers, retuned steering, and a new rear differential with torque vectoring. If you're interested in buying one, JBR Capital says monthly payments run £19,042.79, based on a £440,000 deposit and a final balloon payment of £1,320,000.
SEE ALSO: Bugatti Chiron Sport is the First Car With Carbon Windshield Wipers
---
1. Aston Martin Valkyrie AMR Pro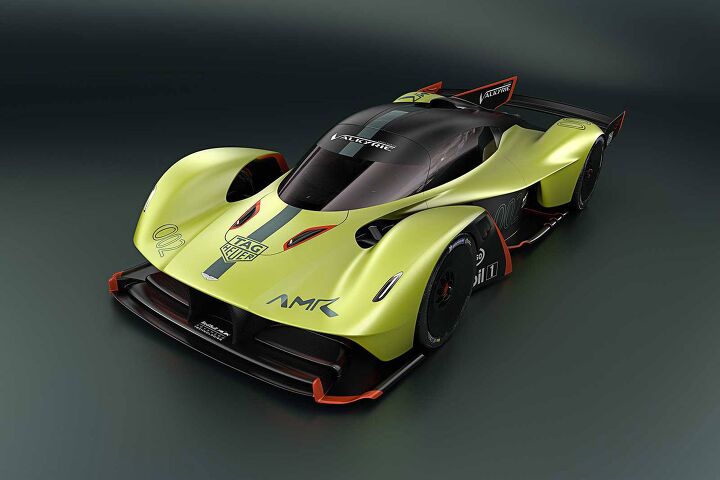 As for the most expensive car that people want from the 2018 Geneva Motor Show? That honor goes to the ridiculous Aston martin Valkyrie AMR Pro. As if the Valkyrie wasn't wild enough, the AMR Pro is an even more extreme version of the track-only hypercar. Shedding weight and featuring more aggressive aerodynamics, the AMR Pro is powered by a 6.5-liter naturally aspirated V12 engine. It will be limited to just 25 units and deliveries are expected to begin in 2020. Given its rarity, we guess it's not a huge surprise people left Geneva inquiring about financing one. JBR Capital says its cash price is a £3,000,000, giving it a monthly payment of £25,972. That's considering a deposit of £600,000 and a final balloon payment of £1,800,000.
SEE ALSO: Aston Martin Valkyrie AMR Pro Weighs Just 1,000 KGs, Tops Out at 225 MPH
Discuss this story on our Luxury Lifestyle Forum
Published March 20th, 2018 9:17 AM
Popular Articles
Latest Comparisons
Car Buying Tools