1 View
New Brabham Supercar to Make 710 HP Per Tonne From 5.4L V8
April 19th, 2018 10:06 AM
Share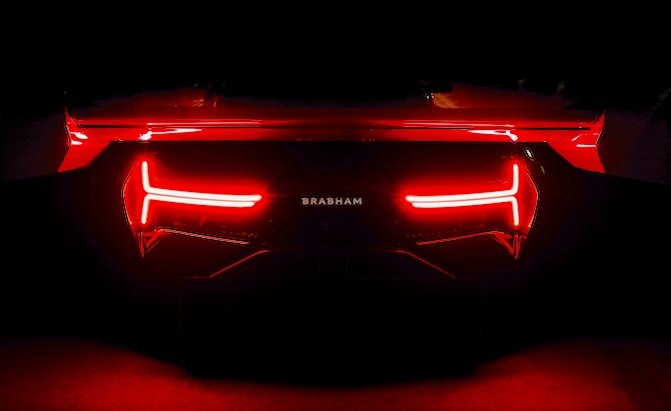 Brabham Automotive, the former racecar manufacturer founded by Australian F1 driver Sir Jack Brabham, has teased its upcoming new supercar with an image showing the vehicle's rear end.
The Brabham brand had been defunct since it pulled out of Formula 1 in 1988, but a group of investors has now revived the name for a limited edition supercar. The supercar, which is to be called the BT62, will be limited to just 70 units. It will feature a Brabham-developed 5.4-liter V8 engine and will tip the scales at just over 2,100 lbs. Brabham says it will boast 710 hp per tonne, and with a dry weight that's just a hair more than a tonne, it seems as though the 5.4-liter V8 will be quite powerful indeed.
SEE ALSO: McLaren Hyper-GT Will Shame McLaren F1's 243 MPH Top Speed

In a prepared release, the newly christened automaker provided some additional details on the BT62 program.
"Celebrating seventy years since Sir Jack Brabham launched his racing career in Australia in 1948, production of the Brabham BT62 will be limited to just seventy cars. With a price of £1m plus local taxes, and before options, orders are being taken now, and first deliveries are expected later this year. Owners of the BT62 will join a Brabham driver development programme which will enable them to fully exploit the performance of the vehicle on the track," the company said.
The BT62 will be revealed in two weeks' time. Shortly after its unveiling, Brabham will display it alongside an array of historic Brabham Formula 1 cars at a yet-to-be-announced location in central London. The exhibition will be open to the public, and interested parties can apply to get a ticket through Brabham's website, which can be found at this link.
Stay tuned for all the juicy details on the Brabham BT62 as they become available.
Discuss this story on our Luxury Lifestyle Forum.

Sam McEachern
Sam McEachern holds a diploma in journalism from St. Clair College in Windsor, Ontario, and has been covering the automotive industry for over 5 years. He conducts reviews and writes AutoGuide's news content. He's a die-hard motorsports fan with a passion for performance cars of all sorts.
More by Sam McEachern
Published April 19th, 2018 10:06 AM
Popular Articles
Latest Comparisons
Car Buying Tools