6 Views
This is What an F1 Car of the Future Might Look Like
September 14th, 2018 1:11 PM
Share
We're committed to finding, researching, and recommending the best products. We earn commissions from purchases you make using links in our articles. Learn more here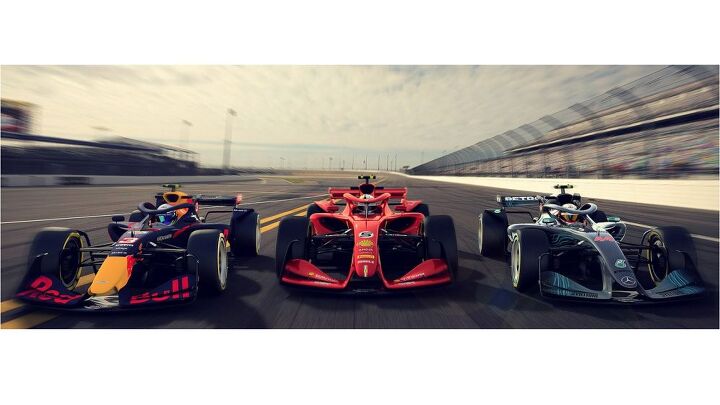 Formula 1 is currently trying to figure out what its new rule package from 2021 onward will consist of.
Update: Formula 1 has now officially released the various 2021 car proposals. The race series says the new designs are intended to get young people excited about motorsports and engineering and thus place an emphasis on style and appearance. The first design proposal more neatly integrates the halo, while the second proposal places the greatest emphasis on outward appearance. The third design proposal is the most similar to today's cars of the three, but still explores new ideas in regards to airflow management.
The admittedly confusing sport had its last major regulation change in 2017, when the series moved from narrow cars with tall, upright rear wings to wider machines with fatter tires and broader, lower rear wings. The series is going to change the rules once again for 2021 as it looks to make the racing better, with the turbulent air thrown up by the complicated wings of today's cars making it difficult for cars to follow each other on track or make passes. It also wants to better integrate its halo head protection device into the car's design.
SEE ALSO: The McLaren 720S is Going Racing

An image from a secret meeting held with F1's head honchos and team bosses recently leaked through social media, showing what a Formula 1 car might look like if developed under the 2021 rules package. The futuristic-looking machine features a simplified front wing and side pods, a neatly integrated halo, bodywork covering the upper part of the rear wheels and a small rear 'fin' joining the rear of the car to the rear wing. It also features the larger 18-inch wheels that will arrive in F1 from 2021 onward at the request of tire supplier Pirelli.
F1 engage fans lovely evening of Tech Talk hearing Ross Brawn and Mario Isola Head of Car Racing share tyres and future of sport @pirellisport #singaporegp #bestfans @F1nightrace @F1 pic.twitter.com/3EEunuPQNC
— Lynn Smith (@Shazzeraz) September 12, 2018
The slide showing the early draft 2021 F1 car, which has a Scuderia Ferrari livery, features a tab in the upper right corner that reads 'Concept 2'. That likely means that Formula One Management (FOM) is considering a few different rule package proposals and has yet to decide which will make the cut. It does seem as though Formula 1 is chasing a futuristic look with the rule package, however, much like the fully-electric Formula E series did for its second-generation race car.
F1 owners Liberty Media are currently working with teams to develop the rules package, so the concept study pictured here is subject to change, but we're loving the way it looks even as an early draft.
[Source: Twitter]
Photo via @Shazzeraz on Twitter.

Sam McEachern
Sam McEachern holds a diploma in journalism from St. Clair College in Windsor, Ontario, and has been covering the automotive industry for over 5 years. He conducts reviews and writes AutoGuide's news content. He's a die-hard motorsports fan with a passion for performance cars of all sorts.
More by Sam McEachern
Published September 13th, 2018 10:05 AM
Popular Articles
Latest Comparisons
Car Buying Tools