2 Views
2019 AutoGuide.com Truck of the Year: Meet the Contenders
February 19th, 2019 1:38 PM
Share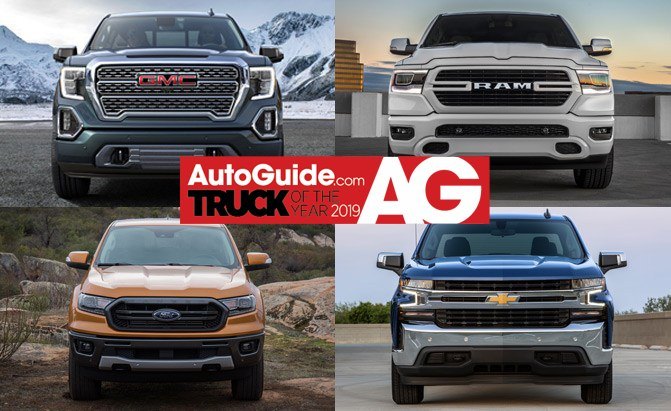 Pickup trucks are big in more ways than one.
Not only are they physically some of the largest, most versatile vehicles you can drive, they're also HUGE business, with legions delivered to customers every single month. In the U.S. last year, automakers sold just shy of 3 million trucks, an astonishing figure and one made even more impressive by the fact that this includes only models with open-air beds, not so-called "light-duty trucks," a range that includes vehicles like crossovers.
SEE ALSO: 2019 AutoGuide.com Utility Vehicle of the Year: Meet the Contenders
After several years in the doldrums, this segment has finally shifted into overdrive. Many of the major players in this segment have released completely overhauled trucks for model-year 2019. As always, each one is vying for bragging rights, consumer mindshare and, of course, the annual sales crown.
But that's not all. This freshly foaled crop of pickups us also competing to win our AutoGuide.com 2019 Truck of the Year award, an accolade honoring the most desirable new model in its segment and one that picks the truck that most raises the bar for its segment. Before we announce our winner, here's a rundown of the models in contention.
---
Chevrolet Silverado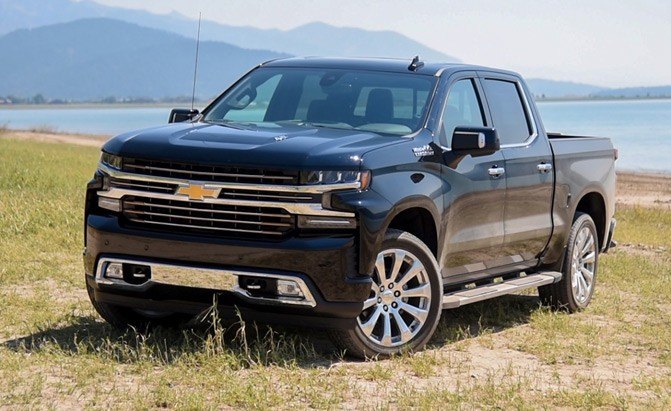 When Chevy redesigns its ever-popular Silverado, the entire automotive industry takes notice. It's like landing a new rover to the moon: earth-shattering news.
The 2019 Colorado rides on a brand-new fully boxed frame that's largely made of high-strength steel. This provides both greatly enhanced stiffness and reduced weight. Engineers increased torsional rigidity by around 10 percent while cutting nearly 90 pounds of fat off this truck's foundation, significant improvements in both departments.
SEE ALSO: 2019 Chevrolet Silverado First-Drive Review – VIDEO
As for the body, rather than going with all aluminum like a certain crosstown rival did several years ago, GM opted instead to go with a mixed-materials strategy. The Silverado's cab and bed are made of at least seven different grades of steel, plus all the swing panels, things like the doors and tailgate, are rendered in aluminum. All this is designed to reduce mass without sacrificing strength. Checking the scale, this truck has lost up to 450 pounds compared to its predecessor.
Providing the motivation are no fewer than five engines with a sixth coming on later in the year. The base unit is a 4.3-liter V6 that's good for 285 horsepower. You can also get two variants of a more muscular 5.3-liter V8 with 355 horses. A 2.7-liter turbocharged four-cylinder cranking out 310 ponies is on the menu, as is a chest-thumping 6.2-liter two-by-four delivering a bone-crushing 420 horsepower with 460 pound-feet of torque. Later in the year, a 3.0-liter inline-six diesel should also join the lineup, providing an extra helping of low-end twist along with greatly enhanced fuel efficiency.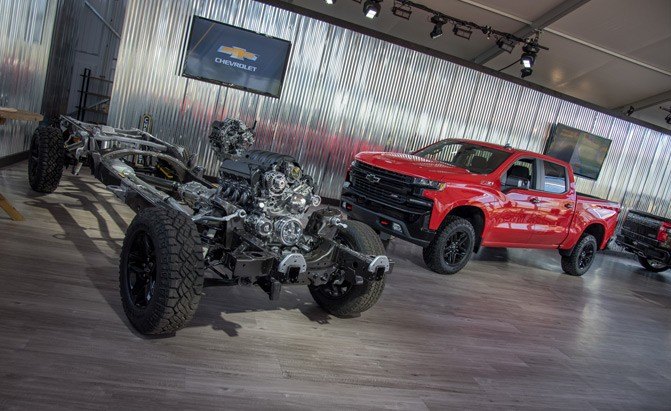 Making things even more confusing, Chevrolet offers three different transmissions in this truck. A six-speed unit is available with the more basic powerplants while an eight-ratio box is matched to the midrange engines. The 6.2-liter V8 and upcoming oil-burner pair with a brand-new 10-speed automatic.
Improving the Silverado's versatility, the carbo box has been improved in myriad ways. The floor is made of stronger steel than before, it's got far more tie-down points and it's even been widened by nearly seven inches, so the overall volume of material it can carry has increased dramatically.
SEE ALSO: 2019 Chevrolet Silverado 2.7-Liter Turbo First-Drive Review
This truck's bodies have also been made more spacious, with crew-cab models gaining significant amounts of rear-seat legroom, a welcome enhancement. On the downside, however, the new Silverado's interior is a major disappointment, rife with shiny, low-rent plastic and bargain-basement leather. Despite being brand new it's not even as nice as what's on offer in older versions of Ram and Ford trucks.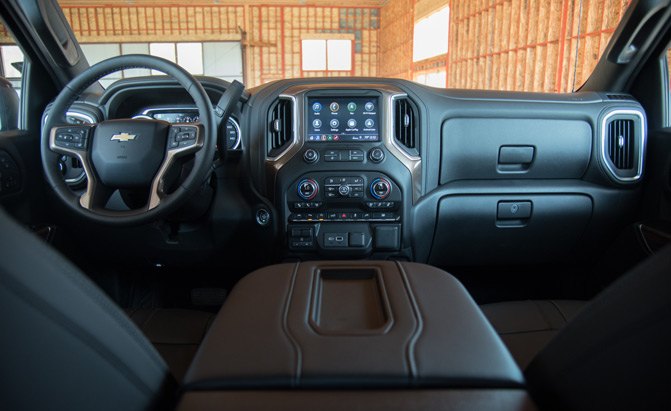 Furthermore, fuel economy isn't particularly strong with this pickup, either. Comparing similarly equipped 2018 and 2019 models with the 6.2-liter V8 reveals the new version is but one mile per gallon more efficient on the city cycle. Unfortunately, neither is the available turbocharged four-cylinder engine particularly economical.
---
Ford Ranger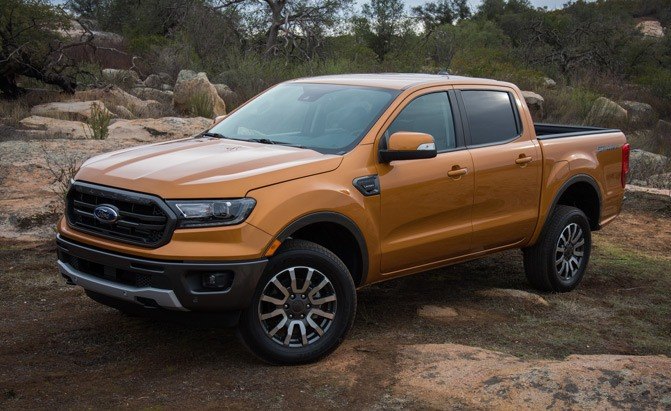 Ford hasn't offered a Ranger pickup in the U.S. for knocking on a decade. That's a long time to be out of the smaller-truck market, especially as rivals like GM and Toyota have been growing their share of this lucrative segment.
But back by popular demand in North America, the Ranger is all new for 2019. Based heavily on the global version of this now-midsize pickup truck, it brings handsome styling, a comfortable interior and turbocharged torque to market.
Regrettably, this new midsizer is offered in just two flavors and three trim levels. You can get a versatile SuperCab body with a six-foot bed or an even more spacious SuperCrew model with a five-foot-long cargo box. Do you more often haul cargo or passengers? That will determine which version is for you. In addition to a handful of special options packages, XL, XLT and Lariat trim levels are offered.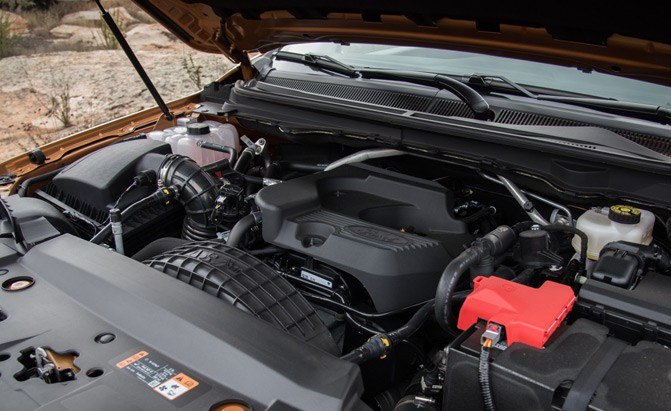 No matter the body style you opt for, this Ranger's width, length and overall wheelbase remain identical. Sadly, the workaday regular-cab body in no longer offered. Ford is focusing on lifestyle customers with this pickup rather than fleet buyers or other groups that would prefer the absolute most-affordable option.
SEE ALSO: 2019 Ford Ranger First-Drive Review – VIDEO
Further simplifying the buying process, just one powerplant is offered. A truck-tuned 2.3-liter EcoBoost unit delivers 270 horses with 310 pound-feet of peak torque. It's matched exclusively to a resourceful 10-speed automatic transmission that helps deliver impressive acceleration. Smooth and powerful, you likely won't be pining for a larger V6 as this turbocharged four-banger gets the job done admirably.
This combination, along with a strong backbone, imbues the Ranger with some best-in-class capability. Its payload rating maxes out at 1,860 pounds. It's also rated to tow up to 7,500 pounds, more than any other gasoline-powered midsize pickup truck.
On the features front, Ford CoPilot-360 is standard. This is Dearborn's new suite of advanced driver-assistance features, which includes goodies like lane-keeping assist, automatic high beams, blind-spot monitoring and more.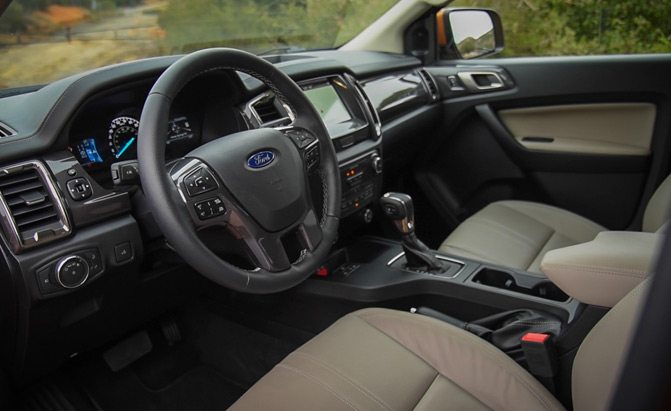 Inside, the 2019 Ranger is comfortable and refined, with a seating position that absolutely destroys the popular Toyota Tacoma, however, not everything is perfect. Some of the surfaces aren't quite as nice as in, say, the Chevrolet Colorado. Also, the climate controls are too small and a bit difficult to operate. And why is the brake pedal so mushy?
One other potential strike against the Ranger is pricing. It's just not as affordable as its admittedly crude predecessor of many years ago was. This rig kicks off at more than 25 grand including destination charges, which is practically full-size truck territory.
---
GMC Sierra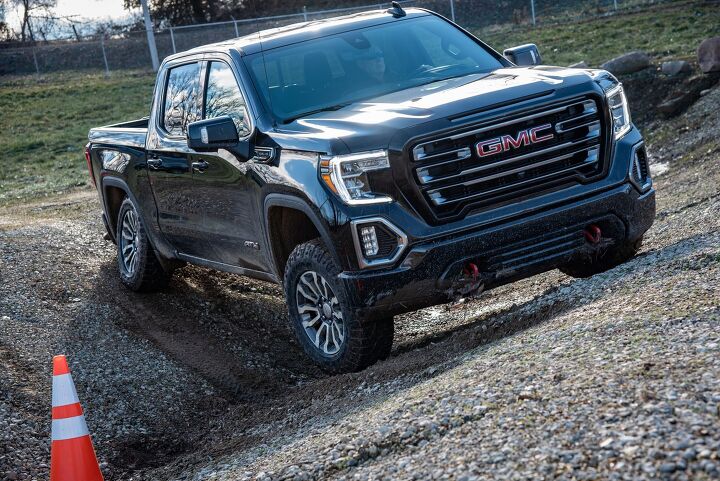 Equally new for model-year 2019 is the GMC Sierra, fraternal twin to Chevrolet's Silverado. Accordingly, this "Professional Grade" truck features the same stiffened structure, same impressive weight loss, same powertrain lineup, same enlarged cabs and even the same fundamental dimensions as its bow-tie brother.
Where the Sierra distances itself from the Silverado is in fancy features. And unquestionably, this truck's headline-making innovation is the available MultiPro Tailgate, a genius bit of engineering work. Standard equipment on SLT, AT4 and Denali models, the three highest trim levels, it offers unparalleled versatility including six different functions. It provides two-level loading, an integrated bed step and even a convenient work surface, to name but a handful. It's simply one of the most transformative things ever attached to a pickup truck.
SEE ALSO: 2019 GMC Sierra Denali Review
Another groundbreaking attribute of the 2019 GMC Sierra is the available CarbonPro bed. Yes, as the name suggests it is indeed a cargo box made from strong-yet-lightweight carbon fiber. Supposedly, it marries increased durability, efficiency and functionality with best-in-class resistance to dents, scratches and even corrosion. Still, the benefit-to-cost ratio remains a bit of a head-scratcher.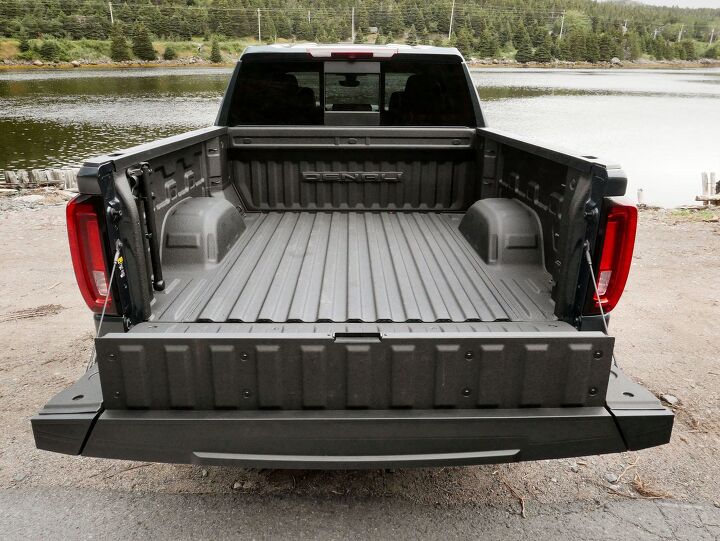 This GMC also boasts of an available Rear Camera Mirror, a nifty bit of kit that tucks a small screen behind the rear-view mirror's glass so a video feed from the aft-facing camera can be displayed there. Not everyone will like this feature (some find it distracting), but it can dramatically increase the driver's field of view. It also eliminates obstructions from passengers' heads or cargo that would normally block his or her field of view.
The ProGrade Trailering System is also offered. It makes towing much easier thanks to amenities like hitch guidance, an integrated trailer brake controller plus lighting for the receiver area, a godsend at night. One of the more thoughtful features is the included Auto Electric Parking Brake Assist, which prevents the truck from rolling forward or backward once it's put in park, so the trailer lines up perfectly as intended. There's also a nifty Trailering App includes a comprehensive checklist and much more.
SEE ALSO: 2019 GMC Sierra AT4 Review
For added luxury, Sierra Denali models feature exclusive Adaptive Ride control. This improves comfort by monitoring the road surface in real time and reacting in milliseconds to provide optimal damping for any given situation.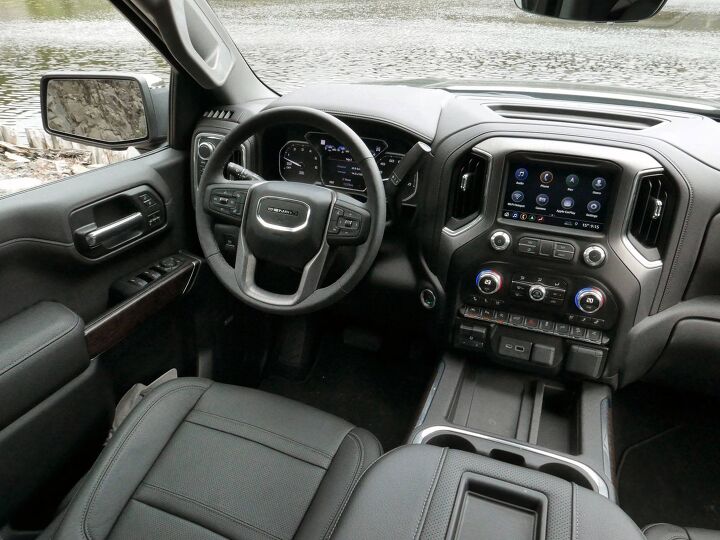 The 2019 GMC Sierra offers a lot of welcome amenities, but it shares many of the Silverado's liabilities, like that lackluster interior. Still, does it have enough inherent goodness to win truck-of-the-year honors? We shall see.
---
Ram 1500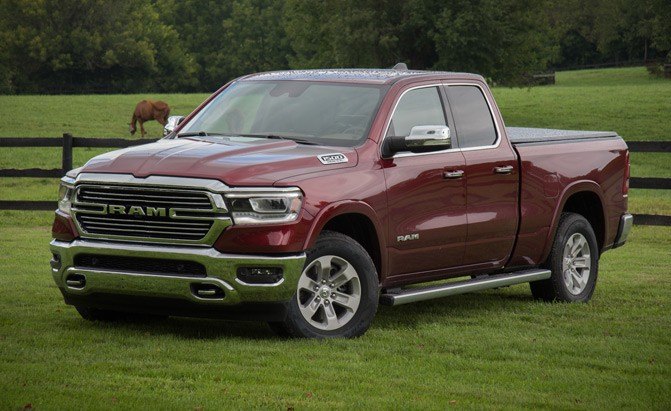 Not to be outdone by its cross-town rivals, Ram Truck completely overhauled its popular 1500 model for 2019 and it's a force to be reckoned with. Not only is this pickup more premium and feature-laden, it's stronger, lighter and more capable than its predecessor.
Right out of the gate, engineers exorcized unwanted mass, paring away up to 225 pounds. Delivering this reduction is the intelligent implementation of high-strength steel in the body. Various components including the tailgate, engine mounts, forward crossmember and more are all rendered in weight-saving aluminum.
SEE ALSO: 2019 Ram 1500 First-Drive Review – VIDEO
Buried underneath that handsome bodywork is a brand-new fully boxed frame. Made of more than 98 percent high-strength steel, it's around 100 pounds lighter than what supports the outgoing-generation Ram 1500. Providing greater safety are splayed front rails that better dissipate energy in crashes, making for a safer truck.
Depending on how you count, three engines are available in FCA's latest-and-greatest half-ton pickup. Serving base duty is a smooth-running 3.6-liter Pentastar V6 delivering 305 horsepower and 269 pound-feet of torque. It's augmented by the company's innovative eTorque mild-hybrid system, which is standard. This technology enables regenerative braking and provides seamless engine stop-start capability for improved fuel efficiency, but it also boosts torque output in certain driving situations and helps provide smoother gear-changes. With the Pentastar engine, this system provides up to an additional 90 pound-feet of twist.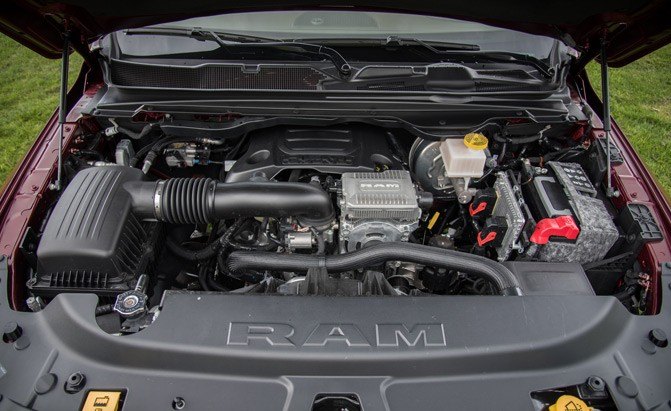 Stepping up from there, you can also get a burly 5.7-liter Hemi. They bring 395 horsepower and 410 pound-feet of torque to the table, but that's not all. As an option, you can also nab one of those V8s that's been augmented by eTorque, which provides an additional 130 pound-feet of twist.
As before, an eight-speed automatic transmission is included across the board in this truck. For a ride that's smoother than the competition in nearly every instance, coil springs are standard, but you can also get self-leveling air suspension system for a creamy ride.
The 2019 Ram 1500 may be stronger, lighter and more capable than before, but the one area it absolutely blows competitors away is in cabin quality. Higher-end versions are gussied up like fine luxury sedans, complete with top-shelf leather, gorgeous stitching and plenty of high-quality trim.
SEE ALSO: 2019 Ram 1500 eTorque First Drive – VIDEO
This truck also offers tons of fresh technology, including an available (and MASSIVE) 12-inch portrait screen for the infotainment system. This display is so generous you can have two functions cued up at one time, such as the radio and climate controls so there's no fumbling through menus to get at what you need.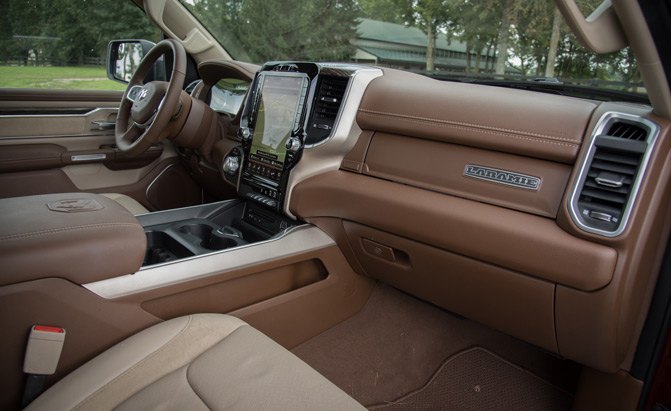 The 2019 Ram 1500 is an incredibly strong contender in our latest truck-of-the-year competition. It's a rig without any glaring vices, save perhaps the added mass of that eTorque system, which offsets some of the weight loss engineers fought so hard to deliver.
Completely redesigned versions of the Ram Heavy Duty range are set to go on sale shortly, but they weren't ready in time for our competition so, unfortunately, they've been excluded.
Discuss this truck on our Ram Forum
---
And the Winner is?
Keep an eye on AutoGuide.com as we'll be announcing the winner of our 2019 Truck of the Year competition shortly!
Published February 18th, 2019 11:50 AM
Popular Articles
Latest Comparisons
Car Buying Tools