1 View
Infiniti Kills Off the QX30 Globally and Exits Western Europe
March 13th, 2019 8:02 AM
Share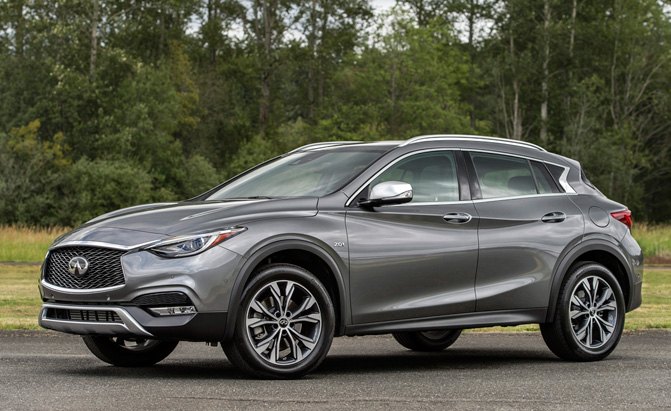 Infiniti has decided to exit the Western European market. The Japanese luxury brand's residency in the competitive region only lasted a decade, and middling consumer interest coupled with increasingly stringent emissions regulations were all cited as reasons for this departure.
As a part of this move, Nissan's premium division plans to cease global production of the QX30 at its Sunderland, England, assembly plant. The subcompact crossover, born of a rocky Mercedes-Benz partnership, and its overseas-only Q30 hatch sibling will be discontinued in July of this year.
The QX30's discontinuation was foretold.
At January's Detroit Motor Show, Infiniti President Christian Meunier told Motor Authority, "[The QX30 is] not a very successful product. We'll keep selling it for now…but this is not a product that has a future beyond its current life. It will be replaced in the future by an all-Infiniti platform."
ALSO SEE: Where is Nissan From and Where are Nissans Made?
Suffice it to say that the partnership that spawned the QX30 and Mercedes-Benz GLA didn't really do it for Infiniti.
As for the Infiniti brand itself, customers in Western Europe and the U.K. continued to find alternatives much more enticing. The brand, which launched there in 2008, will leave completely by early 2020, the automaker said. In the wake of this decision, Infiniti will renew its efforts in more receptive markets like the U.S. and China, while maintaining operations in Eastern Europe, the Middle East, and Asia.
"Western Europe remains the most challenging and competitive region for premium cars," Infiniti spokesman Trevor Hale told Reuters. The brand's sales in the region sunk to 5,800 vehicles last year — roughly half of what it sold the year before.
In comparison, Infiniti sold 149,280 vehicles in the U.S. last year, only 8,101 of which were QX30s. That's a 42.5 percent sales drop from 2017. The model first appeared in the U.S. in October of 2016.
Devoid of the plug-in hybrids and electrics European lawmakers and regulators like, Infiniti faced a future where it would need to invest heavily in green tech to stay in the region's good books. It's not worth the effort, the company claims.
"The commercial reality for Infiniti in western Europe is that there is simply no visibility of a viable and sustainable business, especially given the regulatory challenges," Hale said.
A version of this article originally appeared on TTAC.com
Published March 12th, 2019 5:55 PM
Popular Articles
Latest Comparisons
Car Buying Tools