1 View
Infiniti's Newest EV Concept: Haven't We Seen This Before?
April 11th, 2019 8:15 AM
Share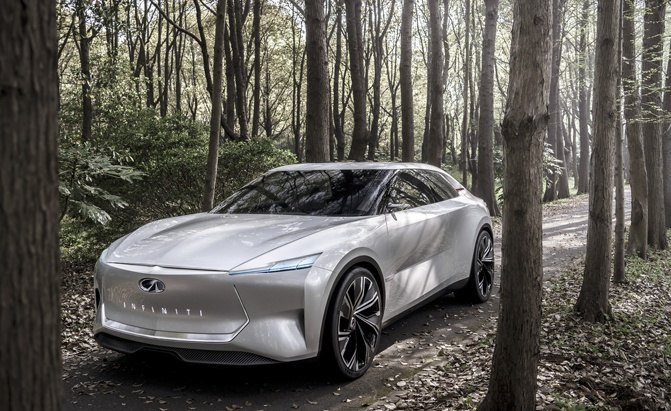 This is the new Infiniti QS Inspiration Concept, which will make its public debut at the forthcoming 2019 New York International Auto Show.
No, we haven't made a mistake, this is actually an all-new concept. We feel compelled to point that out, as the QS Inspiration looks nearly identical to the Infiniti QX Inspiration Concept, which debuted in Detroit earlier this year. The difference, you see, is the QS is a high-riding sedan, whereas the QX was a crossover. Groundbreaking stuff, we know.
SEE ALSO: 2019 Acura RDX vs Infiniti QX50 Comparison

It seems as though the Infiniti QX and QS concepts are the luxury versions of the Nissan IMx and IMs concepts — the former being a crossover and the latter being a lifted sedan. Nissan is really going all-in on this lifted sedan idea and it's hard to see why. After all, a hatchback is far more practical than a trunk. But we get that people love crossovers and automakers are happy to indulge them.
Here's what the brand had to say about the QS in its brief press release:
"Representing Infiniti's desire to challenge tradition, the Qs Inspiration previews a forthcoming Infiniti production model and hints at the company's electrified future, in which the brand will offer electric and e-POWER powertrains … The concept's all-new flexible architecture has been developed specifically to accommodate high-performance electrified powertrains, and it enables a reinterpretation of traditional 'three-box' sedan design. Infiniti designers and engineers have been able to adapt the mechanical layout and physical proportions of the car, engaging drivers and keeping them connected to the road while providing a sense of elevation and control."
Stay tuned for more details and coverage on the Infiniti QS concept following its official debut in NYC next week.
Discuss this story on our Infiniti QX50 Forum
From HybridCars.com
Published April 11th, 2019 8:14 AM
Popular Articles
Latest Comparisons
Car Buying Tools