48 Views
Hyundai RN22e and N Vision 74 Concepts Are Stunning Previews of EV Performance
July 14th, 2022 9:00 PM
Share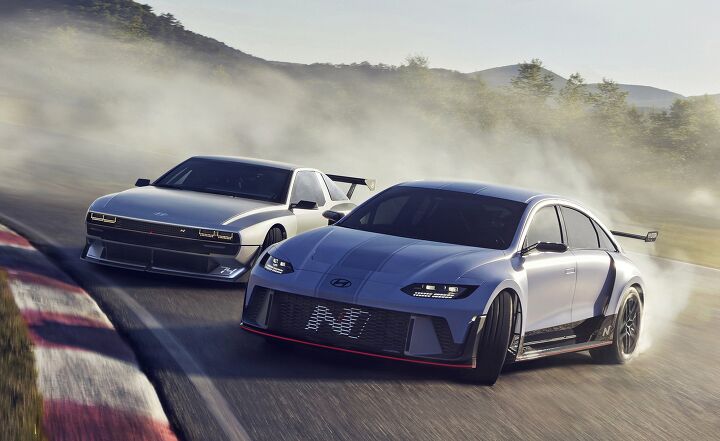 RN22e turns the dial up on the Ioniq 6; N Vision 74 is a retro-styled hydrogen-powered track car.
It's no secret that Hyundai's N brand will be expanding into the world of electric vehicles. Ahead of the upcoming Ioniq 5 N, which the brand confirmed will launch in 2023, Hyundai on Thursday revealed two wild N concepts as part of 2022 N Day. One is a purely battery-powered remix of the recently revealed Ioniq 6, while the other, the N Vision 74, is a wild, hydrogen-powered coupe styled after one of Hyundai's most important models.
Up first is the Ioniq 6-based RN22e. It follows a long line of rolling lab concepts, the first of which was the RM14, and RM20e the last. All the previous models used the Veloster as their base, and stuck the engine in the middle, hence the name ("Rear Midship"). This new model's name signifies its focus on the N sub-brand, and the "e" marks it out as an electric model.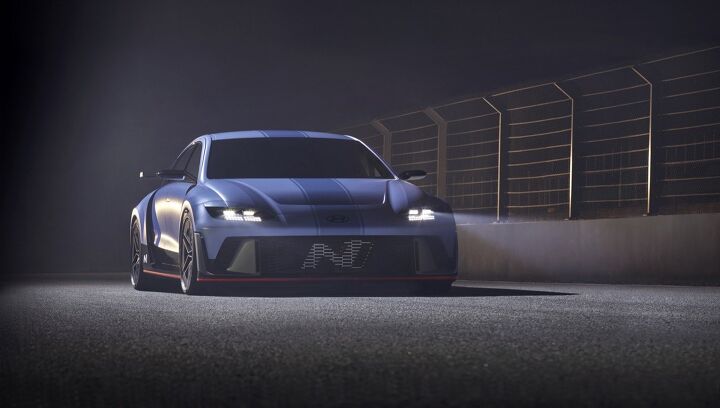 Sitting low on twin-five-spoke wheels, the RN22e's swollen arches add almost six inches of width to the Ioniq 6. The road car's rear lip spoiler is binned for a big wing, and it's all rounded out with an aggressive new bodykit. Huge 15.75-inch (400-millimeter) brake discs sit behind the wheels, with four-piston calipers clamping down on them. Hyundai says a major focus of car's development was extended time on the track, with minimal brake fade. Beyond that, the team will use the RN22e to explore how regen-braking can benefit track driving. A twin-clutch torque vectoring system is said to provide a similar "corner rascal" feel to the gas-only N cars' e-LSD system.
SEE ALSO:
2022 Hyundai Ioniq 5 First Drive Review: The Future is Now
Underneath that aggressive shape sits the same E-GMP platform as the road car, and the same 77.4-kWh battery pack. The front and rear electric motors are more powerful, however, now throwing down 577 horsepower and 546 pound-feet via standard AWD. Hyundai quotes the same fast-charging capability, taking 18 minutes to go from 10 to 80 percent battery charge. The RN22e will keep running past 155 mph (250 km/h), too. Hyundai has kept curb weight in check via various 3D-printed parts.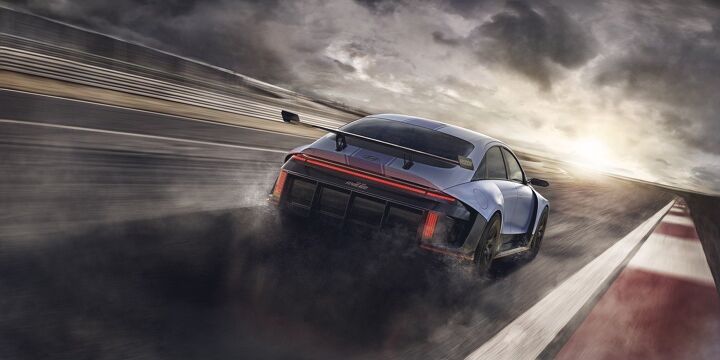 Inside, drivers will experience an N Sound+ system, which generates audio based on the car's performance. There's also something called N e-shift, which Hyundai says "integrates the vibration and shifting feel with N Sound+." Simulated shifting? Uh, if you need some lab rats, Hyundai, we volunteer…
SEE ALSO:
Kia EV6 vs Hyundai Ioniq 5 Comparison: Sibling Rivalry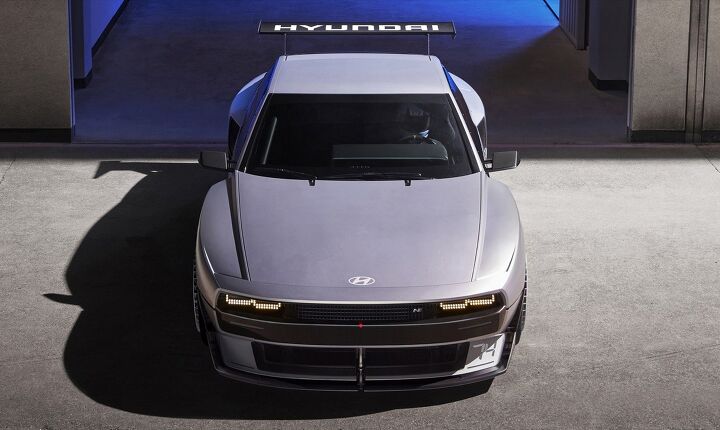 Count us in on wanting to drive the N team's other creation, too. The N Vision 74. The name is a nod to the Pony Coupe concept of '74, a Giugiaro-penned vision that led to sports car prototypes but sadly, no production model. This wicked-cool rolling testbed draws plenty of styling cues from the Pony Coupe, including that car's B-pillar design and classic two-door proportions. Clean surfacing is the name of the game here, with swollen arches and retro turbofan-style wheels giving the N Vision 74 more than a hint of classic Group 5 racers. Hyundai's designers have gifted the concept with Parametric Pixel lighting at both ends too, an evolution of the look found on the Ioniq 5. It's quite a long car at a hair under 195 inches (4,952 mm), but its low 52.4-inch (1,331-mm) height gives it a dramatic stance.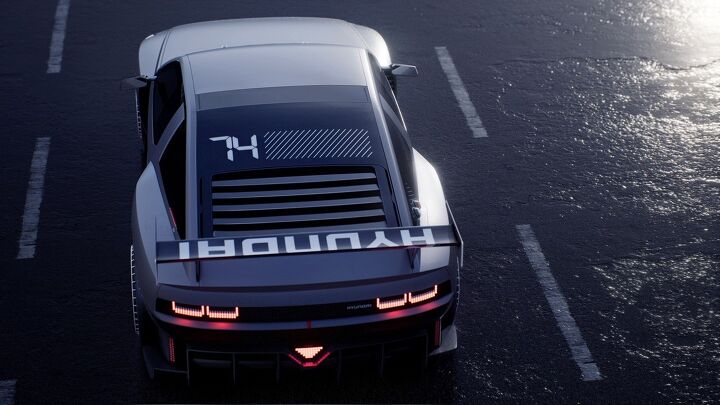 "N Vision 74's future-oriented design reflects the respect and appreciation we have for the dedication and passion that went into the Pony Coupe concept," said SangYup Lee, executive vice president and head of Hyundai Design Center. Another inspiration was the N 2025 Vision Gran Turismo, a digital prototype race car that debuted in the Gran Turismo gaming series in 2015.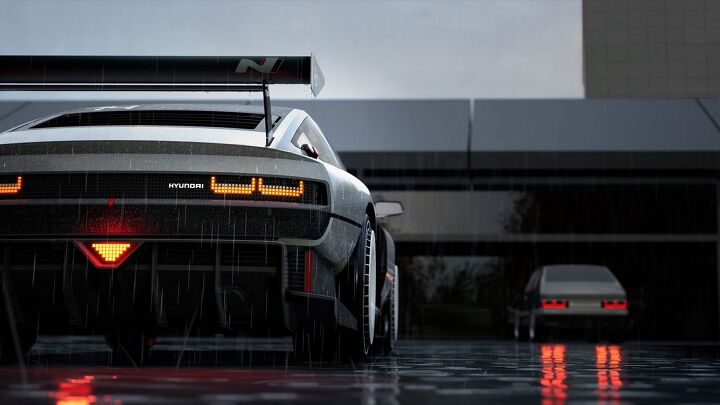 The stats on this retro-cool coupe are anything but classic. With a combined 671 horsepower and 664 lb-ft of torque, this new-age pony should do more than just gallop. Hyundai calls this the "most advanced hydrogen fuel cell system" it has ever created. It works in combination with battery electric system, making this a different sort of hybrid. Hyundai says this twin-pronged approach has inherent benefits, including more precise rear axle torque vectoring via the two motors.
The hydrogen fuel-cell stack has a net capacity of 85 kW, and a refueling time of just five minutes. Hyundai says it has a range of over 373 miles (600 km).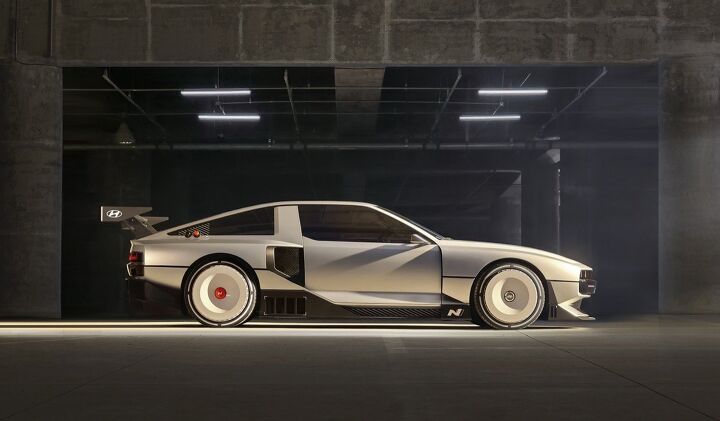 Sadly, neither of these models are currently planned for production. That said, we'd be surprised if Hyundai doesn't eventually build an Ioniq 6 N; obviously, the idea works. We will see the Ioniq 5 N next year however, and these concepts have us even more excited for the performance version of our Green Vehicle of the Year.
Become an AutoGuide insider. Get the latest from the automotive world first by subscribing to our newsletter here.
Published July 14th, 2022 9:00 PM
Popular Articles
Latest Comparisons
Car Buying Tools