1 View
Lucid Halves Its Production Goals For 2022, Citing Supply Chain Issues
August 4th, 2022 12:42 PM
Share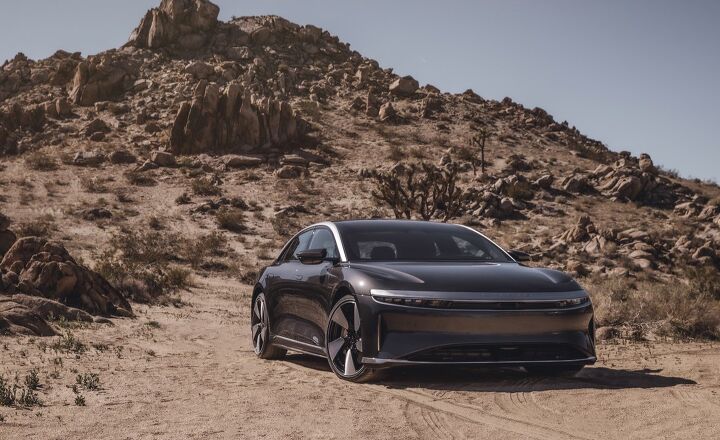 Lucid's adjusting its output goals, after a particularly rough second quarter.
The demand for the Lucid Air has been strong, as it should be, it's a great car, but supply chain woes have troubled the company. Just this week, the company announced it was halving its production output to around 6,000 or 7,000. The company said it has 37,000 reservations "representing potential sales of approximately $3.5B." Yet, Lucid has only been able to produce 1,400 ish cars. Only 679 of those were sold in the second fiscal quarter, representing $97.3M of revenue. After revenue, Automotive News estimates a loss of $414.1 million.
Still, Lucid claims to be in good financial shape, with more than $4.6 billion in cash, investments, and assets that should be enough to fund the company through the rest of the next year.
Unfortunately, Lucid is just one of the latest brands affected by supply chain related product delays. Legacy automakers have struggled to adapt, but EV startups like Lucid or Rivian have really seen their stock valuations and product timelines seriously affected by the crisis. Lucid's stock dropped 10% with the announcement that the brand was adjusting its output. Similarly, Rivian has taken flack from customers who have been waiting a long time for an EV truck or SUV that the brand has had problems producing.
The Lucid Air is a great product, but it's a sedan. The brand has an EV crossover coming soon, dubbed Gravity. But, if Lucid is struggling, to get sedans onto the market, that doesn't bode well for the company's ability to fulfill a segment with much higher demand.
Become an AutoGuide insider. Get the latest from the automotive world first by subscribing to our newsletter here.
Published August 4th, 2022 12:42 PM
Popular Articles
Latest Comparisons
Car Buying Tools