17 Views
2024 Mercedes-AMG C63 S E Performance is a 671-Horsepower 4-Cylinder PHEV
September 21st, 2022 10:19 AM
Share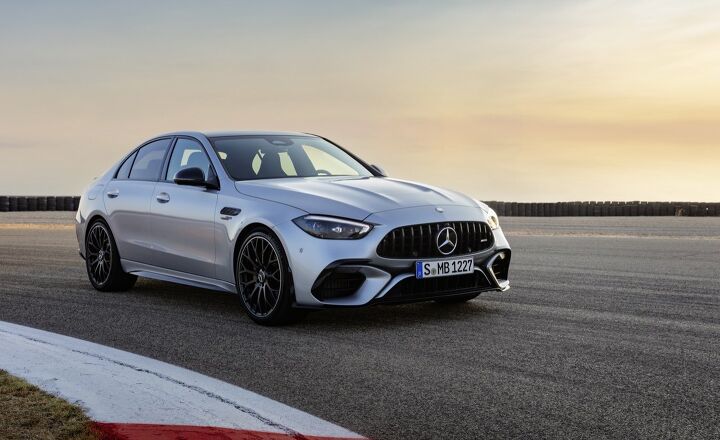 A plug-in powertrain boosts C63 power by 33-percent; all-electric range is 8 miles (13 kilometers).
Mercedes-Benz on Wednesday unveiled the latest member of its high-performance AMG family, the 2024 Mercedes-AMG C63 S E Performance. As the name implies, the muscular sedan is adopting electrification, with a plug-in powertrain resulting in a huge bump to horsepower.
We've known the entire C-Class family was moving to an all-four-cylinder lineup since the regular car launched last year. For AMG duty, the 2.0-liter turbocharged motor alone produces 469 horsepower and 402 pound-feet of torque, making it the most powerful production four-cylinder in the world (a title it snatches from another AMG, the A45 S). It uses an electric turbocharger, F1-derived tech that AMG says improves both response and efficiency. Even on its own, that's not far off the figures of the outgoing C63, though half the cylinders will make for a very different soundtrack. AMG's nine-speed, wet-dual-clutch transmission sends power to all four wheels—with a standard Drift Mode, available for the first time in the C.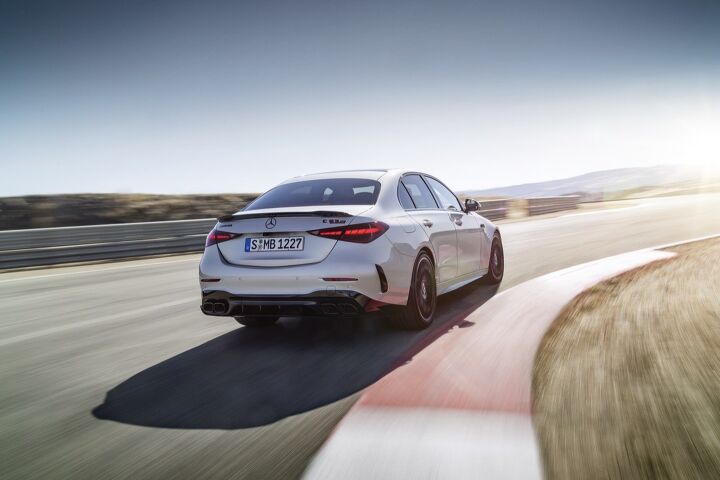 Mercedes then augments the four-pot with a compact electric motor acting on the rear axle. The motor uses its own two-speed transmission, similar to a Porsche Taycan. Drawing from a 6.1-kWh battery, the electric motor offers up 94 horsepower in normal situations, with a 10-second boost window of the full 201 hp, which is where AMG derives that headline horsepower figure from. The run to 60 mph will take just 3.4 seconds, while the curb weight is a chunky 4,654 pounds (2,111 kilograms).
SEE ALSO:
2022 Mercedes-Benz EQS Range Test Review: 417 Miles in Comfort
An onboard 3.7-kW A/C charger is included, though Mercedes doesn't specify charging time. It does caution that this setup was designed "for fast power delivery and draw, not the longest possible range," which goes some way to explaining the 8-mile (13-km) EV range.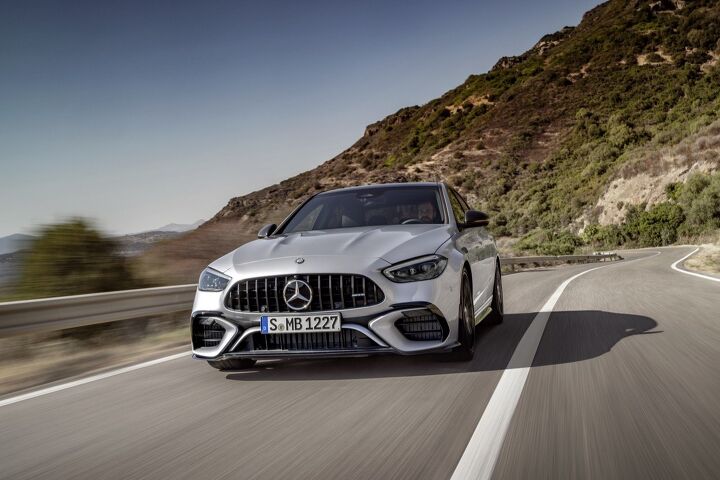 Outside, the C63 takes the AMG's typically understated-yet-muscular approach. The nose is 2 inches longer (50 mm), with a 3-inch (76-mm) increase in front track. The hood gets a discreet vent in the middle to release hot air, and an AMG badge now sits at the front. The big Mercedes three-pointed star remains in the grille, however. Three large air intakes sit below that, with a gloss black nose splitter matching unique side skirts. The rear bumper features a larger diffuser and four exhaust tips. Rolling stock consists of 19-inch wheels as standard, with 20s available as an option.
SEE ALSO:
2021 Porsche Taycan RWD Review: Base is Just as Sweet
Inside, buyers will find unique sport seats, with optional buckets. The large MBUX infotainment screens both in the dashboard and behind the steering wheel feature unique hybrid-specific modes and functions. There are no less than eight (EIGHT!) driving modes: Electric (up to 78 mph / 125 km/h), Comfort, Slippery, Sport, Sport+, and RACE. Yes, capitalized. A Battery Hold mode aims to keep the battery at the same state-of-charge, using small amounts of power and then compensating with recuperation. There's also an Individual mode, which allows the driver to tailor the transmission, chassis, steering and exhaust systems to their liking.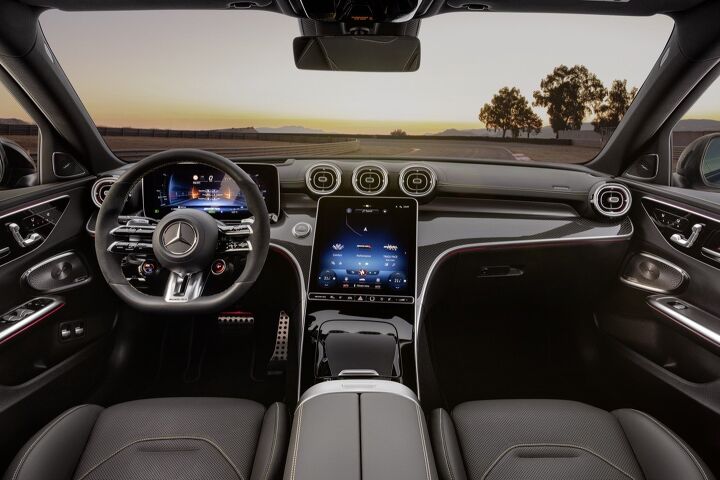 Regenerative braking is available in four levels. Level 0 is the closest to a typical internal-combustion car, offering almost no resistance. Level 3 cranks up the regen, over 100 kW depending on the situation, allowing for one-pedal driving. The RACE option sets the regen to Level 1 for what AMG calls "the most reproducible vehicle behavior possible at the limits."
SEE ALSO:
2021 Mercedes-AMG E63 S Wagon Review: Overachieving as an Art Form
The C63 comes with a whole host of high-tech goodies tailored to performance. In addition to the standard Drift Mode, there's an AMG-tuned continuously-adjustable adaptive damping system, with three drive modes. Rear-wheel steering is also standard, turning the rear wheels up to 2.5 degrees opposite the fronts up to 62 mph (100 km/h), and 0.7 in phase with them above that speed. Composite brake discs, with six-piston calipers up front and single floating calipers in the rear, are also standard.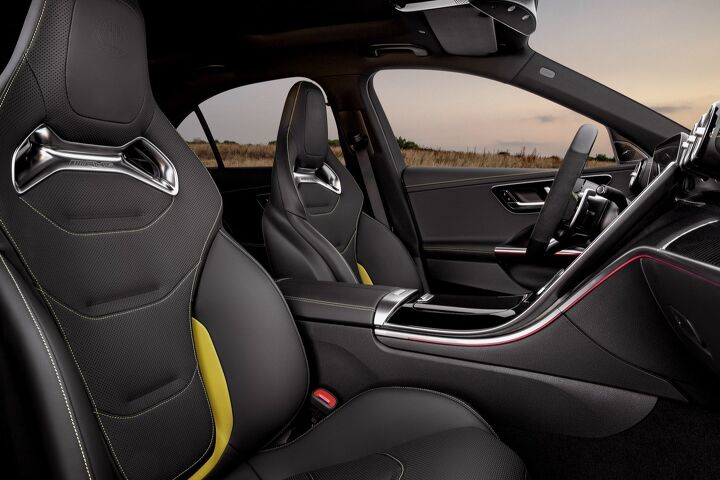 Mercedes won't talk pricing or availability quite yet. With the rest of the C-Class lineup still being quite new in the US and Canada, we expect the 2024 Mercedes-AMG C63 S E Performance to begin arriving on these shores some time in the middle of next year.
Become an AutoGuide insider. Get the latest from the automotive world first by subscribing to our newsletter here.
Published September 21st, 2022 10:17 AM
Popular Articles
Latest Comparisons
Car Buying Tools