223 Views
Best AWD EV – 7 Category Leaders
November 7th, 2022 10:09 AM
Share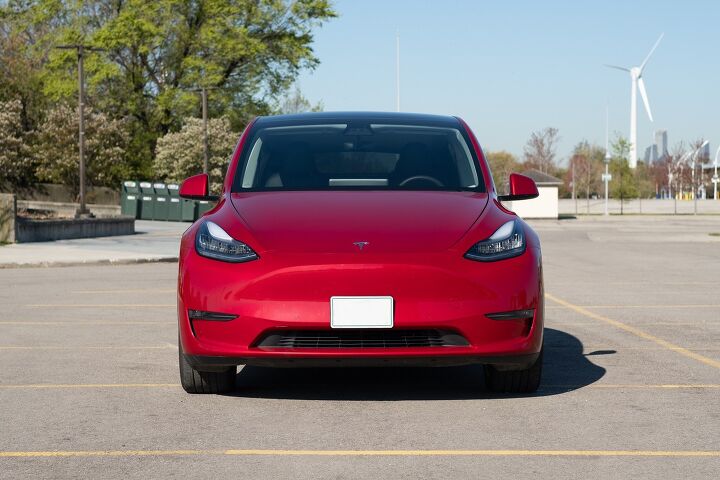 Trying to determine the overall best AWD EV is nearly impossible.
Different electric vehicles excel at different things. Some are very affordable, some are uber efficient, and others are off-road masters. So, rather than trying to just determine the best overall AWD EV, we have broken it down into categories. Below we've listed the best AWD EV based on seven key metrics many shoppers consider when making a purchasing decision. Is this the end all, be all list of best AWD EVs? No, but it does show which manufacturers and models currently hold bragging rights in the following categories.
Lowest Priced AWD EV – Toyota bZ4X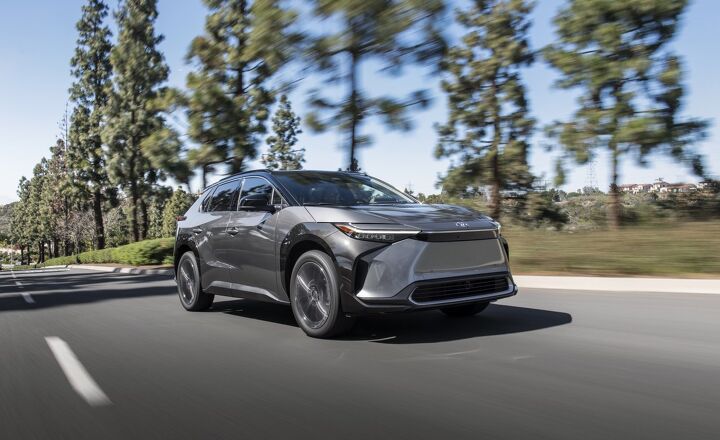 It may have taken Toyota a bit of time to join the electric vehicle party, but it appears to be worth the wait. The new bZ4X EV SUV is the lowest priced electric vehicle featuring all-wheel drive. With a starting price of $45,415 after destination charges for the XLE AWD, the bZ4X just undercuts its crosstown sibling, the Subaru Solterra.
The dual motor SUV makes a total of 214 hp and is good for an estimated 228 miles of range on a single charge.
Most Efficient AWD EV – Tesla Model 3 Long Range AWD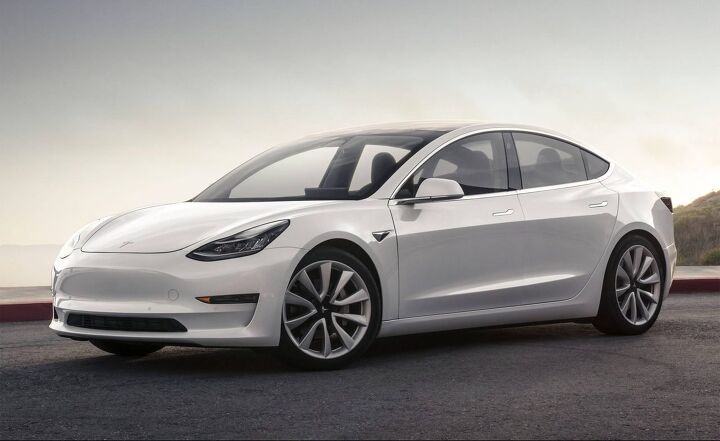 The all-wheel drive electric vehicle that uses the least amount of electricity per mile driven is the Tesla Model 3. As one of the smallest and lightest AWD EVs, it makes sense that the Model needs little electricity to motivate its 4,034 lbs mass. Officially, the car is rated at 132 MPGe combined in terms of efficiency. This allows the Model 3 to travel upwards of 358 miles on a single charge.
SEE ALSO:
Most Efficient EV Top 10 – The 110+ MPGe Club
Another all-wheel drive EV that's rated at 132 MPGe is the much larger, more powerful Lucid Air Grand Touring. But, the only way for that vehicle to achieve this rating is with the smaller 19-inch wheels installed. With the more common and more popular 20-inch or 21-inch wheels equipped, the Air drops a bit in terms of efficiency.
Longest Range AWD EV – Lucid Air Grand Touring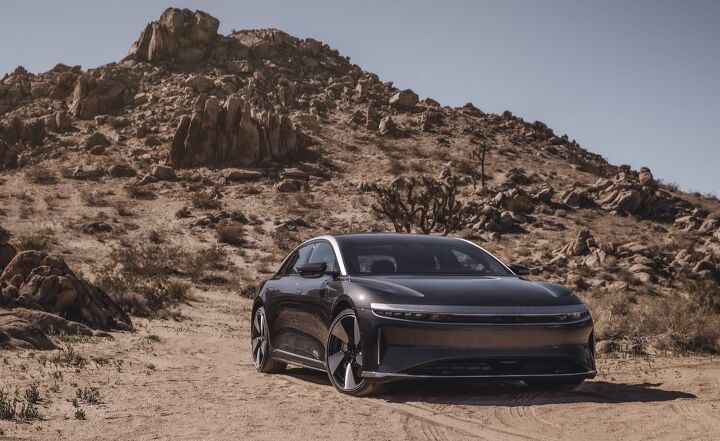 Those looking for the upmost driving range possible from an all-wheel drive electric vehicle need to look no further than the Lucid Air Grand Touring. As mentioned above, the Air is incredibly efficient for the size of the vehicle. And despite having a combined 819 hp on board, the Air Grand Touring is still capable of travelling upwards of 516 miles on a single charge. With all that power and range, this really is a case of having your cake and eating it too. The only downside; this is one expensive cake. The Air Grand Touring starts at a price of $154,000 USD.
Most Cargo Space AWD EV – Rivian R1S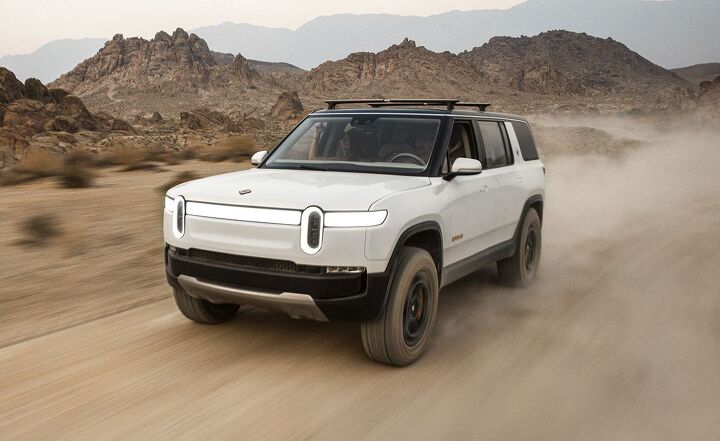 Some EV shoppers need a lot of space for their family and gear. No vehicle is better suited for that task than the upcoming Rivian R1S all-electric SUV. With a combined 105 cubic feet of enclosed storage, there isn't much this vehicle can't carry.
SEE ALSO:
EV with most Cargo Space: Top 10 List
The full-size R1S electric SUV has a cargo carrying advantage over most curvier EVs thanks to its boxy shape. This allows a lot of gear to be hauled around inside the cabin, especially with the rear two rows of seats folded flat. But for added storage, there is a bin under the cargo floor that holds 5.1 cubic feet of gear. And if that's not enough, there is also a front trunk that consumes 11.1 cubic feet of cargo.
Highest Ground Clearance AWD EV – GMC Hummer EV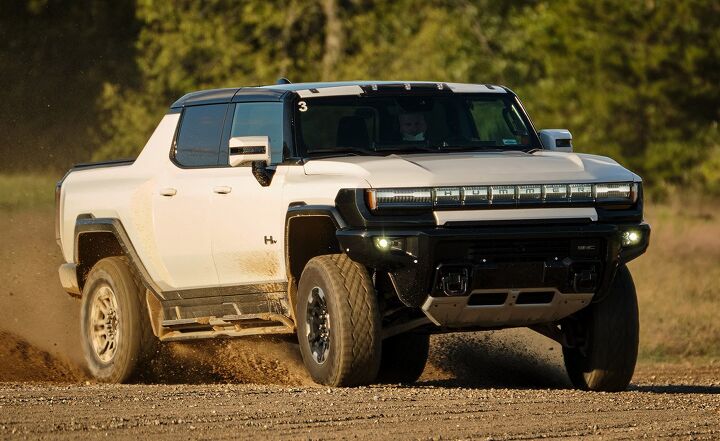 A new trend in the world of electric vehicles are off-road specialist EVs. Rivian has a pickup and SUV ready to attack the trails while Jeep is about to release the rock-crawling Recon. But for those that need to traverse over a small vehicle, house, or river, the upcoming GMC Hummer EV will be the best bet. In what GMC calls Extract Mode, the Hummer EV SUV will be able to rise up and deliver 16-inches of ground clearance. Those who prefer the pickup truck Hummer EV will have to make do with just 15.9-inches of ground clearance.
Most Powerful AWD EV – Lucid Air Saphire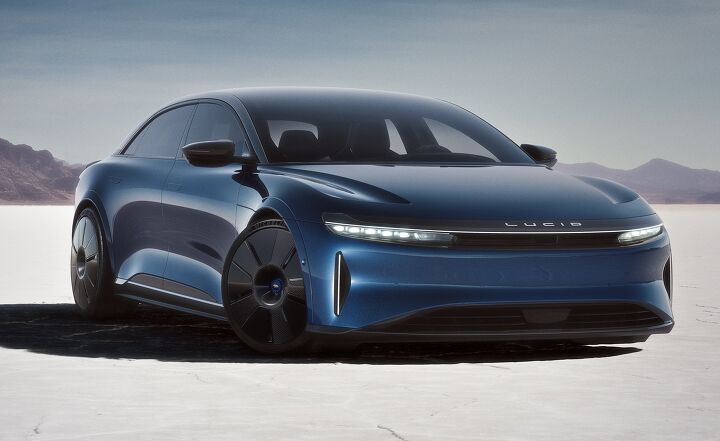 The Lucid Air makes its second appearance on our list, this time for outright power. The Upcoming Lucid Air Sapphire takes the already incredibly powerful Air and adds an extra dollop of hp on top. Total system power is reported to be in excess of 1,200 hp, which is outright bonkers for a street-going sedan. Pricing for this limited edition model will set customers back a quarter million dollars, which puts it on par with plenty of less-powerful, less-practical gasoline powered exotic sports cars.
Most Towing Capacity – Rivian R1T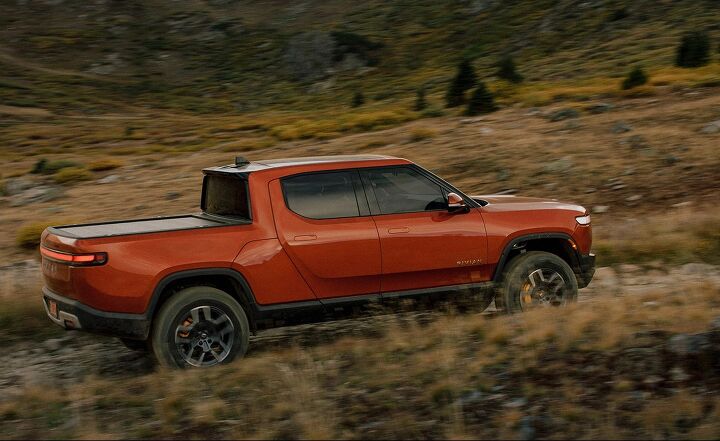 Well, we've covered just about everything a vehicle can do in this list, except one task; towing. The idea of towing heavy loads with an EV seemed ridiculous not that long ago as it would hamper range and efficiency so much, it just wasn't worth it. But as technology advances, so do the capabilities of vehicles. Ford now has an all-electric version of the best-selling F-150 pickup truck that can tow upwards of 10,000 lbs.
But for the ultimate in EV towing, look no further than the Rivian R1T. The quad-motored pickup truck is rated to tow up to 11,000 lbs – an impressive number regardless of powertrain. And when not saddled with a heavy load, the 835 hp truck is said to be able to go from 0 to 60 mph in just 3 seconds flat.
Become an AutoGuide insider. Get the latest from the automotive world first by subscribing to our newsletter here.
Published November 7th, 2022 10:09 AM
Popular Articles
Latest Comparisons
Car Buying Tools