120 Views
2023 BMW M2 Hands-On Preview: 5 Reasons We Care About the Baby M Car
November 5th, 2022 6:16 PM
Share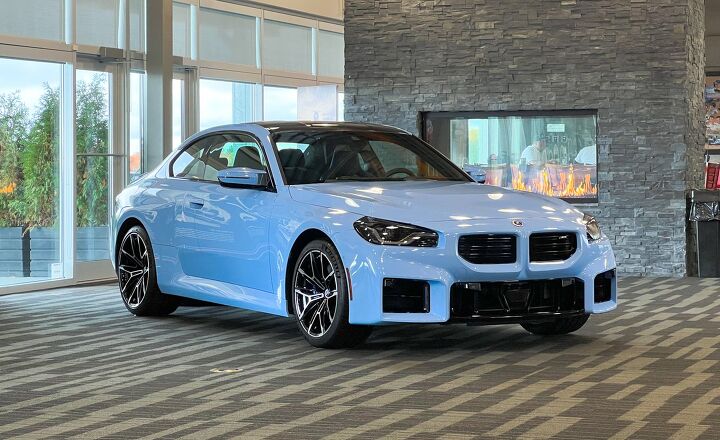 A new M2 is coming, and we here at AutoGuide.com can't wait to get behind the wheel.
The M brand is celebrating 50 years of existence here in 2022. As part of the festivities, BMW invited media to a special event to not only drive most of the current crop of M cars where they truly come alive—the track—but to preview what's next for the blue-violet-red brand. That meant time to poke around both the new M2 coupe and flagship XM SUV.
If the XM is looking into the future, the M2 is reinforcing where M came from. This is the enthusiast special, a 453-horsepower, inline-six-powered, two-door made to take the long way home. Now that we've had a chance to get up close and personal with it—Mike Schlee already went hands-on with the XM when it debuted—here are the five reasons we're excited for the 2023 BMW M2.
SEE ALSO:
BMW XM Hands-On Preview: 5 Reasons it's BMW's New Flagship Model
Rear-drive only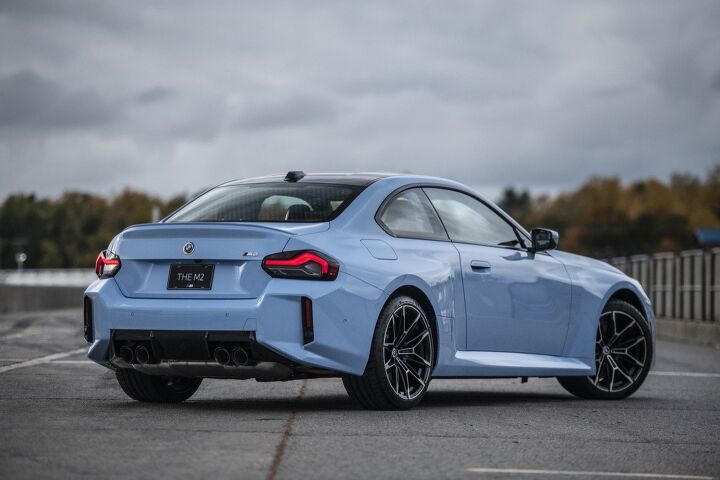 Look, the existing M240i is a missile. Not only is it already plenty quick in that this-makes-way-more-power-than-quoted way modern BMWs are, it's one of the quickest-accelerating cars you can buy under $50,000. That's thanks to xDrive, BMW's rear-biased AWD system, which was the only option on the M240i at launch. (A rear-drive option is now available in the US, but not Canada.) A similar setup is available on the M3 and M4, and it's standard on the M5, M8, and every one of the M SUVs. AWD offers more all-weather capability, yes, but some folks want the added challenge of balancing a car with only one powered axle.
Well, the M2 doesn't give you a choice. BMW will be launching this one in purely rear-drive format, and we appreciate the heck out of that.
SEE ALSO:
2022 BMW M240i Coupe First Drive Review: Focused on Fun
Manual lives on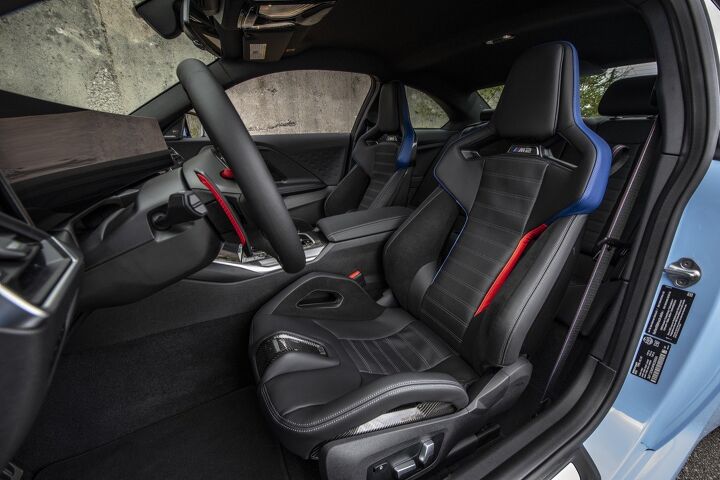 There's another feature the current 2 Series Coupe launched without: a manual transmission. There was just one transmission at launch, the ZF-sourced eight-speed automatic that's in practically every BMW at this point. The M2 will use a variation of this setup, too—and so it should for the auto option, as the ZF is one of the best in the business.
But those seeking an added level of interaction will be pleased to know a three-pedal setup will continue. What's more, it's cheaper than going for the auto 'box. BMW expects a large percentage of manual-transmission takers from launch, buyers who put driving enjoyment a top priority.
SEE ALSO:
2021 BMW M3 Review: More Pedals Equal More Fun
Reasonable price increases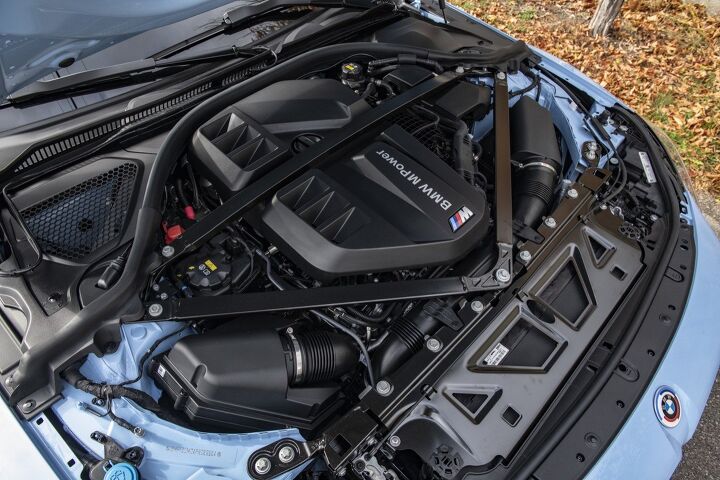 We don't have to tell you how much most items have gone up in price since 2021. And yes, referring to a $63,195 (~$79,000 CAD) two-door coupe as a "bargain" is something of a stretch.
Consider this, however: when the last M2 bowed out two years ago, it carried a price tag of $59,895 ($74,680 CAD). This new model bumps horsepower by 48, to 453 ponies total—just 20 hp shy of an M4. It's better-equipped too, with more modern tech, including iDrive 8 stretching across two high-def screens. Drivers get standard M Laptimer and M Drift Analyzer features, too. Pound-for-pound, the new M2 is actually more affordable than the old car.
Looks better in person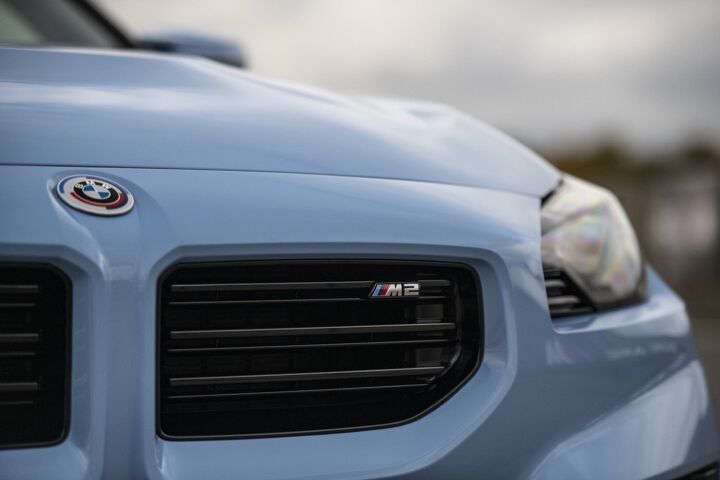 Before its official unveiling, the M2 leaked in a handful of low-res photos from, well, less than flattering angles. Even the official images didn't quite look right, putting extra emphasis on the jutting front bumper. It wouldn't be a new BMW without a minor controversy about its looks.
In person, the M2 is better. Mostly. This Zandvoort Blue paint certainly helps, BMW continuing to offer new models in exciting, actual colors. The deeply recessed front grille makes it look like the M2 has had an allergic reaction to a bee sting, however. Same goes with the rear bumper, the outermost extensions reminding us of the worst part of '70s auto design: impact bumpers. But we like the squared-off front bumper, which gives off ground-hugging touring car vibes, and the redesigned headlights providing a friendlier face. There squat, powerful stance reinforces the compact nature of the M2, in a time where even the M4 looks closer to a shrunken M8 than a small coupe all its own.
Bonus points for being one of the few production cars with a staggered-diameter wheel setup, too. Those spindly wheels are 19 inchers up front, and 20s out back.
SEE ALSO:
2022 BMW i4 Review: 4 Series 4 The Future
This will be the last pure-ICE M model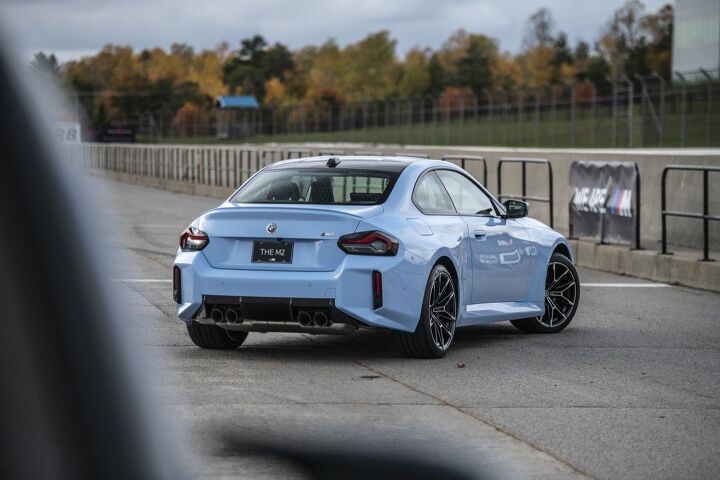 BMW has already confirmed it: the M2 will be the last new model to debut from M without any electrified assistance. The XM has it, the M5 is rumored to—you get the idea.
We're not against electrification. Hell, one of this writer's favorite cars of the year was BMW's own i4 M50. But for those that want the final evolution of the internal-combustion M car, this is the one. That it's also the most affordable, comes with a six-speed manual, and will sing that classic BMW inline-six song, well, that's even better. The 2023 BMW M2 will launch in spring 2023, and we can't wait to get behind the wheel.
Become an AutoGuide insider. Get the latest from the automotive world first by subscribing to our newsletter here.
Published November 3rd, 2022 6:15 PM
Popular Articles
Latest Comparisons
Car Buying Tools