35 Views
November 23rd, 2022 4:37 PM
Share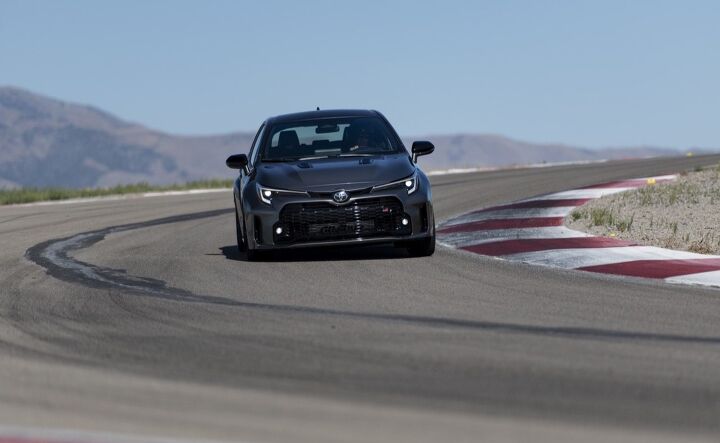 Did you know there is still a thriving Hot Hatch market in North America?
It might be hard to believe, as our market hasn't exactly been the mecca of hot hatches over the years, but it's true. There are more than enough to compile this Best Hot Hatch: Top 10 list.
For those not completely familiar with what a hot hatch is, it's a sporty car that comes from humble roots. Usually, they are based on a compact car that has a primary focus on commuting ease and efficiency. Hot hatches take these mundane platforms, and transform them into serious performance machines. Oh, and of course they need to have some form of hatchback cargo hold.
Below we have listed 10 of the best hot hatches currently on sale in no particular order. They cover a surprisingly wide spectrum of vehicles, drivetrains, and powertrains. Read on and enjoy.
Volkswagen GTI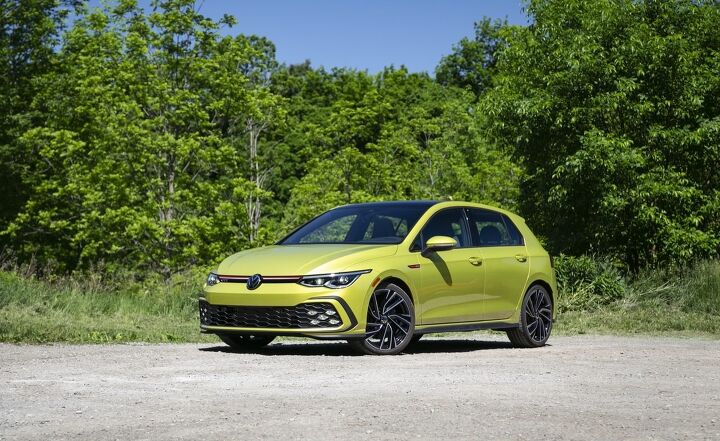 The originator of the hot hatch category and still the poster child is the Volkswagen GTI. All-new this year, the GTI continues to offer one of the best all-around packages for small car performance, comfort, utility, and refinement. Power comes from a 2.0-liter turbocharged four-cylinder engine that develops 241 hp and 273 lb-ft of torque. The front-wheel drive five-door can be had with either a six-speed manual transmission or a seven-speed dual-clutch automatic.
SEE ALSO:
Honda Civic Si vs Volkswagen Golf GTI vs Hyundai Elantra N: Sport Compact Shootout
Mini Cooper Hardtop 2 Door JCW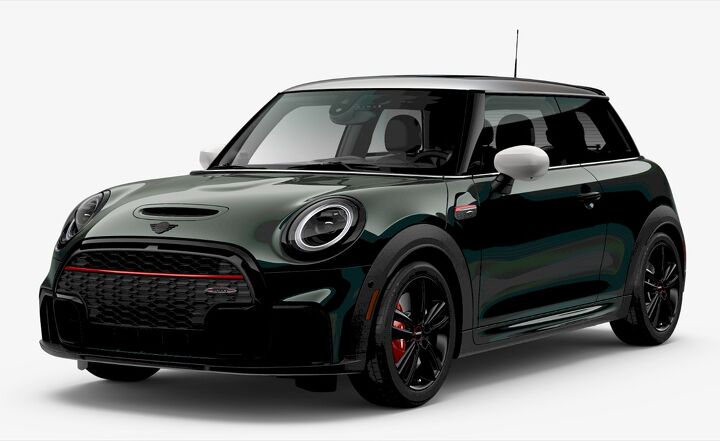 Arguably as iconic as the GTI is the Mini Cooper. The original giant killer, the nimbleness and decent power-to-weight ratio of the original Mini made it a favorite for rally racers around the world. The latest Mini Cooper Hardtop 2 Door is available with a choice of three engine. It's not far-fetched to call the Cooper S, with its 189 hp turbocharged 2.0-liter engine a hot hatch in its own-right. But for the maximum amount of performance, the John Cooper Works (JCW) is where it's at. That 2.0-liter turbo bumps power to 228 hp and 235 lb-ft of torque. Of course, the legendary Mini handling is present thanks to sticky tires and large brakes at all four corners.
Honda Civic Type R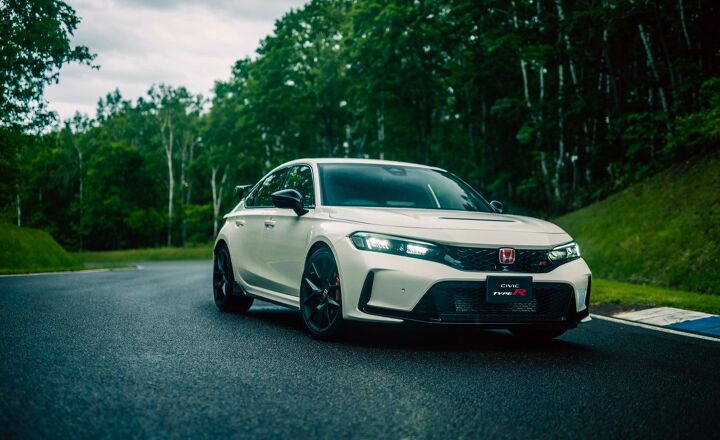 Moving up a performance level, we have the first entry in what we call the '300 hp hot hatch class'. Probably the best handling front-wheel drive car on sale in North American, the Honda Civic Type R has a lot of power to back up that fantastic handling. How does 315 hp and 310 lb-ft of torque sound from a 2.0-liter turbocharged four cylinder engine? All-new this year, less extroverted fans of the high performance Honda hatchback will be happy to see the more restrained styling of the 2023 model. Except for that giant wing on the back of course.
Toyota GR Corolla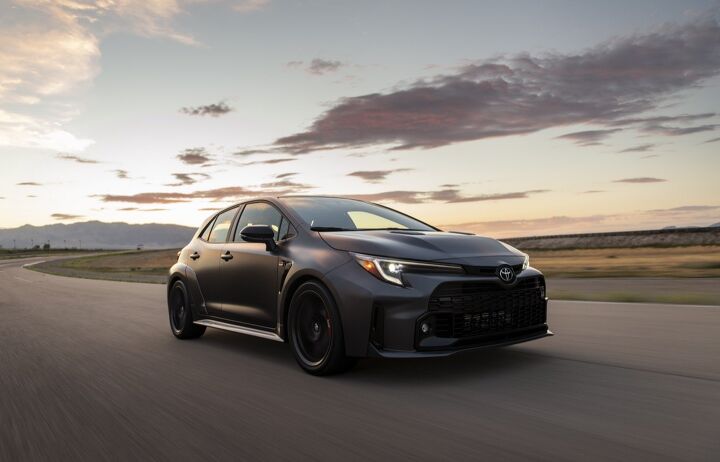 A new player has entered the hot hatch market this year, the Toyota GR Corolla. Yes, you read that correctly, the Toyota Corolla is now a hot hatch. But it's not just any Corolla, its the wide-body GR Corolla. As part of the GR transformation, the Corolla receives an all-wheel drive system, a six-speed manual transmission, wide tires, big brakes, and a potent 1.5-liter turbocharged three-cylinder engine. But down't let the number of cylinders or engine size fool you, the three-pot still hammers out 300 hp and 273 lb-ft of torque.
SEE ALSO:
2023 Toyota GR Corolla Review First Drive: Sporty Toyota International
Volkswagen Golf R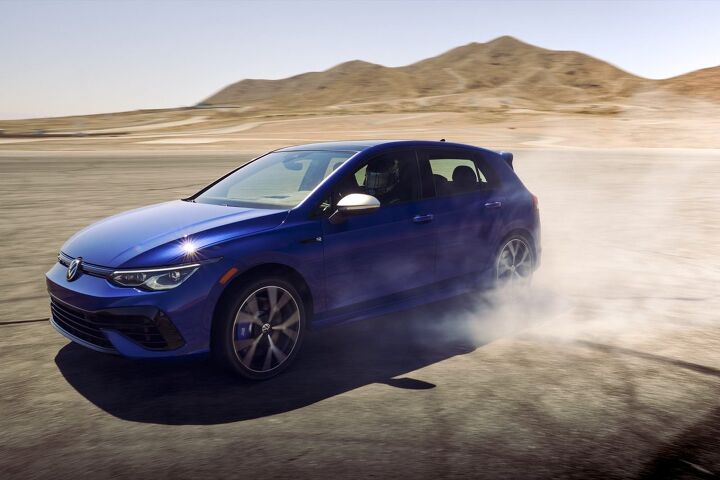 Battling head-to-head with the new comer listed above from Toyota is another version of the Volkswagen Golf – the Golf R. It takes the 2.0-liter turbocharged four-cylinder found in the GTI and cranks power up to 315 hp and 295 lb-ft of torque. That's as much power as the Civic Type R generates, but unlike the Honda, the Golf R includes all-wheel drive. Everything that makes the GTI such a liveable, everyday package is still present in the Golf R, just with an even greater level of performance.
Mini Clubman All4 JCW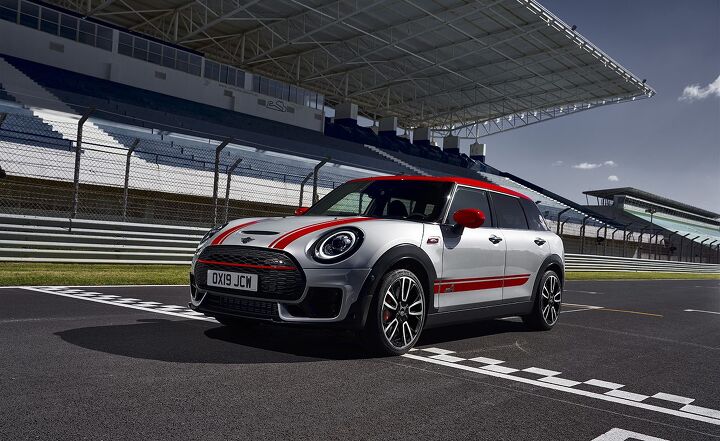 As we alluded to earlier, Mini has a steep history in making high performance, smallish hatchbacks. The Cooper Clubman is Mini's take on a small wagon and features a few unique touches like the split rear doors. Ok, this technically doesn't make it a hatchback, but other than two doors that open sideways instead of one door that opens skywards, it has all the right criteria to be considered a hot hatch – especially in John Cooper Works (JCW) guise. With 301 hp and 331 lb-ft. of torque blasting out of a 2.0-liter turbocharged engine, The Clubman JCW has all the power and performance of the Civic Type R, Golf R, and GR Corolla.
Acura Integra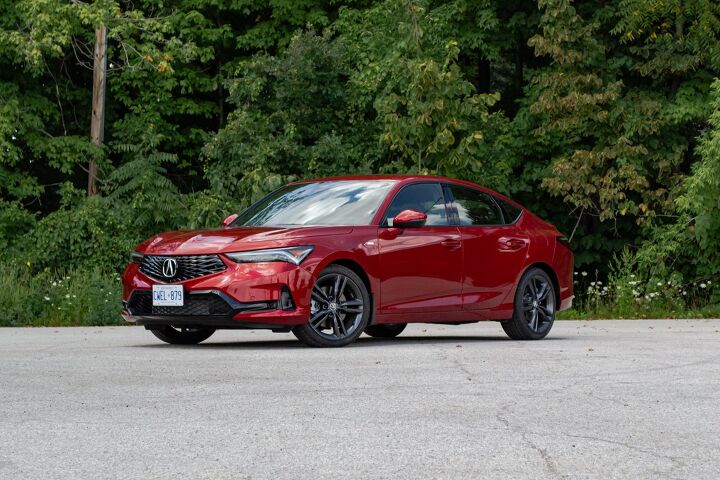 For those interested in a less intense hot hatch, may we present the new Acura Integra. Yes, despite its swoopy sedan silhouette, the new Integra is actually a hatchback like the old model. Available with a manual transmission or an automatic, the Integra offers hot hatch lovers a little more comfort and luxury compared to other entries on this list. With a 200 hp 1.5-liter turbocharged engine and optional Helical limited-slip differential, the Integra is still a fun car, if not more restrained.
SEE ALSO:
Acura Integra A-Spec vs Mazda3 Turbo Comparison: Autoboxes Assemble
Mazda3 Hatchback Turbo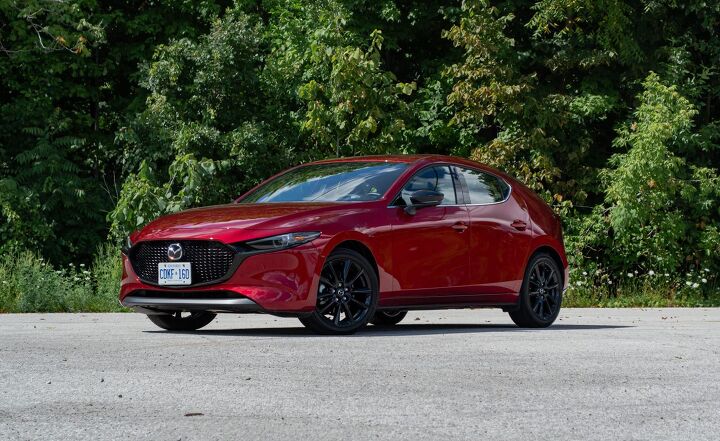 Taking a similar philosophy to the Acura Integra, the Mazda3 Hatchback Turbo offers a more civilized hot hatch experience. Powered by a 2.5-liter turbocharged four-cylinder engine, it makes 250 hp and 320 lb-ft. of torque. Power is sent to all four wheels like a few other hot hatches on our list, but the Mazda3 is only available with a six-speed automatic transmission. Does this take away some of the driving fun? Yes. But it also makes the Mazda3 a great compromise for those who endure rush hour traffic as much as they do open country roads.
Hyundai Kona N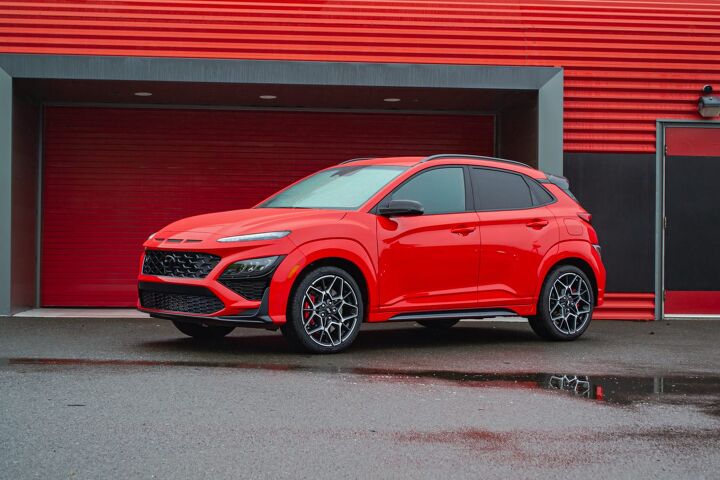 Can a crossover be a hot hatch? We think it can when it's something as compelling as the Hyundai Kona N. Receiving the same thorough N treatment as the Elantra N and the Veloster N, the Kona is far more restrained stylistically, but still packs plenty of performance. Powering the front-wheels through an eight-speed dual-clutch automatic transmission is a 2.0-liter turbocharged engine making 276 hp and 289 lb-ft of torque. Despite the higher center of gravity, the Kona N is still a blast to drive and responds the way a hot hatch should.
Mini Cooper SE Hardtop 2 Door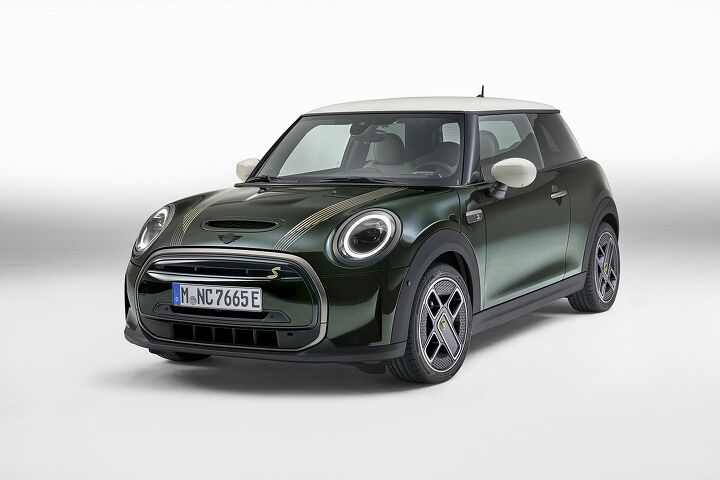 For the final entry on our list, we look to something completely different. Ok, maybe it's not completely different as this is the third Mini to make our list. But it's what powers the Mini Cooper SE 2 Door that sets it apart. Under the hood is an all-electric drivetrain that produces 181 hp and 199 lb-ft. of torque. That nearly equals the power output of the Mini Cooper S, while not burning a single drop of fuel. But the real reason the Mini SE is on our list isn't due to its power output. Despite its 200-300 lbs. weight penalty, it still retains that lovable, tossable nature that makes Minis so fun to operate. It's arguable the most fun to drive EV under $35,000.
Become an AutoGuide insider. Get the latest from the automotive world first by subscribing to our newsletter here.
Published November 22nd, 2022 2:26 PM
Popular Articles
Latest Comparisons
Car Buying Tools