4 Views
Mazda's Canadian Electrification Plans Aim For 25% Of Its Volume To Come From EVs By 2030
November 23rd, 2022 11:25 AM
Share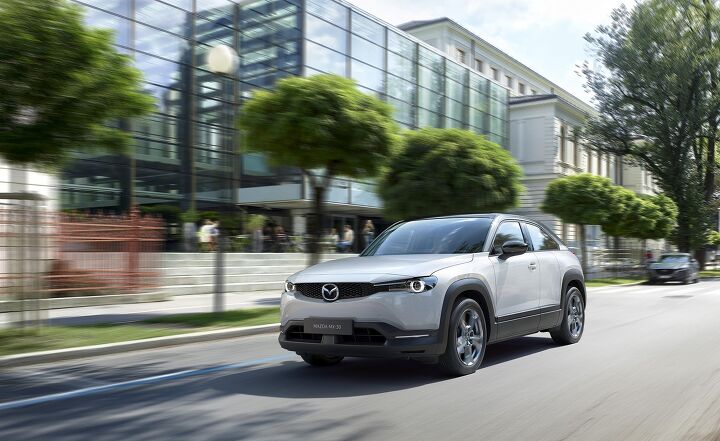 Mazda's Canadian EV plans start to take shape.
Seemingly behind even slow-to-electrification Toyota, Mazda's electrification plans have been thin, especially in Canada. The brand has the MX-30 on sale in British Columbia and Quebec, but other than that, there's not much out there. Now, Mazda has outlined electrification plans, called "Sustainable Zoom-Zoom 2030."
By 2025, the brand wants to launch eight new electrified options, electrified including PHEV and EV options. First up, will be Mazda's CX-70 and CX-90 PHEV crossovers, alongside their standard mild hybrid options. Then, the brand wants to expand the MX-30 EV to sales in all of Canada, not just British Columbia, and Quebec. The brand will hybridize the CX-50, and introduce four more hybrids of yet-to-be-determined names and shapes by 2025. Also in 2025, Mazda wants to introduce a full-on EV on a brand-new platform, dubbed the SKYACTIV EV Scalable Architecture.
It's interesting to note the estimates of what Canadian drivers will actually want in the future. DesRosiers Automotive Consultants estimates that only 15% of the vehicle fleet in Canada will be made of BEVs. By 2030, Mazda's more ambitious plan is for 30% of the brand's sales volume to come from fully electric offerings, although the manufacturer does state its sales volume will be flexible and in-line with market demands and government regulations. Globally, Mazda has also stated the goal is for upwards of 25-40% of its worldwide sales to come from EVs. Mazda calls this the "Multi-Solution Approach," in which it offers "different products and technologies – including much more efficient internal combustion engines and the use of sustainable fuels, that best suit the local market and society's demand for sustainability," according to the brand.

It's all part of the plan for Mazda to be completely carbon-neutral by 2050.
Become an AutoGuide insider. Get the latest from the automotive world first by subscribing to our newsletter here
Published November 22nd, 2022 3:23 PM
Popular Articles
Latest Comparisons
Car Buying Tools