41 Views
The 10 Coolest Cars and Trucks at SEMA 2022
November 2nd, 2022 4:20 PM
Share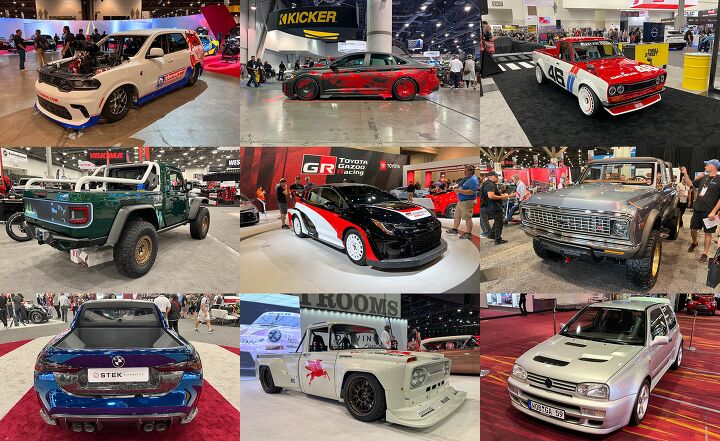 From off-roaders and EV restomods to race cars and Aussie-inspired 'utes, here's the best we saw at SEMA 2022.
The Specialty Equipment Market Association (SEMA) 2022 has taken over Las Vegas for the week. The show covers thousands of square feet, with hundreds of cars, trucks, and SUVs to take in. We came, we hit step counts we didn't realize were possible, and we saw some truly impressive builds. SEMA provides a taste of where the aftermarket is heading, and this year's show was no different.
Every build has seen passionate folks put in countless hours to bring their dream to fruition. For that, our hats off to them. Some builds just demanded our attention more than others. From the hundreds of cars we saw across the halls these two days, here in no particular order are the 10 coolest cars at SEMA 2022.
Volkswagen Jetta GLI Performance Concept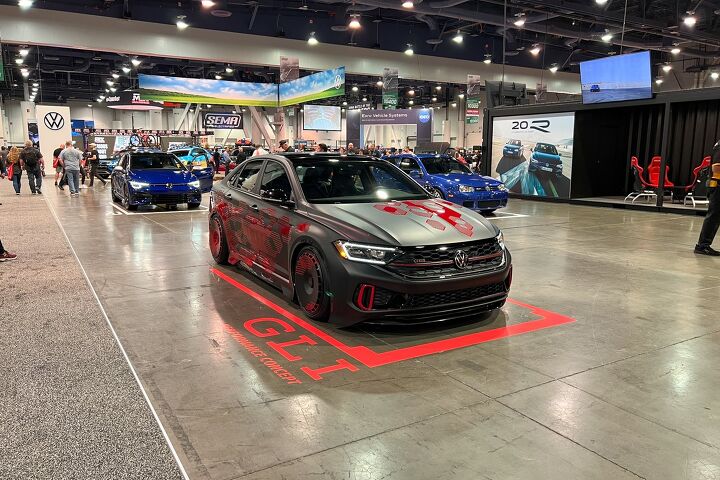 We start with the debut that kicked off the show. On Tuesday Volkswagen revealed the Jetta GLI Performance Concept. An early birthday gift to itself to celebrate 40 years of the "GTI with a trunk," Volkswagen tapped its European RacingLine division to pump up the four-door. A custom widebody kit, slammed suspension, and wicked-cool aero wheels give it the necessary show-floor flash, while an uprated engine now kicks out 350 horsepower. Best of all? Beyond that custom bodykit, interested tuners can buy everything shown here.
SEE ALSO:
Volkswagen Jetta GLI Performance Concept is a Touring Car for the Road
Dodge Durango Drag Pak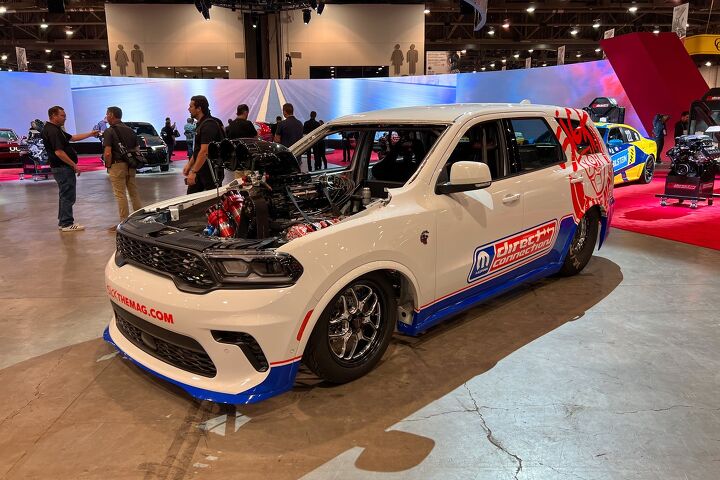 Dodge is known for producing wild vehicles at SEMA, and this year's stand was no exception. Easily the wildest, however, was this four-seat Durango Drag Pak (Dragango?). Drag racer Tim Bailey took apart the only Durango Hellcat Redeye to exist—long story—pulled out most of the interior and floor, and fit it with enormous drag slicks. Bailey and Sick Speed Co. expect the project to hit the 7s at the strip once everything is sorted, including a screw blown third-gen Hemi engine. We love it.
SEE ALSO:
2021 Dodge Durango SRT Hellcat Review: First Drive
Nissan Sunny LEAF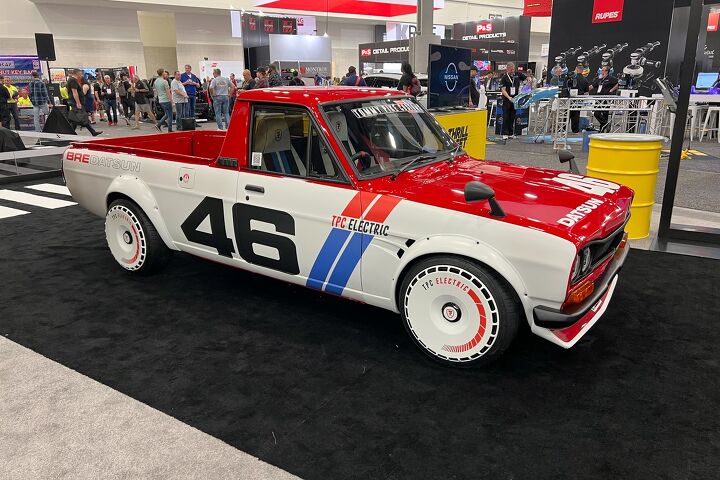 It's unanimous: the AutoGuide team fell in love with this funky little classic pickup. Hotrod builder Tommy Pike is responsible for this beauty, pairing the tiny truck with a modern Leaf EV battery and motor. This wasn't a simple drop-in job, either: Pike and his crew redistributed the battery layout to fit under the bed. Working in close contact with Nissan, Pike was also able to get Peter Brock's blessing to use the classic BRE livery. A set of 17-inch Rotiform wheels perfectly fill out the Hakosuka widebody kit.
What makes this Sunny especially cool is that it maintains the original four-speed transmission. Yes, that's right: this is a manual EV. It does have to contend with three times the original torque output, though…
Quadratec Jeep Gladiator JTe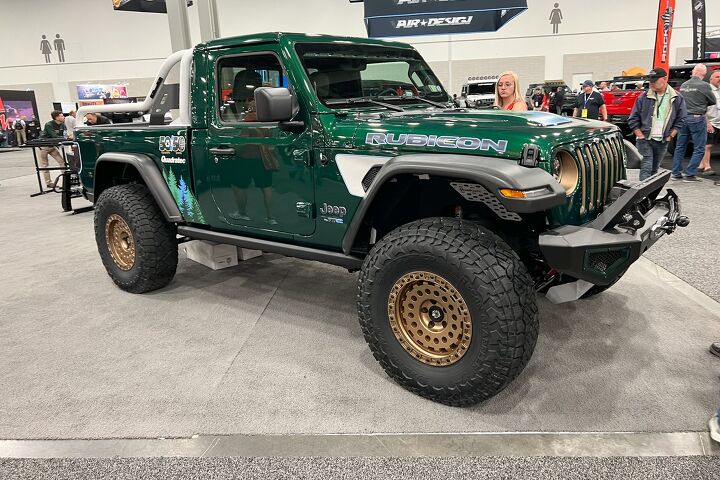 It seems we're not alone in finding the Jeep Gladiator's profile a little off. The folks at Quadratec have chopped up a Jeep Wrangler 4xe to create this, a two-door, plug-in hybrid version of Jeep's mid-sized pickup. Dubbed the JTe, we call it freaking rad. Quadratec has given its gold-and-green creation a Lynx 2.5-inch suspension lift, matching 17-inch wheels, and chunky 37-inch Nitto all-terrain tires. In addition, there's a bed rack, rooftop tent, and a whole range of recovery gear.
Did we also mention the JTe will serve as as a support vehicle for Quadratec's 50-for-50 trail clean-up initiative? Win win.
BMW M4 Ute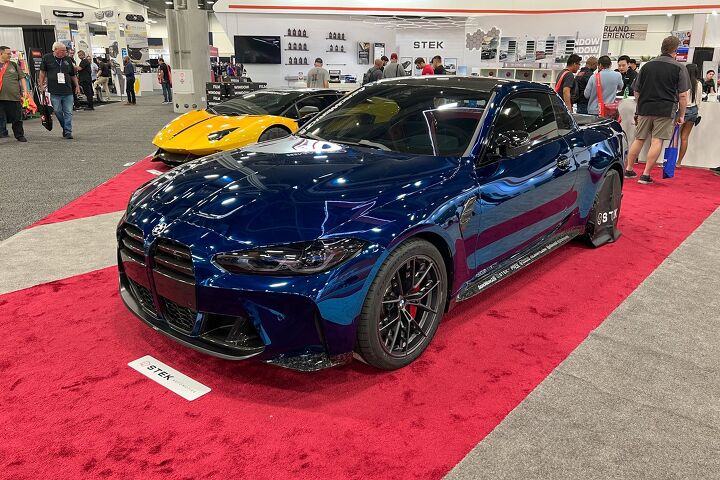 This M4 speaks German through an Aussie accent. The folks at Dinmann took a current-gen G82 M4 Competition xDrive and made good on BMW's recent April Fool's joke. The M4 is already an insanely quick 503-horsepower rocket, and AWD makes that true in all weather. Now it'll haul even more.
Volkswagen Golf A59 Prototype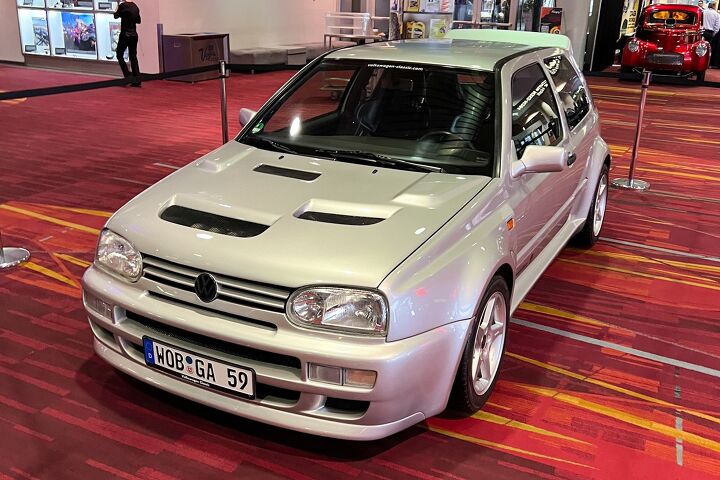 What if Volkswagen had contested the 1994 World Rally Championship? In an alternate timeline, that's exactly what happened with this, the Golf A59. Built in secret with a planned 2,500-unit production run, the A59 featured a unique, 1,998-cc turbocharged four-cylinder engine, producing a mean 275 horsepower—comfortably more than anything else in the VW stable at the time. It ran that power through a six-speed manual to an advanced AWD system featuring an electronically-controlled center differential. The unique bodywork is a combination of carbon fiber and Kevlar: light and strong. It's a shame this one-off wonder was sitting on its own in the hall, and not with its brethren in the main VW section.
Toyota GR Corolla Rally concept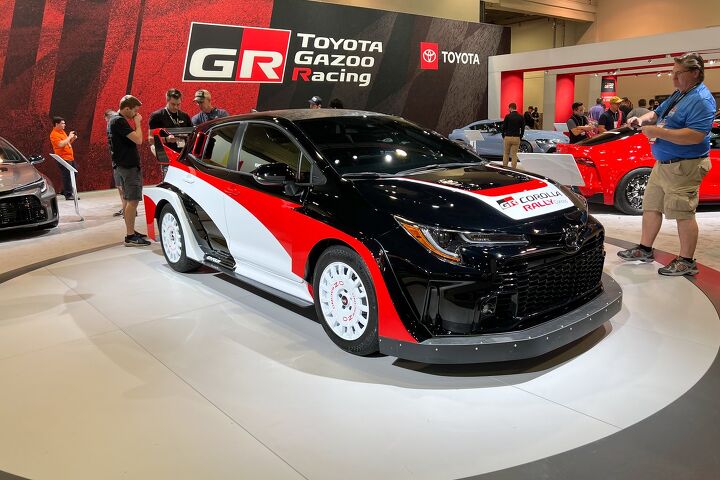 We've driven the GR Corolla. We love the little 300-horsepower, rally-inspired hot hatch. So imagine the grin when Toyota pulled back the sheets on this Rally Concept version of 2022's hottest Toyota. A custom widebody kit adds three inches to each corner, while a massive composite front splitter adds 4.5 inches in length. The rear wing is large enough to hold a Fast and Furious-style family dinner on. Toyota Motorsports Garage crafted functional rear quarter-windows to vent air to the coolers.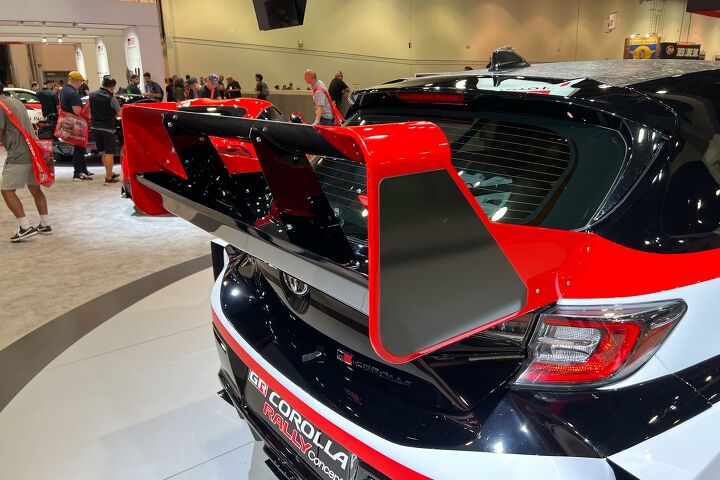 A full Tein rally-spec suspension sits underneath, with upgraded brakes hiding behind the 17-inch OZ rally wheels. Toyota left well enough alone with the GR Corolla's 1.6-liter three-cylinder engine, but did employ MagnaFlow to craft a custom, four-tip exhaust to optimize airflow and performance.
SEE ALSO:
2023 Toyota GR Corolla Review First Drive: Sporty Toyota International
Ryan Tuerk's 1966 Toyota Stout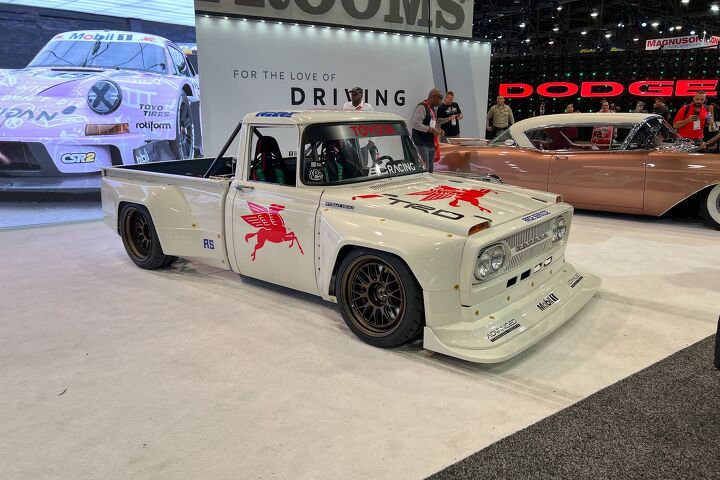 When you think of classic trucks, the Toyota Stout probably doesn't spring to mind. Ryan Tuerk and Toyota Racing Development (TRD) are looking to change that at SEMA 2022 with this wild tube-framed 1966 Stout. Just look at it!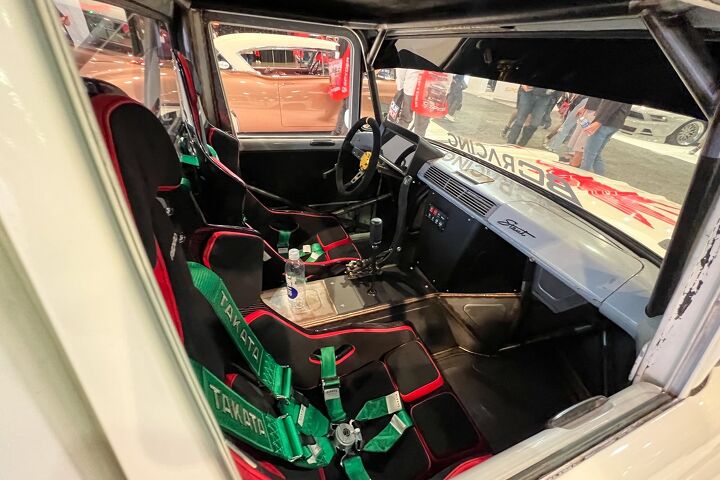 With a custom widebody kit created by Jon Sibal, this drift-ready beast features a turbocharged Toyota 5S engine kicking out 650 horsepower. It all heads to the rear wheels via a Holinger RD6-S sequential-shift manual gearbox.
Ring Brothers Chevy K5 Blazer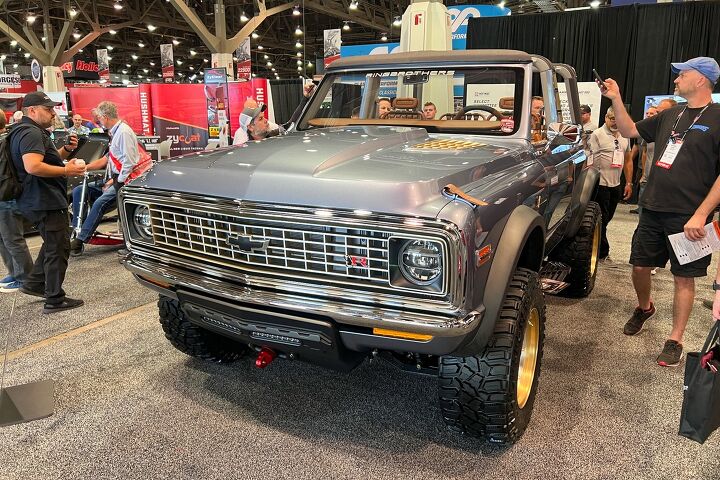 The Chevy K5 Blazer is one of those classic SUV shapes, utterly timeless. This one, dubbed "Bully," mixes modern with old-school touches, the former coming by way of a supercharged 6.8-liter LS3 built by the folks at Wegner Motorsports. Think the new Hummer's powerful? How about 1,200 horsepower? A Bowler-built 4L80 transmission puts the power through Dana axles front and rear, connected to Fox Racing coilovers. Pretty 18 x 12 HRE wheels come wrapped in enormous 325-section Cooper Discoverer tires.
The most impressive aspect is the interior, however. The leather hood straps are a hint of a full leather interior from Upholstery Unlimited, with criss-crossing leather seats that look utterly fantastic,
Pfaff Porsche 911 GT3R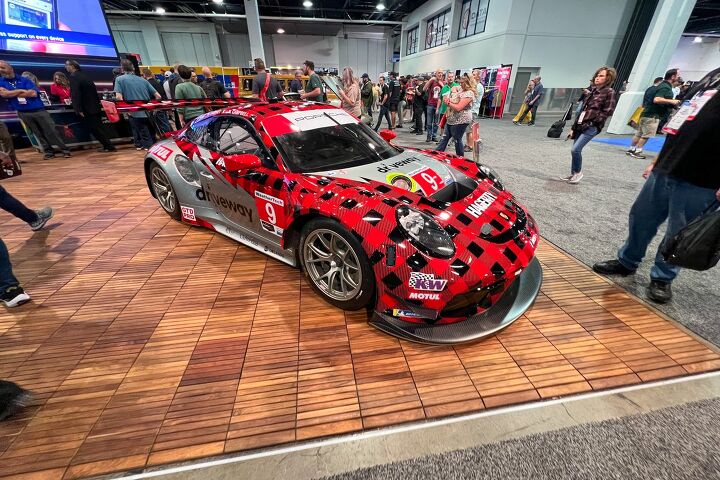 What's so special about this race car, you say? This Canadian racing team's plaid look is iconic, but this isn't a wrap. No, the Pfaff team painstakingly hand-painted the entire thing. Even the driver names and flags. It's an ambitious project you need to see up close (at the BASF booth) to fully appreciate.
Become an AutoGuide insider. Get the latest from the automotive world first by subscribing to our newsletter here.
Published November 2nd, 2022 4:20 PM
Popular Articles
Latest Comparisons
Car Buying Tools