537 Views
Diagnose Issues With Your Vehicle With the TopScan OBD2 Scanner
June 20th, 2023 1:47 PM
Share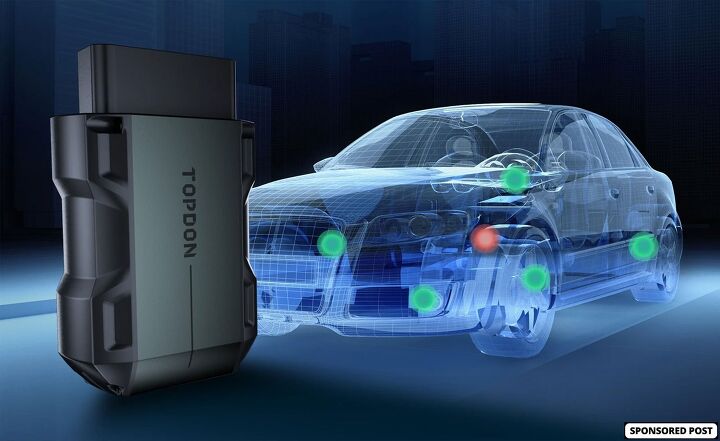 There is a freedom that comes with being able to diagnose and fix issues your vehicle may be having. Sure, we can't do everything on our own, but we also don't have to run to the mechanic and spend our hard-earned money fixing things we could easily do ourselves.
YouTube is a great resource when it comes to learning how to do everything from changing your oil to replacing your brakes. But before you pop the hood, you need to have the right tools for the job.
TOPDON TopScan Smart Diagnostic Tool
While tools like wrenches and funnels are a given, you need to be able to diagnose an issue with your vehicle before you can try to fix it. This is where the TopScan from TOPDON comes in.
The TopScan is an ultra-compact tool that pairs with an app to turn your phone into a scan tool and works on more than 60 different vehicle makes. Using it is as simple as connecting the TopScan to the OBD2 port in your vehicle then opening the app on your phone.
Not only can the TopScan clear fault codes, but it also offers advanced diagnostics. It can scan all vehicle systems, including engine, transmission, airbag, ABS, ESP, TPMS, immobilizer, gateway, steering, radio, and air conditioning.
Once you complete the scan, you can access a DTC Repair Guide, which will walk you through the processes and fault codes and offer guidance on making any necessary repairs.
The TopScan can also access subsystems and component parts, allowing you to analyze and locate faulty parts quickly and accurately. This covers everything from fuel injectors to coolant pumps to windows, and a whole lot more.
The TopScan comes standard with AutoVIN and AutoScan functions. AutoVIN automatically identifies vehicle information such as make, model, and year, while AutoScan detects vehicle systems and retrieves DTCs. All of this is designed to save you time and make diagnosing issues and making repairs as simple as possible.
Published June 20th, 2023 1:47 PM
Popular Articles
Latest Comparisons
Car Buying Tools