611 Views
Dorman's Aluminum Oil Filter Housing for Pentastar Engines Is the Last One You'll Ever Need
June 21st, 2023 11:34 AM
Share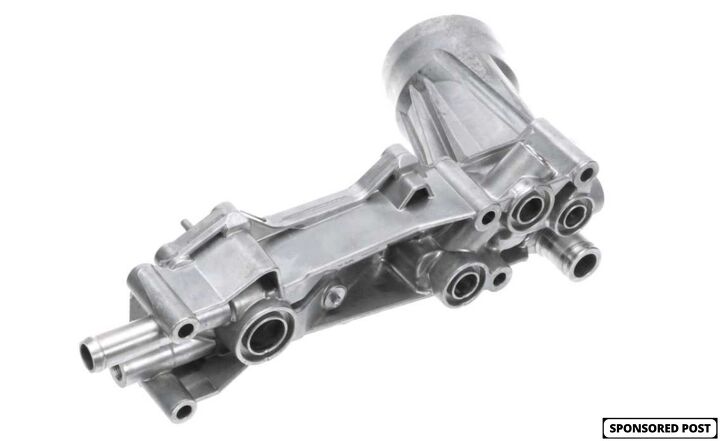 As the world's automakers turn increasingly toward small turbocharged engines and pure-electric powertrains to meet tightening emissions targets, Chrysler's Pentastar V6 soldiers on – one of the last stout, reliable non-turbocharged V6s in a sea of diminutive, high-strung turbo fours. It's made its way into numerous products under the Dodge, Chrysler, Jeep, and Ram banners, too, from the Chrysler Pacifica minivan through the Jeep Wrangler, all the way up to full-size Ram pickup trucks.
But there's one point of failure that every Chrysler Pentastar owner has to start worrying about sooner or later: the oil filter housing. On late-model Pentastar-equipped Mopar vehicles, the oil filter housing is made of plastic – great for cost and weight savings, but mediocre in most every other regard. Over time, as the space under your hood heats up during a drive, and then cools back down to the ambient temperature, only to repeat the cycle again in a few hours' time, the plastic stretches and warps. That warpage makes it all but impossible for the oil filter housing to maintain a good seal with the mating surface, which leads to oil leaks. Give it long enough and the oil filter housing can even crack open from the stress.
OEM replacement oil filter housings are of course widely available from Chrysler, but why go through the hassle of replacing your factory housing with another plastic part if it just means you'll have to go through the same thing again later down the road?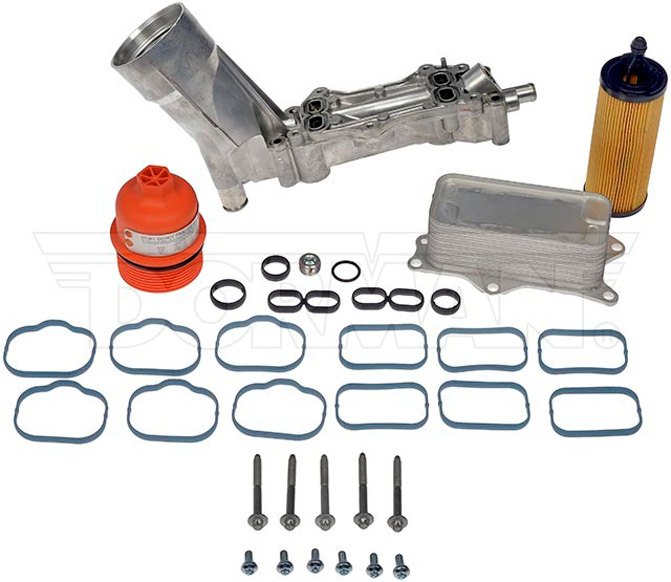 Thankfully, manufacturer Dorman – a well-respected titan in the quality aftermarket parts domain – has come to the rescue with an all-aluminum Pentastar oil filter housing upgrade. This is the latest in Dorman's line of OE FIXTM products, which seeks to address issues of quality and durability by re-engineering factory automotive parts to address pain points relating to design and material selection. In fact, we've already written about Dorman's improved shift tower for manual-equipped Jeep Wrangler models, which replaces the factory stamped-steel piece with a more rigid, long-lasting bearing steel one.
Bearing steel would be needlessly expensive and heavy for an oil filter housing, but the aluminum alloy that Dorman has chosen for its OE FIX Pentastar filter housing is perfect. It's a high-pressure die-cast part, engineered to last at Dorman's United States facilities, and it isn't prone to warping or cracking in the same way as the factory plastic piece. In all likelihood, it will outlive the rest of your engine, maintaining a perfect leak-free seal for years to come. If the seals ever do fail, there's no need to replace the whole housing, so the parts cost of fixing the leak is reduced. Dorman even ships the upgraded part with an updated filter and a bright orange cap that distinguishes it from the original part, plus a cooler, premium gaskets, and all necessary hardware.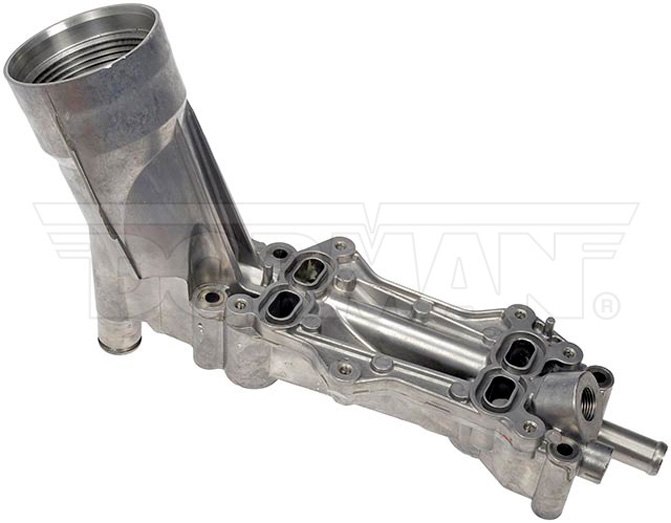 Dorman says that its new OE FIX upgraded oil filter housing, which has received three patents, is compatible with all Pentastar applications from 2011 up. That includes Chrysler, Dodge, and Jeep models from 2011 through 2023, Pentastar Ram models from 2012 through 2023, and even a number of 3.6L-equipped Volkswagen models from 2011 through 2014. For earlier models, which might have had an older oil filter and housing design from the factory, this Dorman replacement brings them up to current spec.
Dorman's Pentastar oil filter housing upgrade is not as inexpensive as your typical aftermarket replacement, but if you spend any time at all on any Mopar forums, you're liable to encounter a number of complaints pertaining to the factory part. If you're running the factory oil filter housing on your Pentastar-equipped vehicle, it's only a matter of time before you go through the same headache of warping, leaks, and eventually, total and complete failure. Break the cycle with the Dorman OE FIX upgraded oil filter housing.
It is worth noting that a lot of copycats are out there and they have literally copied the part number from Dorman. So be careful when you are looking for this filter housing upgrade if you are searching by the part number. You will want to make sure it is the Dorman OE fix.
Published June 21st, 2023 11:34 AM
Popular Articles
Latest Comparisons
Car Buying Tools