1.6K Views
The Best Truck Bed Tents: Your Bed Away From Home
July 17th, 2023 3:46 PM
Share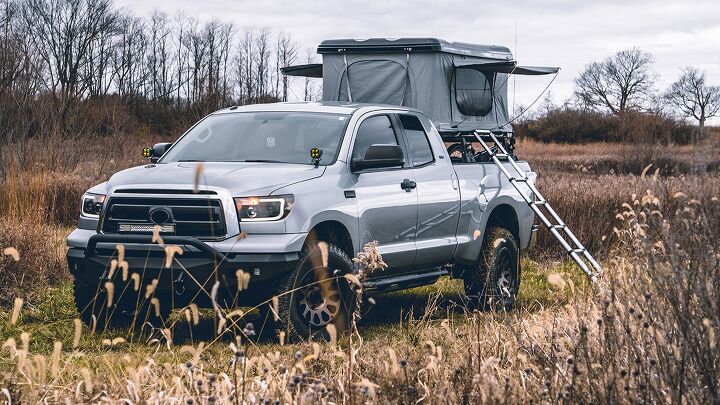 One of the best parts of having a truck is just how versatile it can be. You can tow a camper behind it, put a tent on the roof or a rack, or you can even turn the entire truck bed into a tent.
Why would you want a truck bed tent? For a start, it frees up the hitch for towing boats or other watercraft, for bringing along side-by-sides, or even letting you tow a travel trailer with even more sleeping spaces. Whatever your reason for wanting one, these are our picks for the best truck bed tent.
Why a truck bed tent?
A truck bed tent adds flexibility and comfort to your camping trip. These tents don't have to be assembled when you're driving, so you can still use your truck bed for camping gear, coolers, and other necessities. They can also be quickly removed and stored in your garage, so you can use your truck bed for other truck bed duties like a dump run or hauling gravel. Changing configurations is a lot tougher if you have a slide-in truck camper.
Putting your tent in the truck bed is also a great way to improve the camping experience. You're high off the ground, protected from rocks in the ground and sudden rain. In an emergency, you can quickly move your truck short distances without having to take down the tent.
Table of contents
This is series 19 of Napier's truck bed tent. That shows the company has been at it for a very long time and has made changes to make this tent better and more useful over and over again. The Backroadz is designed to set up in just 10 minutes with a colour-coded system of poles and easy instructions.
Fully waterproof with a rainfly, taped seams, and zippered storm flaps, this tent is meant to keep you comfortable in your truck. It is a full tent, so there is a layer of waterproof fabric between you and the truck's metal to help add comfort and keep out precipitation. Napier is an OE supplier for manufacturers like Ford and GM.
| | |
| --- | --- |
| Pros | Quick setup, offered in long and short-bed sizes, multiple colours |
| Cons | A three-season tent, no cab access |
Guide Gear Compact Truck Tent
This tent offers excellent waterproofing with a 1500mm hydrostatic head rating from the 190T polyester shell. It also has an included rainfly with the same waterproof rating to make sure you're absolutely dry. There is even a small awning over the door to help keep you dry inside.
Quick setup thanks to X-poles makes it easy to get this tent ready for camping or take it down at the end of the weekend. There are windows on both sides, in addition to the door, that allow for plenty of cross-breeze cooling when the rain fly isn't needed and every opening has zippered flaps. When not in use, the tent stores in a handy carrying bag that keeps it out of the way.
| | |
| --- | --- |
| Pros | Emphasis on keeping water out, excellent ventilation, did we mention water? |
| Cons | Low roof means no standing up, fewer straps than some other models |
This tent from Fofana promises setup in just two minutes thanks to the poles being integrated into the tent's construction. It is also unique for having a six-foot stand up height with almost 360-degree screen windows. So you can use it for sleeping or just to stand up and watch nature without getting attacked by mosquitoes.
The tall roof also makes it easier to get in and out of the tent. Not having to climb through a narrow opening is a big plus. Interior pockets and a gear loft let you increase your storage options and help make camping more convenient.
| | |
| --- | --- |
| Pros | Tall roof, all the windows, promise of easy setup |
| Cons | No rainfly, no cab access, some reviews complain of much longer setup times |
Napier Sportz Truck Bed Tent
Like the Backroadz tent, the Napier Sportz tent loves the letter Z. It also has the same colour-coded pole system for easy assembly. What it adds to the Backroadz list of features starts with a large awning. It extends well past your tailgate to give you a dry place to take off your boots or rain gear as well as shelter from the sun for your outdoor seating.
The Sportz tent has a 5-foot seven-inch roof height and that might not be enough for everyone to stand, it is enough to sit up. Or to sit on a chair. Thanks to an opening window on the "back" side of the tent, you can even reach into the truck's cab through a sliding rear window. This lets you grab food or water or any other handy gear that you've left in the truck for safekeeping.
| | |
| --- | --- |
| Pros | Tall, awning, access to the cab |
| Cons | Not the cheapest tent, more tent means more setup time and effort |
The Vevor tent boasts a 2000mm waterproof rating, one of the highest on this list. That should be a great comfort to anyone planning to use it, because the quickest way to bring rain to an area is to pitch a tent.
Vevor says the structure of the tent lowers wind resistance. That's not for leaving it set up on the move, rather it's to help keep the tent stable and covering you even when the wind picks up on your outing.
This is definitely a tent aimed more at bad-weather camping than being out in the sun. It has small windows and its rain fly covers them almost completely. Still, if dreary days in the woods are your preference, this is a tough one to ignore.
| | |
| --- | --- |
| Pros | High waterproof rating, rain fly, large "porch" on the tailgate |
| Cons | Small windows that are blocked by the rain fly |
Kodiak Canvas Mid-Size Truck Tent
Yes, this one is made from good old-fashioned cotton duck canvas. Hyrda-Shield treated for water resistance, this is a rugged and durable material. It's stronger than polyester and other plastic tent materials and just as waterproof. The downside is that you'll need to pay for that extra quality.
Befitting the price, this is a solid and well-constructed tent. It even has rails that attach to the bed of your truck to make sure that the tent won't budge. The rails are a one-time installation item, so while it's more work you don't need to to it again unless you get a new truck.
There are gear pouches for cargo storage, but this tent could use some larger windows. Fortunately, it is extremely breathable.
| | |
| --- | --- |
| Pros | Canvas construction, rugged build |
| Cons | High price, low roof |
What if you have a topper on your truck already but want to camp? A topper is tough to open from the inside, so it's not exactly an ideal place to sleep. This partial truck bed tent solves that problem by attaching to your topper.
Open the hatch and tailgate and the water resistant polyester tent extends over the truck topper to give you a waterproof and easily accessible camping space. It has a large front "porch" and a zip-up door with screen window to keep out insects and other bothers. Since there is only half a tent, setup time is much quicker, and you can just throw everything in the covered truck bed when you're done.
| | |
| --- | --- |
| Pros | Attaches to bed topper, water resistant, large porch |
| Cons | Only works with a topper, high price for half a tent |
Published July 17th, 2023 3:46 PM
Popular Articles
Latest Comparisons
Car Buying Tools