739 Views
July 4th, 2023 11:39 AM
Share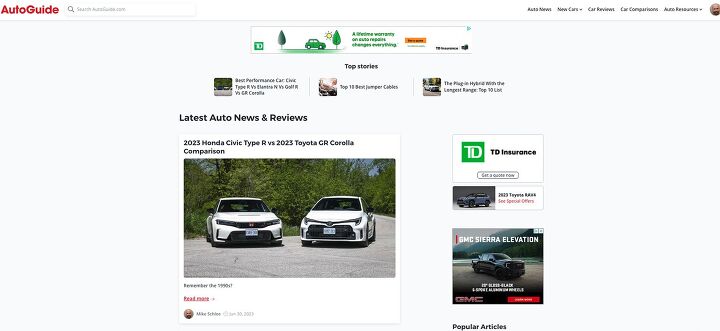 As you have probably noticed today, AutoGuide has a completely new look. But it's significantly more than just new optics. Behind the scenes, for the past many months, an entirely new platform was built for the new AutoGuide.com site.
We've spent a lot of time working to make AutoGuide more visually pleasing, easier to read, and simpler to use for readers. Although we were fond of the old site, there's no denying that the layout was more than a little dated and a bit slow when it came to functionality.
The new layout should allow you to see what's new and get on to reading the latest automotive news, comparisons, information, and reviews. Everything from the desktop vs mobile page layout to the fonts should make it easier to gather the automotive information you come here for. Also, galleries are back! We will start pumping our reviews and comparisons with more images to help better highlight and show case the vehicles we cover.
The next thing you should notice is that the site loads significantly faster. Our new platform is much more responsive, allowing quicker access to the information you want. Additionally, many of the features on the site have had new life breathed into them. AutoGuide's search feature has been dramatically improved, delivering better results in a more visual format. Also, we've brought our comments system in house, making it easier to add your thoughts to our articles.
That said, with any update this large, there are gong to be hiccups along the way. If you find a problem, please let us know. It's likely that we're already working on a fix, but if not, we'll add it to the list. We think the whole AutoGuide experience will be better from top to bottom for you, our readers. Please let us know what you think!
Become an AutoGuide insider. Get the latest from the automotive world first by subscribing to our newsletter here.
Published July 4th, 2023 11:39 AM
Popular Articles
Latest Comparisons
Car Buying Tools