955 Views
Hyundai Files Trademark For "N74" In Europe; N Vision 74 Soon?
September 21st, 2023 8:59 AM
Share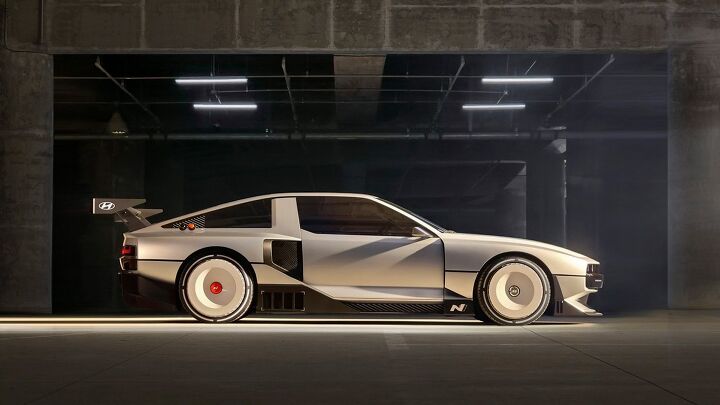 Is Hyundai's N Vision 74 concept coming to production?
Hyundai's new design push has certainly been a sight to see; the Ioniq 5 and Ioniq 6 don't look like anything else on the road. These cars, especially the Ioniq 5, hark back to Hyundai's past, reinterpreting its forgettable (and poorly made) early cars, into cutting-edge, hyper-futuristic designs. The Hyundai N Vision 74 concept was inspired by the original Hyundai Pony concept from the 1970s, turning the old Guigaro-penned coupe into a hydrogen-powered muscle sports coupe. It's a stunning design exercise, but will we ever see the car on dealership lots?
Maybe. VerticalScope has found evidence that Hyundai's filed a trademark in the EU for the moniker "N74." That's got to mean something, right?
It doesn't take much to see that N74 is likely a productionized version of "N Vision 74." Also, the N Vision 74 has had amazing reception from journalists and the public alike. Hyundai continually has brought it to events outside of the traditional auto show circuit, like the Goodwood Festival of Speed. Despite those very public appearances and a rumor that the car was greenlit months ago, Hyundai has refuted that the N Vision 74 is headed to production. This trademark filing could say otherwise, though.
We aren't sure if a production Hyundai N74 would keep the N Vision 74's hydrogen powertrain. Although Hyundai does have its own production fuel-cell EV hydrogen car, the Nexo, hydrogen's refueling infrastructure is poor and doesn't seem to get any better. If the N74 does make it to production, we'd expect it to be an EV, likely using the same E-GMP platform that the Ioniq 5 and Ioniq 6 use.
Watch this space. Hyundai could drop a surprise EV sports car in our laps, very soon.
Become an AutoGuide insider. Get the latest from the automotive world first by subscribing to our newsletter here.
Published September 21st, 2023 8:59 AM
Popular Articles
Latest Comparisons
Car Buying Tools