616 Views
Nissan EVs Join the Move to NACS, Tesla Supercharging Network
July 19th, 2023 10:51 AM
Share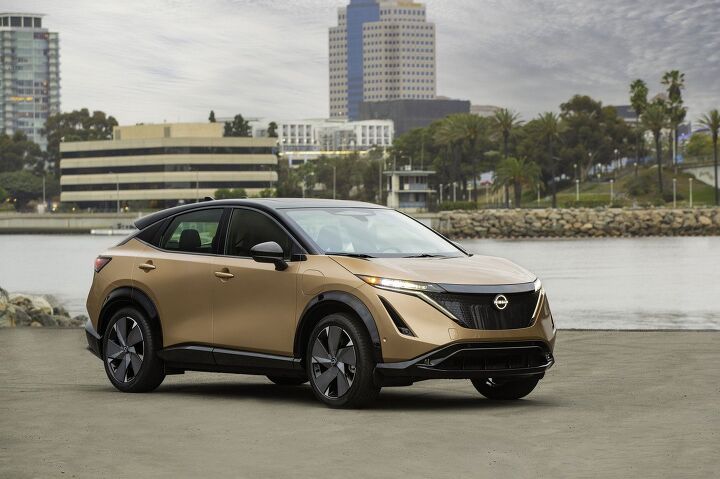 The market is quickly reaching a consensus – NACS will be the way forward.
Following Ford, GM, Aptera, Volvo, Polestar, and Rivian, Nissan announced its intention to switch to the NACS (North American Charging Standard) plug. Like those other brands, the switch to NACS comes with a partnership with Tesla, and access to the Tesla Supercharging network.
The Tesla Supercharging network will add an additional 12,000 DC fast charging stalls in the U.S. and Canada to Nissan's repertoire. The brand will switch to the port sometime in 2025, but until then, Nissan Ariya vehicles will be able to access the Supercharging network via an adapter, starting in 2024. Nissan is the first of the Japanese manufacturers to make the switch.
It's interesting to note that only CCS-equipped Nissan vehicles are applicable to use the NACS to CCS adapter. All of the other NACS and Tesla supercharging deals are retroactive, meaning, any of the brand's vehicles that can DC fast charge have access to the Tesla Supercharging network, via the new adapter. However, the announcement leaves out the Nissan Leaf. This may be because of the CHAdeMO port's less-than-stellar compatibility with CCS or Tesla's plug. An adapter exists for Tesla vehicles to use CHAdeMO ports, but no such adapter exists in reverse for CHAdeMO-equipped vehicles to use CCS DC fast charging ports.
Nissan says that all of its future EVS will also use the NACS plug. Expect whatever next to come after the Ariya to natively use the NACS plug, and access the Supercharging network. The brand plans to make two new EVs at its Canton, Mississippi plant starting in 2025.
Become an AutoGuide insider. Get the latest from the automotive world first by subscribing to our newsletter here
Published July 19th, 2023 10:51 AM
Popular Articles
Latest Comparisons
Car Buying Tools