966 Views
Performance Cars Need Performance Brakes
August 25th, 2023 2:34 PM
Share
We're committed to finding, researching, and recommending the best products. We earn commissions from purchases you make using links in our articles. Learn more here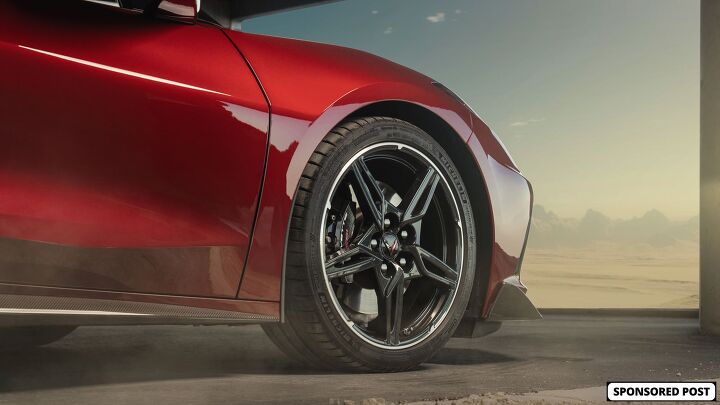 In your car, it is more important to be able to stop than it is to go fast. Whether you're driving a rather tame sedan, or a fully modded muscle car, you have to have absolute trust that the brakes will do the job and bring you to a stop. Regardless of what you drive, a performance car needs performance brakes, and that is where the professionals at Hawk Performance come in.
Racing Heritage
We all know that auto racing is one of the biggest proving grounds for technology and performance. Every vehicle on the road today has benefited from a company that races. Hawk Performance has been in the racing business for over 30 years, and the lessons it has learned on the track translates directly to the products it sells. And what is that? The best brake pads and components that you can buy!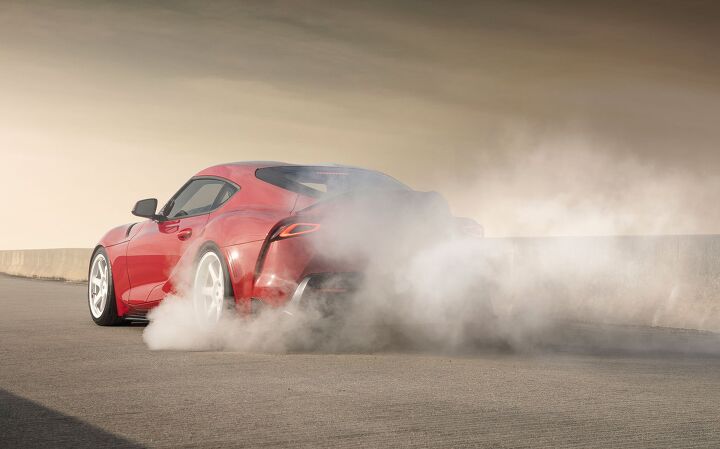 It's all about control, and Hawk's obsession with it. Racing requires brakes that can handle the intense pressure and heat that comes from driving fast and getting on the brakes. You can't have brake pads that fade or fail when going for the win, and what Hawk Performance learned on the track has translated directly over to the street, with a full line of performance brakes that are street legal and ready for your car.
HPS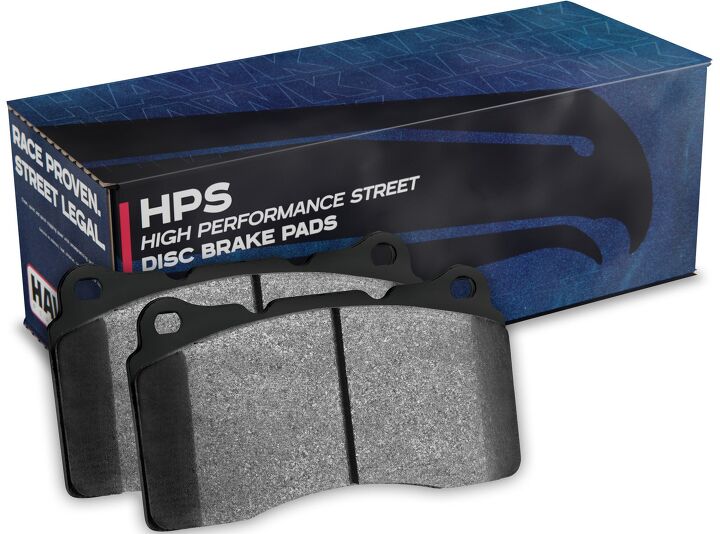 Hawk's High Performance Street (HPS) disc brake pads are designed for increasing stopping power on street-legal vehicles. They increase the performance of your vehicle's braking system by 20-40% thanks to the Hawk Performance Street HPS braking compound. The HPS pads offer you a higher coefficient of friction over your stock brake pads, giving you more stopping power and higher resistance to brake fade than most standard replacement pads. The decrease in fade gives you better pedal feel and more consistent performance in a durable brake pad that generates less dust. This is the perfect brake pad for your car whether you're commuting to work, or feeling the car out on the open road. The added control helps you stay focused on the drive.
HPS pads are gentle on steel rotors, but are not made to work with carbon ceramic rotors. These pads run cooler and work within higher temperatures than stock pads, so you'll experience longer brake life and an overall better ride quality.
HPS 5.0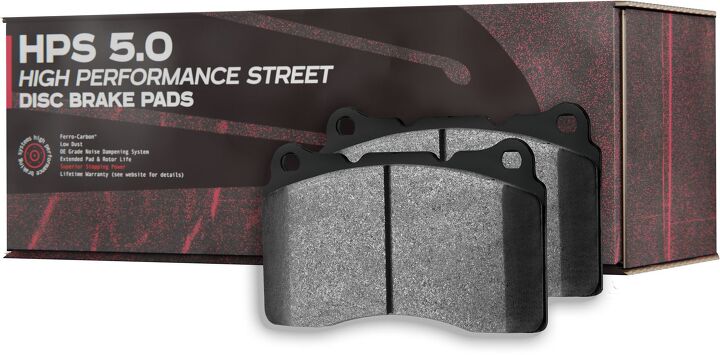 If you drive an import tuner car or have a built-up muscle car, you may find that you need a little extra performance over the HPS. That is where the HPS 5.0 pad comes in. If you have been pushing the performance limit of your engine, you want a pad that can handle things, too. Hawk Performance is pushing the limits, too. Especially when it comes to what an ABS system can handle. The Hawk Performance High Performance Street 5.0 pads give your vehicle the greatest stopping power and pedal feel without compromising ABS system. If your muscle car doesn't have ABS, don't worry. This is the right pad for you, too.
The HPS 5.0 pad uses a Ferro-Carbon compound providing an advanced braking characteristic that enhances your experience behind the wheel. It can handle the higher heat and added torque that a built motor puts on the car, something that can cause tremendous issues with stock brake systems. The pads are designed for smooth braking characteristics that are predictable and confidence inspiring, letting you focus on the task at hand and not worrying about brake fades or failures. Like the standard HPS pads, the HPS 5.0 pads work with steel rotors, but are not made to work with carbon ceramic rotors.
Performance Ceramic
Modern ceramic brake systems require a specific and specialized pad to function properly. Hawk Performance understands this and has specifically formulated its composite material for this purpose. The Hawk Performance PC pads excel within the strict low-noise, ultra-low dust performance standards that luxury imports and select domestic cars have.
The PC brake pads have been engineered to reduce brake noise, vibration and harshness (NVH), making these a premium disc brake pad that delivers the performance you need. The PC pads use a linear friction profile, allowing your vehicle's ABS system to function at optimal efficiency. Hawk's specific compound doesn't sacrifice braking power to achieve the attributes that make ceramic pad so widely desired. Instead, you get better performance, reduced brake pad wear, longer rotor life, and the quiet ride that makes cars equipped with ceramic brakes special.
All Hawk Performance brake pads are made in the U.S.A. and are backed by a limited lifetime warranty. Find the right pads for your car and learn more about them by going to the Hawk Performance website. Published August 25th, 2023 2:34 PM
Popular Articles
Latest Comparisons
Car Buying Tools