3.9K Views
The Best Camping Stoves For Better Meals in the Great Outdoors
August 18th, 2023 4:37 PM
Share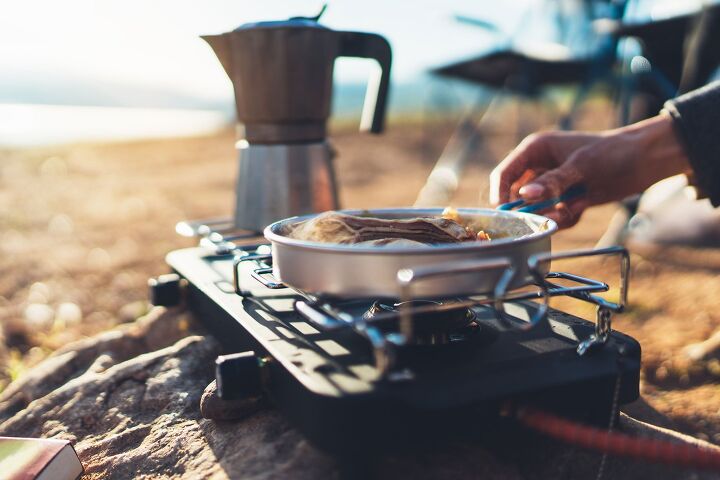 There's a certain something about cooking over a campfire in the great outdoors. It's one of those experiences that is great in your mind but absolutely miserable in practice. A campfire for cooking is hard to control, dirty, dangerous, inconsistent, and inconvenient. That's why camping stoves were invented. Camping stoves use butane or propane in small canisters that make a perfect flame for cooking every single time. They're contained, they're wind-resistant, and they have a place to put a pot or pan. That's why a portable camping stove is essential for your next overland adventure. We've done the research to find the best portable camping stoves so you can get out there and get grilling faster.
1. GSI Outdoors Selkirk 540+
GSI Outdoors recently updated the Selkik and that includes upping the cooking power from 10,000 BTU all the way to 14,000. That's a noticeable difference when you're boiling water or trying to cook in the cold. The twin burner stove has two separate controls that both rotate two full turns. For the camp cook, that means more precision in deciding how much flame you want which helps both preserve your fuel and do a better job of cooking. The stove has fold-away windscreens and steel supports that let the stove hold up to a 10-inch pot. A stainless basin and easy-remove grate make cleaning the stove quick and easy. When you're done it folds up to be less than four inches thick.
Pros: Slim when not in use, easy cleaning
Cons: Some complaints of poor wind resistance, high-power burners can mean more fuel use
2. Snow Peak Home & Camp Burner
If it's just you, or if you're not cooking fancy meals, then you might not want to bring a big two-burner stove on your next overland trip. For you, a compact single-burner stove like this one from Snow Peak might be just the ticket. It folds up into a storage case that's about the size of a water bottle for transport and weighs less than three pounds, but it can deliver 8,333 BTU when it's fired up and ready. It uses butane, though, which can be tougher to find than propane in small cylinders.
Pros: Tiny size, light weight, good controls
Cons: Butane can be tougher to find, no wind protection
The Eureka Ignite Plus is made for campers who need a little bit more cooking space. This stove has a large cooking area that will let you fit larger pots or pans, and two of them at once. Up to an impressive 12 inches. The stove is made from thick-gauge steel which means it might not be light enough for a backpack, but it makes it much less likely to get damaged when it's in the back of your truck or SUV. Fine-tuning of the burners allows for up to 90 minutes from a standard mini propane tank, and the Ignite can also be chained in with other Eureka Jet Link compatible stoves for bigger camp kitchens on a single propane tank. It has push-button ignition and folding windscreens to make sure that the stove can work in less than optimal conditions.
Pros: Holds 12-inch pans, can be linked with other stoves, thick construction
Cons: Heavy and bulky if you don't need the extra space
4. Coleman Gas Camping Stove
This is the classic camp stove for a reason. It has serious windscreens that do a great job of blocking the wind from your flames while folding conveniently, it has up to 20,000 BTU of cooking power, and it is a great bargain when it comes to price. All of those make the Coleman classic stove tough to beat, but it also has great features like a 60-minute burn time on a propane bottle thanks to very efficient burners and an easy-clean grille and base. And the tried and true design is known for its durability and toughness when you're out in the wilderness.
Pros: Power, reliability, price
Cons: Some complaints of a lack of fine burner adjustment, and that the flame is so clean it's hard to tell if its lit
5. Camp Chef Versatop Portable Flat Top Grill
It's not a camp stove in the way you might be thinking, but it's still a great way to make your meals in the woods, from breakfast to dinner. This is a flat-top grille like you might find in your favourite greasy spoon, and it's perfect for cooking anything from flapjacks to steaks or the fish you caught that afternoon. The big flat surface can be more versatile than pans, and it can be easier to clean. Of course the big hot surface isn't great for getting packed up in a hurry after your meal, and it will take some space in the back of your rig, but it might be worth it when you cook on that big surface. Plus you can add attachments like a grill box or an oven.
Pros: Massive flat surface, powerful burners
Cons: Big, heavy, hot
6. Coleman Tabletop 2-in-1 Camping Grill/Stove
If you just saw that full-size flat top and it got you thinking about more innovative campsite meals, but you still need your morning coffee, this might be an even better ideal. The two-in-one design has a conventional burner on the left and a BBQ-like grille on the right. You can swap that grille out for a skillet (or place one on top) and have a flat top and a burner going at the same time. The combo offers up to 20,000 BTU and each side is independently adjustable. The grille stove has wind-blocking panels, a removable drip-catch tray, and 130 square inches of grille cooking space.
Pros: Versatility, cooking power
Cons: No cookware on grille side, some reports that using max heat on just one side can overheat unit
7. Camp Chef Mountain Series Everest 2X High Output
Each of the Everest 2X's burners can put out 20,000 BTU. That's a load of heat, so you can boil loads of water faster than ever. To help cope with all of that heat, the unit uses a nickel-coated steel grate that can hold your pots, griddles, skillets, and whatever else you have in mind. The Everest 2X has also redesigned the burner area and the packaging of the unit to make it easier to use and easier to transport. On top of its massive cooking power, the unit has enough control that it can be used for finer and more sensitive cooking tasks.
Pros: Loads of output, great burner design, exterior locks on windscreens
Cons: Hefty and big, both in size and price
What to Look For When Buying a Stove:
Propane vs Butane
Propane and butane are both hydrocarbons used for portable camp stoves, so what's the difference? Butane is stored at low pressure, in a can that looks like hairspray and weighs just a few ounces, while propane needs high pressure storage and a heavier cylinder. So if you're carrying everything, butane might be a better choice.
But propane is easier to find at camping stores. You can also get adapters to use a standard 20-pound BBQ propane tank if you're using a vehicle and have the storage space instead of using smaller disposable containers. Both fuels have similar energy output so that consideration is a wash.
Propane is the more common choice because overlanders aren't usually hiking their gear. Plus it offers the ability to use a larger cylinder and get it refilled (or traded) at countless gas stations and other sources instead of having to find a camping gear store.
What's A BTU?
BTU stands for British Thermal Units, and it is a measure of how much heat output a stove has. One BTU is approximately the amount of heat it takes to raise the temperature of one pound of water by one degree Fahrenheit.
Most stoves have around 10,000 BTU, plenty for most cooking in average temperatures and a good balance of fuel consumption. If you're cooking for more people, you may want a larger stove and more BTUs. If you're on a long trip off the grid, then maybe skip the three-burner 36,000 BTU stove and save some fuel instead.
Published August 18th, 2023 4:37 PM
Popular Articles
Latest Comparisons
Car Buying Tools