108 Views
The Seven Best Jeep Grab Handles Get You In and Out And Held in Place
August 16th, 2023 5:58 PM
Share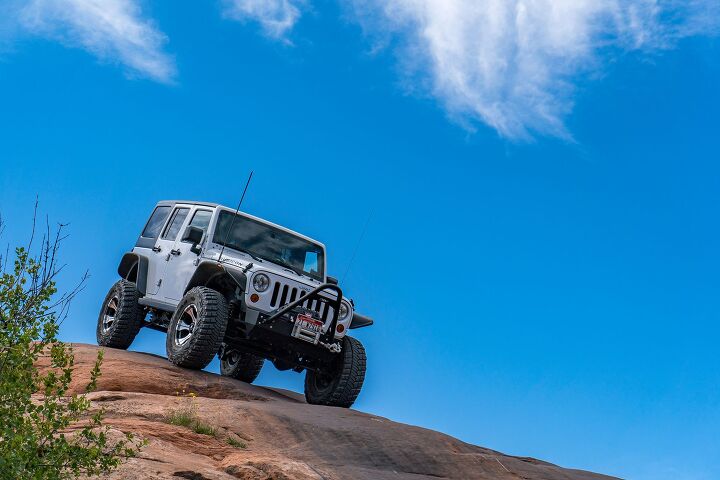 Stop bouncing around or jumping up into that Jeep. Hold on with the grab handles you need.
Getting in and out of your Jeep can be tough, especially if it's lifted. Big tires, tall suspension, and a high floor are all things you want and need when you're off-roading, but they also make it a big step up to get in. It's ok to need a little bit of help, but adding side steps that drag toward the ground defeats the reasons you've added all those modifications. So what do you do? A good set of grab handles are what you need. The right Jeep grab handles let you pull yourself up instead of having to hop, jump, or bring a step ladder. Plus grab handles are great for keeping driver and passengers in place when the trail turns from rough to downright rugged. Here are our picks for some of the best.
1. Rough Country Black Steel Grab Handles
This is a set of solid steel grab handles that make climbing in and out of your Jeep a little easier. Rough Country makes the parts that make your Jeep harder to get into, so it just makes sense they have ones that can cancel out that effect. The 7/8-inch handles attach to the corner of the A-pillar of your Jeep's windshield frame. They are easy to grab hold of but strong enough to help pull yourself up without bending or flexing. Rubber grips add traction when your hands are wet or dirty and they're soft to make it easier on your hands. These hefty grab handles fasten firmly into existing mounting points on your Jeep JK, so there's no drilling required. Rough Country's grab handles come with a lifetime replacement warranty.
Features: Lifetime replacement warranty, factory bolt holes, 7/8-inch steel
2. Rugged Ridge Deluxe Grab Handle Kit
These Jeep grab handles from Rugged Ridge are designed to secure to your Jeep's Sport Bar. That's the roll bar that helps protect you in the case of a rollover. The grab handles are made from nylon webbing to make sure they can take the weight of someone using them to climb in or to hold on to stop getting bounced around on the trail. Rugged Ridge sells these with a moulded handle or plain nylon webbing, but these are the Deluxe style that has a soft foam handle. We like that soft foam because it will fit different-sized hands and, well, because it is soft. These grab handles will fit all Jeep bars and cages with up to 3-inch tubing with padding. You can use them in the front seats of your Jeep as well as in the back to give rear-seat passengers some extra grip. The handles come as a pair.
Features: Fits nearly all roll bar-equipped Jeeps, choice of handle
3. Mopar 82215523 Front Grab Handles
It's hard to beat a factory part for fit and finish, and that's exactly what these official Mopar parts offer. They're designed to secure over the factory sport bar on JK-generation Jeep Wrangler and the Jeep Gladiator and fit all models except those with the power soft top. The steel bracket fastens over the Sport bar and a nylon strap with sculpted grip hangs down ready for use. Because this is a genuine Mopar accessory, there's even a seven-bar Jeep grille outline logo on the grip. Mopar says they can be used as a clothes hangar attachment, too, but that seems like a great way to get a muddy jacket.
Features: Factory accessory, Jeep logo, fits factory sport bar
4. Smittybilt Grab Handles
Smittybilt makes several different types of grab handles to suit a variety of needs. We like these ones because they're flexible. Not in that the strap bends (it does), but in how you can use them. The high strength steel grommets let you mount these handles in factory locations using factory hardware. So you can use them on the A-pillar and the rear sides, as well as attaching to the Sport bar. But you can also attach these to the headrest posts, giving rear-seat passengers something handy to hold onto that isn't a solid bar to smash into in a hard stop. The handles are sold in pairs and they're quite cheap, so you can add flexible grab handles in as many places on your Jeep as you want without breaking the bank.
Features: Fit in multiple locations, low price
5. Smittybilt Premium Grab Handles
These Smittybilt handles are designed specifically for wrapping around your factory Sport bar, but they're still much more flexible than most of this list. The Premium grab handles fasten using a hook and loop, like much of the rest of this list, and they are nylon with a molded rubber grip handle. But where they differ is the other side of the strap. They have MOLLE straps that let you attach a gear bag to your grab handles, putting it in easy reach and giving you more storage. The straps also have a pouch to fit a compass or tire gauge and one for a flashlight or a knife. Adding more storage right where you can easily reach it is almost as handy as the grab handles themselves.
Features: MOLLE straps, storage compartments
6. GPCA - GP Grip PRO Handle
The GP Grip Pro grab handles use nylon webbing and hook and loop fasteners to stay on your Sport bar, but they have a cool aluminum handle. The handle gives you a sturdy place to hold onto, and you can pick from more than a dozen colours to suit your personality or match your Jeep's paintwork. You can leave the handles bare or cover them with the included nylon grip pad, whichever you like best. But the cool part is that the metal handles don't simply dangle. You can fold the handle up and it will stay up and out of the way until you need it. It won't dangle and bounce in your peripheral vision and you won't bash your head getting in or out. The handles have a fastened pouch to hold a light, knife, or other items you want close at hand. There is also a hidden pouch where you can stash some cash or your keys to keep them out of sight.
Features: Aluminum handle, folding grip, hidden pockets
7. American Trail Products 36070013S
These beefy bullet aluminum handles attach securely to your A-pillar using existing holes and ATP's provided hardware. The simple D-handle design is easy to grab if a little out of the way for those with shorter arms. The handles should give you a more secure place to hold and brace than nylon handles. They also shouldn't flap around as you drive and you don't need to worry about them getting wet or muddy. The solid surface is easy to wipe clean or dry, unlike fabric handles. These aren't the cheapest parts on this list, but they are made from 6061 aluminum with stainless steel hardware, and they are made in the U.S.A.
Features: Fixed handle, secure design, American made
Published August 16th, 2023 5:58 PM
Popular Articles
Latest Comparisons
Car Buying Tools