2.3K Views
The Best Bench Vise for Your Shop
January 24th, 2023 9:26 AM
Share
A vise will make an amazingly versatile addition to your workbench.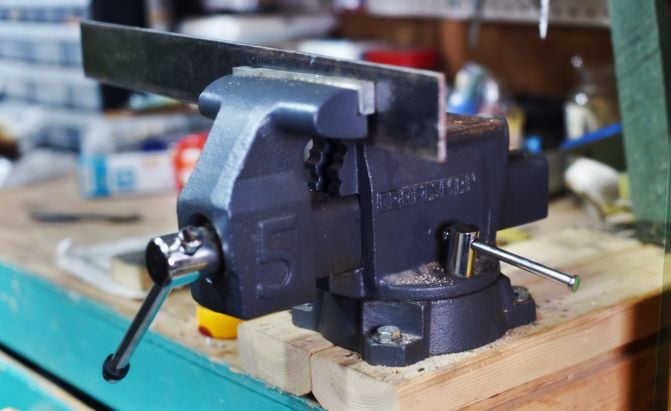 Who among us hasn't wished for a second pair of helping hands when struggling with a project? A well-made bench vise is the next best thing to having extra hands; its metallic jaws hold tight to a workpiece allowing you to bend, saw, grind, shape, or weld it with ease. A bench vise is indispensable in most professional garages; they also make a valuable addition to the DIYer's workbench.
There are many types of vises. But a bench vise is (probably) what pops into most of our heads when discussing vises. They're lumpy, made of metal, and have a bar on one end that looks like an airplane propeller for tightening the jaws. They're sometimes called machinist's vises.
Bench vises are made of durable metals like ductile iron, gray iron, or steel. A large screw brings the jaws together to hold workpieces firmly in place with (up to) thousands of pounds of clamping force. Most vises have a swiveling base to help position workpieces accessibly, and a flat metal surface for hammering called an "anvil."
Jaw width categorizes vises. Thus, a 4.0-inch vise has a jaw width of 4.0 inches, and so on. This article focuses on general-purpose bench vises with 4.0- to 6.0-inch jaw widths. Vises with a jaw width over 6.0 inches are great if you're working on heavy equipment like tractor parts, but they're overkill for most home workshops. Likewise, a jaw width of 4.0 inches or less won't accommodate a sufficiently wide variety of workpieces. Consequently, sub-4.0-inch vises are less useful for general metalworking and mechanical work (although they can be handy for precision tasks).
How we chose the best bench vise
For this buying guide, we sought out bench vises that were well-made and favorably reviewed by customers. We also selected readily available vises, most of which are from established manufacturers. While we did review a couple of specialty vises, most of the vises in this review are affordably priced, light to medium duty models suitable for the DIYer's home workshop. We concentrated on conventional models with a jaw width between 4.0 and 6.0 inches, as they're big enough to handle a wide variety of tasks without absorbing too much space on your workbench.
For more information on bench vises, please refer to our table of contents.
1. Editor's Pick: YOST 750-DI Multi-Jaw Rotating Combination Bench & Pipe Vise with Swivel Base
We wanted an Editor's Pick that offered maximum versatility and enough durability to give years of service. The Yost 750-DI should fulfill that requirement nicely. We're buying one to test, and we'll update this article once we've had the chance to use a 750-DI in the Autoguide Garage.
The static and dynamic jaws are cast from 65,000 PSI ductile cast iron; that material is ideal for vises because it's more malleable (less brittle) than gray iron and has greater compressive strength than cast steel. Superior compressive strength is essential with a vise; otherwise, it can distort or crack under extreme tightening. This vise generates up to 13,400 pounds of clamping force and carries a torque rating of 316-lbs.ft. The 750-DI is a substantial assembly with a total weight of just under 60.0 pounds.
With a 5.0-inch jaw size, the 750-DI is big enough to handle many different jobs, but the vise itself won't eat up too much workbench real estate. The rotating head and a 360-degree swiveling base allow users to position their workpiece in any direction, and its self-adjusting pipe jaws will grip cylindrical workpieces securely.
Some buyers complained about poorly aligned jaws or thin-feeling handles. But overall, user satisfaction was exemplary; this vise earned 95% positive reviews. Several buyers praised the vises' packaging; one said, "Packaging is very robust and protects the vise very well in transit."
Yost Warranty and Customer Service
Yost has been around since 1908, and the company is well-known for making quality vises. The 750-DI is covered by a three-year warranty on castings. Some of Yost's higher-end models benefit from a lifetime warranty, but they're priced significantly higher than the 750-DI. Yost's warranties are available for download on the company's website.
| | |
| --- | --- |
| Jaw Width | 5.0 inches |
| Jaw Opening | 5.0 inches |
| Throat Depth | 4.0 inches |
| Pipe Jaws | |
| Weight | 59.4 pounds |
| Anvil | Yes |
| | |
| --- | --- |
| Pros | Highly adjustable, ductile iron construction, pipe jaws |
| Cons | Some buyers complained about fit, only a three-year warranty on casting |
2. Best Budget-Priced Bench Vise: Olympia 38-605 5.0-inch Vise
The Olympia brand has been around since the early Seventies, and its products can be found on shelves in brick-and-mortar stores or online. Most of their tools are accessibly priced, and the Model 38-605 5.0-inch bench vise continues that tradition by being very affordable. It has plenty of useful features too. As with higher-end models, this budget vise has replaceable, hardened-steel jaws. It's equipped with pipe jaws too, but they're a permanent part of the vise and can't be replaced or adjusted. A 2.38-inch anvil is present and accounted for. This little Olympia has an atypical feature; the so-called "forming horn" which is a rounded, tapered extension of the static body used to hammer workpieces into a curved shape.
The swiveling base allows 270 degrees of rotation, not a full 360 degrees. This is adequate when you consider that a vise is usually mounted on the corner of a workbench, and such a position provides 270 degrees of unimpeded access. A second lock for the swivel base is a glaring omission here; we vastly prefer a double-locking base. However, this model redeems itself with cast-iron construction, providing excellent compressive strength. We should note that in photos, the castings display dimensional inconsistency. We don't think this will affect the tool's usability; it's just a function of being an inexpensive item that wasn't constructed with infinite care. Despite this, the Olympia 38-605 receives a powder coat finish which bodes well for long-term corrosion resistance. This vise tips the scales at 21.0 pounds, so for most buyers moving and installing it is a one-person operation.
Many complaints cited poor fit and finish and play in the dynamic jaw when not exerting force on a workpiece. However, it's folly to complain about imperfect finish with such an inexpensive product. If you demand absolute perfection, you'll have to spend a lot more money; or get lucky and find a quality old vise at a yard sale. Out of over 2,100 reviews, 84% were positive. We think that's a solid showing for a vise that, at the time of this writing, retails for well under $100.00.
Olympia Warranty and Customer Service
Olympia has corporate offices in Covina, CA, and the firm's phone number, FAX, and email are easy to find on its website. Olympia even provides a name for customers' first point of contact; Phyllis Sanders. This vise is covered by a limited lifetime warranty against manufacturer's defect or flaws in construction. Of course, it doesn't cover damage due to neglect or misuse.
| | |
| --- | --- |
| Jaw Width | 5.0 inches |
| Jaw Opening | 3.9 inches |
| Throat Depth | 2.75 inches |
| Pipe Jaws | Yes |
| Weight | 21.0 pounds |
| Anvil | Yes |
| | |
| --- | --- |
| Pros | Very affordable, full complement of features, cast-iron construction |
| Cons | Poor fit and finish, pipe jaws are not replaceable |
3. Best Heavy Duty Vise: Wilton 745 Mechanic's Bench Vise
Wilton has been in the vise and machine tool business for decades. The company's so-called bullet models are prized but costly. Fortunately, Wilton offers less expensive options like the 745 Mechanic's Bench Vise.
The Wilton 745 can handle various workpieces thanks to its 5.0-inch jaw width, 5.25-inch jaw opening, and 3.75-inch throat depth. The 45.6-pound vise is constructed primarily of 30,000 PSI cast iron and has replaceable high-strength steel jaws. The base is double locking and swivels a full 360 degrees, and replaceable pipe jaws can handle cylindrical objects between 0.25- to 2.5-inches in diameter. Wilton doesn't quote exact dimensions for the Model 745's anvil; it's simply described as "large." The vise's sealed mechanism is lubricated for life
Even though it's much cheaper than Wilton's "bullet" vises, this is one of the more expensive models on this list—it costs more than double our Editor's Pick. Still, it includes a manufacturer's lifetime warranty.
There were complaints of poor finish or a need to "fine tune" it for optimum jaw alignment by filing components and adding a shim. We don't think fine-tuning the vise is essential for operation; this was likely a case of a highly fastidious owner who wished to adjust the vise to meet their standards of perfection.
Wilton Warranty and Customer Service
Wilton is another old name with a long history of manufacturing high-quality vises. The company covers the 745 bench vise with a lifetime warranty against manufacturer's flaws and defects. There's a 90-day warranty on "expendable parts and accessories;" defined by Wilton as "consumables." The company is transparent about warranty coverage, and there is a link on Wilton's website for consumers to submit warranty-related or other inquiries.
| | |
| --- | --- |
| Jaw Width | 5.0 inches |
| Jaw Opening | 5.25 inches |
| Throat Depth | 3.75 inches |
| Pipe Jaws | |
| Weight | 45.6 pounds |
| Anvil | Yes |
| | |
| --- | --- |
| Pros | Heavy, cast-iron construction, replaceable high-strength steel jaws |
| Cons | Relatively expensive, some complained of poor component fit |
4. Best USA-Made Vise: Wilton C3 Combination Pipe & Bench Vise
Wilton manufactures many of their less expensive vises overseas; our Best Heavy Duty vise is such a model. However, Wilton's highest-end vises are still crafted stateside. We've paid less for driveable used cars than the C3's retail price, but Wilton describes its cast iron body as "virtually indestructible" (which is more than we can say for that second-hand LeBaron).
The C3 weighs 196.0 pounds, 30% more than competing models, according to Wilton. It weighs nearly 3.3 times as much as our Editor's Pick, which tips the scales at 59.4 pounds. A 6.63-inch throat depth, 6.0-inch replaceable jaws, and a 9.0-inch jaw opening give this model a lot of latitude for gripping big workpieces. An enclosed spindle and precision-machined slide bar (primary parts of the clamping mechanism) are pro-grade features of the C3. It has a double-locking 360-degree swivel base and pipe jaws that can handle pipes ranging from 0.25 to 6.0 inches. Wilton doesn't quote clamping force, but we surmise it's considerable. A sizable machined anvil will accommodate a range of hammering and shaping tasks.
While the purchase price is considerable, given a modicum of care, a tool like the Wilton C3 pipe & bench vise can last several lifetimes.
Wilton Warranty and Customer Service
We feature several Wilton vises in this product review; one of the reasons for that is the company's lifetime warranty. Wilton warrants the castings for the life of the tool itself, while there's a 90-day warranty for those components Wilton deems as "consumable." Consumable items are expendable, replaceable components. Wilton has comprehensive warranty information on its website.
| | |
| --- | --- |
| Jaw Width | 6.0 inches |
| Jaw Opening | 9.0 inches |
| Throat Depth | 6.63 inches |
| Pipe Jaws | |
| Weight | 196.0 pounds |
| Anvil | Yes |
| | |
| --- | --- |
| Pros | Truly professional-grade build quality, made in the USA |
| Cons | Too heavy for one person to lift, not budget friendly |
5. Best Small Vise for Precision Jobs: Fasmov Swivel 3.0-inch Vise
While we tend to think of vises as big, imprecise clamping tools for heavy metalworking, there are times when you need a firm grip on a small workpiece, such as a carburetor float or electrical switch. You'll often hear the term "watchmaker's vise" applied to small vises designed to assist with intricate tasks.
This lightweight aluminum vise has a jaw width of 3.0 inches. The jaw opening is only 2.0 inches. The jaws themselves have rubber covers to avoid marring delicate workpieces. A ball joint mount provides optimum adjustment, and a screw clamp serves to locate and secure the vise to your workbench, making it easy to move if needed.
There were complaints about this model's quality, fit, and finish, but the purchase price is low, so stellar build quality is not to be expected. Users also noted that it wouldn't clamp to workbenches more than 2.0 inches deep. This model received 83% positive reviews.
Similar, if not identical small vises are sold under various brand names.
Fasmov Warranty and Customer Serice
Fasmov has an Amazon storefront offering everything from wheel chocks to decorative planters and bookends. It doesn't provide specifics about their warranty, so Amazon's basic 30-day warranty is probably all you'll have to fall back on.
| | |
| --- | --- |
| Jaw Width | 3.0 inches |
| Jaw Opening | 2.0 inches |
| Throat Depth | N/A |
| Pipe Jaws | N/A |
| Weight | 1.9 pounds |
| Anvil | No |
| | |
| --- | --- |
| Pros | Highly configurable, inexpensive |
| Cons | Quality is commensurate with the price |
6. Best Vise for Work in the Field: Wilton ATV Trailer Hitch Mount Vise
Who says a vise has to be limited to use in the workshop? Wilton is one of the few manufacturers to offer a vise that slots into a standard 2.0-inch trailer hitch receiver so it can go wherever your job site might be. We thought its versatility and portability earned this vise a place alongside the more conventional types we've reviewed here.
The ATV (All Terrain Vise) weighs 26.0 pounds, which is light for a ductile-iron vise, and the integral grab handle helps when moving it from place to place. The model we've chosen to review has 5.0-inch jaws and a generous 4.25-inch throat depth, but there is a 6.0-inch version too. Of course, there's no swiveling base here, but you can order a bolt-down bracket to use the vice on a benchtop (a benchtop bracket is included with 6.0-inch models). The handle features a unique locking mechanism, so it remains in place while driving.
The ATV has dedicated pipe jaws that can handle pipes up to 3.0-inches in diameter. The ATV does have an anvil, but if you're going to use this vise for hammering it's probably best to do so only when it's mounted on a workbench.
There were complaints about "sticky" threads or that the vise didn't fit the user's hitch receiver. We should note the ATV has set screws to ensure a tight fit in your hitch receiver. Overall, the ATV earned 92% positive reviews.
Wilton Warranty and Customer Service
Wilton is another old name with a long history of manufacturing high-quality vises. The company covers the ATV with a lifetime warranty against manufacturer's flaws and defects. The company is transparent about warranty coverage, and there is a link on Wilton's website for consumers to submit warranty-related or other inquiries.
| | |
| --- | --- |
| Jaw Width | 5.0 inches |
| Jaw Opening | 6.0 inches |
| Throat Depth | 4.25 inches |
| Pipe Jaws | 0 - 3.0 inches |
| Weight | 25.4 pounds |
| Anvil | Yes |
| | |
| --- | --- |
| Pros | Unique trailer hitch receiver mounting system, 5.0-inch jaws, anvil |
| Cons | A special bracket is required to use this vise on a workbench |
7. Forward 0806 6.0-inch Bench Vise
At 30.0 pounds, the Forward Model 0806 is lightweight for a cast iron vise with 6.0-inch jaw width. The manufacturer describes it as a "medium duty" vise with a jaw opening of 5.0 inches and 2.7 inches of throat depth. While this model does have a rotating base, it only swivels 120 degrees. The hardened steel primary jaws are replaceable, but it doesn't have dedicated pipe jaws.
There were a few criticisms of this model's finish, but most buyers praised the Forward 0806 for its function and quality. This model rated over 90% positive reviews.
Pricewise, this vise slots between our Editor's Pick and Best Budget Vise; it lacks the versatility of the former but is made of a more durable material than the latter. For most homeowners, a basic model like this is probably all the vise they'll ever need for tackling DIY jobs.
Forward Warranty and Customer Service
The Forward name is part of Hongyuan Tools. The company manufactures its products in China, but the firm has offices in California. The company serves up platitudes about quality and customer satisfaction on its website. Still, it remains coy about warranty information beyond promising a refund within two weeks of purchase if the customer is dissatisfied. Forward provides an email address for inquiries and tech support. Your best protection here, again, is Amazon's 30-day return policy.
| | |
| --- | --- |
| Jaw Width | 6.0 inches |
| Jaw Opening | 5.0 inches |
| Throat Depth | 2.7 inches |
| Pipe Jaws | N/A |
| Weight | 29.7 pounds |
| Anvil | Yes |
| | |
| --- | --- |
| Pros | Affordable, 6.0-inch jaw width, cast-iron construction |
| Cons | Lightweight, lackluster warranty protection |
Do I Really Need a Vise?
Some years ago, we were quoted an exorbitant price to replace our daily driver's timing belt, so we undertook (with the help of a skilled mechanic friend) to do the job ourselves. As with many cars, the timing belt also drove the water pump.
A model-specific tool from the manufacturer was required to slide the water pump into operating position before tightening its fastener. That tool wasn't much more than a piece of steel shaped to fit the water pump with a 3/8-inch-drive ratchet handle receiver tacked on. However, the factory wanted over $100.00 for it, and we couldn't justify that price for a tool we'd likely use once.
Here's where the bench vise came in. We scrounged a piece of scrap steel on which we traced a profile of the water pump, clamped it in the vise, and fired up our trusty angle grinder to cut it to fit. Then we welded on an old 3/8-inch socket—hey presto, a custom-made water pump tensioning tool—for almost nothing.
The timing belt swap procedure was a complete success, and the car went on for tens of thousands of miles after; it was still running fine when we sold it to its second owner.
The point of this recollection is to illustrate what a remarkably versatile tool a bench vise is. A vise can help you use the other tools you already have in creative ways you may have never thought possible.
What to Look for When Buying a Vise
Before buying a vise, consider what you'll be using it for and how often you intend to use it. If you're only going to straighten the occasional nail or tack weld some lightweight metal from time to time, an inexpensive vise will suffice. Remember, the heavier-duty the vise, the higher the price and weight.
However, if you regularly work with heavier-gauge metal or often find yourself banging a workpiece into submission with a sledgehammer, you'll want to invest in a heavy vise made of ductile iron or forged steel with a sizable anvil.
Replaceable jaws are essential, so users can replace them after they've become excessively worn, extending the vise's useful life. A swiveling base that locks securely is also important because it will help you position your workpiece for optimum access.
Features that are nice but unnecessary include rotating jaws, pipe jaws, a double-locking swivel base, and an extra-large anvil. You can increase the versatility of a vise with jaw covers or a set of jaws made from materials other than hardened steel, which can mar soft workpieces like aluminum or wood. Aftermarket suppliers and vise manufacturers supply jaw covers and jaws made of softer materials which are useful for more delicate work.
With any vise, the jaw-closure mechanism should operate smoothly, without binding. Jaws should close tightly, exhibit minimal play and align well enough that workpieces are grasped securely.
Vise Terminology
While this list is not exhaustive, it will serve to outline terminology about the most important functional components of bench vises. Familiarity with those terms will help you select the vise that best meets your needs.
Anvil: as with a blacksmith's anvil, the anvil on a bench vise is a strong, flat surface for hammering.
Double-locking base: better swiveling-base vises will have a locking mechanism on both sides of the static jaw to ensure it doesn't work loose once locked in position.
Enclosed screw: some better vises have their main screw fully enclosed to keep lubricating grease in and potentially damaging debris and moisture out.
Fixed body: this is the weightiest part of the vise, which remains stationary while the sliding jaw moves in and out. The anvil will be part of the fixed body if the vise has one.
Handle: applies leverage to turn the main screw which opens and closes the jaws.
Jaw opening: is how far apart a vise's jaws will open; often, it's the same as jaw width, though not always.
Jaw width: the length of the vises' clamping surfaces. Vises are often classed by their jaw width; a 5.0-inch vise, a 10.0-inch vise, and so on.
Jaws: the portion of the vise that contacts and grips the workpiece. On better-quality vises, these are replaceable and sometimes reversible.
Main screw: the main screw opens and closes the jaws; it's operated by spinning the handle.
Pipe jaws: a secondary set of V-shaped or tapering jaws designed to easily grip pipes or other cylindrical objects.
Reversible jaws: jaws with a machined, gripping surface on two sides that can be reversed.
Sliding jaw: the portion of the vise that moves when the winding handle is used to turn the main screw.
Throat depth: the measurement from the top of the jaws to the screw mechanism or slide bar.
Installing a Vise
Failing to secure your vise correctly can be a recipe for disaster—a vise is only as good as its attachment to the workbench.
First off, determine where on your workbench you'd like your vise. A corner location is handy because it will give 270.0 degrees of unimpeded access (especially convenient if your vise has a swiveling base). Most individuals prefer to install their vise on the corner of the workbench opposite their dominant hand, i.e., the left corner for a right handed person or the right corner for a left handed person. The position is subject to personal preference, of course. What is not subject to personal taste is mounting a vise as nearly above one of the workbench's legs as possible. Mounting the vise near a leg will ensure the forces applied to the body of the vise through hammering and other tasks are transferred to the most vital part of the workbench, then to the ground. Another important point is ensuring that the vises stationary jaw juts slightly beyond the benchtop; otherwise, the benchtop can foul a long workpiece.
Once you've determined a good spot for your vise, use the mounting holes cast into the base as a template, mark the points to drill with a pencil or marker, and then drill mounting holes. An electric drill with an appropriately-sized spade bit is a good tool for this job.
You will probably have to supply mounting hardware; use Grade 5 at a minimum. Mounting bolts should be sized to match your vises mounting hole precisely; you don't want your vise to shift when in use, which could be dangerous. We prefer not to use a lock washer when mounting a vise; instead, use a plain washer and two bolts or a single bolt with thread locker. The mounting bolts should be long enough to pass through the vise base and the top of the workbench while leaving enough thread exposed for a plain washer and mounting nut(s). Be careful they don't protrude too far below the worktop; random bits of steel rod in unexpected places are apt to cause injury.
For extra-strong installation, add a 2.0-inch thick piece of wood or 0.25-inch thick piece of steel to the underside of your workbench beneath the vise. Professionals sometimes mount vises to steel posts bolted directly to the floor or set in concrete. Going to such lengths is not necessary for most home workshops, but they're worth knowing about if you subject your vise to heavy usage.
What Vises are Made From
In the introduction, we mentioned that vises are constructed primarily from three metals: ductile iron, gray iron, steel, or a combination of these. Here, we'll learn more about these metals and their respective advantages and disadvantages.
Gray iron: gray iron is the most common form of cast iron. It has several properties that make it an excellent material for vises (and countless other objects); it's solid in compression, easy to cast, and inexpensive. However, gray iron has no elasticity. That lack of elasticity manifests itself as brittleness.
Ductile iron: ductile cast iron is a particular type of cast iron. Like gray iron, it's extremely strong in compression, but ductile iron also has a degree of elasticity. Compressive strength and resilience make ductile iron an excellent material for constructing a vise; our Editor's Pick features ductile-iron construction.
Cast steel: is an iron alloy, and there are various types, all of which have specific qualities. Generally, steel is not as strong in compression (squeezed) as iron. You'll find inexpensive vises are often made of steel. There are high-end, very strong steel vises on the market, but ductile cast iron is still the dominant material for quality bench vises.
Forged steel: forging is a technique for creating metal parts by hammering or rolling them into shape; it alters the physical structure of the metal and results in greater strength. Some extremely strong, high-end vises are made of forged steel.
Aluminum: a silvery, lightweight metal with myriad industrial and domestic uses. It's not as strong as steel or iron but exhibits excellent strength relative to its weight. Aluminum is generally only used to construct small, precision vises for delicate work.
Other materials: woodworking vises often employ wood or plastic as those materials won't mar a wooden workpiece.
Bench Vise Safety
Using a bench vise safely begins before installing it. Enlist help with unpacking and moving your new vise as they are heavy. Our Editor's Pick weighs nearly 60.0 pounds, for example, and our Best USA-Made vise weighs nearly 200.0 pounds. Make sure you install the vice securely, following the manufacturer's instructions, and that the workbench you mount it to is strong enough to handle the load transmitted to it through the vise; think hammering jobs and bending long pieces of metal.
Wear gloves when clamping a workpiece into the vise; there are pinch points aplenty. Safety glasses are a must for grinding and polishing jobs to help prevent eye injuries. Don't use a length of pipe (cheater) to gain leverage on the tightening handle either; that's a good way to injure yourself or damage the vises' tightening mechanism or tightening handle.
Common Questions About Bench Vises
How much do vises cost?
Prices run the gamut from less than $100.00 to thousands for high-quality, professional-grade vises.
What kinds of vises are there?
There are almost as many types of vises as there are uses for them. Metalworking vises, usually bench vises, are probably the most common. They're sometimes referred to as a machinist's vise. Woodworking vises are also frequently encountered. Besides those two types, there are also pipe vises, tool maker's vises, hand vises, leg vises, pin vises, and more.
How do you maintain a vise?
Bench vises are sturdy, but they can rust. Keep your vise dry, and occasionally apply grease to the screw and other moving parts. Most vises have replaceable jaws so that new ones can be installed should they become worn.
What size of bench vise do I need?
The size of the vise you need depends on what you will do with it. For most people, a 4.0 to 6.0-inch bench vise is completely adequate; however, a woodworker or professional mechanic might want a larger vise or a specialty woodworking vise with wide jaws.
Vise or vice?
The spelling depends on where you live; in the US, the tool is usually spelled: "vise," while elsewhere (notably the UK and India), it may be spelled "vice."
Recent Updates
January 24, 2023: Updated product links.
---
We are committed to finding, researching, and recommending the best products. We earn commissions from purchases you make using the retail links in our product reviews. Learn more about how this works.
Published September 19th, 2022 4:03 PM
Popular Articles
Latest Comparisons
Car Buying Tools