8.4K Views
Top 5 Best Bluetooth OBD2 Scanners
September 18th, 2023 10:15 AM
Share
We're committed to finding, researching, and recommending the best products. We earn commissions from purchases you make using links in our articles. Learn more here
How to save hundreds by doing DIY diagnostic scanning on your car.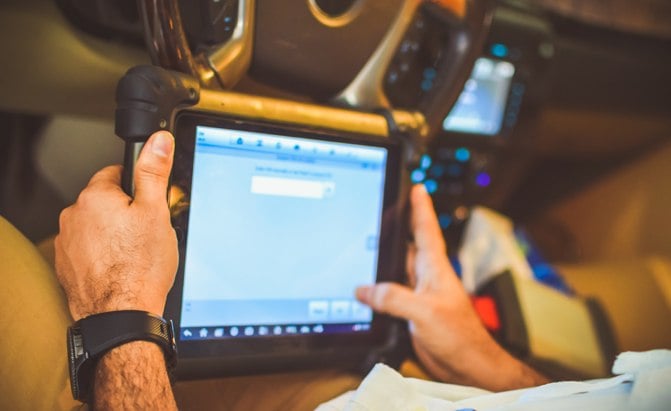 Everyone knows how imperative it is to service their vehicles to make sure they're running smoothly and efficiently. But even if someone is following the manufacturer-suggested service intervals and keeping their car in good shape, the check engine light might show up and ruin the good feels that come with proper maintenance. But there's no need to panic and take another costly trip to your mechanic. Running diagnostics on your own car is easy.
Your car has a computer system that monitors various other subsystems that make your car work. On-board diagnostics (OBD) tools allow you to check the status of your car's subsystems without having to go to a mechanic. From diagnosing a check engine light to figuring out your fuel economy, there's a lot an OBD scanner can do for you.
With Bluetooth devices, it gets even easier as you can now use your tablets or smartphones as dependable diagnostic scanning tools. Using apps that talk to a Bluetooth scanner plugged into your car's computer, the interface of the diagnostic tool would be one you're already used to.
While there are many types of OBD2 scanning tools, Bluetooth wireless scanners are much more convenient than traditional ones. They don't have screens or built-in code-reading software. Instead, they connect to any of dozens of diagnostic apps on your smartphone and display loads of information there. To help you pick an OBD2 scanner for your vehicle, we have compiled a list of the top 5 best Bluetooth OBD2 scanners.
For more information on Bluetooth OBD2 scanners, refer to our table of contents.
Table of contents
1. XTOOL Advancer AD20 Pro Wireless OBD2 Scanner
The XTOOL Advancer AD20 Pro Wireless OBD2 Scanner has one advantage over most of the tools on this list: It has its own app. The scanner offers Bluetooth 5.0 communication and offers a range of up to 33 feet, so you can work around your vehicle, leave your phone at the toolbox, or even connect to a laptop for diagnostic work. It also lets you reset service lights, including oil change lights, without a trip to the dealer. It can connect to iOS and Android phones, too. But the best part is the Advancer AD20 app that is designed to work with this particular dongle, giving you loads of live data streams, access to readiness tests that are crucial to government emissions testing, and other important functions.
The dongle comes with a two-year warranty, and the app advertises lifetime free updates. Plus 24/7 customer support fi you have a problem.
| | |
| --- | --- |
| Pros | Long Bluetooth range, comes with own app, offers functions not common with others |
| Cons | More expensive than others on the list |
Promoted Product: Carly Scanner
The Carly Scanner is more than just an OBD2 scanner. Paired with Carly's dedicated mobile app — available for iOS and Android in both a free version and a paid annual license option — Carly users get instant access to some seriously advanced features. We're talking in-depth manufacturer-grade diagnostics, the ability to check used vehicles for odometer fraud, tracking live parameters and stats, and easily resetting service intervals. It even offers coding tools to unlock hidden features of your car (though you'll need to upgrade to the paid license version of the app in order to access this and other features). Even if you buy the paid license, it will still be cheaper and easier than taking your car to a mechanic every time you want something coded, or an error code cleared.
The Carly Scanner works with all car models with an OBD2 port, using Bluetooth to establish a fast, secure connection, though it's worth noting that the range of available features will depend on the make, model, and year of your car. That said, Carly is always working on developing new functions for more car brands; visit the company's website to see the exact list of features Carly currently offers for your brand.
Simply put, Carly is the most advanced OBD2 device on the market, especially with their new feature, Smart Mechanic, which gives you detailed fault descriptions created by expert mechanics so you can see what you can repair yourself. And best of all? The Carly Scanner comes with a lifetime warranty and premium customer support for added peace of mind.
| | |
| --- | --- |
| Pros | Unlocks manufacturer-grade diagnostics and advanced features like coding, supports all car brands with an OBD2 port, compatible with both iOS and Android, comes with a lifetime warranty |
| Cons | While all car brands are supported, some advanced features are only available on specific makes/models |
2. BlueDriver Professional OBD2 Scan Tool
The BlueDriver is a master of diagnosis and repair, so it isn't focused on things like fuel efficiency and other driving data. It does provide you with accurate and detailed data readings on your car's systems and the appropriate fixes for any issues it discovers.
Not only do you get to avoid any waste of time connecting and disconnecting your devices, but you can benefit from remote online downloads and upgrades without having to worry about connecting wires to your device. The wireless feature also makes the BlueDriver very easy to set up and use even for beginners. All you have to do is plug it in and read the data on your smartphone or tablet.
Another helpful feature is that the software is free of charge for downloading on Android and Apple platforms, making it convenient to connect with your mobile devices and gadgets with a quick download and pairing of an app. The bottom line is that the BlueDriver saves you money and time, making it a smart choice for any buyer.
| | |
| --- | --- |
| Pros | Complete compatibility, online software downloads and upgrades, perfect for Apple iOS and Google Android phones and devices, repair report saves time and money, durable, compatible with phones or tablets, lightweight and compact, portable, affordable, fast and efficient, user-friendly |
| Cons | WiFi or Bluetooth connections can occasionally drop or be slow, not compatible with Windows |
3. Foseal WiFi OBD2 Scan Tool
The Foseal OBD2 WiFi Scanner is not just a scanning tool. The scanner comes with a built-in WiFi connection for mobile devices so that you can read, diagnose, and clear any and all OBD2 error codes in your vehicle's computer systems. It is great for all vehicles that are OBD2-compliant and comes with data link connectors having 16 pins.
The Foseal OBD2 WiFi Scanner can show sensor data in real-time after getting each diagnostic, which is especially useful when you are checking the results of modifying your engine replacing any of your vehicle's parts. You can collect information on the horsepower, fluid temperature, and fuel status using the display as well. Another great feature is the scanner allows you to see the load value, time advances, air flow rate, pressure intake, and oxygen sensor voltages among other things.
All this data can be viewed on your mobile devices with the Foseal OBD2 WiFi Scanner when it's connected to the OBD2 vehicle system using a stable WiFi connection. The software is amazingly easy to download and install over WiFi onto your Windows, Android, and Apple devices so your car diagnosis becomes easier.
After getting the software, all you have to do is run it to check your vehicle. The scanner is ready to function and checks your car the instant you use the app to connect your phone to the OBD2 system, no fancy procedures necessary. It will offer various options where you can pick what areas to analyze and diagnose. Along with that, the scanner can also work while your vehicle is in motion so long as it remains close to the dashboard. This way, a driver can simply see when the car has an issue and take the appropriate safety measures to avoid any further damage.
| | |
| --- | --- |
| Pros | Affordable, quick and easy connection, fast data transfer, supports Windows, Android, and iOS, reads and clears error codes, works for vehicles manufactured between 1996 to the present, one-year money back guarantee |
| Cons | No confirmed list of car models that are compatible with it, no battery saving mode, heavy, large in size, does not support SW-CAN (GM) and MS-CAN (FORD) |
4. Veepeak WiFi OBD2 Scanner Adapter
The Veepeak Mini WiFi OBD2 scanner is ideal for Android, Windows, and iOS devices, and is compatible with all vehicle models manufactured within the United States in and after 1996, including light trucks and minivans. This scanner can work on all American, European, and Asian vehicles within local transactions so vehicle models sold outside the United States will have to be checked for compatibility before purchasing this scanner.
However, as far as local compatibility goes, this scanner supports each one of the five OBD2 protocols. The Veepeak Mini Scanner can be connected to your Apple, Windows, and Android devices with considerable ease, which isn't something you can say about other well-known products with similar price tags.
The scanner can connect with old and new models of each device to read and clear diagnostic trouble codes. Since the device is totally wireless and does not rely on connecting wires, you are provided with the ability to freely roam your garage and even drive while you use the scanner to monitor everything.
The Veepeak Mini WiFi OBD2 scanner is a great choice for any vehicle if you're looking to save a few bucks when troubleshooting your vehicle. It is definitely a great addition to any beginner or professional's toolbox so they can remotely read and clear codes and diagnose issues to make sure their vehicles are running smoothly. If you're looking for a compact wireless scanning tool that is easy on the wallet, the Veepeak Mini WiFi OBD2 scanner is a great option.
| | |
| --- | --- |
| Pros | Compatible will all OBD2 vehicles sold in America, easy and simple to use, works with WiFi, Compatible with Android, Windows, or iOS devices, provides sensor data in real-time, 30-day money back guarantee and 12-month replacement warranty |
| Cons | Some connectivity issues, caused battery drainage in certain cases |
5. Kitbest Bluetooth OBD2 Scanner and Adapter for Android
Kitbest's Bluetooth OBD2 is an excellent little device with a lot of technology in it. You can take advantage of its amazing features if you have a vehicle of 1996 or any newer model. It is known for its wide-ranging compatibility. A trouble-free scan is now possible with a mini scanner that doesn't require extra space in your car. OBD2 protocols that it supports include CAN, KWP2000, J1850 VPW, ISO9141-2, and J1850 PWM. Get the OBD2 app and control various problems with your smartphone or tablet.
This mini-wizard enables you to fix simple problems by yourself. It doesn't only tell you the problem but also the ways to fix it. You can read the diagnostic trouble codes and then reset it. It is compatible with all Android devices by using a downloadable app. Moreover, it keeps you informed about your engine. The real-time engine data is at your disposal, which includes engine RPM, fuel system status, short/long term fuel economy, intake air temperature, and more. The data further contains information about intake manifold temperature, coolant temperature, vehicle speed, and oxygen sensor voltages.
This easy-to-use device contains Kitbest Bluetooth OBD2 Adapter and a user manual in its package. It comes with a 5-year replacement warranty and the company's customer service is excellent.
| | |
| --- | --- |
| Pros | It can easily be connected, 100% compatible with 1996 and newer vehicles, get access to real-time engine data, you can see live info from the engine while driving |
| Cons | It is only compatible with Android devices, doesn't work on the diesel cars and trucks |
Recent Updates:
September 18, 2023: Replaced several products with updated versions.
May 5, 2022: Removed Promoted Product recommendation.
September 24, 2021: Updated with a new promoted product recommendation.
March 3, 2021: Updated with a new promoted product recommendation.
---
We are committed to finding, researching, and recommending the best products. We earn commissions from purchases you make using the retail links in our product reviews. Learn more about how this works.
Photo Credit: WishnclickS / Shutterstock.com Published August 24th, 2022 2:21 PM
Popular Articles
Latest Comparisons
Car Buying Tools