788 Views
The Best Car Wash Mitts For Keeping Your Vehicle Looking Clean
May 5th, 2023 5:14 PM
Share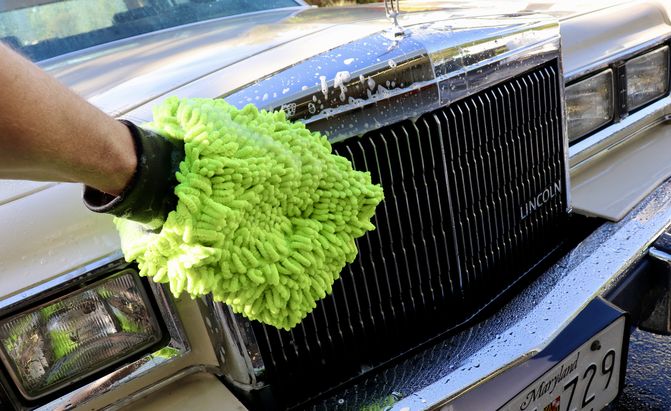 Even if you're only a casual car enthusiast, the ritual of washing your vehicle can be an excellent way to relax on a sunny afternoon. It's a great way to get some alone time or reconnect with your family after a long week of work and other obligations. Regularly washing your car or truck can also pay off in more pragmatic ways. Bird excrement, tree sap, and even plain old dirt and dust can permanently damage the paint finish if you don't clean it promptly, and that can have a negative effect on your vehicle's resale value.
But whatever your motivation for keeping your car clean, it's a task you'll enjoy more if you have the right tools on hand. After soap and clean water, finding the best car wash mitt is one of the most important aspects of making the job easier and leaving you more satisfied with the results. Right now, you might be asking what's wrong with using any old sponge to wash your car. A sponge is fine for washing many things, but it's not ideal for a vehicle's delicate paint finish. Although it may feel soft to your touch, a sponge's foam material can be harsh enough to create fine swirl marks in your car or truck's bodywork.
Some of the best car wash mitts are made of a soft synthetic microfiber chenille material that is designed to draw dirt and grime up and away from the paint so that those foreign substances can't wreck the car's finish as you wash it. If you prefer a natural material, lambswool is just as effective. Both options are soft enough that they won't scratch your car's finish.
For more information on the best car wash mitts, refer to our table of contents.
1. Editor's Pick: Meguiar's X3002 Microfiber Wash Mitt
Our editor's pick for the best car wash mitt also happens to be one of the best deals on our list, and surprisingly, it also comes from one of the industry's most trusted names in car care products. Like most of the products we've included here, Meguiar's car wash mitt is made from microfiber that promises to be super-absorbent and soft enough that it won't damage your car's shine.
Meguiar's says its mitt's fine-weave fabric will lift and trap the dirt it picks up and hold it away from your vehicle's paintwork to prevent the fine swirl marks that can ruin your car's finish. For best results, the company recommends you use the two-bucket method to wash your car (which we describe in more detail at the end of this article) and employ a grit guard to help you pull more dirt out of the mitt before soaping it up again.
This mitt measures eight inches by 10 inches for efficient washing, and has a snug cuff to help you maintain a good grip. It's also machine-washable, but only with other microfiber items to avoid collecting lint in the mitt.
| | |
| --- | --- |
| Pros | A great value for a well-made product, one buyer says they have had the same mitt since 2013 and it still works as advertised |
| Cons | Some buyers found this mitt too large for their hands, another questioned how effective the mitt's shallow pile is for keeping grit away from your vehicle's paint |
2. Best Value/Best For Small Hands: SCRUBIT 2-Pack Car Wash Mitt
When we compile these best-of lists, we're always on the lookout for high-quality products we can recommend to you at an attractive price point. This time, SCRUBIT is our best value pick for this 2-pack of microfiber wash mitts. Colored bright orange, these mitts look like a pile of cheese-flavored snacks attached to a glove. However, we can assure you they are much softer (and less crunchy) than that. The deep-pile noodles promise to absorb lots of soapy water and pull dirt and grit up and away from your vehicle's finish for a scratch-free wash.
The one claim SCRUBIT makes that we don't buy is that these mitts are made to accommodate hands of all sizes, as multiple buyers said SCRUBIT's mitts were tight on their hands. But look at it this way: if you're concerned you might find some mitts too large, then SCRUBIT's smaller product might be a better fit for you.
Like most of the other mitts on our list, these are machine washable, as long as you wash and dry them on the gentle cycle and don't use fabric softener.
| | |
| --- | --- |
| Pros | A good fit for smaller hands, two-pack adds value, can also be used as a household duster |
| Cons | Not comfortable for larger hands |
3. Best Pure Lambswool Product: Mary Moppins Wash Mitt
If you prefer all-natural fibers, we recommend you look at this mitt, which is made of 100-percent pure lambswool. Many professional car detailers will tell you that lambswool is the best material for washing your vehicle, and this Mary Moppins product lives up to that hype. While it's more expensive than many synthetic wash mitts, this well-made all-natural mitt should give you years of service in keeping your vehicle clean.
This is a large mitt, so you may find it a bit cumbersome if you have small hands, especially as it gets quite heavy when loaded with water. The one downside to using a pure lambswool mitt is that you have to be more careful about how you clean it after washing your car. You'll get the best results if you use a wool-specific cleaner and let the mitt air dry.
While the product we're discussing here is Mary Moppins' wash mitt, the company also makes lambswool mops you can attach to a long-reach handle for washing tall vehicles like RVs, or the roof of an SUV.
| | |
| --- | --- |
| Pros | Lambswool holds a large volume of water, promises to last a long time |
| Cons | Expensive compared to synthetic materials, may be too large for some hands |
4. Best Wheel Wash Mitt: Chemical Guys Bear Claw
Chemical Guys takes a slightly different approach to much of its competition with the Bear Claw wash mitt. It's made of synthetic wool fur instead of the microfiber chenille material you'll find in most of the other products on this list. The company says this mitt's synthetic material is ultra plush to protect your car's finish as it lifts and traps dirt. It also promises to hold more than five times its weight in water so that you can make fewer trips to your wash bucket.
Now, you may be wondering why we recommend this mitt as the best pick for washing wheels. That is because after washing, you may notice fine lint left behind on your vehicle's windows and bodywork, and the wool can get caught on the edges of badges and other trim pieces. Therefore, we suggest you buy this mitt as a dedicated tool for cleaning your car's wheels, where lint will be less noticeable and there are no sharp corners for the mitt to get caught on.
| | |
| --- | --- |
| Pros | Holds lots of water and suds, generous size suitable for large hands |
| Cons | Leaves visible lint on bodywork, delicate fibers can get caught on corners and sharp edges |
5. Relentless Drive Cyclone Car Wash Mitt 2-Pack
Here's another high-value product to make washing your vehicle more enjoyable: a two-pack of Relentless Drive's Cyclone car wash mitt. While this kit is not quite as affordable as some of our other budget recommendations, it's an appealing alternative for its thoughtful design.
Relentless Drive uses thousands of fine microfiber strands, so you can expect this mitt to hold seven times its weight in soapy water for efficient washing. And because this mitt claims to also be effective at dusting dry surfaces, you could reserve one mitt for removing dust from your vehicle interior's hard surfaces. This wash mitt measures 11-inches long by eight-inches wide. A wrist cuff works with an interior grip strap to help you keep a hold of this mitt when it's loaded with water.
When you're done washing your vehicle, you can toss this mitt in your laundry to get it ready for the next wash. Relentless Drive recommends tumble drying the mitt on low heat to keep the microfiber strands soft and absorbent.
| | |
| --- | --- |
| Pros | Comes in different sizes, does a good job of cleaning large surfaces quickly |
| Cons | Buyers say the smaller sizes are too small even for petite hands, one buyer complained this mitt left lint on their vehicle |
6. Mothers Microfiber Chenille Wash Mitt
Here's a wash mitt from another of the most recognizable names in the car care products industry. Mothers makes its mitt with microfiber chenille woven into large caterpillar-like bunches that you can count on to absorb plenty of suds. Those large strands are designed to loosen dirt and lift it away from your vehicle's surface and trap it until you rinse the mitt. That's key, as it helps ensure you don't drag dust particles across the paint and scratch it.
While this mitt—like the others on this list—is designed primarily for you to safely clean your vehicle's painted surfaces, another benefit of its soft chenille fibers is you can also use it to wash the vinyl windows often used in convertible tops without fear of scratching them.
This mitt comes in a single size, with a knitted elastic cuff designed to help you keep it on your hand when it's loaded with water. However, you may find this large mitt unwieldy if you have smaller-than-average hands. Mothers says its wash mitt is machine washable for easy cleanup.
| | |
| --- | --- |
| Pros | Works on vinyl windows, chenille fibers are durable |
| Cons | One buyer wished for a tighter fit around the wrist, the liner is this mitt's weak point, as multiple buyers said theirs tore |
7. Adam's Polishes Microfiber Dual Wash Mitt
With a unique 5-finger gloved design, you'll be able to scrub every nook and cranny of your vehicle with Adam's updated wash mitt. Plus, deep microfiber piling ensures the mitt effectively traps dirt and keeps it away from your paint. Like many other glove-type mitts, the fitment is universal, so you can use it whether you're left or right-handed. There's also an elastic cuff to keep the mitt secure, so those with smaller hands can clean worry-free.
Pros

Versatile with five-finger design

Great for hard-to-reach areas

Has a scrubber on the back

Cons

One size may not fit all
8. Detailer's Preference Eurow Microfiber Cleaning Glove
Here's a design we're surprised is not more common: a car wash mitt that's actually shaped like a glove. Though it's made of a microfiber material similar to that of the other products on our list, this one promises to make it easier for you to access hard-to-reach bits of your vehicle's bodywork. If you drive a modern vehicle with complex styling, we think this could be one of your best choices for a wash mitt.
Where we see you getting the most use out of this mitt is in washing aluminum wheels, especially if they sport an intricate design with small crevices where brake dust and road salt can accumulate. If you already have an exterior wash mitt you swear by, then consider this one for dusting your vehicle's interior. Its individual fingers will make it easier to clean the slats of your car or truck's air vents or around dashboard buttons and knobs.
Don't worry about being right- or left-handed: this glove is ambidextrous, so you can easily move it from one hand to the other as your cleaning needs require.
| | |
| --- | --- |
| Pros | Fingers allow easier access for tight spots, quite inexpensive |
| Cons | One buyer was dissatisfied with the density of the microfiber strands, may not fit well on larger hands |
9. The Rag Company Cyclone Ultra Wash Mitts
The Rag Company's pair of mitts are a great budget alternative to some of the choices presented here. They're competitively priced for two mitts that can be used for years to come. Plus, thanks to the color coding, you'll never mix up your wheel mitt and paint mitt again. Rag Company also uses plenty of deep, long fibers to trap dust, just like all the best mitts do.
Pros

Great value for the money

Extremely reputable company with great customer support

High quality material

Cons

Requires more care and maintenance than other products, due to their construction -- you have to take good care to properly wash them when you're done and store them in a clean area. In other words, you can't just rinse them out and toss them back in your bucket.
10. Chemical Guys "Big Mofo" Chenille Microfiber Car Wash Mitt
Chemical Guys' Big Mofo mitt is exactly what it sounds like: a nice, big mitt you can wash your whole car with. If you've got a big car, this should be all the mitt you need. Thanks to its massive size (1ft x 1ft) the mitt holds tons of water, dirt, and grime. It'll also keep that grime away from your paint, largely because of the large, thick piles that measure 4" in length.
Pros

Giant mitt covers lots of area with ease

Plush microfiber

Comfortable fit/cuff

Cons

Gets really heavy when loaded with soapy water
What do you need to know before washing your car?
Photo credit: GT Stock / Shutterstock.com
So you've bought yourself a new car wash mitt and taken the first step to properly caring for and washing your car. Below, we'll go over some tips and tricks we've learned over the years while taking care of our own cars.
Choose the Right Car Wash Soap
Not all soaps are equal, not even when they're specially formulated for washing your car. The number one rule is never to use dish soap, particularly if you use wax or sealant to preserve your vehicle's finish. Dish soap is actually very effective at removing those products and destroying their protective qualities.
Generally, a basic car wash shampoo will provide good cleaning without stripping away any waxes and sealants you've previously applied. You can also choose a shampoo that contains a wax that will "top up" whatever sealant is already on your vehicle.
And if you want to start from scratch—so to speak—choose a shampoo that is formulated to strip all protectants from the surface so that once the paint is dry, you can reapply your favorite wax or sealing solution. Again, although dish soap is good at that, it's better to use a stripping shampoo product formulated for vehicle finishes.
Use the Two-Bucket Method
When you're collecting all the products you need for your weekend car wash ritual, buy two buckets. That way you can fill one with soapy water for washing and use the other to rinse away all the dirt and grit that a good wash mitt will pick up. By doing this, you'll avoid scratching the paint with the very stuff you're trying to clean off your car.
A good wash bucket will have a grid that rests an inch or two above the bottom of the bucket. This is to help separate dirt from the water you will reuse; the dirt sinks to the bottom, below the grid, where it can't get picked up again the next time you dunk your wash mitt.
Pay Attention to the Wash Mitt's Care Instructions
Don't throw your wash mitt in the laundry until you've read the care instructions on the packaging or tag. Most makers of microfiber car wash mitts recommend washing them alone, or with other microfiber products. If you put a mitt in the washing machine with other fabrics, it can pick up lint that will be difficult to remove and will end up on your vehicle the next time you wash it.
Also, don't use fabric softener when laundering your wash mitt. Though it seems counterintuitive, these products can cause microfiber materials to become stiff to the point that they can scratch your vehicle's paint.
Finally, you should dry your wash mitt gently. Put it in your dryer on the delicate setting, or hang it to air dry.
Should I use the same mitt for my paint and wheels?
No! Always make sure to separately clean your paint and wheels, starting with the latter.
How often should I rinse my mitt?
We rinse often -- depending on how dirty your car is, you may be rinsing as often as you clean a panel. To be on the safe side, this is a good place to start, but you can check for excess dirt on the mitt's fibers using your other hand. If you feel anything but soap and microfiber, it's time.
---
We are committed to finding, researching, and recommending the best products. We earn commissions from purchases you make using the retail links in our product reviews. Learn more about how this works.
Photo credit: Vershinin89 / Shutterstock.com
Published February 16th, 2021 8:01 AM
Popular Articles
Latest Comparisons
Car Buying Tools