192 Views
Best Ford Explorer Accessories For Every Owner
May 2nd, 2023 2:16 PM
Share
Think of this list as your jumping-off point the next time you're wondering what to buy for your Ford Explorer next.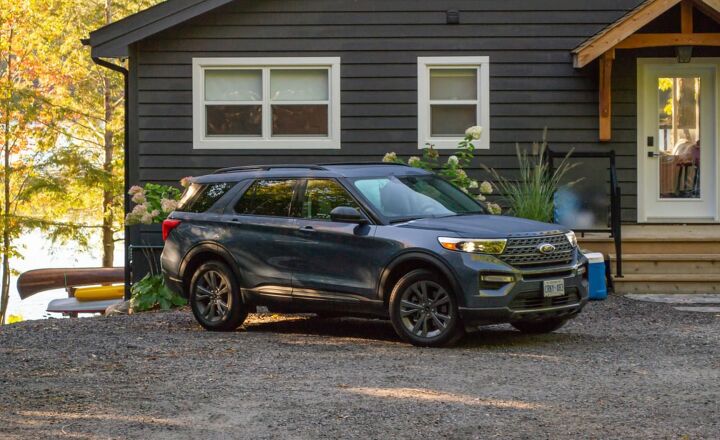 Keep reading if you want advice on the most essential Ford Explorer accessories that every owner should have.
The Ford Explorer is handily one of the best family vehicles on the planet, with a roomy, comfortable cabin for you and your valued passengers, plenty of cargo space, and the safety and peace of mind that comes with available all-wheel drive. But like any other vehicle, the Ford Explorer can be made even better with the right mix of thoughtful, practical, convenient accessories, and from car covers to hitch receivers, there's practically nothing you can't find for the Ford Explorer.
Here, we've done the hard work for you, scouring the internet to come up with what we think are the most essential Ford Explorer accessories on the market today. Think of this list as your jumping-off point the next time you're wondering what to buy for your Ford Explorer next.
1. WeatherTech Custom Fit FloorLiner
Between mud, slush, road salt, sand, and spilled soda, there's a lot that can sink into your Ford Explorer's factory carpeting and ruin its appearance. Give yourself some peace of mind with a WeatherTech Custom Fit FloorLiner kit. Sure, there are plenty of cheap, generic "one size fits all" plastic floor liners on the market, but none of them offer anywhere near the level of quality or protection of WeatherTech – the best-known name in automotive floor liners. These Ford Explorer floor liners are custom-made for the Explorer, designed to perfectly fit every contour in its floor board using 3D laser scanning technology to ensure an unparalleled fit and complete coverage, with a high-lip design that catches and contains spills until you have a chance to clean them up. Molded from a proprietary high-density tri-extruded thermoplastic material, they're grippy and pliable at all temperatures, yet tough enough to remain rigidly in place. If you just have to have the best automotive floor liners available, it's got to be WeatherTech.
Promoted Product: Gold Shield 5L Ford Explorer SUV Covers at CarCover.com
Since its first release back in 1991, the Ford Explorer has been one of the most popular SUVs on the road. Aside from all of the practical reasons to own one, these vehicles are pretty sharp-looking rides, too. Keep your Ford looking its best with a Gold Shield 5L Ford Explorer Car Cover from CarCover.com. The Gold Shield 5L is a five-layer car cover, cut to fit the shape of the iconic Ford SUV, with strap and buckle cinches at each end and an elastic band for a snug fit. These covers are 100% waterproof and are weather and UV-resistant. The cover comes with a limited lifetime warranty and is made from three layers of polypropylene, a single layer of microporous film, and an additional layer of soft fleece lining to protect the paint from scratches. The cover comes with a case, too, making it easily portable, so when you hit the road for a family trip, your Explorer can be protected from weather and dirt.
2. OxGord Windshield Snow Cover
As those of us who live in the north know all too well, winter can be a bear, and few things are more frustrating than missing an important meeting or being late to pick up your kids from band practice because you neglected to leave enough time to clear your Explorer's windshield of snow and ice. The fix? Get yourself an OxGord Windshield Snow Cover. This simple fabric cover slips over your windshield when parked, catching any falling snow or freezing rain so that when it comes time to set off, you don't need to brush or scrape your windshield; all you have to do is pick up the cover, shake it off, and stow it somewhere safe. Made from durable, high-quality 600-denier polyester, the OxGord Windshield Snow Cover is waterproof and resistant to tears and punctures, and it features tabs on either side that tuck right into the front doors to secure it against blowing away or being stolen. What else needs to be said? We can hardly imagine going back to a time without it.
3. TAC Side Step Nerf Bars
Side steps, nerf bars, running boards – whatever you want to call them, they're a handy addition to any tall vehicle like the Ford Explorer, helping ease climbing into and out of the vehicle, and even making it easier to load up your roof rack. These TAC Side Steps for the Explorer are among the most cost-effective Ford Explorer accessories you can find, with a refreshingly reasonable price tag and quality design and construction. Available for multiple generations of the Explorer, these nerf bars are made from super tough 3-inch-diameter mild steel tubing, with a black powdercoat finish to resist abrasions and prevent rust. Each nerf bar has a pair of flat, textured steps – one for the front row and one for the back – to help you and your passengers get a secure footing, and each model-specific bar is designed to install easily with simple hardware, without requiring any cutting or drilling. Just be sure to order the correct pair for your specific Ford Explorer; Part No. FN3900 applies to 2011-2019 Explorers, while CN1100 is for 2001-2006 models, and T214A-700 covers the new sixth-generation Explorer.
4. WeatherTech Custom Fit Cargo Liner
The Ford Explorer isn't meant just for commuting; it's an activity-friendly vehicle, as comfortable carrying you and your family on an extended road trip as it is tooling around the city. Unfortunately, that means you might be exposing your cargo area to all sorts of hazards, from leaky beverage coolers to slush-covered skis and snowboards. That's where the WeatherTech Custom Fit Cargo Liner comes in. One of the best, most essential interior-protecting Ford Explorer accessories on the market, this cargo liner is custom-molded to fit the Explorer, just like the brand's line of Custom Fit FloorLiners, with precise fitment and a high outer lip to catch and contain spills and debris, keeping them well away from your cargo area carpet. And even when it's not catching fluids or keeping sand from working its way into the carpeting, the WeatherTech Custom Fit Cargo Liner is grippy enough to provide some welcome traction to your cargo, keeping your groceries from slipping and sliding all over the place while you drive. Each one is designed and molded for a particular Ford Explorer model year range, so take care when ordering to ensure you're getting the correct model for your vehicle.
5. Miracase 4-in-1 Cell Phone Holder Mount
These days, a majority of drivers on the road use their smartphones for everything from media streaming to navigation, but as we all know, taking a hand off the wheel and your eyes off the road to manipulate and check your phone is dangerous. The solution is to mount the phone conveniently within your line of sight, and for that, you need a good smartphone holder – like this one from Miracase. The end result of constant fiddling and feedback from over 100,000 customers around the globe, this latest version of the Miracase 4-in-1 Cell Phone Holder Mount is the last phone mount you'll ever need. It offers unprecedented flexibility, with a suction cup for attaching to your windshield, a 3M adhesive pad for sticking on just about any other flat surface, and even a vent clip for attaching to your HVAC vent. It's incredibly tough, with a 44-pound load rating, and with tilt, rotate, and telescope controls, the Ford Explorer cell phone holder mount lets you put your phone precisely where you need it – no more casting your eyes down to check your navigation progress.
6. DeWalt DXAEPI140 Power Inverter
DeWalt, makers of some of the world's best professional-grade hand tools and power tools, also happens to manufacture one of the best Ford Explorer accessories money can buy: the DeWalt DXAEPI140 Power Inverter. An absolute necessity for anyone who enjoys camping or occasionally using their Explorer as a mobile office, this power inverter plugs into your standard 12V DC "cigarette lighter" port and gives you a single three-prong AC outlet, with 120 volts at up to 1.16 Amps. It's invaluable for recharging laptops and power tool batteries, powering DVD players, and doing most anything else you might need 120V AC power for. In addition, the power inverter also includes a pair of 3.1-Amp USB ports for recharging phones and tablets quickly on the go. Like everything DeWalt makes, it's well-designed and built like a tank, with a tough, rugged housing that can hold up to years and years of regular use.
7. AUTODECO 118-Piece Car Roadside Emergency Kit
If you're planning on taking any extended road trips, a roadside emergency kit is a must-have, and we've found just the right one: the AUTODECO 118-Piece Car Roadside Emergency Kit. Unbelievably affordable considering what's included, this 118-piece roadside emergency kit comes with everything you could imagine needing in a common roadside emergency situation: a first-aid kit for dressing mild wounds, a folding shovel and tow rope for getting your Explorer unstuck when needed, gloves, a reflective safety vest, jumper cables and spare fuses for addressing common electrical issues, and even an air compressor and tire patch kit for fixing a flat tire. A handy carrying bag keeps everything contained, and all-in, it's an incredible value – and one of very few Ford Explorer accessories that might actually save your life.
8. CURT Class-3 Trailer Hitch Receiver
While the Ford Explorer hasn't used a rugged truck frame in its construction since 2010, today's Explorer is still a surprisingly capable tow vehicle, with up to 5,600 pounds of towing capacity. But of course, before you can pull anything, you'll need a hitch receiver, like this Class-3 one from CURT. One of the best-known names in automotive towing accessories, CURT has designed and built this Ford Explorer hitch receiver to be as easy to install as possible, with a model-specific design that typically requires no drilling or cutting. Rated for up to 400 pounds of tongue weight and 4,000 pounds of gross trailer weight, it's a tough, reliable unit, formed from thick-gauge steel that's been treated with an industry-leading two-coat rust-proofing finish. Most important of all, the hitch receiver is a standard 2" by 2" square type, which makes it compatible with an absolutely massive array of mounts and accessories. Just keep in mind that because CURT hitch receivers are model-specific, you will have to take care to ensure that you're ordering the right unit for your Ford Explorer. Part No. 13386 fits 2011-2019 Explorers, while 13438 suits the new sixth-generation model.
9. NOCO Boost Plus GB40 UltraSafe Lithium Jump Starter Box
As much as we'd all like to think our vehicles are immune, all vehicle batteries eventually go flat and die. Thankfully, that doesn't need to mean the end of the road – not when you've got the NOCO Boost Plus GB40 UltraSafe Lithium Jump Starter Box. Incredibly light and compact for its capabilities, this battery jump starter can supply up to 1000 cranking Amps – enough to jump start a 6.0-liter gasoline engine without falling on its face – and it has the juice to perform as many as 20 jump starts before needing a recharge. Despite its sizeable performance, it weighs just 2.4 pounds and measures less than 8 inches in length, making it incredibly easy to stow and keep out of the way until you need it. The icing on the cake is the built-in 100-lumen LED flashlight, which can help you see what you're doing in a pinch, or signal for help with its flashing SOS mode. Easily one of the most critical Ford Explorer accessories on this list, the NOCO Boost Plus is nonetheless priced so affordably that it would almost be foolish not to have one.
Find all the latest Ford Explorer reviews, comparisons, information, and more by clicking here.
---
We are committed to finding, researching, and recommending the best products. We earn commissions from purchases you make using the retail links in our product reviews. Learn more about how this works.
Published November 25th, 2021 1:25 AM
Popular Articles
Latest Comparisons
Car Buying Tools