641 Views
Top 5 Best Leather Seat Covers for Comfort and Style
March 30th, 2022 11:09 PM
Share
Leather seat covers can overhaul your interior, while protecting your seats from wear and tear.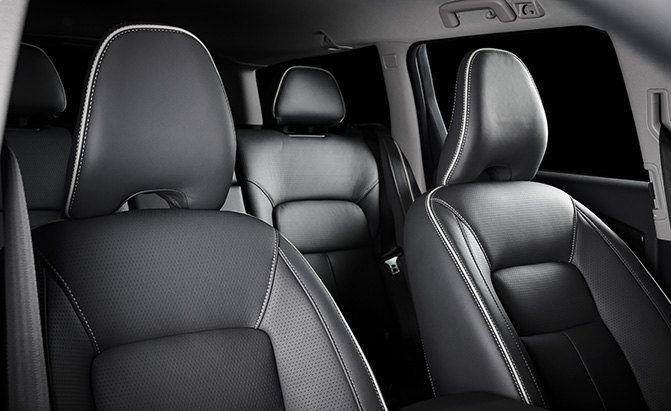 Unless you own a luxury vehicle with factory-installed leather seats, it would be best to equip your car with leather seat covers—they feel great to the touch, and keep you nice and comfy. Quality leather seat covers also protect your OEM seats from the wear and tear that's bound to happen, especially from prolonged driving. And if you have an older car, leather seat covers will blanket all the flaws and raise your vehicle's aesthetic appeal. Not only do they impress passengers and on-lookers, installing leather seat covers is a much cheaper option than completely replacing damaged seats.
That said, buying leather seat covers isn't as straightforward as it sounds: there's a lot to consider, plus some really good options on the market that make the final choice a difficult one. To help you out, we've researched and compared some of the most viable options on the market. For more information on the best leather seat covers, refer to our table of contents.
1. Editor's Pick: FH Group Leatherette Seat Covers
If you're looking for leather seat covers that tick all the boxes, FH Group leather seat covers are definitely a fan favorite. The brand has a reputation for stylish covers, which is why the FH Group Leatherette Seat Covers is our Editor's Pick. They are made from three-dimensional air mesh with generous space on the inside, which makes for soft, yet sturdy covers that enhance comfort by many folds.
For people who spend much of their time on the road, the cover cushions the body so the back doesn't feel any stress. So, you can drive for hours on end, without the need to stop and take a stretch. For your safety, these covers are airbag compatible; they have zero sides, so integrated airbags can open up instantly when need be. Plus, this model also supports built-in seat belt holders.
Another reason why this is at the top of our list is that the material is machine washable, so you can easily remove stains and spills. So, even if you have toddlers that spill food and drinks now and then, there's no need to worry. The product is advertised to have a universal fit, so the installation can be DIY—cover the seats, that's it—no alterations are required, just simply pull the straps.
On the back of the front seats, you can find a well-placed storage compartment that you can use to store snacks, stow documents, and whatever else you need on the road. They also come in 10 different colors, so they can match the aesthetics of any vehicle. To add to that, the headrest cover is integrated into the design, so this product truly makes for an attractive finish.
| | |
| --- | --- |
| Pros | Quality faux leather, 10 colors, non-slip backing, airbag compatible, thick padding, storage compartments, easy-installation, integrated headrest cover |
| Cons | Even though the brand claims it has a universal fit, some users had trouble getting a snug fit |
2. Runner Up: Motor Trend Sport Faux Leather Car Seat Covers
If you want to get the best value out of your hard-earned cash, we recommend the Motor Trend Plush Leather Covers. Made from quality PU leather that has a smooth, velvety texture, comfort and beauty are a given with these covers—and they come with decent padding. To add to that, the material is waterproof, so it doesn't accumulate any debris and is easy to clean. So, even if you spill over them, some simple cleaning will restore them to their original look.
The Motor Trend Plush Leather Covers don't have sides, which makes them compatible with seat belts and airbags. When it comes to the actual installation, it's a straightforward process: slip them on, strap them in, and fine-tune for a snug fit. They are also branded to have a universal fit, and can seamlessly fit most vehicles including sedans, SUVs, CUVs, trucks, and minivans. That said, the manufacturer does recommend that you check your vehicle's dimensions to ensure the best fit.
| | |
| --- | --- |
| Pros | Side-less design, easy-installation, waterproof, easy to clean, good padding, resistant to debris, reasonably priced |
| Cons | Not as durable as other options on the market |
3. Best All-Rounder: Leader Accessories Universal Fit Leather Seat Covers
The Leader Accessories Universal Fit Leather Seat Covers are a top contender for the best car seat covers—they have a fantastic look and feel, while delivering exceptional comfort. They are made from perforated, soft faux leather that is gentle to the touch, and incorporates three-millimeter foam padding for extra comfort. One standout feature for these side-less leather seat covers is that they feature integrated headrest covers—a combination that significantly raises their aesthetic appeal.
If you are fond of leathery black interiors, these covers are right up your alley. Not only do they mimic the look and feel of natural leather, but they also cover your seats through and through. In fact, this product offers such a precise fit, that it almost matches the original factory-fitted upholstery. The fabric incorporates elastic on the side as well as buckles, which makes for a seamless installation. Plus, the fit is great for virtually every vehicle make and model.
With this product, you're bound to get your hands on a durable leather seat cover that is quick to install and easy to maintain.
| | |
| --- | --- |
| Pros | Easy installation, storage compartments at the back, mimic natural leather, easy upkeep, adequately cushioned, airbag compatible |
| Cons | Keeping the buckles in place is difficult as they often tend to loosen up |
4. Best Leather Look-Alike: Cal Trend I Can't Believe It's Not Leather Seat Covers
Though this is not a leather-based seat cover, it deserves an honorable mention on our list for its uncanny resemblance to natural leather. Even a close inspection of this product feels like you're holding real leather. Therefore, it makes perfect sense that these leather seat covers are named Cal Trend I Can't Believe It's Not Leather Seat Covers. The ultra-soft cover is made from premium automotive fabrics that is reinforced to strengthen the design.
The synthetic material is treated to resist UV rays and is wear, abrasion, mildew, and fade resistant. So, you can park your vehicle under the scorching sun for hours at a stretch—and they won't incur any damage. If for some reason, the seat covers are damaged, your investment is in safe hands. The manufacturer backs this product with a two-year warranty, which makes this a durable option to consider.
This option comes in eight different colors, so no matter what color your car's interior is, you're bound to find a shade that matches it. The cover also has extra-large rear storage pockets, so you stow away anything you want. Installation is effortless too: slip on the covers over the original upholstery, fasten the straps, cling the hooks, and you're good to go! Similarly, installing the armrest and headrest covers is also easy.
| | |
| --- | --- |
| Pros | Eight colors, resistant to UV rays, two-year warranty, wear, abrasion, mildew and fade resistant, cost-effective, large storage pockets, |
| Cons | Some users find that the armrests aren't easy to install |
5. Best For Pet Owners: Big Ant Car Seat Cushion
Do you have to vacuum your car to get rid of fur? Say you have a canine companion you love to bring along on drive, but you also dread cleaning up after. Well, you're not alone, and we have just the product to help out. Introducing the Big Ant Car Seat Cushion, a well-thought-of product engineered for humans—and their pets! The best thing about this product is that your original upholstery remains unhinged, as the leather seat covers safeguard it from scratches and contaminants like mud, dust, water, and hair.
It also features a flexible sponge on the inside, which is covered by a heat-insulated cloth. This combination helps to keep your back and hip comfortably in position, so you can maintain your posture even on long drives. Moreover, the cotton candy-like softness relieves stress. The top portion of the cover comprises of anti-slip rubber. So, even after extended use, the cover will stay put which the manufacturer ensures with additional elastic-based plastic chucks and plastic buckles.
Cleaning the Big Ant Car Seat Cushion covers is hassle-free: you can either remove them for deep cleaning, use a damp towel and manually clean them, or use a powerful vacuum for exceptional results. This model is said to fit all types of vehicles like trucks, SUVs, and more. However, we find it best that you measure your seats' dimensions before you set out to buy this product, so that the locks for the seat belts remain operable after installation.
| | |
| --- | --- |
| Pros | Easy-installation, seamless upkeep, resists fur build-up, improves metabolism, rests back and hip comfortably, anti-slip rubber back, waterproof |
| Cons | Users say the lack of side straps causes the bottom sides to rollup when you sit |
What are the Benefits of Leather Seat Covers?
Here are some benefits you can reap by installing leather seat covers:
Makes for a classy look—leather seat covers bring elegance and style to your ride, and the overall interior looks stunning
Repairs and replacements for original seats can be costly; leather seat covers protect them from wear and tear by covering them
Since the interior remains well-kept (courtesy of the covers), you benefit from high resale value
They are reasonably priced
They enhance comfort to another level
How Much do Leather Seat Covers Cost?
Leather seat covers come in different shapes, sizes, and materials, so you will definitely find a worthy pick that fits within your budget. Generally, you will come across the following ranges:
Less than $20—you can find a good number of options within this range and the quality, style, and durability may differ among each of them. If you do your homework, you may find some stunning covers that will last you years.
Between $20 to $50—from basic covers to pads and a lot more—this range offers a wide variety of promising options. No matter what you choose, the quality, durability, comfort, and fit should be solid.
$50 and more—if you want to get quality covers that feature high-end leather, this is the range you should choose. Plus, you might end up with a full set of covers, so you won't be paying as much as it looks.
What to Consider When Choosing the Best Leather Seat Covers:
Here are some considerations that buyers shouldn't overlook:
Fitting and size: Measure your seats first, then choose covers that will sit well. This ensures a crease-free, beautiful look, with the right amount of comfort.
Straps, buckles, and latches: If the seat cover comes with any of these, make sure they are easy to fasten, don't tangle up, and are made from the same material as the cover itself.
Longevity: Ensure that the stitching, edges, cushion, straps, and all other components are made from high-quality material. Also, the leather in question should be sturdy enough to resist scratches and tears over time.
The headrest cover should not standout and must have a design that blends in with the cover
The leather seat cover should fit the whole seat and not just parts of it
Look for covers that are water-resistant, so your seats aren't damaged by accidental spills
It should offer protection against UV rays, so that the cover doesn't fade when you park your car under the sun
For added support, go for a seat cover with built-in cushioning
Food for Thought
To use your newly bought covers towards their full potential and for a long time, follow these expert suggestions:
Keep the leather bright and shiny by regularly oiling it
Use a damp cloth to wipe your seat; you can also use a vacuum to haul away leftover debris
Don't strap on the seat covers too tight, you may feel that the fitting is proper, but it will end up stretching the cover
If you choose something from the expensive range, have it custom-fitted, so that it sits precisely in place
---
We are committed to finding, researching, and recommending the best products. We earn commissions from purchases you make using the retail links in our product reviews. Learn more about how this works.
Photo credit: Gargantiopa / Shutterstock.com
Published August 11th, 2020 5:17 PM
Popular Articles
Latest Comparisons
Car Buying Tools