46 Views
Best Nissan Sentra Accessories
July 18th, 2023 7:12 PM
Share
Improve your Nissan Sentra experience with the best accessories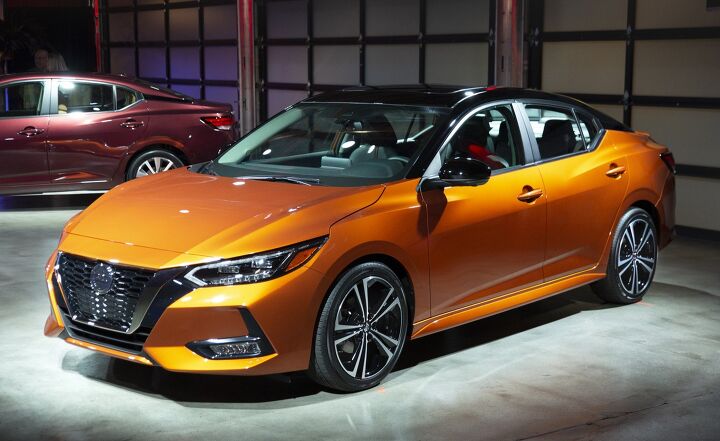 The Nissan Sentra has long served as one of the most popular and most affordable compact sedans sold in North America. That is great for drivers who want an inexpensive, roomy four-door to get their coworkers to the office or their kids to school. The downside to many lower priced compact sedans is that they also lack some conveniences features that are optional in pricier models. You can solve this dilemma by taking advantage of the best Nissan Sentra accessories the aftermarket has to offer..
Whether you bought your Nissan Sentra new or used, there are a wide variety of items available to make your daily drive more comfortable while also providing some peace of mind. We have put together a list of eight items which are popular with many drivers, all of which are likely to improve your overall ownership experience.
1. Silverstar Ultra Headlight Bulbs
The headlights of the Nissan Sentra have obviously come a long way over the past three decades and today's premium trim levels come with high tech LED headlights with LED daytime running lights. However, if you have an older model or a newer model in lower priced trim, you might wish that you had brighter headlights. There are many headlight bulbs on the market which will illuminate the road more clearly, including cost LED conversions, but the easiest option is a good set of replacement bulbs.
Sylvania is easily one of the biggest names in the world of aftermarket headlights and the Silverstar Ultra line is the company's brightest Halogen option. These headlight bulbs are brighter and whiter, leading to better clarity and a broader field of vision. Of course, you will want to make sure to get the correct bulbs for your Sentra, but Sylvania makes a Silverstar bulb replacement for most modern bulb sizes. These plug right into the factory harness, so installation is very simple.
The bottom line is seeing better and being seen better while driving makes things safer for everybody, making the Silverstar Ultra headlight bulbs among the smartest Nissan Sentra accessories you can add.
| | |
| --- | --- |
| Pros | One of the brightest legal replacement bulbs on the market, easy to install |
| Cons | Quite a bit more expensive than OEM headlight bulbs, opposing drivers won't appreciate your bright lights |
Promoted Product: Gold Shield 5L Nissan Sentra Car Covers at CarCover.com
Regardless of what color your Nissan Sentra is, you want to protect the finish as well as the rest of the car from the elements. That is where a Gold Shield 5L Nissan Sentra Car Cover from CarCover.com comes in. The Gold Shield 5L is the best car cover you will find for your Sentra, protecting against wind, rain ice and more. It is made to fit your specific model and works both indoors and outdoors to keep your Nissan looking great. The covers are 100% waterproof and UV-resistant, and are made from three layers of polypropylene, a single layer of microporous film to let moisture out, and an additional layer of super soft fleece lining to protect the paint. The covers have a strap and buckle on each end and an elastic band for a snug fit, giving your Sentra the best protection. The cover comes with a limited lifetime warranty, too, so you can trust in the quality.
Many modern Nissan Sentra sedans came from the factory with aluminum wheels. Those wheels are typically nicer looking and lighter than steel wheels, removing the need for hubcaps while also improving both performance and efficiency. The downside is that aluminum has a high salvage metal price, making aluminum wheels a popular target for thieves with a connection in the recycling world. Fortunately, you can help thwart thieves with a simple set of wheel locks.
This lock set from McGard is a great option for protecting the wheels on your Nissan Sentra. Unlike some wheel locks, which have a uniquely-shaped exterior, these have a smooth round exterior. The key for these locks slides inside of the round exterior, with a unique pattern that matches the key on the inside of the locking nut that engages the same pattern on the end of the lock nut. Without the key, these round lug nuts are a nightmare to remove, so thieves will generally avoid cars with them in place.
| | |
| --- | --- |
| Pros | Inexpensive, easy to install, dissuades thieves |
| Cons | An inspired thief can still remove these with enough time and tools |
If you have driven many different vehicles, the odds are good that you have been in the driver's seat of at least one car with a seat belt that rested across the side of your neck. Hopefully your Nissan Sentra seat belt stays out on your shoulder, but if you find that it does rub against your neck, it can become very bothersome during a long drive – particularly on a hot day. Even if the seat belt doesn't rest against your neck, having it rub against your chest or shoulder will become uncomfortable. Luckily, the solution to this problem is simple and inexpensive.
The best way to keep your seat belt of your Nissan Sentra rubbing against your neck is a simple seat belt strap pad. The seat belt strap pad shown here has the Nissan circular logo and text logo, but if this is a bit too flashy for you, there are basic pads in a single color. They all do the same basic job, wrapping around the seat belt and attaching to itself with Velcro, allowing you to adjust them to work for drivers and passengers of any height. While this is a very simple solution, being able to make drivers and passengers more comfortable means this is one of our favorite affordable Nissan Sentra accessories.
| | |
| --- | --- |
| Pros | Inexpensive, many color and design options, makes the seat belt more comfortable for all passengers and drivers |
| Cons | May need to be adjusted each time before driving |
4. EKR Leathette Seat Covers
If you drive a late model Nissan Sentra in a higher trim level, you may have leather seats, but the vast majority of Sentras from the last three decades have cloth seats. Cloth doesn't look quite as nice and it is harder to keep clean. Of course, in an older model, the cloth may have worn through to expose the inner padding or springs. If you want your older seats to look nicer, or if you want your newer Sentra to have a more premium look while also being easier to maintain, you need a good set of seat covers.
We found these leatherette seat covers from EKR on Amazon and they are a great option for anyone looking to dress up the cabin of their Nissan Sentra from the 2013 through 2019 model years. These covers are designed to attach to the front and rear seats with a factory fitment and there is no question that the seats with these covers look better than an aging cloth seat, but they are also easier to clean.
| | |
| --- | --- |
| Pros | Look great with a factory-like fit, easy to clean |
| Cons | In the middle of the price range for seat covers, but they look much nicer than cheaper options |
5. HeyTrip Trunk Organizer with Cooler
The odds are good that you will use the trunk of your Nissan Sentra to carry all sorts of items, from groceries to children's toys to items for work. The key issue with the trunk in most vehicles is that the smooth floor don't do much to hold things in place. As a result, after a short drive, the contents of any bags in the trunk could be rolling from side to side. That is an annoyance, but if any of those rolling food containers breaks, it can become a real mess.
This trunk organizer from HeyTrip is one of the coolest options we have seen – no pun intended. This trunk organizer is modular, so you can add or remove portions to make it fit in every space. If it is too big in its full form for the trunk, you can take off a couple compartments, but this organizer has a key feature. It has a soft-sided cooler that will keep cold items fresh longer, whether you are on a shopping trip or a road trip. It's one of the best Nissan Sentra accessories going.
| | |
| --- | --- |
| Pros | Can be adjusted to fit every trunk, multiple compartments of different sizes, insulted cooler section |
| Cons | Very heavy or sharp items could pierce the sides |
6. Miracase Cell Phone Holder
At this point, pretty much everyone has a cell phone and that has been true for the better part of a decade. Oddly, few cars made in the past decade have a good solution for holding your cell phone in place, in view, and the Nissan Sentra is one of them. If you use your cell phone for navigation or hands-free communication while on the go with your Sentra, you have liked found that it is hard to keep the phone in a secure, convenient spot.
There are many options on the market for universal cell phone holders, but this item from Miracase is one of the most adaptive for different vehicles and different phones. It comes with both a suction cup and a clamp mount for different mounting options. The portion that holds the phone can be adjusted side-to-side to accommodate just about every device and the extendable arm allows you to bring your phone a bit closer while driving.
| | |
| --- | --- |
| Pros | Fits most phones, will mount in multiple places, adjustable in every direction |
| Cons | On the more expensive end of universal mounts |
7. Husky Weatherproof Floor Liners
If you live or work somewhere that leads you to walk through dirt or mud, the odds are good that some of it has made its way onto the carpeting of your Nissan Sentra. The factory floor mats help to protect the carpeting, but over time, the carpeted floor mats look bad and they offer no real protection against fluids. If you spill a drink on the floor, the mats won't do much to stop it from soaking into the carpeting, creating a headache of a mess to clean up.
When it comes to protecting the interior of your car, these floor mats from Husky are just about the best Nissan Sentra accessories available. They are designed to keep just about everything off of the carpeting of your Sentra. They are custom measured to perfectly fit in the front foot wells and across the rear floor, with raised sides to keep liquids in place. You can get in with muddy feet or dump a chocolate shake on these mats and cleanup is as easy as taking them out and rinsing them off.
| | |
| --- | --- |
| Pros | Keeps everything including liquids off of the carpeting, easy to clean, factory fitment |
| Cons | Expensive as floor mats go |
Generations of the Nissan Sentra
The Nissan Sentra was introduced back in 1982 as a replacement for the Datsun 210 and since then, the popular compact has seen seven generational changes. The first generation ran from 1982 through 1985 while the second generation ran through 1993. That included some overlap with the third generation, which was introduced in 1990 and ran through 1994 with the fourth generation starting in 1995 and continued through the end of the decade.
The fifth generation Sentra was introduced for the 2000 model year through 2007, the sixth generation ran from 2007 through 2012 and the seventh generation started in 2013 and ended in 2019. Finally, the eighth and current generation began for the 2020 model year.
Nissan Sentra Fuel Economy
The 2021 Nissan Sentra comes standard with a 2.0-liter four-cylinder engine and a continuously variable transmission, offering 29 miles-per-gallon around town, 39 miles-per-gallon on the highway and 33 miles-per-gallon combined. If you opt for the sportier Sentra SR, the fuel economy numbers drop to 28 miles-per-gallon in the city, 37 miles-per-gallon on the highway and 32 miles-per-gallon combined.
---
We are committed to finding, researching, and recommending the best products. We earn commissions from purchases you make using the retail links in our product reviews. Learn more about how this works.
Published November 3rd, 2021 2:01 PM
Popular Articles
Latest Comparisons
Car Buying Tools