1 View
The Best RC Off-Road Trucks for Serious Fun
April 9th, 2022 5:31 PM
Share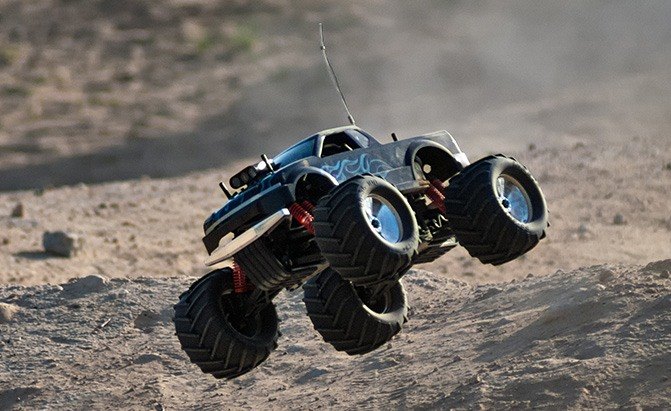 If you've ever been to a monster truck show, you know the thrill that goes along with the sound of roaring engines and watching huge vehicles soar over jumps. Perhaps you've fantasized about taking the wheel of one of these wild machines, and then considered the realities of buying, fueling, maintaining, and storing a vehicle the size of a small house.
If you're looking for a more accessible way to enjoy driving a larger-than-life vehicle, consider an RC—or radio control—truck. The best RC trucks come in all shapes and sizes, so you can live your fantasy, whether that be piloting a monster truck over jumps or operating a construction or military vehicle.
That's the kind of variety you'll find on this list of the best RC off-road trucks. All of these products are battery-powered, so they're relatively inexpensive to buy, and all you need to do to "refuel" is plug a charger into the wall. Some of these RC trucks are toys designed for your kids to play with, while others are more advanced models better suited for you to play with once the kids have gone to bed.
If we discovered one thing while researching this list, it's that you will be spoiled for choice when you start shopping for the RC truck of your dreams. Some models are built for straight-line speed, others excel at crawling over rough terrain, and a few can do sweet tricks for endless entertainment.
For more information on the best RC off-road trucks, refer to our table of contents.
1. Editor's Pick: LAEGENDARY 1:10-Scale RC Monster Truck
There are a lot of things that make an RC truck fun, but if speed tops your list, then LAEGENDARY's 1:10-scale monster truck has lots of it. The company says this truck can reach 30 mph, which means it could keep up with traffic on some residential streets! It accomplishes that feat thanks to two lithium polymer (Li-Po) batteries, each of which packs 7.4V and 1,600 mAh of juice; together, they promise 40 minutes of fun before they need to be recharged. The batteries power two motors—one at each axle—for 4x4 traction.
And while going 30 mph on flat pavement is fun, this monster truck is also made for clawing through sand or climbing over rocks with its oil-filled shock suspension and two inches of ground clearance. LAEGENDARY says its RC truck is water-resistant, too, so you don't have to pack up your toys and go indoors if it starts raining.
The remote control has low- and high-speed settings so you can get used to the way this truck handles before you try a top-speed run. The kit includes the remote, two batteries, two USB charging cables, and a wall charger.
| | |
| --- | --- |
| Pros | Great top speed, four-wheel drive, water-resistant |
| Cons | Not waterproof so it cannot be submerged in water, some durability issues depending on use |
2. Best Starter RC Truck: Bezgar 1:14-Scale 2WD All-Terrain Truck
If you're new to the RC truck world and want to try one out before you spend a lot of money, here's a good option to consider. This BEZGAR 1:14-scale RC truck is a good starting point for a couple of reasons: First, its top speed is a relatively modest 20 km/h, which is quick enough to have fun but not so quick that you're likely to lose control the first time you drive it; second, this truck is 2WD, which keeps things simpler mechanically.
However, like other RC trucks, this one has four-wheel suspension to let it tackle some rugged terrain. It also has an LED light bar at the front for night driving. BEZGAR says each of its RC truck's rechargeable nickel metal hydride batteries boasts 6V and 800 mAh of output, and takes about three hours to charge fully. Once charged, you can drive this truck for about 20 minutes before the battery runs out of power. The kit also includes a USB battery charger and a screwdriver so you can access the battery compartment.
| | |
| --- | --- |
| Pros | Affordable price for a first-time RC truck buyer, good top speed |
| Cons | Two-wheel drive limits off-road traction, long charging time, some buyers report low-quality parts |
3. Best All-Surface RC Truck: Monster Jam Megalodon Storm
Monster Jam gets our nod for the most amusing design with its Megalodon Storm RC truck, which emulates that of a real-life monster truck known for pulling off great tricks at live events. The Storm's shark-shaped body isn't just a reference to this RC truck's name—it's also to emphasize that you can drive this RC truck on almost any surface, including water or snow.
This 4WD truck has big tires that give you good traction on dry surfaces, and help propel it on water so you can go straight through puddles instead of steering around them. The truck's open-wheeled design also means you can perform stunts like jumps and flips.
Something to bear in mind is that this is a relatively basic RC truck. It does not have suspension, so it will not be as stable over rough terrain as some of the other trucks on this list. And while the Megalodon Storm looks to be great fun, it is more about letting you do tricks than hitting insane top speeds.
| | |
| --- | --- |
| Pros | Water-resistant design for all-weather running, fun design |
| Cons | No removable battery; no suspension |
4. EP EXERCISE N PLAY 6WD 1:16-Scale RC Army Truck
Allow us to switch things up a bit with this 6WD RC truck, designed to let you pretend you're driving a military troop transport vehicle. With 10 speed ranges, this army truck will go up to 15 mph on flat surfaces, or you can use the 6WD system to crawl through short grass, sand, and shallow mud without getting stuck. Treaded tires allow you to drive up slopes as steep as 45 degrees, too.
Unlike most of the RC trucks on our list, this one has a "skid-steer" system for making turns. That means you can execute a "tank turn" by driving the wheels on one side forward and the others backward. There are LEDs on the front to light your way in dark conditions, and the back door opens up so you can transport actual cargo, and even store the remote when you're done playing.
This RC truck comes with two batteries, each of which will drive the truck for up to an hour. If you keep both batteries charged, that means you can enjoy up to two hours of play before it's time to recharge. The kit also includes a USB charging cable, but you'll have to supply two AA batteries for the remote control.
| | |
| --- | --- |
| Pros | Adjustable speed settings, can do a cool tank turn, long playtime |
| Cons | No suspension or conventional steering, top speed is limited |
5. HAIBOXING 1:18-Scale All-Terrain RC Truck
Another option for a more conventional RC truck design is this speedy all-terrain model from HAIBOXING. This 1:18-scale truck is compact, measuring less than 10-inches long and about eight-inches wide. With 4WD and an RC 380 motor, you'll reach a top speed of just over 22 mph on flat surfaces. When the going gets rough, big, knobby tires will help you get over and through almost any type of terrain.
This is one of the more technically advanced RC trucks on our list: it comes with durable metal driveshafts, front and rear differentials, and shocks you can adjust for a firmer or softer ride depending on where you want to drive. This RC truck is also waterproof to IPX4 standards to protect its electronic components when you drive through mud or water.
HAIBOXING says this truck's remote has a long 280-foot control range and has low- and high-speed settings, steering trim, and steering reverse controls. Your purchase also includes two 7.4V lithium polymer batteries, a USB charging cable, and a selection of stickers so you can dress up the truck's body.
| | |
| --- | --- |
| Pros | Adjustable suspension, long control range |
| Cons | Some buyers say the remote control is unreliable, another says the axles can get clogged with dirt |
Here's a fun alternative to traditional RC trucks from Fisca. While this stunt truck can tackle all-terrain driving with its bright green tires, it's intended more to pull off fun tricks on smooth surfaces. At first glance, Fisca's 4WD stunt truck is pretty straightforward mechanically, with no steering mechanism or suspension system. However, it is a sophisticated little machine that uses skid steering to respond to your inputs and even does on-the-spot 360-degree "tank" turns.
The wheels on each side are mounted on a pivot, and you can use that clever construction to do flips and 180s, and even send this stunt truck tumbling down steps and up against walls. The best part is it's basically impossible to damage the body of this truck because the soft, oversized tires double as bumpers. Because it's made for tricks rather than speed, this stunt truck only hits about 4.5 mph when driving in a straight line. However, we think you'll agree this truck makes up for that with its other abilities.
Fisca supplies its stunt truck with a 3.7V, 400 mAh battery that provides 10 to 15 minutes of playtime before charging. If you want more driving time, Fisca sells extra battery packs separately.
| | |
| --- | --- |
| Pros | Looks like great fun, unconventional styling, responsive customer service |
| Cons | Short drive time on a full charge, a few buyers said their trucks didn't last long, but the seller replaced them promptly |
7. WHIRLT 1:18-Scale RC Truck
Next on our list of the best RC trucks is this 1:18-scale dune buggy design from WHIRLT. This is another conventional take on the RC truck concept. WHIRLT's buggy has four-wheel drive, suspension with real springs and shock absorbers, and rugged bumpers to protect the body when crashing into obstacles or over jumps.
The company says you'll get about 30 minutes of driving time out of each of the two 7.4V, 850 mAh batteries that come with the buggy. A strong electric motor gives you a top speed between 20 and 25 mph, depending on the surface you're driving on. Metal drive shafts and bearings at both axles promise reliable performance, and conventional front-wheel steering gives you sharp handling and maneuverability.
The remote control boasts a control range of up to 230 feet and has trim controls for the steering and throttle so you can adjust the sensitivity of the controls. The buggy also comes with a spare tire and LED headlights.
| | |
| --- | --- |
| Pros | Good top speed, knobby tires promise good climbing traction |
| Cons | Some buyers complained the remote control stopped communicating with the buggy, may be too fast for young children |
8. Fisca RC 1:20-Scale Construction Dump Truck
For another break from the RC truck norm, we go to the pros at Fisca to look at a completely different type of vehicle than we've covered so far on our list. The company has gone for remote control realism with a 1:20-scale dump truck. This workhorse of a machine is modeled after the Mercedes-Benz trucks found all over Europe and is unmistakable as a construction vehicle with its bright yellow color.
Fisca has built true mechanical steering into this truck, so you can maneuver it just as you would a real dumper. You may benefit from some practice before your first day on the "job," as this RC truck is 14-inches long, six-inches wide, and eight-inches tall. Watch those overhead wires! Completing the picture are LED headlights, taillights, and top-mounted clearance lights, just like you'd see on the real deal. You can even operate the dump box via the remote control.
Fisca doesn't say how fast this truck will go, but you can expect its top speed to be modest given that it's made primarily for indoor use in dry conditions.
| | |
| --- | --- |
| Pros | Realistic design, includes sound effects |
| Cons | One buyer said the truck was actually too fast unless loaded down, a couple of buyers complained of quality control issues |
9. TREYWELL RC Off-Road Monster Truck
If you've ever wanted to pretend you're participating in the legendary Paris-Dakar off-road rally, here's an RC truck from TREYWELL that will help you live that dream. To be fair, this cross between a monster truck and dune buggy mostly looks the part. In reality, this is more of a starter RC truck best suited to young kids with its low price and modest top speed of 15 mph.
However, if you're more interested in traversing rough terrain and climbing over rocks, TREYWELL's truck might do the trick no matter your age. This truck has tires with a bold tread pattern for great grip on loose surfaces and four-wheel suspension to help keep the wheels in contact with the ground. Meanwhile, rugged bumpers and an ABS body shell resist damage if you get too adventurous.
The simple remote provides forward/reverse and left/right directional controls and gives you an operating range of nearly 230 feet. This kit also includes two rechargeable 3.7V/500 mAh batteries—each of which gives you 20 to 30 minutes of driving time—and a USB charging cable.
| | |
| --- | --- |
| Pros | Includes batteries for the remote control, quiet operation |
| Cons | Not waterproof, works best on smooth surfaces |
10. MISSLFJY 1:22-Scale RC Truck
The final entry on our list of the best off-road RC trucks comes from MISSLFJY, which wraps its remote-control tech in a 1:22-scale dune buggy body. As its affordable price suggests, this is a great option if you're looking to introduce a child to the entertaining world of RC trucks. With a low top speed of about 12 mph and a compact size—8.2-inches long, 6.2-inches wide, and 5.4-inches tall—this truck is well-suited to being driven in a small apartment or house where you don't have enough open space for one of the faster trucks on this list.
If you want to play outside, off-road tires give you useful grip, and there is four-wheel suspension for when you want to tackle rough terrain. This truck only has two-wheel drive, however, so that will limit where you can go. It also has a modest maximum control range of about 65 feet, but that's perfectly reasonable given the low top speed.
With every MISSLFJY RC truck, you get two rechargeable batteries, each of which provides about 30 minutes of playtime and takes 90 minutes to charge. You also get two AA batteries for the remote control.
| | |
| --- | --- |
| Pros | Low price, useful 30-minute battery life |
| Cons | Two-wheel drive, modest speed and control range |
Can I drive my RC truck through puddles and mud?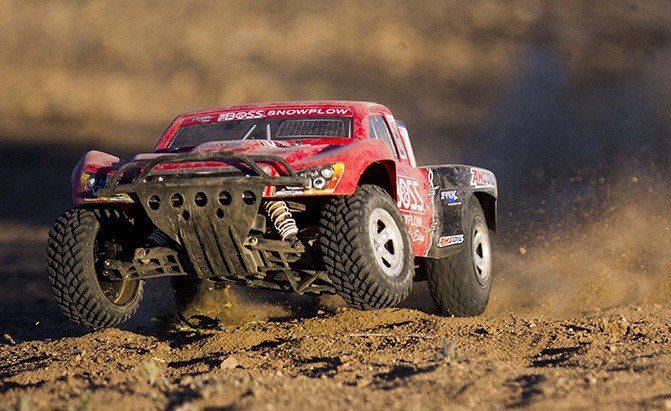 Photo credit: txking / Shutterstock.com
Some of the RC trucks on our list are waterproof or water-resistant. You can drive one of these models in wet conditions, but only a handful are built to be submerged as opposed to splashing through puddles.
We know that all of these trucks look ready to drive over almost any kind of terrain. However, you should be just as cautious when it comes to driving through deep mud as you would with water. Dirt and dust can contaminate the axles on some of these trucks and cause them to seize up so that they won't drive anymore. You'll have to spend serious money—more than the cost of the trucks on this list—to get an RC truck that is completely sealed against water and dirt.
Are all RC trucks toys?
Definitely not. Based on the models we've included on our list, we'd suggest that the higher an RC truck's price is, the more you should consider it a hobby vehicle instead of a toy. Of course, price isn't the only consideration here. An RC truck with a high top speed is not well-suited to a young child who may not have much experience driving a remote-controlled vehicle. Not only do you risk the truck being damaged from crashing into things, but a truck capable of going 30 mph could injure someone, including the child at the controls.
If you're in the market for a toy, look at the RC truck models closer to the bottom of our list. They are generally slower and smaller and, in case you need or want to replace a truck that sustains serious damage in a crash, less expensive to buy.
That said, while some of the faster trucks on our list are not what we would call toys, they are also not competition-type RC trucks on which you can install upgraded parts. On these RC trucks, what you see is what you get. As we mentioned above, if you want to get really serious about RC truck racing, you have to spend more money.
If I buy two or more RC trucks, can I race them against each other?
In many cases, yes, and this is thanks to more recent development in RC truck technology. In the past, if you tried to race two remote-controlled vehicles whose transmitters used the same radio frequency, the controllers would interfere with each other, resulting in havoc.
Nowadays, while RC trucks still use radio waves to communicate with the handheld controller, you can pair each truck with its controller and then compete against your friends even if they're driving exactly the same truck.
---
We are committed to finding, researching, and recommending the best products. We earn commissions from purchases you make using the retail links in our product reviews. Learn more about how this works.
Photo credit: baseart / Shutterstock.com
Published March 23rd, 2021 8:01 AM
Popular Articles
Latest Comparisons
Car Buying Tools