2 Views
Top 6 Best Truck Bed Bike Racks
April 2nd, 2022 8:30 PM
Share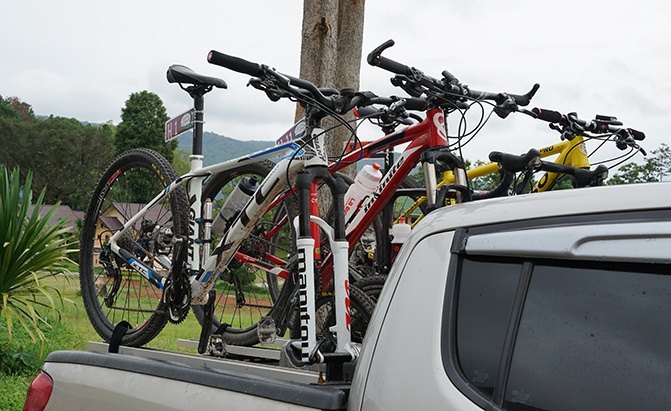 Sometimes, the best place to ride your bicycle isn't right outside your front door. Where I live, the local streets are treacherous for bikes—we've got dirt shoulders and high-speed limits with no dedicated bicycle lanes. It's great for cars, but when it's time to ride, I'm better off loading my bike in the bed of my F-150 and driving to a safe starting point.
Serious road bikers and mountain bikers may have thousands of dollars invested in their bikes, so the idea of just tossing them into a pickup bed is appalling. That's where a truck bed bike rack enters the picture.
A well-engineered truck bed bike rack can secure, stabilize, and protect your bicycle (or multiple bicycles) on the way to your riding destination and back again. Like everything in the bicycle and automotive world, there is a wide range of choices from inexpensive and simple to pricey and complex. The right truck bed bike rack for you will depend on your budget, your truck, your style of bicycle, the number of bikes you need to transport at once, and the level of protection and security you require.
For more information on the best truck bed bike racks, refer to our table of contents.
1. Editor's Pick: HZYICH 54" Truck Tailgate Pickup Pad
One of the simplest ways to transport up to five bicycles at a time is with a tailgate pickup pad like this one from HZYICH. It uses the truck's tailgate itself as a bike rack, supporting the bike's frame on the closed tailgate with the front wheel suspended over the back bumper.
This type of rack is great if you only need to transport bikes occasionally, and don't want a permanently mounted solution. It takes just minutes to attach to the tailgate, and can be stored in your garage or behind your seat when not in use.
It is made of dual-coated, 24-ounce marine-grade vinyl (600 Denier) fabric over 0.28-inch-thick foam padding with heavy duty webbing and four straps with buckles that wrap around the tailgate to keep it secure, and mounting points for up to five bicycles side-by-side.
| | |
| --- | --- |
| Pros | Lightweight, inexpensive, no tools needed for installation or use, easy to store, carries up to five bikes at once |
| Cons | Does not lock or secure bikes against theft, requires some strength and height to lift bikes over the tailgate, may scratch or damage tailgate if not used correctly |
2. Swagman Pickup Fork Mount Bike Rack
The Swagman Pickup Fork Mount Bike Rack represents another simple and elegant truck bed bike rack design. It is a telescoping stainless steel bar with rubber end pads to grip your truck's bed rails.
Two bike fork mount blocks are spaced along the bar with 9mm quick-release skewers. Just remove your front wheel, mount the fork to the block on the bar, and your bike is ready to travel. The fork blocks can be repositioned so that you can add a third accessory block if desired.
It's a simple option that's straightforward to install, requiring no tools and just some time and effort on your part. Lightweight and compact, this truck bed bike rack can easily be stored when it's not in use.
This rack can support up to 35 pounds per block, enough to accommodate most bicycles.
| | |
| --- | --- |
| Pros | Very simple and easy to install without tools, inexpensive and lightweight, compact size for storage when not in use, secures front fork, preventing damage during transport |
| Cons | Requires removal of front wheel, does not lock or provide security, pressure-fit mounting can be subject to degradation over time |
3. Yakima Locking Blockhead Permanent Locking Fork Mount Bike Rack
I have to admit to being a bit overcautious when it comes to protecting my bike against theft. Short of chaining my bike to my pickup truck (which I have done), I think I would trust the Yakima Locking Blockhead Permanent Locking Fork Mount Bike Rack to provide a good level of everyday security.
As its name indicates, the Yakima unit gets permanently bolted to your pickup. It is a small device that you can bolt anywhere that will allow your bike to fit—on the bed floor, on a rail, or even to the top or a toolbox—using just two bolts (not included). Not only does the Yakima get permanently affixed to your truck, it also has a keyed locking mechanism that accepts most 9mm forks, and comes with two keys.
This product is ideal for shoppers who don't mind a permanent solution and isn't afraid of possibly drilling into their truck bed for installation. Keep in mind, since these are individually keyed, having multiple bikes means you'll have to carry several keys to unlock them all.
| | |
| --- | --- |
| Pros | Permanent installation, keyed locking security, low profile and small size, versatile mounting options, durable build quality |
| Cons | Requires removal of front wheel for fork-mounting, multiple units for multi-bike mounting will have different keys, installation can be defeated with simple tools, may require drilling into your truck bed for certain installation options |
4. Pipeline Racks Truck Bed Bike Rack
The quicker and easier it is to use a bike rack, the fewer excuses I have to not ride. Once you've got it assembled and installed, the Pipeline Racks Truck Bed Bike Rack is one of the easiest models to use. You just roll your front wheel into the rack, attach a few straps, and you're off.
The Pipeline can hold two bikes side-by-side, and can be adjusted to accommodate tires from 0.75-inches wide to 2.8-inches wide, so you can load your road bike right next to your mountain bike.
The Pipeline is constructed of aluminum channel rails, much like the bed rail systems currently available. It works best in pickup truck beds that are at least 50-inches wide at the cab, and requires no drilling or holes for installation.
Unfortunately, there isn't much protection from theft when it comes to this option, which is something to keep in mind if you're planning to leave your bikes unattended in your truck bed.
| | |
| --- | --- |
| Pros | Simple, tool-free installation, no need to remove front wheel to mount a bike, light weight, removable, and easy to store |
| Cons | Provides minimal protection against theft, some buyers report challenging initial assembly and setup due to poor labeling and instructions |
5. Heininger Automotive 2025 Advantage SportsRack BedRack
Another drop-in truck bed bike rack that I like is the Heininger Automotive 2025 Advantage SportsRack BedRack. Not only does it have a four bike capacity, it also reminds me of the bike racks I'm used to seeing at public buildings. It holds the front or rear wheel of the bike securely between two angled metal bars, and comes with a lockable cable to secure the bike to the rack.
Installation takes just minutes, and the rack is secured between the pickup truck's bed walls with finger-tightened wingnuts—no tools required. The same BedRack can be used as a standing bike rack on your garage floor at home when you're not hauling your bikes, or the rack can quickly be disassembled and stored.
It's a versatile option if you're needing to transport four or less bikes and it offers reasonable security against theft. It does however, take up quite a bit of space in your truck bed so keep that in mind if you don't plan on using a bike rack often.
| | |
| --- | --- |
| Pros | Smart, simple design, tool-free installation, four bicycle capacity, reasonable security |
| Cons | Security depends on lockable cable, not permanent installation of rack, takes up a lot of space in the bed when not in use |
6. Thule Insta-Gater Pro Truck Bed Bike Rack
Thule makes some of the best car and truck racks, and the Insta-Gater Pro Truck Bed Bike Rack definitely meets that standard. Not only is it elegantly styled and built to a very high standard, it is also an innovative design that takes advantage of a pickup truck bed's unique qualities—a flat load floor and a bottom-hinged tailgate.
The Insta-Gater has clips that slip in the gap between the tailgate and bed floor when open, and get locked in place when the tailgate is closed. You snug them up with webbing, and you've got a secure mount. The bike's front wheel fits in a chock at the bottom, and is secured to the rack with a ratcheting grip that grabs the top of the tire, so there's no frame contact or rubbing. A Thule One-Key system lock is included to secure the bike to the rack.
If you've got a locking tailgate, your bike is now securely stowed in your truck bed. You can fit two to three Insta-Gater racks side-by-side in a full-size pickup truck bed.
| | |
| --- | --- |
| Pros | Simple, elegant design and function, excellent build quality, tool-free installation, lockable security |
| Cons | Security is limited to trucks with locking tailgates, a little pricey compared to other options, especially for multiple bikes |
Do you Actually Need a Truck Bed Bike Rack?
If you plan to use your pickup truck to move your bike, it makes sense to get a truck bed rack. First of all, a well-designed rack will protect your bike while you move it, and will protect your truck from damage from an unsecured bike. Not only that, but a rack can help secure your bike in your truck bed in the event of an accident. An unsecured bike could become a dangerous projectile in a collision, potentially injuring you, your passengers, or even bystanders.
Safety and security aside, a good rack will be easy to use, and will take some of the hassle out of loading and unloading a bike from your truck bed. When I have transported more than one bike in my truck bed without a rack, the bikes inevitably got tangled with each other. It's annoying, and could even result in damage—especially if you're short tempered and tend to try to force inanimate objects to do your will.
There are alternatives to truck bed bike racks, like cabin roof racks and hitch mount racks, for instance. There are cases to be made for each, but the disadvantages still push me toward truck bed bike racks. Cabin roof racks can be tricky to manage, as you have to manhandle the bike on top of the cabin to secure it, and then you must be aware of the new clearance height of your truck plus a bicycle. A low-hanging tree branch could swipe your bike right off the truck if you're not careful. Hitch mounts don't have this problem, but they do expose your bike to a rear-end collision, and also inhibit the opening and closing of the tailgate.
Truck bed bike racks can provide the best security, safest mounting, and easiest transportation for your bike. Shop wisely, and pick the one that best suits your truck, bicycle, budget, and needs.
We are committed to finding, researching, and recommending the best products. We earn commissions from purchases you make using the retail links in our product reviews. Learn more about how this works.
Photo credit: vajaraphol / Shutterstock.com
Published August 29th, 2020 8:01 AM
Popular Articles
Latest Comparisons
Car Buying Tools