33 Views
Buyer's Guide: The Best Garage Heaters to Warm Up Your Workspace
March 20th, 2022 3:56 PM
Share
Few things make at-home car-repair or garage activities more unpleasant than a freezing cold workspace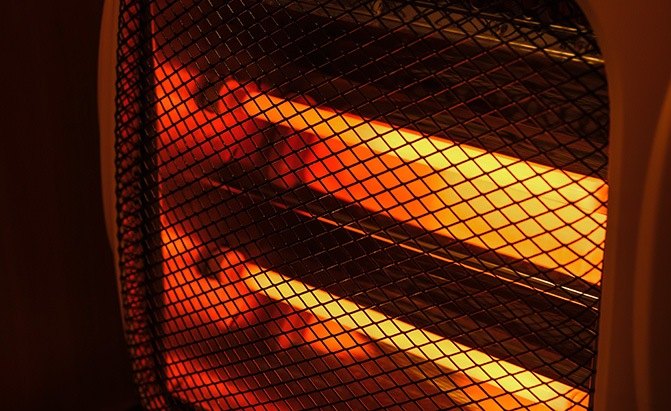 Few things make at-home car-repair or garage activities more unpleasant than a freezing cold workspace—and that's just why sales of garage heaters really heat up at this time of year (pun very much intended).
When you need effective heat and comfort for your garage, shed, outdoor shelter, or anywhere else you might be working on a repair or project, you've got heaps of heater options to consider — and below, we'll highlight some of the best, and take a look at the pros and cons of each.
Updated 10/22/2019 with new products!
1. Editor's Pick: Farenheat FUH54
This garage heater from Farenheat is one of the most popular and well-reviewed units on Amazon. Intended for permanent, hard-wired installation to your garage or workshop, it features all-metal construction for a long and durable life, a built-in thermostat, and adjustable louvers to direct heat to the area where you need it most.
Capable of running from 45 to 135 degrees Fahrenheit, the unit can be mounted to hang from a ceiling, or mounted to a wall via a built-in bracket that accommodates both vertical and horizontal layouts. Though its compact size takes up just a touch more than one cubic foot of space, 5000 watts of output will quickly raise the temperature of your garage. Adjustable power draw can be altered via built-in jumpers, though professional installation by a licensed electrician is advised.
Owner reviews are mostly positive, with the majority reporting effective performance, easy installation, and straightforward operation.
| | |
| --- | --- |
| Pros | Effective, compact but powerful, built to last |
| Cons | May require professional installation |
| Bottom Line | Editor's Pick for Best Garage Heater |
2. Dimplex 4000-Watt Heater
This compact garage heater combines performance and value for the budget-minded shopper who doesn't want to sacrifice performance. With 4000 watts of power and 13,640 available BTUs, this heater has automatic temperature control between 45 and 77 degrees Fahrenheit, and features added circuitry for enhanced safety and economical performance. Fix it to a wall or ceiling with the included mount, and rotate the heater's body to direct heat in the appropriate direction.
Dimplex is a well-known brand in heaters, which provides added purchase confidence—and a one-year warranty is included. The unit features all-metal construction and powder coating to fend off corrosion for a long and durable life.
Owner reviews praise the performance-for-the-price quotient, though this heater requires a 240-volt power supply to operate.
| | |
| --- | --- |
| Pros | Small but powerful, reputable brand, built for long-lasting performance |
| Cons | May not provide enough heat for larger / colder areas, needs 240-volt power supply |
3. Dr. Heater Commercial Heater
This heavy-duty commercial heater is ideal for larger garages or areas with freezing temperatures. From Dr. Heater, this is a 240-volt hardwired heater that measures 14.5" by 13" by 14.5" and is UL/CUL listed as a wall or ceiling mounted heater. The company includes a bracket for easy mounting.
A total of 5 adjustable louvers allows you to direct airflow, while an adjustable thermostat with low and high settings gives a bit of adjustability. Housed inside the unit is an 8" fan that provides maximum airflow with minimum turbulence and noise. The DR966 uses spiral steel metal sheath electric heating elements with low sheath temperatures to provide uniform heat and long service life.
Dr. Heater provides a 1-year parts and labor warranty with this garage heater.
| | |
| --- | --- |
| Pros | Industrial strength heater, can be wall or ceiling mounted, 8" fan, uses spiral steel metal sheath electric heating elements, 1-year parts and labor warranty |
| Cons | Must be hardwired, might be overkill for smaller garages |
If you need big heating power for a big, cold space, look no further than the natural gas-powered Big Maxx heater from Mr. Heater. With 80,000 BTU per hour output, this unit heats spaces up to 2,000 square feet and features a powered exhaust system that enables vertical or horizontal venting to the exterior. A 3-year warranty on parts and burners adds confidence, and a natural gas to liquid propane conversion kit is included for flexibility. The Big Maxx is also designed for easy servicing—with simple access to its thermostat and terminals.
Mounting clearances of just one inch open up a wide range of installation options, and the unit only draws 115 volts of electricity, used to run its electronics and high-velocity fan. Note that as a gas-fired heater, professional installation is required. Owner reviews are generally positive, though some report circuit boards that were dead on arrival.
| | |
| --- | --- |
| Pros | Very powerful, reputable brand, flexible installation options, low current draw |
| Cons | Requires professional installation, requires external venting |
5. Dura Heat Tank Top Heater
Portable, cheap and hassle-free, this Tank Top heater from Dura Heat makes heating any outdoor or well-ventilated workspace easy. Simply attach the heater to the top of a propane tank, connect the line, switch it on, and start enjoying 360 degrees of radiant heat from a small and portable package.
Whether you need some extra heat in the shed, garage, or near a repair job you're tackling in the yard or at the cottage, this highly portable solution is very useful. A built-in tip-over sensor shuts off the gas supply if the heater and tank are knocked over, and a quick-connect gas line speeds up installation and use. Look for rust-resistant finishes and corrosion-protected elements for long life. This one heats areas up to 1,000 square feet and is easy to move.
Most owners say that this unit produces immense heat for its size—though the unit can take an hour or more to cool down, and should be used with extreme caution if children or pets are nearby. Other owners suggest using the heater in conjunction with a fan to help circulate the hot air.
| | |
| --- | --- |
| Pros | Cheap and portable, requires no electricity or venting, powerful heat |
| Cons | For outdoor use only, won't work if you run out of propane, children and pets should be kept at a distance |
6. Mr. Heater Propane Radiant Heater
Here's another propane-powered heater that's ideal for a multitude of uses. Mounted to a cart with folding handle and wheels, this popular model is easily transported from site to site. Hook it up to a propane tank and turn it on, and you'll enjoy powerful radiant heat for areas up to 875 square feet. Efficient radiant heat is directed in one direction out of the heater—making it easy to keep the heat where you need it, and not where you don't.
This unit requires no external ventilation or electricity, and built-in safety features include a mesh guard over the heating element, and a built-in tip-over sensor that shuts the gas supply off instantly if the unit is toppled. A 10-foot hose and regulator are included—so you're ready go to, right out of the box. A one-year warranty is included, and a single 20-pound propane tank should provide up to 12 hours of heat.
Owners say the unit is light, powerful and easy to maneuver, though there's no way to control the level of heat generated.
| | |
| --- | --- |
| Pros | Powerful, portable, reputable brand, requires no electricity or venting |
| Cons | No temperature control, won't work if propane runs out |
7. King Electric 4000-watt Garage Heater
With big heating power for the budget-minded shopper, this heater from King Electric is compact, potent, portable, and easy to use. A cylindrical body with a flat base and built in handle / bracket opens up plenty of flexibility for installation locations, and makes this small but powerful heater very portable. The built-in handle is also a mounting bracket, which can be used to attach the heater to a ceiling, or to carry it around.
If you've got a 240-volt outlet in your garage, you'll be up and running in no time: simply plug in, set the temperature, and turn the heater on. You'll instantly feel the heating power, and a built-in fan circulates the air for even heat throughout your space. A high-temperature shutoff function enhances safety, and a one-year warranty is included.
Though low cost doesn't necessarily translate to low quality, a handful owners have reported malfunctioning or non-functional units that have failed after a few months of use—so keep your warranty card handy.
| | |
| --- | --- |
| Pros | Powerful, portable, easy to use with no special installation, flexible mounting options |
| Cons | Requires 240 volts, may be too noisy for some workspaces |
8. Avenger Portable Propane Heater
For countless owners, this forced air propane heater from Avenger is the ultimate solution for warming up a chilly garage. Using propane fuel to fire its quiet atmospheric burner, this cannon-shaped, all-metal heater is designed to sit on your garage floor and crank out 60,000 BTUs of heating power via a built-in, high-powered fan. Push-button ignition makes for quick starts, and the forced air functionality means you'll have even, consistent heat throughout the garage or workshop in quick order. Weighing in at just 16 pounds, this unit has an adjustable foot for controlling the angle of the warm air flow, and a built-in handle for easy transport from site to site.
Adjustable heat settings mean you're in full control over your workspace temperature. Since this heater sits on the floor (and not on top of a propane tank), it's less likely to be toppled over accidentally. Low pricing and nearly universally positive owner reviews help add further value.
| | |
| --- | --- |
| Pros | Powerful, portable, safe, adjustable temperature control |
| Cons | Requires propane and electricity |
9. Lasko High Velocity Floor Fan
This isn't a heater, but it's a great accessory to help any heater work better and more efficiently in your workspace. With a safety-shield cage, adjustable fan settings, and lightweight design, this floor fan features a 20-inch blade and high-velocity performance to keep the air moving and circulating within your workspace—all while making minimal noise.
Used in conjunction with radiant heaters (or any heater that doesn't have its own built-in fan), this floor fan is ideal for carrying the heat from your heater to every corner of the shop. A built-in carrying handle and wall-mount capability help round out the package.
| | |
| --- | --- |
| Pros | Efficiently circulates heat throughout your workspace, quiet and portable, easy to use |
| Cons | Needs to be used with an existing heater, additional electrical use |
Ideal for tidy installation in small spaces where floor space is at a particular premium, the Broan Wall Heater installs cleanly, flush with the wall, and is hard-wired for permanent use. All-metal construction and a temperature control dial on the front allow for easy control of the heat, and a special, high-efficiency heating element helps keep electrical use down.
Some owners use one of more of these built-in heating fans to heat a small garage, or as a means to keep a workspace from freezing in the colder months. The power output is relatively small, meaning this heater is ideal for occasional use in a smaller space—though low pricing and good owner reviews add appeal. Notably, the entire heater assembly can be easily removed from its metal housing for easy cleaning and maintenance, and the permanently-lubricated fan motor is designed to last a lifetime.
| | |
| --- | --- |
| Pros | Takes up no floor space, reputable brand, built to last |
| Cons | Limited performance, not ideal for larger or colder spaces |
General Tips and What to Look for in a Garage Heater
Electrical Implications:
Before deciding on an electric garage heater, be sure to check that your electrical system can support it. Smaller heaters usually pose no concern, though larger heaters, and especially those designed to run on high-powered 240-volt connections, may require some additional homework.
Look up the draw of the heater in question and cross-reference it against your household power service. If you're in any doubt, be sure to ask an electrician for help. You may need an electrician to make the electrical connections or to modify your garage wiring ahead of the installation of some heaters. As improper electrical work can be a safety and fire hazard, always seek the help of a professional licensed electrician where required.
Gas Heaters: Set on a gas heater? Be sure to see what's required for installation before you buy. Is it possible to run a gas line to your garage without massive expense? Where will you vent the gas heater out of the garage? Can the heater run off of the nearest available gas line, or will a new line need to be run? Is a cheaper electrical heater a better buy, even though it may cost more to power?
Also, don't buy a gas heater assuming it'll be easy to install. If in doubt, have a professional assessment of your garage, gas lines, and other factors before you buy. Gas heaters are fantastic—but they may not be for everyone and may not be feasible for all applications.
Gas Heater Conversion Kit: Some gas-fired heaters run on natural gas, while others run on propane. In some (but not all) cases, a conversion kit is included with gas-fired heaters, allowing owners to quickly switch between the two fuel sources as needed. Determine which form of gas the heater you're considering runs on, and whether or not you'll have to buy an (extra-cost) conversion kit to switch it from gas to propane, or vice versa.
How Big is your Garage: Heaters are commonly rated in BTUs, which represents their thermal output. Remember that certain BTU ranges are assigned to garages of certain sizes (often rated in square feet), so be sure that you have the dimensions of your garage handy before deciding on which heater you'll go with. If your garage has a high ceiling or is poorly insulated, you may want to step up the output of the heater you're considering. If in doubt, ask the seller if the heater will be powerful enough for your specific needs.
How Much Power: Though assessing the BTU output against the size of your workspace and other factors listed above is typically the most accurate to scale heater size to the garage in question, note that, in general, electric heaters running about 1,500-2,500 watts are ideal for smaller garages, with heaters running 2,500 watts or more designed for medium garages, perhaps up to about 250 square feet. High-output electric heaters can run 4,500 watts or more, and they're ideal for the largest garages. Check with your electrician to ensure your household wiring can supply enough power to the electric heater you want before you buy.
Ramp up the Efficiency: Whether gas or electric, your new garage heater will cost you less to run, last longer, and work better, if you make some conscious upgrades to your garage. Consider completing that insulation job you've been holding off on, upgrading your garage door, and replacing any worn or missing weather seals around your garage door to help keep warm air inside for longer. If you'll be adding a heater to your garage, a few simple upgrades can help it work more easily and effectively. Note that an additional fan can be helpful to evenly distribute heat throughout larger garages.
Fixed or Portable: Some heaters are fixed in place, designed to live their life where you install them, without moving. Others are designed to be moved around, taken with you, and used in a variety of different locations. Do you primarily work from your garage? If so, a fixed heater is a safe bet. Do you need heat in a variety of different workspaces? A portable garage heater is likely best. Many shoppers prefer portable heaters: provided you've got enough floor space in your garage, a high-powered portable heater can be left in place in your garage, but packed up and moved elsewhere on occasion when needed.
Check the Mount: Does the heater you're considering mount to the wall? The ceiling? Or does it sit on the floor? Assess your floor space against the size of the heater you need, and determine where the heater will be positioned before you buy. If the heater you're considering doesn't have a fan to circulate the warm air it generates, the positioning of the heater becomes even more crucial, as some models need to be pointed at the workspace and located in closer proximity to it. Determine where you need your heater to go, and seek out a model with an appropriate mounting solution. Also note that many heaters need to be installed a minimum distance away from a wall or ceiling, so bear that in mind when determining where and how you'll mount it.
Safety First: Heaters can be a fire hazard and cause injury or harm if they're not installed, serviced, or used properly. Remember that gas-fired heaters typically have higher installation costs, as they typically need to be vented externally, which requires some additional ducting that needs to pass outside of the garage. Other gas heaters require no external venting but must be used in a ventilated area. Electric heaters have their own set of concerns, and may need to be installed by a professional, controlled by a specific, dedicated breaker, and inspected regularly for maximum safety. Read all instructions fully, and ask a professional for help if you're in any doubt. In any case, be sure to keep children and pets away from any heater that sits on the floor of your garage, where it could be contacted, bumped, or knocked over.
---
We are committed to finding, researching, and recommending the best products. We earn commissions from purchases you make using the retail links in our product reviews. Learn more about how this works.
Photo credit: Freer / Shutterstock.com
Published October 22nd, 2019 12:05 AM
Popular Articles
Latest Comparisons
Car Buying Tools