860 Views
What is a Powertrain Warranty?
August 25th, 2023 11:52 AM
Share
We're committed to finding, researching, and recommending the best products. We earn commissions from purchases you make using links in our articles. Learn more here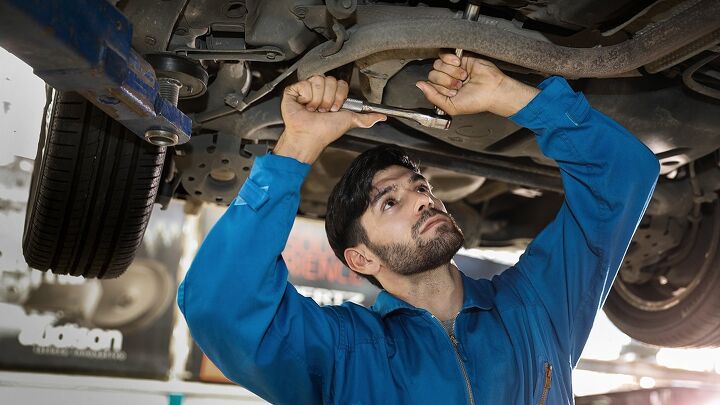 To learn more about our editorial integrity policy and how we make money through affiliate partnerships, read our full disclosure here.
---
Manufacturers typically include a powertrain warranty with all new vehicles, but what exactly is a powertrain, and what's protected under this type of coverage?
In this article, we'll discuss the ins and outs of powertrain warranties, including what's covered, how long coverage typically lasts, and which manufacturers and third-party providers offer the best powertrain plans.
When shopping for a powertrain warranty, it's a good idea to compare prices from multiple warranty companies. We've narrowed down the best extended car warranty providers in the industry, and you can get free, personalized quotes from each company by clicking above.
Table of contents
What Does a Powertrain Warranty Cover?
A powertrain warranty covers your car's most vital components, including the engine, transmission, and drive axle. These are the parts that deliver energy from the engine to the wheels to keep your car moving.
Powertrain components are some of the most expensive to repair or replace if they break down, so a powertrain warranty can be an economical investment for many drivers.
How Much Does a Powertrain Warranty Cost?
Each auto manufacturer includes powertrain warranty coverage at no additional cost when you purchase a new vehicle from a dealership. Many automakers also include powertrain coverage with the purchase of a certified pre-owned vehicle. However, in both cases, your powertrain warranty will eventually expire, leaving you on your own to cover potentially costly repairs.
You can lengthen your powertrain warranty with an extended warranty from your vehicle's manufacturer or a third-party provider. With either option, there is no set price for warranty coverage. The cost of a powertrain warranty will vary from driver to driver and will depend on factors such as:
The vehicle you drive: If you drive a luxury car or a vehicle that has many high-tech components, it will likely cost more to cover.
The age and mileage of your vehicle: Older, higher-mileage vehicles are more expensive to cover because they're more prone to breakdowns.
Where you purchase coverage: The cost to extend your powertrain warranty through your car manufacturer is typically more than you'd pay for an aftermarket warranty.
The plan you choose: Many providers offer basic powertrain plans as well as enhanced plans that cover powertrain components as well as other major vehicle systems, such as the suspension and air conditioning.
The deductible you choose: If you have the option to choose your deductible, picking a lower deductible will result in a higher total warranty price, and vice versa.
We requested quotes from the industry's top warranty companies to get a better sense of average extended powertrain warranty costs. The chart below shows the cost of powertrain coverage for a 2012 Honda Civic with 88,000 miles on it from our top four extended car warranty providers: Endurance, CARCHEX, Protect My Car, and CarShield.
Powertrain Warranty Plan

Length of Coverage

Financing Option

Down Payment

Endurance

Secure

5 years/

50,000 miles

$119 per month

for 36 months

$246

CARCHEX

Silver

5 years/

150,000 miles

$190 per month

for 18 months

First month's payment

Protect My Car

Driveline

4 years/

75,000 miles

$79 per month for 48 months

$0

CarShield

Gold

Unlimited years/miles

129.99 per month

for the duration of coverage

First month's payment
Although the exact price of coverage can vary greatly depending on the specific model of your car and number of miles on the odometer, these prices provide an idea of how much a powertrain warranty can cost.
Are Powertrain Warranties Worth It?
As mentioned, vehicles become more likely to break down as they age. Many drivers find that having powertrain protection adds peace of mind on the road, as they know they'll be covered in the case of a major, expensive breakdown such as engine or transmission failure.
Powertrain coverage could also be well worth it for drivers who:
Own a vehicle with low reliability ratings
Own a vehicle model that is prone to engine failure or transmission issues
Want to finance the cost of repairs over time rather than pay a lump sum out of pocket when an unexpected repair is needed
Do not want bumper-to-bumper warranty coverage for high-tech systems and electronic parts
Bumper-to-Bumper vs. Powertrain Warranty
Bumper-to-bumper warranties and powertrain warranties are the two main types of vehicle service contracts. "Bumper-to-bumper" is a term used to refer to a provider's highest level of coverage that protects the most vehicle components.
Here's a breakdown of how bumper-to-bumper plans compare with powertrain warranties:
Bumper-to-Bumper Warranty

Powertrain Warranty

Type of Contract

Exclusionary contract:

Contracts only list the parts that are not covered

Stated-component contract:

Contracts list every part that is covered

Level of Coverage

High-level coverage:

Comprehensive coverage that encompasses most vehicle parts, including high-tech components

Basic coverage:

Less comprehensive coverage that only protects core components, not high-tech or electrical parts

Factory Warranty

Coverage Length

Shorter coverage:

Most manufacturers'

bumper-to-bumper warranties

last 3 years/36,000 miles

Longer coverage:

Most manufacturers'

powertrain warranties

last 5 years/60,000 miles
However, bumper-to-bumper and powertrain warranties are not customers' only options. A "powertrain plus" warranty refers to a level of coverage that is a step above a powertrain warranty but that's still less comprehensive than bumper-to-bumper coverage.
There is also a less-widely available warranty that only protects the drivetrain parts of your vehicle, or the transmission and drive axles. Often mistakenly used interchangeably, drivetrain warranty and powertrain warranty plans are different in that a powertrain warranty protects the engine whereas a drivetrain warranty does not.
How Long Does Powertrain Warranty Coverage Last?
The average length of a powertrain warranty is 5 years/60,000 miles, but some manufacturers offer powertrain protection up to 10 years/100,000 miles.
If you buy a powertrain warranty from a manufacturer, you may be able to extend your coverage up to 150,000 miles. Third-party warranty companies may offer plans up to 250,000 miles.
What Voids a Powertrain Warranty?
Your powertrain coverage could be voided if:
You do not keep up with your vehicle's recommended maintenance schedule as outlined in your owner's manual
Your car receives a salvage title or is declared a total loss
You misuse your vehicle by racing, towing an oversized load, off-roading, or other abuse
You incur a certain amount of severe environmental damage from an event such as a flood or fire
You alter or tamper with your odometer
You use improper fuels and fluids that compromise your powertrain's function
Which Car Manufacturer Has the Best Powertrain Warranty?
Figuring out which automaker has the best warranty can help customers find the best powertrain protection. The three manufacturers that currently offer the longest powertrain warranty coverage are Hyundai, Mitsubishi, and Kia. These brands offer a 10-year/100,000-mile powertrain warranty on all new vehicles.
As far as luxury vehicles go, Hyundai's Genesis brand also offers 10-year/100,000-mile powertrain warranty coverage. Genesis is the only luxury brand to offer this length of coverage. Lexus has a good powertrain protection plan in place, providing 6 years/60,000 miles of coverage.
Which Provider Has the Best Extended Powertrain Warranty?
Our review team has taken a thorough look at the extended warranty industry, rating every major provider based on factors such as affordability, coverage offerings, customer service ratings, and industry reputation. Based on this research, we've found Endurance and CARCHEX to offer the best powertrain warranty coverage on the market.
Read more about each provider below to get a better sense of which may be better to protect your vehicle.
Endurance: 4.6 Stars
In our 2021 industry review, we determined Endurance offers the Best Coverage. The Endurance Secure plan is the company's most basic, affordable powertrain warranty.
The Secure plan – and each of Endurance's four additional coverage levels – comes with an impressive benefits package. Each customer receives a free year of enrollment in the Endurance Elite Benefits program, which provides the following additional benefits:
Key fob repair and replacement services
24/7 roadside assistance
Total loss protection
Up to two tire repairs and replacements
Collision discount
Endurance mobile app
If you think Endurance could be the right powertrain warranty provider for you, we recommend reading our in-depth Endurance warranty review. You can also get a free, personalized quote for an Endurance extended warranty by clicking below.
CARCHEX: 4.4 Stars
CARCHEX offers two powertrain warranty plans, called Bronze and Silver coverage. The Bronze plan is a basic powertrain warranty that can last up to six years, and the Silver plan includes coverage for the engine, transmission, and drive axles, as well as a few other major systems and components. The Silver plan can protect your car for up to seven years.
What makes CARCHEX a unique provider is the company's impressive list of partners in the auto industry, which includes Kelley Blue Book, Edmunds.com, and CARFAX. The company also holds an A+ rating from the Better Business Bureau, which is a nod to its exemplary customer service.
If you want to learn more about CARCHEX, you can read up on the provider in our in-depth CARCHEX review. You can also get a free, no-risk quote for a CARCHEX powertrain warranty by clicking below.
Methodology
Our review team prides itself on sharing accurate and unbiased information with consumers. We have accumulated data from dozens of extended auto warranty companies to formulate our rankings of the industry's best providers. Companies receive a score out of 5.0 overall, as well as a rating in each of the following categories:
Price: Comparing providers can be difficult due to the many factors that influence cost. To determine this score, we employ a secret shopper analysis using different vehicles, mileages, warranty plans, and locations.
Coverage: A wide variety of coverage is essential to support the differing needs of customers. We take into account the number of extended car warranty plans available, term limits, exclusions, and additional benefits.
Customer Service: The level of customer service and care provided by an extended warranty company is an important consideration. Our review team sifts through customer reviews and complaints from reputable sources such as the Better Business Bureau (BBB) and Trustpilot. We also consider the responsiveness of each company's customer service team based on our secret shopper analysis.
Reputation: Good extended warranty providers consistently provide quality experiences. Our team takes into account BBB ratings and the company's history of reliable service when giving this score.
Transparency: Customers value a commitment to open and honest communication when it comes to vehicle service contracts. Our team of experts takes into account the availability of money-back guarantees and sample contracts. Stephen Kenney
Stephen Kenney is a writer and editor who focuses on car insurance, auto financing, and vehicle shipping services. He's a graduate of UNC-Chapel Hill and has experience covering categories ranging from travel to sports to environmental sustainability. In his free time, Stephen enjoys going on long-distance runs, trying out new recipes, and exploring his adopted hometown of Cincinnati.
More by Stephen Kenney
Published November 25th, 2022 4:09 PM
Popular Articles
Latest Comparisons
Car Buying Tools