43 Views
2016 Alfa Romeo 4C Spider Vs 2016 Jaguar F-Type S
October 19th, 2016 2:32 PM
Share
We're committed to finding, researching, and recommending the best products. We earn commissions from purchases you make using links in our articles. Learn more here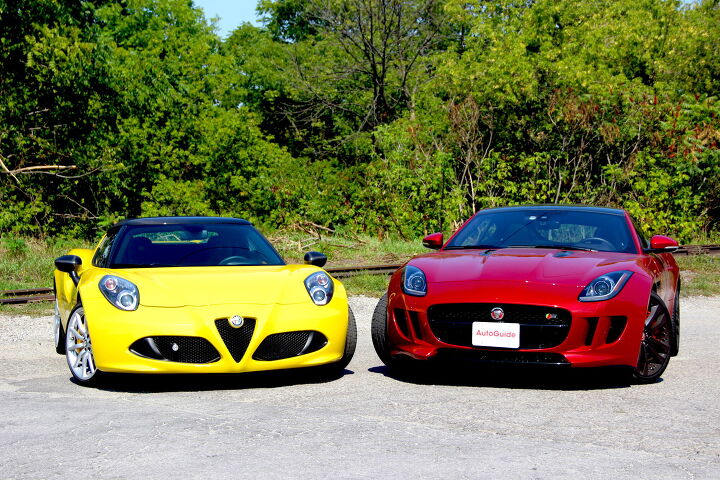 Some people love ordering sugary frappuccinos with whip cream, chocolate chips, three pumps of French vanilla and a drizzle of caramel on top when they go to Starbucks.
Others think that more isn't always more, and order straight espresso. Their drinks come in a tiny cup with absolutely zero embellishments, a reminder of how satisfying something simple can be. You still get your caffeine fix, but there is something extremely gratifying about this drink that is elegant in its purity and simplicity.
The Jaguar F-Type S is the frappuccino in this analogy, while the Alfa Romeo 4C is the espresso. Both drinks are good for different reasons, and what you order will depend on your tastes.
I'm going to tell you straight up that this oddball car comparison doesn't really make sense. The people who drink frappuccinos don't drink espressos, and similarly, the people who want an F-Type S won't really be interested in the 4C.
ALSO SEE: The Alfa Romeo 4C Spider Summed Up in 8 Real Quotes
The two cars we have here, the 2016 Alfa Romeo 4C Spider and the 2016 Jaguar F-Type S, have more differences than they do commonalities. Here are the few traits they have in common: They're both fun, exotic, two-seat, rear-wheel-drive sports cars that can be bought for way less than six figures. That's pretty much it.
Compare Specs
vs
| Vehicle | Alfa Romeo 4C | Advantage | Jaguar F-Type |
| --- | --- | --- | --- |
| Engine | Turbo 1.75L 4-cylinder | - | Supercharged 3.0L V6 |
| 
Horsepower | 237 | F-Type | 380
 |
| Torque | 258 lb-ft | F-Type | 399 lb-ft
 |
| Transmission | 6-Speed DCT Automatic | - | 6-Speed Manual
 |
| Weight | 2,487 lb | 4C | 3,492 lb
 |
| 0-60 MPH | 4.1 seconds | 4C | 5.3 seconds |
| 
EPA Fuel Economy (MPG) | 28 combined | 4C | 18 combined
 |
| CAN Fuel Economy (L/100 km) | 8.4 combined | 4C | 12.6 combined |
| 
US Base Price | $65,900 | 4C | $79,100 |
| CAN Base Price | $78,495 | 4C | $89,500 |
Different Philosophies, Different Driving Dynamics
The two cars take very different approaches to performance and no one should realistically be cross-shopping the two because they cater to drivers with very different needs. While the Alfa offers a no-frills, no-compromise approach to performance and engagement and gives you a straight shot of adrenaline, the Jaguar uses a spoonful of sugar to help the medicine go down.
ALSO SEE: 6 Things You Need to Know About the Jaguar F-Type SVR
The Jaguar uses displacement and technology as its weapons of choice, while the Alfa uses weight (or, more accurately, a lack of weight) and impeccable balance to win its battles. The front-engined Jaguar F-Type S is powered by a supercharged 3.0-liter V6 that pumps out 380 horsepower and 339 pound-feet of torque. The mid-engined Alfa Romeo 4C uses a turbocharged tiny 1.75-liter four-cylinder that makes 237 hp and 258 lb-ft of torque.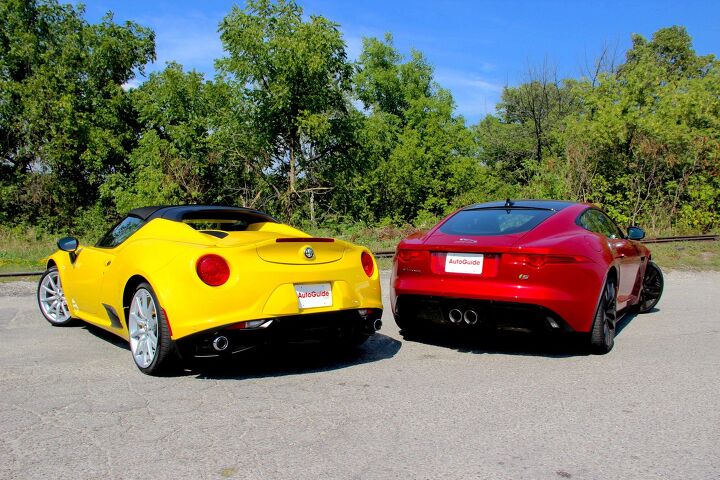 If you're playing the numbers game and want to brag about horsepower, the F-Type obviously wins this shootout, but the other huge factor in performance is weight, and that's where the 4C has the Jag beat. I was astounded when I realized that the Alfa Romeo 4C weighs about as much as a Fiat 500 and is almost 1,000 pounds lighter than the F-Type. ONE THOUSAND POUNDS. Take a moment to consider how significant that is.
That amazing power-to-weight ratio means the 4C Spider can sprint to 60 mph in 4.1 seconds, which is faster than a base Porsche 911. The Jaguar does the sprint in 5.3 seconds, and it also doesn't give you the same sensation of outright speed that the 4C does.
Besides the massive weight difference, part of this is because the Jaguar feels more isolated from the outside world, so driver engagement isn't as high. In the Alfa, it feels like you're sitting inches from the ground and you can feel every inch of pavement wooshing past. It also has the type of balance that only a mid-engined, RWD car could have, and as a result, it feels more confident and nimble in corners than the F-Type.
Different Sounds
For a while now, the F-Type has held the crown as one of the best-sounding sports cars on the market. It sounds like a legitimately angry sports car with its V6 growl, aggressive pops and burbles, and is downright rude sounding, which I love. And that's in regular mode. Activate the sport exhaust and things get raunchier, which never fails to make me giggle.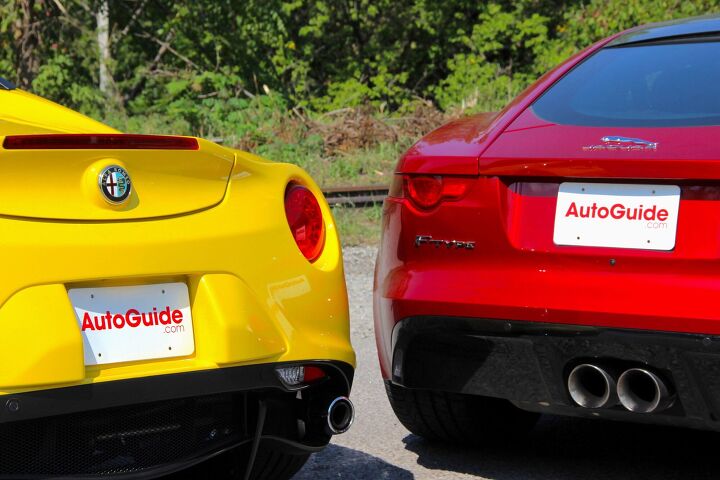 The Alfa and its little engine also brings the heat with a unique sound that's higher pitched, a bit tinny and more frenzied than the F-Type. It's not easy to make a little engine sound good, but Alfa has worked some magic. You hear the turbos spooling and whining right behind your head, and all the noises the engine and exhaust makes are delightful until you hit the highway and the lack of sound deadening starts to become more of an annoyance than a pleasure. If sound is what you're after, the F-Type wins this battle.
Different Cars for Different Needs
The Jaguar could be your daily driver and your only car because it's infinitely more practical. It has a bit of trunk space, storage inside for your stuff, sound deadening, a real infotainment system, a touchscreen, power-assisted steering and a backup camera that makes it convenient to live with.
The Alfa, on the other hand, has none of those things, which makes it more of a chore to live with day to day, but that doesn't mean it's a worse car. The 4C makes more sense as a second car. If trips to the track are a common thing for you, the 4C will make you much happier.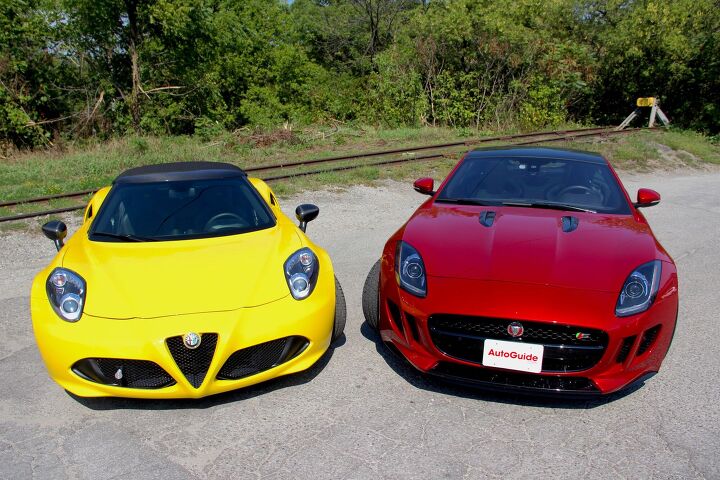 The 4C's manual steering also provides the most communicative and responsive feeling I've ever experienced in a car. Sure, a manual setup makes it more difficult to park, but the benefits it brings when at speed make it more than worth it. The Jag's steering, while fantastic, feels numb when compared to the Alfa's.
ALSO SEE: 2016 Alfa Romeo 4C Spider Review
The best way I can describe the Alfa is that it's a street legal race car that makes no compromises in its goal to give you a raw, pure driving experience. The Jaguar, meanwhile, coddles its drivers and although exciting to drive, just can't provide the level of engagement the 4C offers.
The Verdict: 2016 Alfa Romeo 4C Spider vs 2016 Jaguar F-Type S
If you already have a daily driver and can afford to have a second play-thing car in your garage that you can bring to the track on weekends and provides a fully engaging, pure driving experience, the 4C is the one to get. It gives you a certain kind of thrill the F-Type can't match.
If you can only have one car and need more practicality, however, the F-Type is the better pick only because it is easier to live with day to day. It's a luxury sports car, while the Alfa is just a sports car.
Both cars, however, will put a smile on your face. Both the F-Type and the 4C give you a good shot of caffeine/adrenaline, but they just go about it in different ways. There's no wrong way to have your caffeine, caffeine is glorious and should be celebrated, just like these two special cars.

Jodi Lai
Jodi has been obsessed with cars since she was little and has been an automotive journalist for the past 12 years. She has a Bachelor of Journalism from Ryerson University in Toronto, is a member of the Automobile Journalists Association of Canada (AJAC), and a jury member for the prestigious North American Car/Truck/Utility Vehicle of the Year (NACTOY). Besides hosting videos, and writing news, reviews and features, Jodi is the Editor-in-Chief of AutoGuide.com and takes care of the site's day-to-day operations.
More by Jodi Lai
Published October 19th, 2016 8:02 AM
Popular Articles
Latest Comparisons
Car Buying Tools