1.7K Views
Acura TLX Type S Vs Genesis G70 Comparison: Sport Sedan Shoot-Out
April 12th, 2022 11:17 AM
Share
We're committed to finding, researching, and recommending the best products. We earn commissions from purchases you make using links in our articles. Learn more here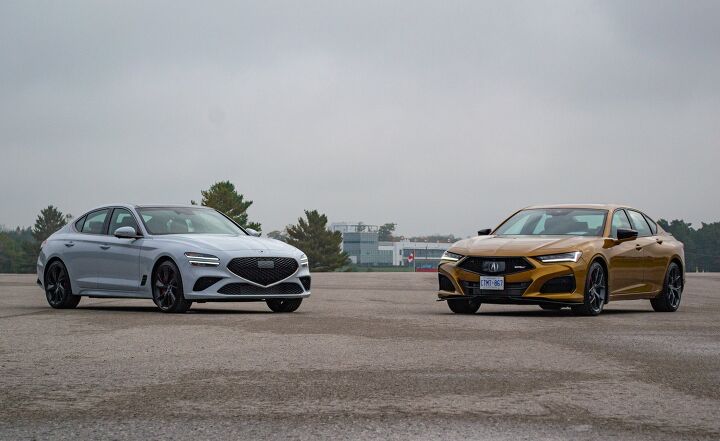 Back in the early aughts Acura put Type S branding on several of its cars, which I remember well because for a short period of time, I sold them.
The CL, TL and RSX were all Type S cars, and they were the ones that got me excited to go the showroom everyday.
Those heady days of 2002 didn't last long, however, and soon those cars became extinct as Acura moved away from precision crafted performance and into a long winter of entry-level luxury boredom. Thankfully, the brand emerged from its decade-plus doldrums in 2016, with an all-new NSX and a rededication to precision crafted performance. Acura was back.
Get a Quote on a New Acura TLX or Genesis G70
And while it took a few years, Type S is back too, with TLX and MDX variants that are built for performance.
With that in mind, we decided to put the TLX Type S up against one its most compelling alternatives, the Genesis G70 3.3T Sport. Will precision crafted performance carry the day, or has the Korean upstart passed Acura by? Editor Kyle Patrick and I put them to the test to find out.
Interior and Cargo Space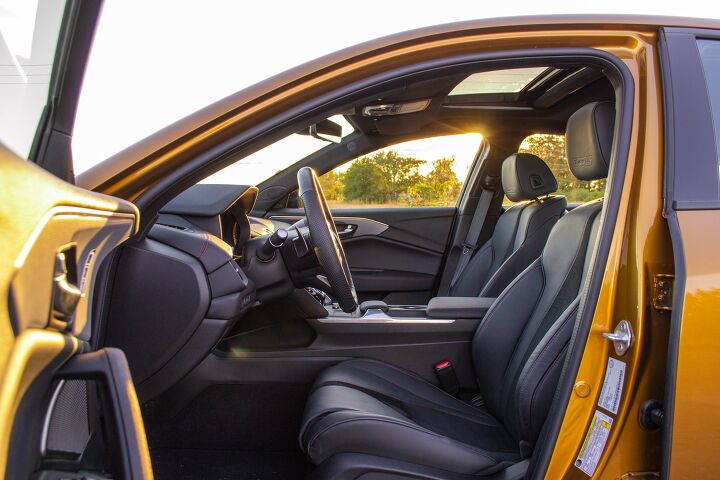 TLX: Of the two cars, the Acura is the one you want if a flashy, emotional cockpit filled many knobs and switches of all shapes and sizes–some of which don't appear to follow much logic–is a high priority. Acura designers are clearly trying to wow intenders with lots of interesting colors, textures, and shiny bits. And it is quite shiny, to be sure. One's eyes cannot avoid being drawn to the big silver drive mode selector knob in the center of the dash, another brand touch that's found its way into several Acuras.
Some, like myself, are bound to hate Acura's push button-pull tab transmission controls and find them to be a needlessly convoluted solution that doesn't save much space, but others may view them as brilliant forward thinking. Kyle thinks the dash layout in general is an "ergonomic nightmare", and I must agree that the design aesthetic is quite busy. But everything works fine and the materials, especially the touch points, are of high quality. Kyle and I both like the look and feel of the TLX's Milano leather sport seats, which offers great support and good articulation.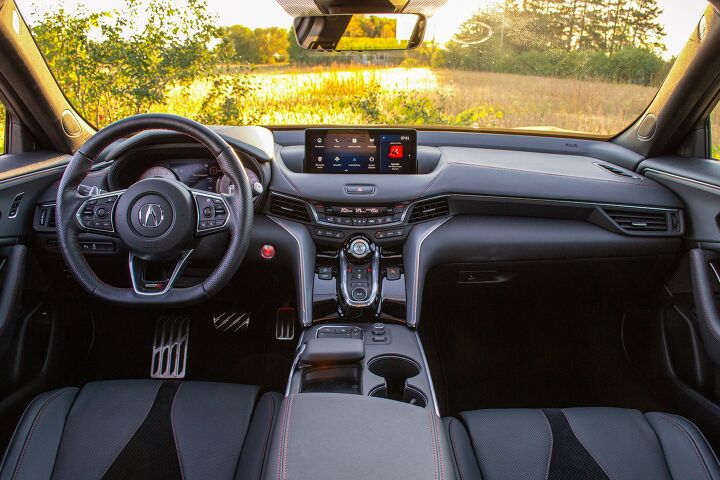 As for interior space, both cars are smaller on the inside than their outward appearance would suggest. 'Coupe-like' styling looks great on billboards and in dealer showrooms, but it's not great for transporting adults. Sleek on the outside, cramped on the inside. Let me put it this way: the outgoing Civic Type R has 35.9 inches (912 millimeters) of rear seat legroom, while the TLX has just 34.9 inches (886 mm). On the plus side, the TLX has a big trunk, which checks in at 13.5 cubic feet (382.2 liters).
G70: For a car with a rather racy outward appearance the G70 3.3T has a more sedate, traditional luxury car-feel on the inside. Whereas the TLX's cabin has a dash layout that's a feast for the senses, the G70 leans into tasteful competence with fewer buttons and knobs and an overarching aesthetic that many shoppers will find familiar. A console shifter with a drive mode selector located nearby will no doubt be reassuring to those who aren't interested in re-learning how cars operate.
As for the rest of the interior, I am a big fan of quilted Nappa leather seating and available two-tone color schemes such as black and red. Kyle prefers the TLX's seating but likes the look and feel of the G70's buckets and the great support they offer.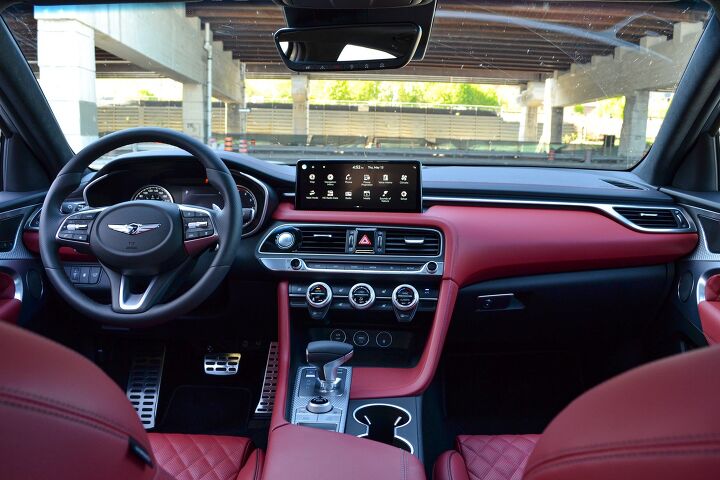 From a space perspective, the G70 suffers from an interior that feels a bit tight, especially in the back seat. The G70 has slightly less legroom at 34.8 inches (884 mm) than the TLX, but more headroom with 36.9 inches versus 36.3 (938 mm / 922 mm), but it's basically a wash in terms of overall space. Of note, the G70 has a much smaller trunk than the TLX with just 10.5 cu-ft of space (297 L).
Bottom Line: Basically, it boils down to which aesthetic you prefer: the shiny and provocative TLX or the more traditional and less adventurous G70. Both cars have finely crafted, well-executed cabins that offer a high degree of comfort, albeit without a great deal of space, particularly in the back seat. The TLX has a much bigger trunk, but that may not matter much if you're not frequently filling it with stuff for long-haul trips.
Tech and Features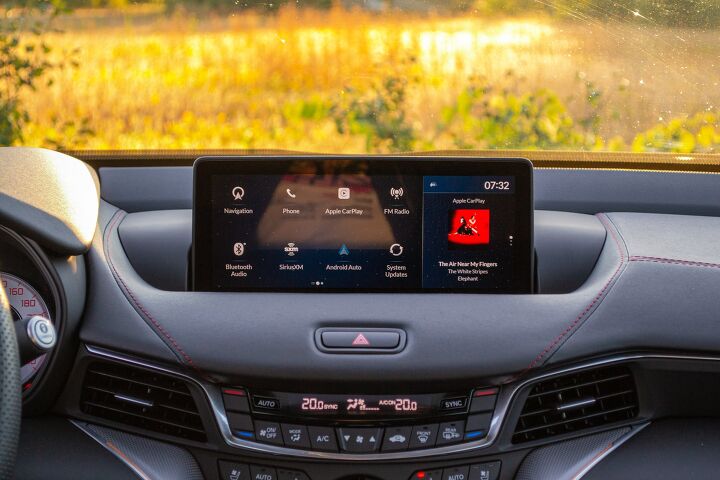 TLX: Much like the TLX's design aesthetic, the deployment of its technology will excite some and annoy others. On the plus side, there's all the usual stuff one would expect for a car in this price range: 10.25-inch HD infotainment display, head-up display, wireless cell phone charge pad, Apple CarPlay and Android Auto connectivity, ELS Studio 3D Premium Audio System with 17 speakers and a subwoofer and a lot more. All of it is standard issue.
On the downside, there's the True Touchpad Interface, which is fussy to use when the car is parked and can be a distracting hazard when it's in motion. Kyle thinks this is the worst premium infotainment system on the market, and while I might not go that far, the interface is bad. Lexus is beginning to ditch its annoying trackpad and Acura should consider doing the same.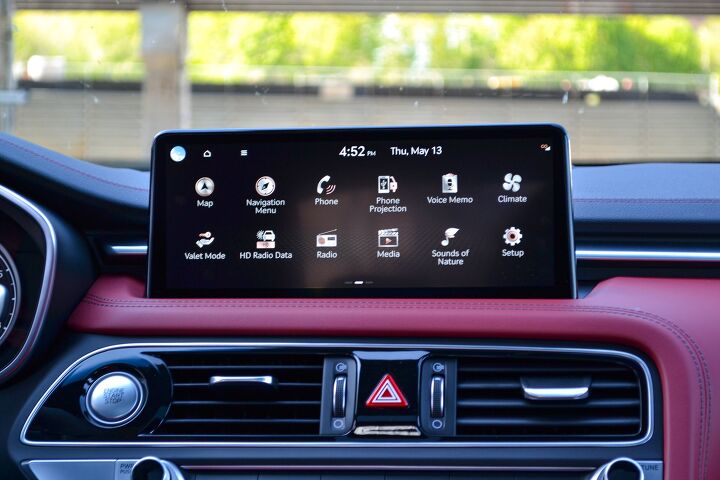 G70: The G70's tech offering is quite deep as well and includes many of the same features as the TLX, but with one notable difference. Unlike the TLX, both G70 HD multimedia units (8.0 and 10.25-inch), are touchscreens which are much easier to navigate, for both driver and passenger. There's no redundant console-mounted knob for users wishing to not cover the screen with greasy finger smudges, however.
The rest of the G70 tech package is impressive and includes a head-up display, wireless cell phone charge pad, Apple CarPlay and Android Auto, and a Lexicon Premium Audio system with 15 speakers.
Bottom Line: Both cars offer a lot of technology for money, but the TLX's fussy multimedia interface leaves us both cold. The G70's multimedia, on other hand, has a much friendlier interface, but with no redundant console option. Despite brimming with tech, the TLX is also a bit head-scratching. Kyle and I both prefer its ELS audio system, yet it doesn't have a digital instrument cluster option, unlike the new Honda Civic. Strange.
SEE ALSO:
2022 Honda Civic Review: First Drive
Powertrain, Driving Feel and Fuel Economy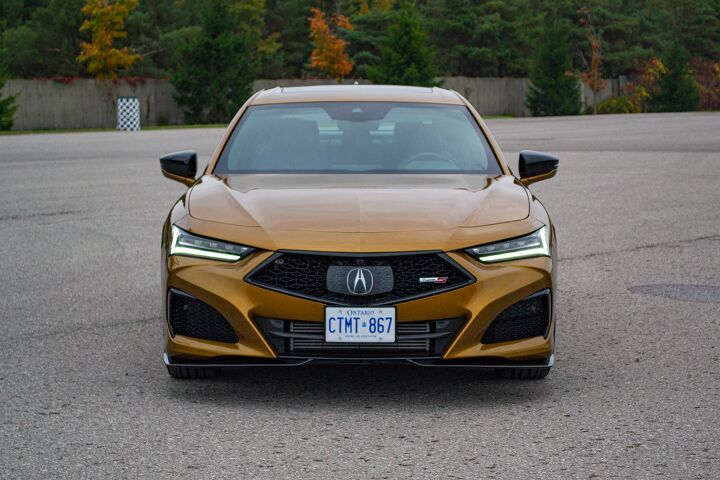 TLX: I'll say this for the Type S, its engine character matches the car's looks: aggressive and powerful. The 3.0-liter turbocharged V6 puts out 355 horsepower and 354 lb-ft of torque and you feel every bit of it, especially in sport and sport plus modes. It sounds great when you lean on the throttle, whether at launch or at speed, and the revs happily climb towards its rather low 6,200 rpm redline with only moderate accelerator application.
Kyle noted that the 10-speed automatic is a bit Jekyll and Hyde-ish, where light brake application can make the gearbox drop a bunch of gears and send the engine spinning to 4,500 rpm, which can make you feel like a god on track but a bit of a "knob", as he says, on public roads.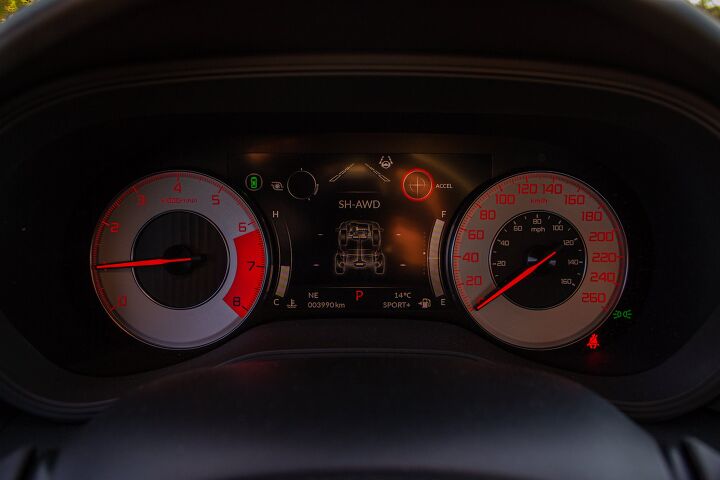 I too, feel that there's no happy medium with Sport Plus on public roads at posted speed limits, because driving a car that's in perpetual high-rev banzai mode is annoying after a while. After experiencing this, and then toggling down to Sport and Normal mode–which calms the transmission down–I began to wonder if a seven-speed DCT might make more sense for this car. I know–fuel economy, fuel economy, you need the extra cogs to please the EPA. I get it. But it's an interesting question to ponder, nonetheless.
On the handling front, the TLX's steering feels a bit light in Normal, but it weights up nicely in Sport and Sport Plus for better feedback. Its 20-inch wheels and standard (in Canada) summer tires, which are optional in the US, had me dodging rougher pavement, which tends to really upset the car's ride. It's much better on smoother blacktop, however, as is the case with most cars.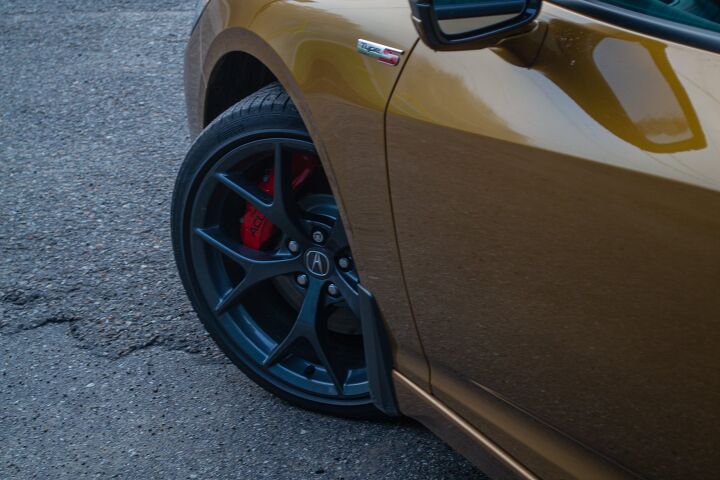 Kyle tracked the car and noted the TLX feels heavy and less secure under braking, but there's a lot of available grip. He also felt the car's front-biased Super Handling All-Wheel Drive system produced understeer and is tough to rotate through corners.
Fuel economy on 91+ octane is rated at 19/25/21 mpg city/highway/combined. Canadian figures are 12.3/9.8/11.2 L/100 km, respectively.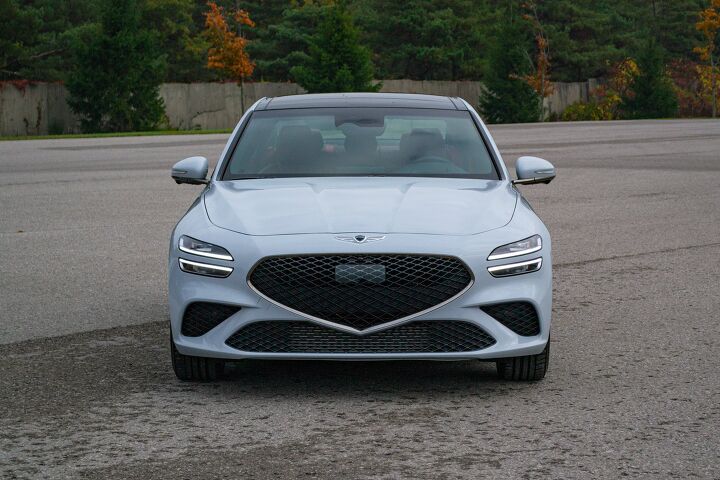 G70: The 3.3-liter twin-turbocharged V6 looks great on paper (365 hp / 376 lb-ft, or 368 hp with a variable exhaust valve), but it doesn't sound as good as the TLX V6, nor is its acceleration as hair-trigger. That said, it still makes for a pretty good slingshot thanks to the extra torque it has compared to the TLX engine.
Unlike the TLX, the G70 makes use of an eight-speed automatic that puts power to all four wheels on our test vehicle, but rear-wheel drive is also an option with both engines in the US. Sorry, Canada—it's AWD only for you.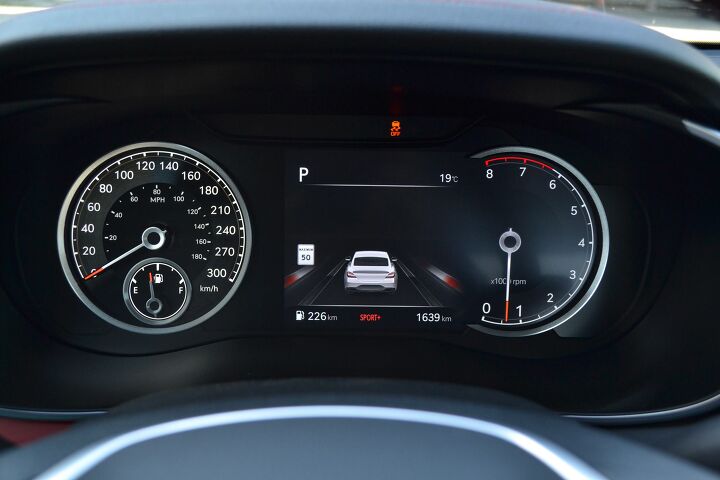 At any rate, the G70 is a pleasant cruiser in all drive modes. Fewer cogs in the gearbox and different throttle mapping produces less of a variance between modes here than in the TLX, but sport and sport plus do produce sharper acceleration, delayed upshifting, and weightier steering with more direct feedback. The G70 is also noticeably quieter on public roads, with a more insulated ride.
Kyle notes that, on track, the G70's rear-biased AWD system reveals itself and makes the car feel more contained and denser, due to its shorter wheelbase and length, which is 1.4 inches (36 mm) and 10.2 inches (259 mm) less than the TLX, respectively. He also noted that the G70 reaches the end of its useable grip before the TLX does.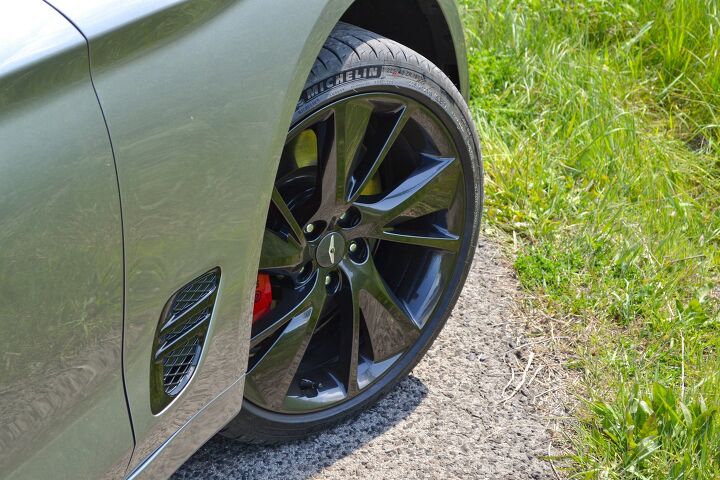 Fuel economy on 91+ octane is rated at 19/25/21 mpg city/highway/combined (13.5/9.1/11.5 L/100 km), which is slightly worse than the TLX. As always, your mileage may vary.
Bottom Line: Both cars are a lot of fun to drive, but the TLX feels more like it wants (and needs) to be driven on a closed course, where its rip snorting V6 and pin-sharp reflexes can be set free. On public roads, it can feel a bit like the caged animal cliché: perpetually ready to pounce, but not being able to do so. Click the drive mode selector to sport or normal and the problem is solved, I suppose, but how many owners aren't going to want to feel the rush of sport plus? It's a bit of a quandary.
On the other hand, it feels like Genesis has struck a better balance with the G70, where road and track personalities have been better fused to produce a car that feels equally at ease in either environment. Its performance envelope might not be as wide as that of the TLX, but it presents a compelling case for the better daily driver, which is hard to overlook.
Safety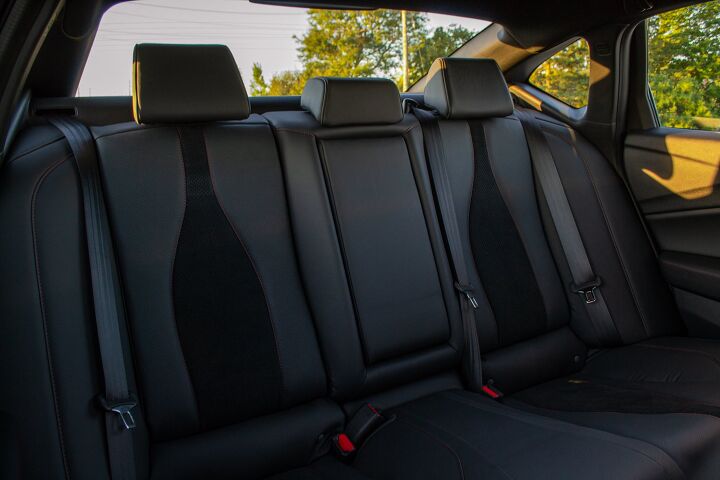 TLX: The TLX Type S comes standard with AcuraWatch, the brand's suite of safety technology, which includes a laundry list of items such as Collision Mitigation Braking System (CMBS) with Advanced Pedestrian Detection which automatically applies the brakes when a collision is imminent, Adaptive Cruise Control (ACC) with Low-Speed Follow, which allows the car to follow at a desired speed and distance from the vehicle in front, and Lane Keeping Assist System (LKAS), which uses a forward-facing camera inside the rear view mirror to keep the car centered in the traveling lane.
The 2021 TLX has been given a 5-star rating by the NHTSA and was named a "Top Safety Pick+" by the IIHS with "good" ratings across the board.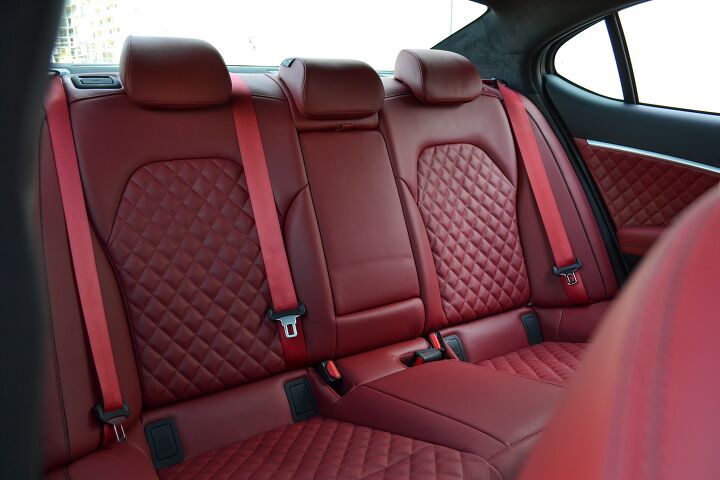 G70: Like the TLX, the G70 comes loaded with a broad suite of passive and active safety features. On the active list are items such as Forward Collision-Avoidance Assist which detects vehicles and pedestrians in the car's path and can apply the brakes to reduce the chance of a collision. The G70 also comes standard with Lane Keeping Assist which uses a windshield-mounted camera to keep the car centered in the lane. It will also provide corrective steering assistance when needed. Another popular safety feature in the G70, and across the Hyundai Motor Group, is Blind-Spot View Monitor (BVM), which uses cameras in the side mirrors to provide a clear view of oncoming vehicles in the car's instrument cluster.
As of this writing, the 2022 G70 has not been rated by the NHTSA. In fact, it appears to have never been rated by the agency. The 2022 model has, however, been named a "Top Safety Pick+" by the IIHS, but only for units built after June 2021. The IIHS rated the G70 mostly "good" across the board, apart from headlights, which are rated either "good" or "marginal" depending on trim, and LATCH ease of use which is rated as "marginal".
Bottom line: Both cars have loads of standard safety tech and good safety ratings, but the lack of a testing history for the G70 by the NHTSA is a bit curious. Interested parties may want to research the matter further before making a purchase decision.
Styling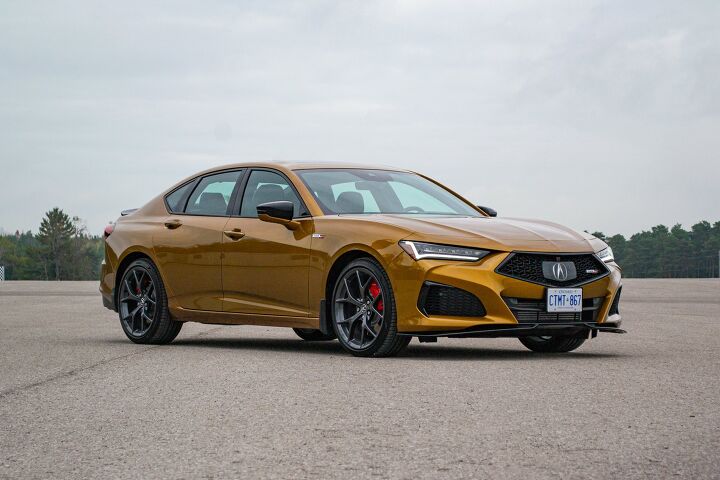 TLX: Both cars carry all-new styling, but Kyle and I agree that the TLX's is more emotional and exciting than the G70. The TLX has a low and wide stance, where designers pushed the hood down as far as they could (after lengthening it considerably), pushed the A-pillar back as far as possible and tucked the wheels into the corners and shortened the rear deck. The TLX, as noted earlier, is more than 10 inches longer than the G70, which lead to this rather interesting observation from Kyle: "it's a bit like a Japanese sedan take on a Camaro: huge outside, but not very spacious inside." I couldn't agree more. Viewed from the side, it looks a bit like a rear-wheel drive saloon.
In sum, the TLX's many creases, surfacing details and sweeping lines, combined with its family diamond pentagon grille and jewel-eye LED headlights, make it the sexier pick of the two, and one of the most visually alluring in its class.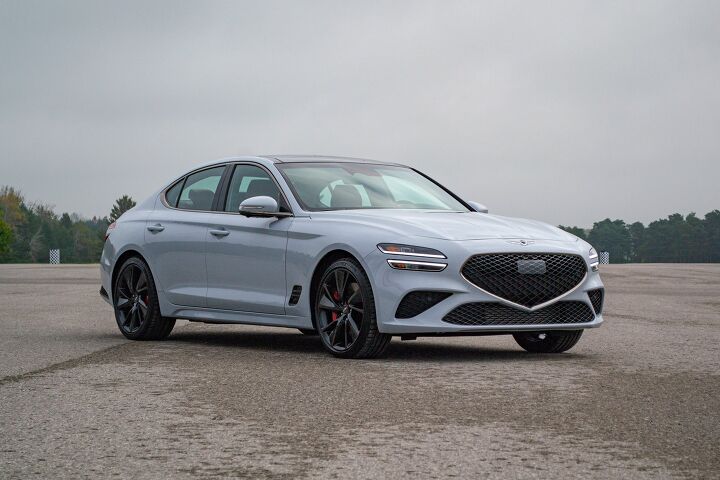 G70: Even in its sportiest form, such as our tester's 19-inch wheels, summer tires and loads of blacked-out trim, the G70's styling has a more traditional luxury character and hews closely to the Genesis brand. One can see how it neatly slots into the small, medium, large sedan lineup with its bigger G80 and G90 siblings.
It's not bad, in my view, but compared to the previous G70, it's much less distinctive than it was before. It looks very much like a Genesis from the front with its massive crest grille, but from the rear it's more anonymous. Not ugly, but not that interesting either. On that note, Kyle thinks this G70's design won't age as well as the prior model, and he may be right about that, if only because the old car's look was fairly generic.
Bottom line: The TLX's look is more striking and emotional than the G70, in our view, but the latter is still a handsome car and Kyle really digs its wheel designs. Still, the TLX is just prettier overall, even if the look of the Type S doesn't differ much from the A-Spec. Kyle thinks the Genesis corporate design language works better on the bigger G80 and G90 sedans, and I tend to agree.
Pricing and Value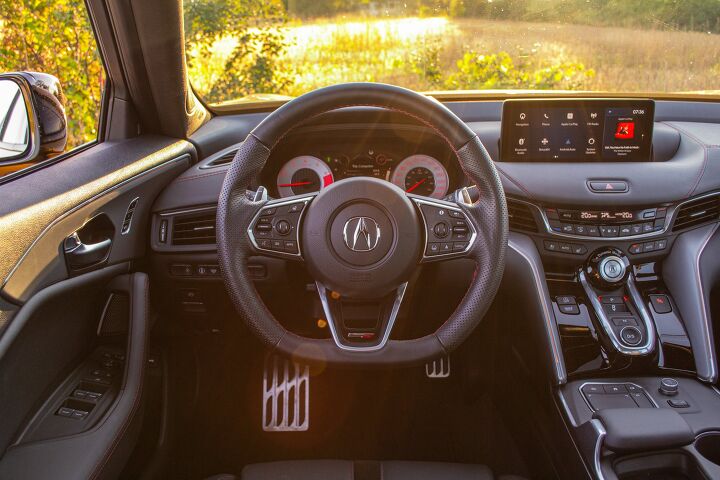 TLX: The 2021 TLX Type S checks in at $52,300 ($53,100 with the Performance Wheel and Tire package) plus a destination charge of $1,045 ($59,500 CAD plus $2,375 freight and PDI). As noted, the car is priced one way in Canada, where everything comes standard apart from a premium paint charge ($500 CAD). In the US, the Performance Wheel and Tire package adds lightweight Y-Spoke wheels and summer tires for an extra $800. Premium paint colors carry a $500 extra charge.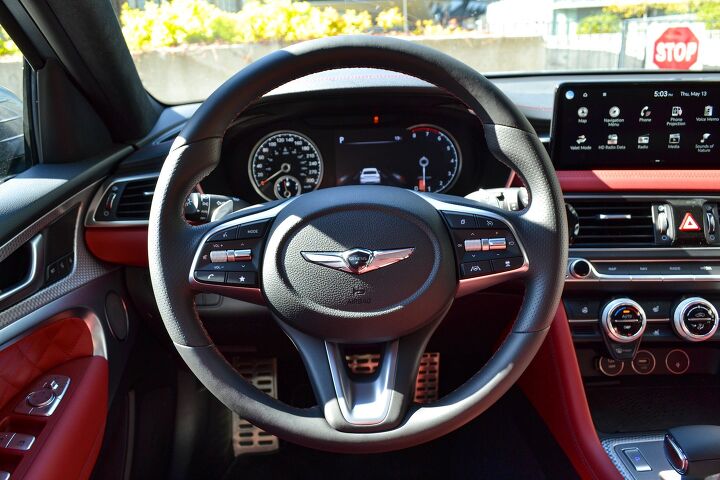 G70: The 2022 G70 3.3T Sport Prestige retails for $52,400 plus a destination charge of $1,045. The comparable version in Canada is the 3.3T Sport AWD trim which has an MSRP of $59,500 CAD, with freight and PDI included. There is also a limited edition Launch Edition, which adds unique wheels and a matte paint, for around $2,000 more on either side of the border.
Bottom line: Despite being packaged slightly differently in both countries, the TLX Type S and the Genesis G70 3.3T Sport (Prestige) AWD are priced almost identically in the US and Canada. In fact, they carry identical MSRPs in Canada, with the caveat that Genesis bakes freight and PDI charges into the G70 price. Of note, the 3.3T Launch Edition is also available in RWD in the US for $52,500.
Verdict
Lee: The TLX Type S appeals to my sense of nostalgia for the days when Acura was a hungry performance brand ready to take on all comers. It's valiantly making a comeback in that vein, although the NSX is being retired and the Integra appears to be a bit too much—based on what we know now—like a fancy Civic in Acura clothing. Prove me wrong, Acura.
This car may not make the Germans quake in their fancy boots, but that was never really the point of Type S cars, or Acura writ large. No, Acura was conceived to fill a middle ground between the muscle-bound Domestics and Teutonic Euros, where those who were tired of trying (mostly in vain) to turn their plebian Civic into something more had somewhere to go and it wouldn't cost a fortune. It worked before, and my sincere hope is Type S 2.0 will do the same for the young'uns coming up now.
So no, the TLX Type S probably won't make the junior executive set throw their Audi and BMW fobs on the table, but it's helping to breathe life into a dormant performance brand and that matters. It's sexy, it's spit-snarly, its engine sounds great, and it's bad fast. It has soul.
As for the G70, I like it. I like it a lot. It's fast, comfortable, well-equipped, and loaded with technology. But, and it's hard to put my finger on it exactly, it feels a bit too polished. It excels at everything but is that what buyers of these cars really want? Maybe, but it feels too much on the luxury tip for me. I want my sport sedan to be a bit unruly, a bit wild. That's what the TLX Type S is and why it gets the nod from me.
Kyle: Good on Acura for bringing back the Type S. It needs a halo model to sprinkle some magic pixie dust on the rest of the range.
It just feels like a starting point, though. A Type S version of this Type S is where Acura needs to be. As is, I feel like only Acura diehards would want to take this over an M340i or S4—or the G70. The Acura feels big and heavy, and not quite fast enough to overcome either. If it were the undisputed comfort champ of this part of the market, that'd be one thing, but it's surprisingly rough when the roads aren't super smooth.
The G70 just continues to do everything so well. It was more pleasant on track, quicker in a straight line, (slightly) more spacious, and better equipped. I don't think it's quite as good looking as the stunning Acura, but you also get the benefit of rarity there. This is every inch a competitor for the Germans, and this all-rounder appeal is what gives the G70 the nod for me.
Become an AutoGuide insider. Get the latest from the automotive world first by subscribing to our newsletter here.

Published December 10th, 2021 6:03 PM
Popular Articles
Latest Comparisons
Car Buying Tools