505 Views
Ford Bronco Sport Vs Mazda CX-50: Which Rugged Compact SUV is Right for You?
June 8th, 2022 1:15 PM
Share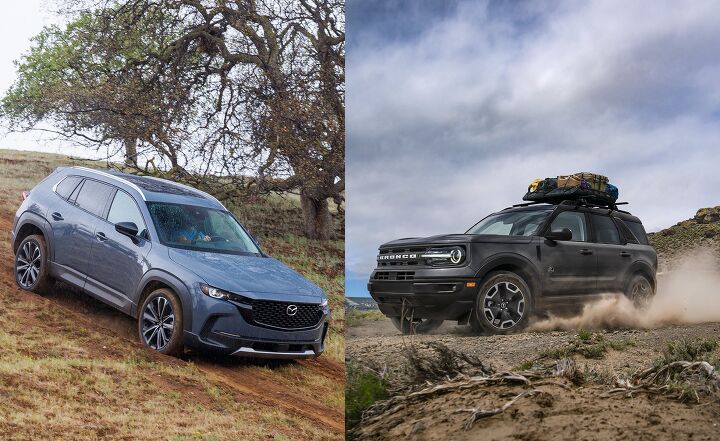 Today's driver tends to prefer a SUV for a variety of reasons. Car-like handling characteristics and maneuverability, an elevated driving position, all-weather traction from widely-available All-Wheel Drive (AWD), flexibility and space that's easy to appreciate for growing families.
Below, we'll compare two newcomers to the market: the new-for-2023 Mazda CX-50, and the 2022 Ford Bronco Sport—now in its second model year after debuting in 2021.
The Mazda CX-50 is an all-new model running the brand's latest AWD technology, as well as a variety of feature and equipment touches that aim it towards shoppers active in an outdoor, off-road setting.
Get a Quote on a New Ford Bronco Sport or Mazda CX-50
The Ford Bronco Sport targets a similar shopper after a traditional crossover driving experience with elevated off-road capability that's ready when required.
Let's compare this new pair of trail-friendly SUVs below.
Cabin Space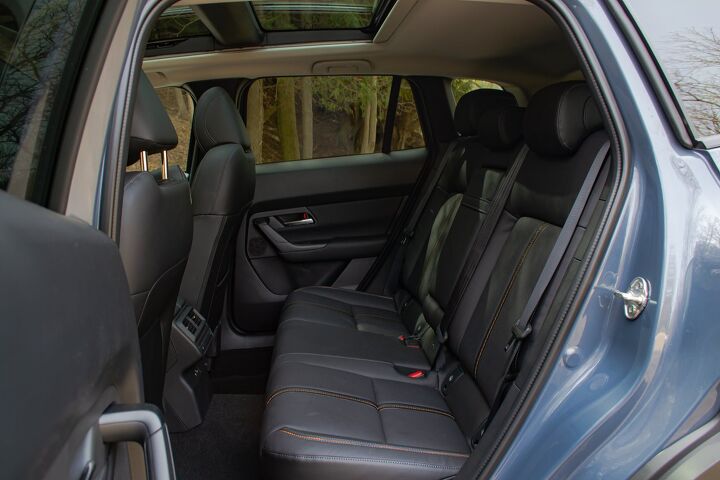 Mazda CX-50: The Mazda CX-50 is three inches wider than a CX-5, nearly seven inches longer, and sits lower than a CX-5–despite delivering better ground clearance.
On board, it's five seats with front leg room at 41.7 inches and rear leg room at 39.8 inches. For head room, it's 39.1 inches up front, and 38.6 in the back.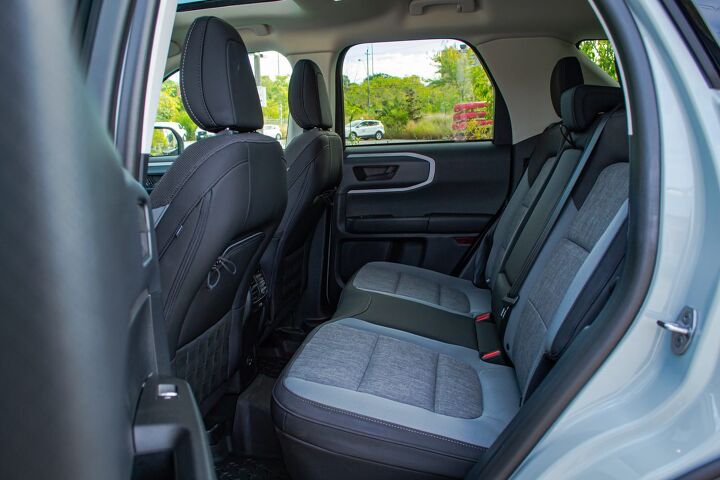 Ford Bronco Sport: In board the Bronco Sport, look for 40.8 inches of front-seat legroom, nearly an inch behind the Mazda. The Bronco Sport's second-row legroom measures in at 36.9 inches, a virtual tie with the CX-50.
On headroom, the Bronco Sport delivers 41.5 inches up front– a 2.4 inch advantage versus the Mazda. In the rear, Bronco Sport's headroom expands slightly to 41.7 inches—a full 3.1 inches better than the CX-50's.
Bottom Line: Got a lot of tall people in your life? They'll be the most comfortable in the Bronco Sport—and that's whether they're sitting up front, or in the rear seat.
Shorter friends? Prefer something more stylish? The looks of the CX-50 make it one of the prettiest machines on the trail. But that great stance is partially paid for in headroom. Long-legged drivers may be happiest in the Mazda, since it's got nearly an inch of extra legroom versus the Bronco Sport.
Cargo Space and Towing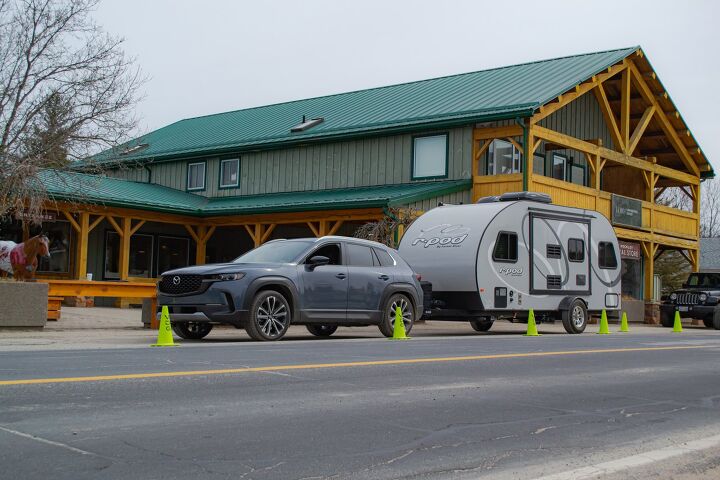 Mazda CX-50: Mazda's designers say they spent a lot time ensuring shoppers would find a highly functional and carefully laid-out cargo area to help them adapt the CX-50 easily to any adventure.
By the numbers, maximum towing capability is rated at up to 3,500 lbs. on models equipped with the turbo engine. Look for 31.4 cubic feet of cargo space behind its second-row seats, 56.3 with the seats folded.
The height and position of the CX-50's cargo hold may make it easier to access and unload than the Bronco Sport's.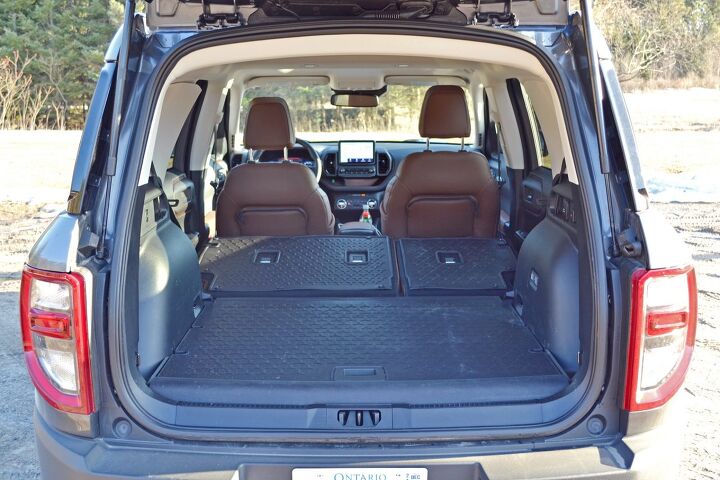 Ford Bronco Sport: One of the best things about the Bronco Sport is its high-lift tailgate that gets right up and out of your way. As well, there's an available built-in workstation counter that can be erected out of the tailgate to give drivers a functional exterior surface for cooking, serving, or setting up gear.
Elsewhere, it's a maximum trailer tow capacity of 2,200 lbs when properly equipped. On cargo space, it's 29.4 cubic feet of cargo volume behind the second-row seats, giving the CX-50 an advantage of 2 cubic feet here. With seats folded, it's 60.6 cubic feet for the Bronco Sport, just 56.3 for the CX-50.
Bottom Line: On seats-up cargo volume, the CX-50 takes the win– but with seats folded flat, the Bronco Sport has the superior cargo capacity of this pair. Both models can be fitted with accessory roof racks and gear carriers to taste, if desired. The CX-50 is the towing champion here, as long as its equipped with the turbocharged engine.
Tech and Features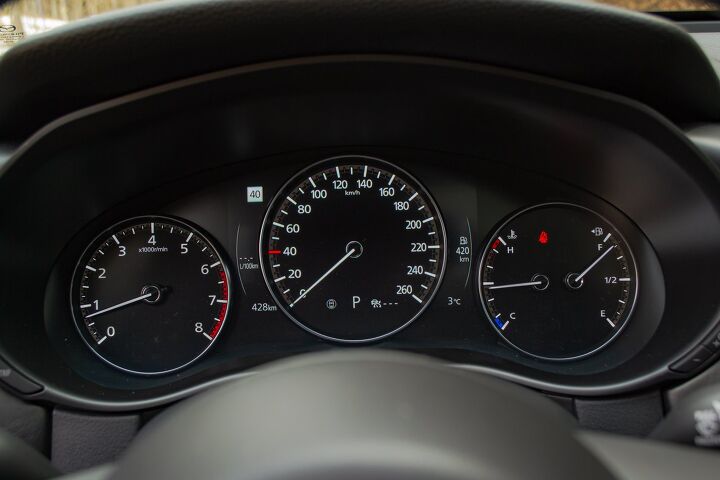 Mazda CX-50: The CX-50 comes with a solid suite of standard high-end features as standard or optional– offering up rain-sensing wipers, a self-dimming rearview mirror and adaptive cruise control on even base model units.
Wireless Apple CarPlay and Android Auto are standard kit, as are two USB ports, remote keyless entry, push-button start, and a 7-inch display.
Higher-end units add features like leather-wrapped steering wheel, dual-zone climate control, heated mirrors and wipers, a power liftgate, a panoramic sunroof, ventilated front seats, and a BOSE stereo system.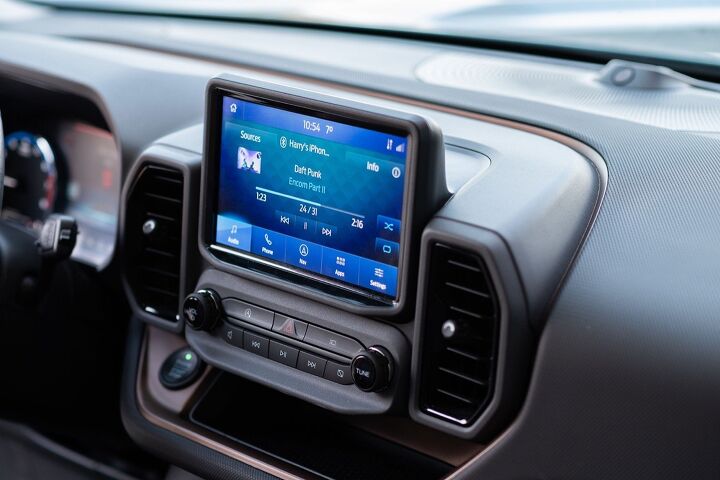 Ford Bronco Sport: The Bronco Sport Base comes with standard features like a built-in bottle opener, aimable lift-gate floodlights, manual climate control, a 4.2-inch cluster, dual USB ports, and cloth seating.
Higher-end models add features like a MOLLE strap equipment holder system, automatic climate control, wireless Smartphone charging, leather-wrapped steering, and compatibility with both Apple CarPlay and Android Auto.
The Bronco Sport Badlands adds content including a 110-volt power inverter, additional power outlets, an up-sized display screen, and an available B&O sound system from Bang and Olufsen.
Bottom Line: Many shoppers will appreciate higher-end equipment more commonly available across the Mazda CX-50 lineup, though the Bronco Sport's lifestyle-oriented touches will hit hard with those planning to spend a lot of time adventuring.
For instance, the handy MOLLE strap system makes it easy to keep gear contained and secured, the built-in cargo area workstation table is useful in a wide range of situations, and handy padded pouches with zippers on the seatbacks keep phones, tablets and small laptops protected from bumps– and free of dust and dirt.
Powertrains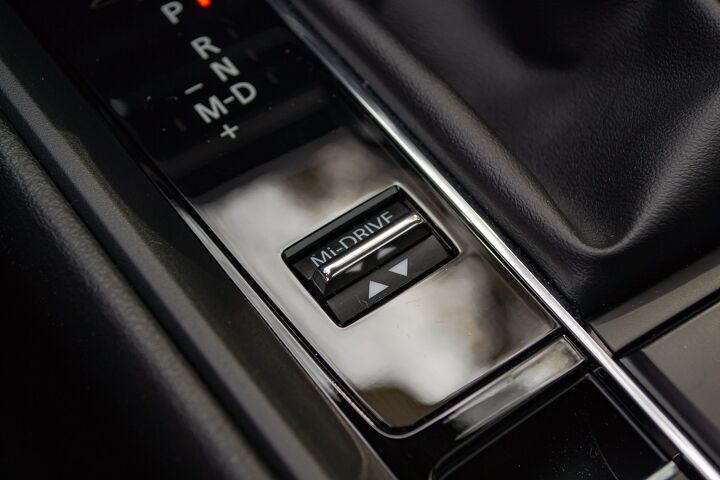 Mazda CX-50: Behind the Mazda CX-50's striking grille sits one of two engines: a 2.5 litre four-cylinder with 187 horsepower and 186 lb.-ft of torque, or a turbocharged variant that bumps power output to 256 horses and 320 lb.-ft of torque on 93 octane gasoline. The SKYACTIV Turbo engine runs just fine on 87 octane fuel too—where it generates a slightly-reduced 227 horsepower and 310 lb.-ft of torque.
Like the Bronco Sport, all models are standard with All-Wheel Drive (AWD), an automatic transmission, and a drive-mode selector off-road programming. Opt for the turbo engine, and they'll even add special badging and enlarged tailpipes.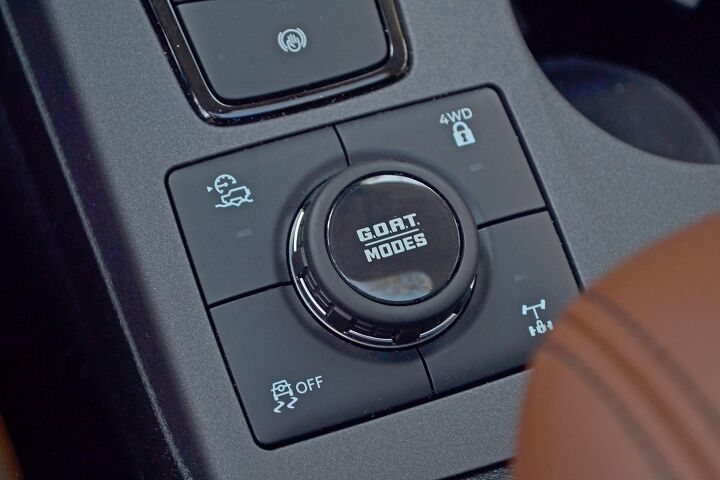 Ford Bronco Sport: Both of the Bronco Sport's engine options are turbocharged, which helps boost low-rev performance and response—in turn, helping drivers to save fuel. A 1.5 litre EcoBoost four-cylinder generates 181 horsepower and 190 lb.-ft of torque—roughly tying the standard engine in the CX-50 on output.
The 2.0-litre EcoBoost four-cylinder turns in 250 horsepower and 277 lb.-ft of torque (on regular grade fuel)—making the CX-50's turbo engine the leader of the pair when it comes to pulling power and torque output by a significant margin.
Look for AWD, automatic 8-speed, and the Bronco's unique GOAT mode off-road drive-mode selector.
Bottom Line: Both the Bronco Sport and CX-50 have powertrain lineups that'll satisfy the needs of a wide range of shoppers, and the up-level powerplants from both machines are smooth, refined, and quiet on the road.
The Bronco's 2-litre EcoBoost engine is a smooth and quiet worker that most shoppers will find satisfying, though the Mazda's SKYACTIV turbo engine is similarly smooth, even quieter, and delivers a significant torque output advantage that enthusiast drivers will like.
Fuel Economy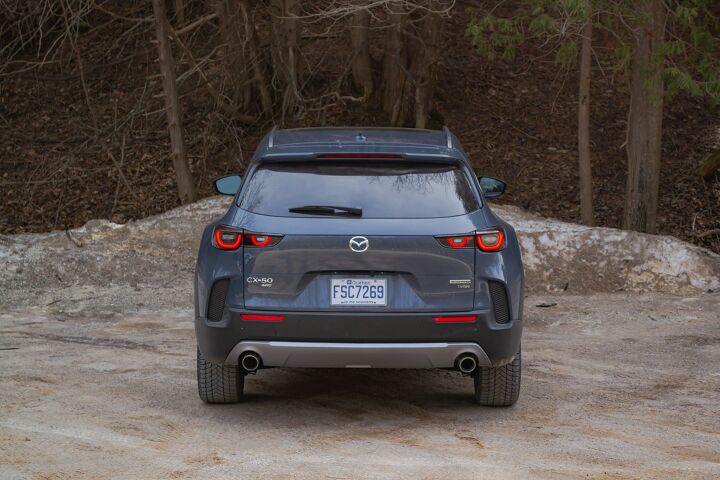 Mazda CX-50: With 2.5 litre engine, the Mazda CX-50 is rated for 24 mpg in the city, and 30 on the highway. With the turbocharged engine, it's 23 mpg in the city, and 29 on the highway—that's a 1 mpg difference in each measurement, between the 2 engines.
SEE ALSO:
2023 Mazda CX-50 First Drive Review: Destination Outback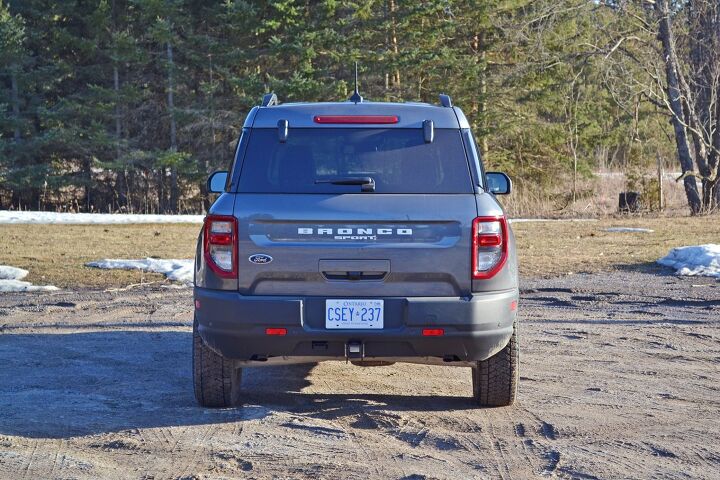 Ford Bronco Sport: With 1.5 litre engine, the Bronco sport achieves 25 mpg in the city, and 28 on the highway. With the more powerful 2-litre engine, it's 21 mpg in the city, and 26 on the highway—with premium fuel recommended.
Bottom Line: The Mazda CX-50 not only has the most available torque of this pair of machines, but it also delivers better fuel economy across its engine range, and offers a turbocharged power upgrade that has far more minimal effects on fuel consumption.
Most drivers will find the CX-50's SKYACTIV engines help turn in more value from their fuel dollars.
Safety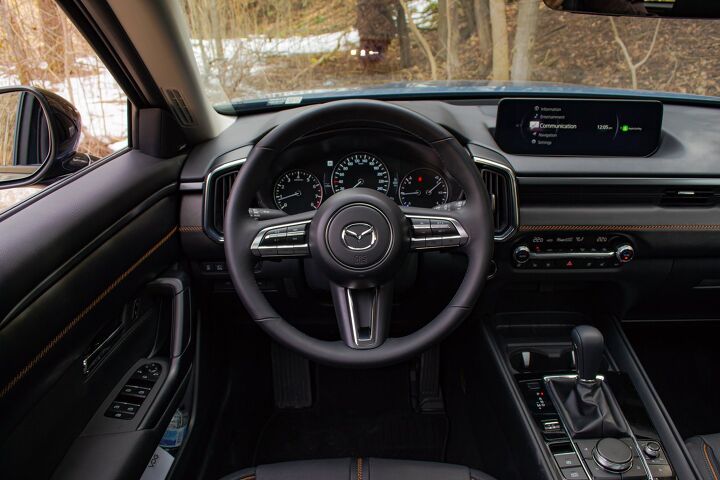 Mazda CX-50: The CX-50's available suite of safety systems includes brake assist, automatic braking, pedestrian detection, lane keep assist, knee airbags, rear cross-traffic alert, forward collision warning, and more. All CX-50 models also include driver attention alert, which can advise drivers when it's time to take a break as attention levels drop.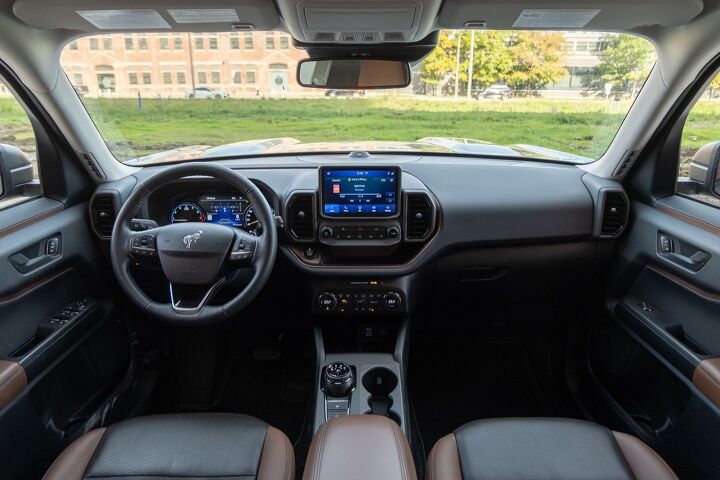 Ford Bronco Sport: The Bronco Sport and CX-50 share a similar list of standard safety features, airbags, and advanced functionalities.
Notably, the Bronco Sport features evasive steering assist as an enhancement of its pre-collision assist system. In certain situations, evasive steering assist can help drivers to maneuver around a danger or obstacle by providing additional steering support.
Bottom Line: Both the Bronco Sport and CX-50 come equipped with little less than the market's very latest must-haves when it comes to safety equipment, occupant protection, and peace of mind.
The Bronco Sport is an IIHS Top Safety Pick +, making it one of the safest vehicles in its segment. The Mazda CX-50 has not yet been tested by the IIHS.
Styling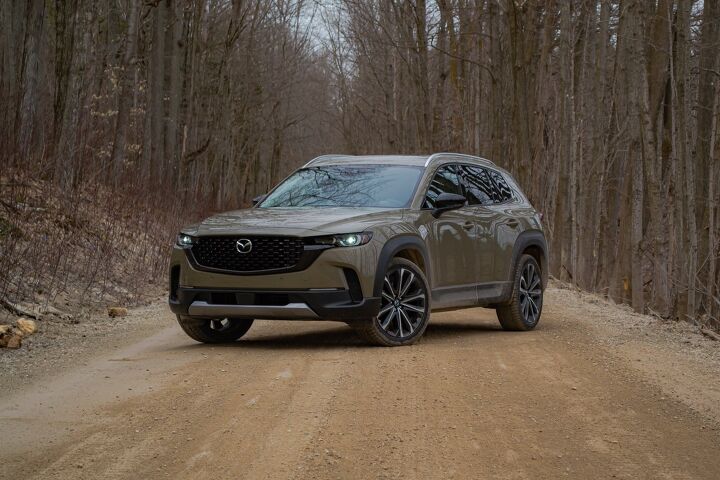 Mazda CX-50: By applying signature Mazda design touches and styling elements to a more rugged and adventurous body, the CX-50 manages to grab attention for its elegance, and a handsome, protective and assertive look that's not too busy. Enhanced lower body cladding and more rugged fascias convey a sense of toughness, though an athletic demeanour shines through—all set off by the low and wide stance.
Styling is instantly 'Mazda', with numerous back-woodsy touches applied.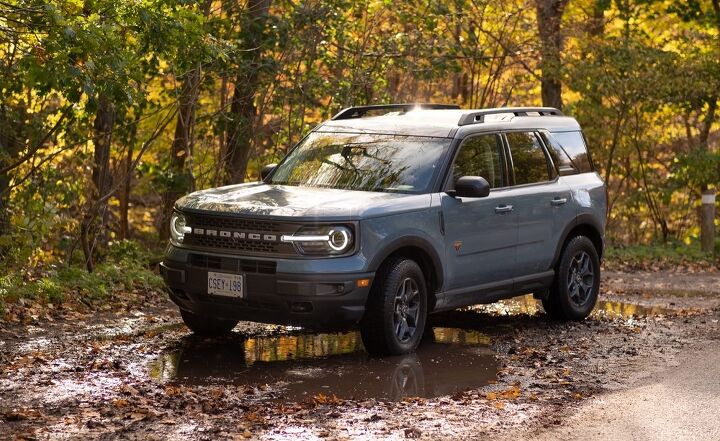 Ford Bronco Sport: The Bronco Sport's fun-loving color palette and graphics, integrated roof rails and lifted rear roof segment leave little to guesswork—this is a machine designed for plenty of off-road fun. Though the look isn't as sophisticated as the CX-50, the Bronco Sport's well-branded fascia, strong lighting signature and unique blocky shape help it stand out in a crowd, visually cementing its position as one of the segment's go-to off-roaders.
SEE ALSO:
2021 Ford Bronco Sport Review: Full of Bucking Character
Bottom Line: Shoppers after an upscale, elegant and athletic look with a sporty stance will like the CX-50, though the Bronco Sport's clever use of color, shape and lighting signatures make it the easier machine to recognize, and one that simultaneously conveys a sense of fun and adventure from a mere glance.
Pricing / Value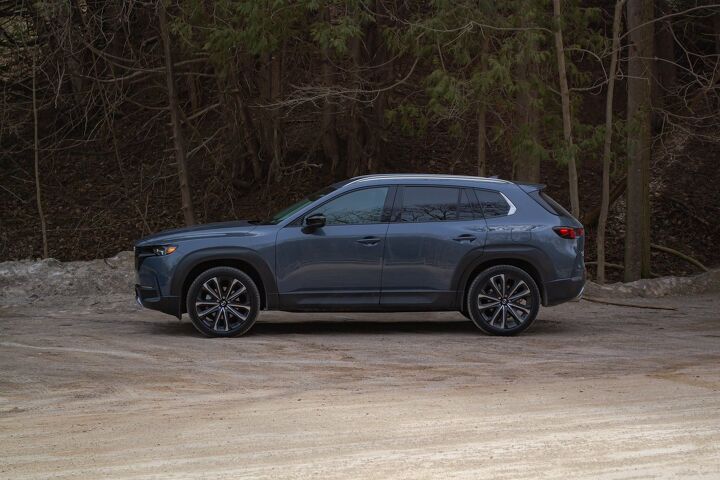 Mazda CX-50: The Mazda CX-50's starting ask of $26,800 for 2.5 litre engine and $36,400 with turbocharged power opens the door to a model range of 10 individual packages.
With standard power, it's the aforementioned 2.5S in the starting blocks, with S Select, S Preferred and S Preferred Plus packages coming in at $28,200, $29,500 and $31,490, respectively. The S Premium and S Premium Plus packages add the largest array of high-end feature touches, and come priced at $34,400 and $36,400 respectively.
That same $36,400 starts the bidding for the CX-50 2.5 Turbo, with 2.5 Turbo Premium and Premium Plus grades coming in at $39,550 and $41,550, respectively.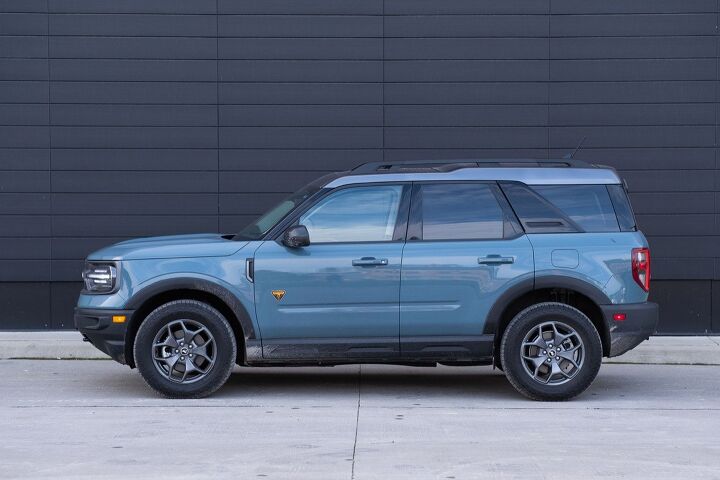 2022 Ford Bronco Sport: The 2022 Ford Bronco Sport lineup offers four models—the Base ($28,265), the Big Bend ($29,980), the Outer Banks ($33,900), and Badlands, complete with off-road and rough-terrain enhancements, from $36,590.
Bottom Line: While pricing is highly similar between these machines, the CX-50 lineup consists of 10 prepackaged models, while the Bronco Sport's lineup gives shoppers four models to build upon with a wide range of options, accessories, and equipment packages for fine tuning.
Both machines are sure to satisfy for the dollar, depending on your preferred mix of ruggedness, equipment, styling and customizability.
Conclusion
On a recent test drive of the Ford Bronco Sport, I came away surprised by its on-road manners and highway cruising character, especially given a suspension setup that feels equally at home on the trails. For a machine with above-average off-road capability, the Bronco is surprisingly good to drive on the road more travelled.
That's exactly where Mazda models tend to do their best work—though the new CX-50 intends to take Mazda's knack for spirited handling dynamics into an off-road setting, giving adventure-seeking drivers something with an athletic and lively drive.
The Mazda CX-50 and Ford Bronco Sport are among the most compelling off-road oriented crossovers on the road today.
Become an AutoGuide insider. Get the latest from the automotive world first by subscribing to our newsletter here.
Published June 6th, 2022 10:06 AM
Popular Articles
Latest Comparisons
Car Buying Tools