626 Views
Honda Accord Vs. Nissan Altima: Which Sedan is Right for You?
June 27th, 2022 11:27 AM
Share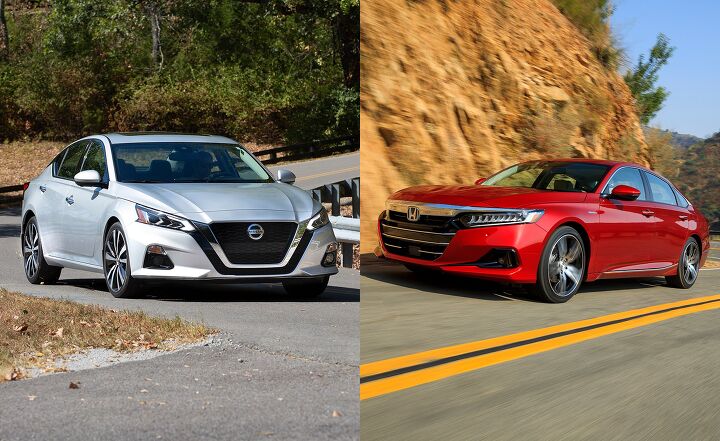 The Honda Accord has been around since the '70s, and it has used the time well in honing what makes the perfect mid-size family sedan. Even in the age of SUVs and crossovers, the Accord offers an almost unbeatable package for those that need to move people and things for a reasonable price.
The Nissan Altima is an attractive player in the segment, offering athletic handling and comfortable seating for the front row. Unlike the Accord, it does not offer a hybrid variant. Does it have what it takes to persuade the money away from Honda? We evaluate each model's features and capabilities to find out.
Get a Quote on a New Honda Accord or Nissan Altima
Cabin Space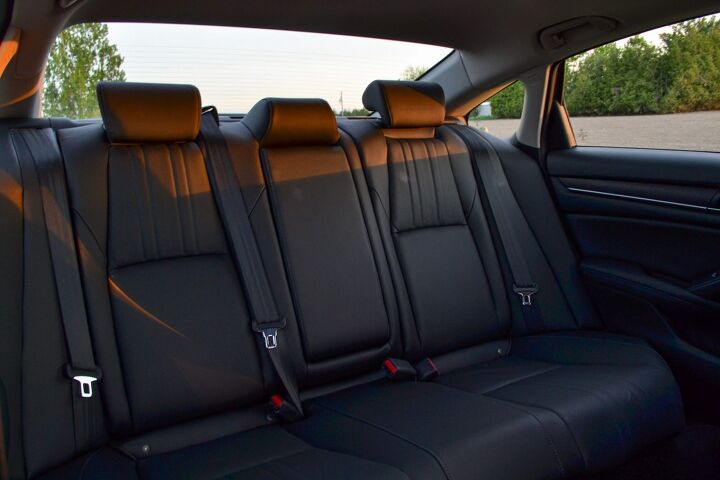 Honda Accord: Front row headroom for the Accord sits at 39.5 inches (1,004 mm), and 37.5 inches (953 mm) with a moonroof equipped. In the rear, you'll have 37.3 inches (948 mm) or 37.2 inches (944 mm) of headroom, depending on the presence of a moonroof. Front row legroom is 42.3 inches (1,074 mm) and rear legroom is 40.4 inches (1,026 mm). There is 58.3 (1,481 mm) inches of shoulder room and 55.3 inches (1,405 mm) of hip room in the front, and 56.5 inches (1,427 mm) of shoulder room and 55 inches (1,397 mm) of hip room in the back.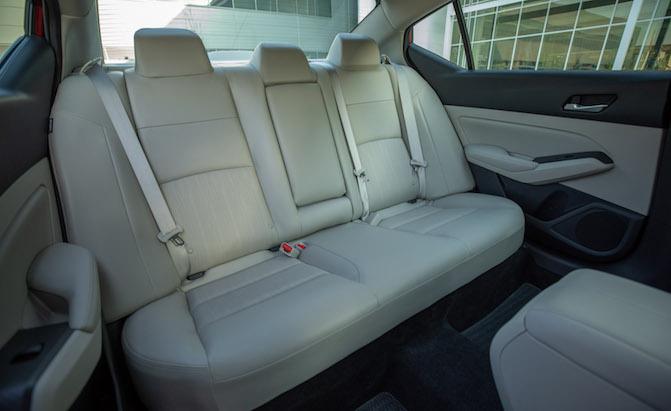 Nissan Altima: On models without a moonroof, you'll get 39.2 inches (996 mm) of headroom in the front row and 36.9 inches (937 mm) in the back. Add in the moonroof, and the numbers reduce to 38 inches (965 mm) and 36.7 inches (932 mm), respectively. There is 43.8 inches (1,113 mm) of legroom in the front and 35.2 inches (894 mm) in the rear row. Front row shoulder room is 58.2 inches (1,478 mm) with 54.7 inches (1,389 mm) of hip room. In the back, there is 57.1 inches (1,450 mm) of shoulder room and 54.5 inches (1,384 mm) of hip room.
Bottom Line: For those in the front row, the Altima grants more space to lounge in. Legroom and headroom is significantly less for those in the rear for the Altima when compared to the Accord, however.
Powertrains
Honda Accord: You can have your Accord in a selection of two turbocharged flavors, plus one Hybrid option. A 1.5L turbocharged 4-cylinder is available on the LX, Sport, and EX-L trims, featuring 192hp and 192 lb-ft of torque. The sportier engine comes in the form of a 2.0L turbocharged 4-cylinder, rated for 252hp and 273 lb-ft of torque. While the 1.5L comes attached to a CVT, the 2.0L is offered with a 10-speed automatic.
SEE ALSO:
2021 Honda Accord Hybrid Review: The Great All-Rounder
Hybrid models will have a 2.0L Atkinson 4-cylinder Atkinson Cycle engine at 143hp, supported by a 181hp electric motor for a combined rating of 212hp. Power is sent to the wheels through an E-CVT on all Hybrid Accords.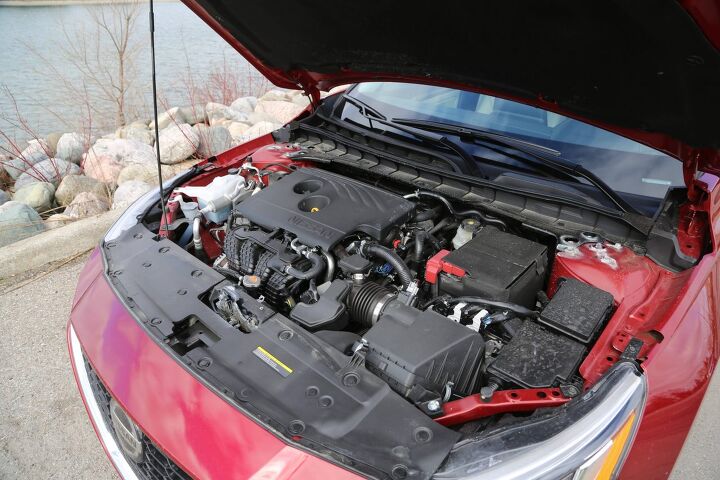 Nissan Altima: The Altima lineup uses two different engines, depending on the trim level. The default is a 2.5L 4-cylinder naturally-aspirated unit, coming in at 188 hp and 158 lb-ft. of torque. It can be equipped with all wheel drive if desired. Opting for the SR VC-Turbo trim will get you a neat 2.0L 4-cylinder Variable Compression Turbo unit armed with 236 hp and 267 lb-ft of torque. The Variable Compression technology promises the performance of a 6-cylinder with the fuel efficiency of a diesel, but unfortunately does not have an all-wheel drive option. Whichever engine you choose, you'll find a CVT attached.
Bottom Line: Not only is the Accord available in a Hybrid format, both of the gas-only options from Honda have the Altima beat on power figures. The availability of a non-CVT from Honda should also appeal to those looking for a sporty driving experience. The Altima does offer an all-wheel drive version while the Accord does not.
Fuel Economy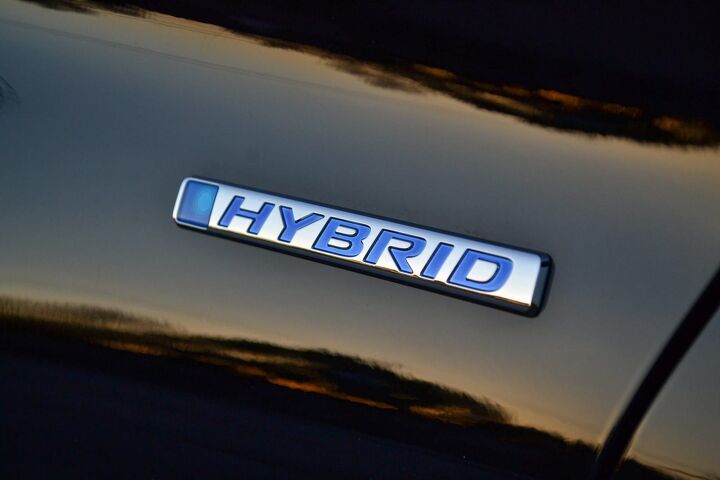 Honda Accord: Starting with the base model equipped with the 1.5L turbo, Honda has rated the Accord at 30/38/33 MPG (7.8/6.2/7.1 L/100km) for city, highway, and combined, respectively. Upgrading to the 2.0L turbo engine, and the least economical numbers quoted for an Accord drops down to 22/32/26 MPG (10.7/7.4/9.0 L/100km).
Hybrid versions of the Accord will top out at an impressive 48 MPG (4.9 L/100km) in the city, or 47 MPG (5.0 L/100km) both on the highway and combined.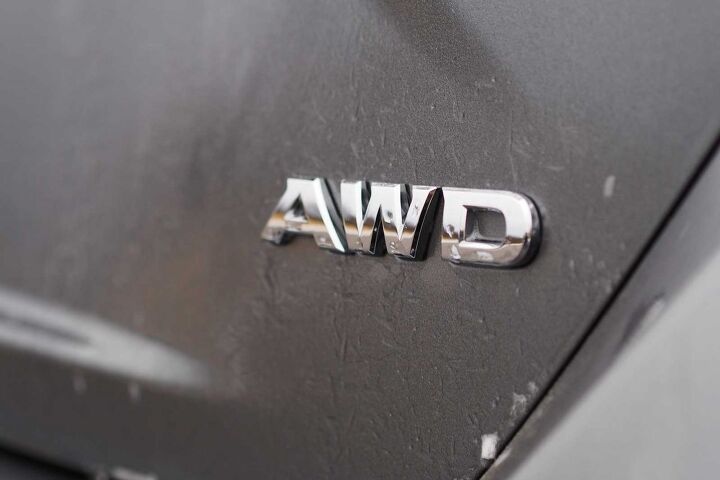 Nissan Altima: With the 2.5L engine equipped and driven through just the front wheels, the Altima is rated at 28 MPG (8.4 L/100km) in the city, 39 MPG (6.0 L/100km) on the highway, and 32 MPG (7.4 L/100km) combined. Add in all-wheel drive, and those numbers drop to 26/36/30 MPG (9.0/6.5/7.8 L/100km).
The peppier 2.0L turbo engine with Variable Compression technology is meant to simulate consumption levels of a economic diesel, but is actually rated for 25 MPG (9.4 L/100km) in the city, 34 MPG (6.9 L/100km) on the highway, and 29 MPG (8.1 L/100km) combined.
Bottom Line: The Accord will be the slightest more economical from the get-go, but choosing between the sportiest version of each model will have the Altima just outgunning the Accord in fuel economy figures (but not necessarily in the fun quotient). If you are chasing after more miles between fill-ups, the Accord in its Hybrid guise will beat anything with the name "Altima" attached to it.
Cargo and Towing
Honda Accord: The Accord will haul up to 16.7 cu.ft. (472.9 L) of cargo in its trunk, without having to fold down the rear seats. Switching to the Hybrid trim does not reduce the amount of cargo carrying ability.
As with most small to mid-size passenger cars, the Accord is not rated for towing.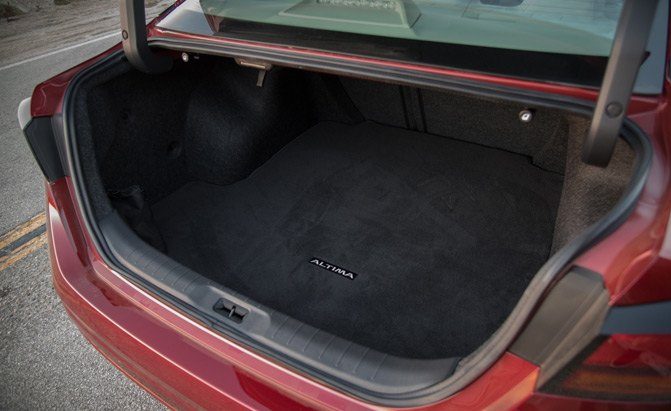 Nissan Altima: With the rear seats upright, the Altima will hold 15.9 cu.ft. of cargo. Like the Accord, the Altima is not rated for towing.
SEE ALSO:
Nissan Altima AWD Pros and Cons
Bottom Line: The Accord once again shows its utility by having top-of-class trunk space, even with a Hybrid drivetrain.
Safety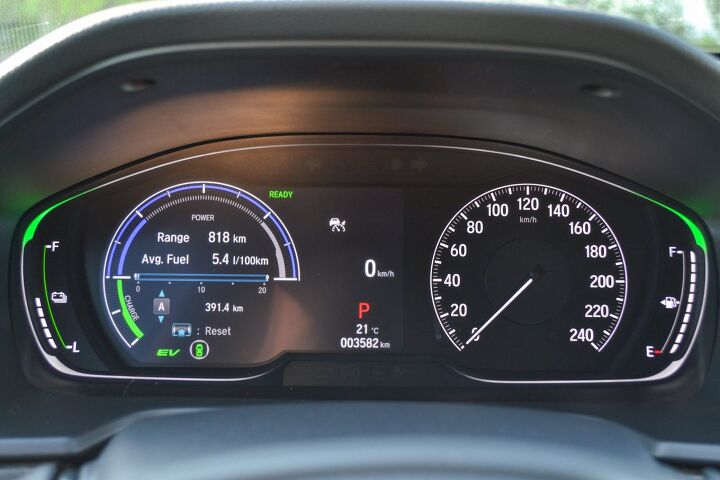 Honda Accord: Honda has equipped all Accords with its suite of standard safety features that include a Collision Mitigation Braking System, Road Departure Mitigation System, Adaptive Cruise Control with Low-Speed Follow, Lane Keeping Assist System, Forward Collision Warning, Lane Departure Warning, and Traffic Sign Recognition. Additional Driver-Assistive Technology features are available on higher trims, including Blind Spot Information System with Cross Traffic Monitor and Rear Seat Reminder. Touring models also come with Low-Speed Braking Control as well as a Heads-Up Display.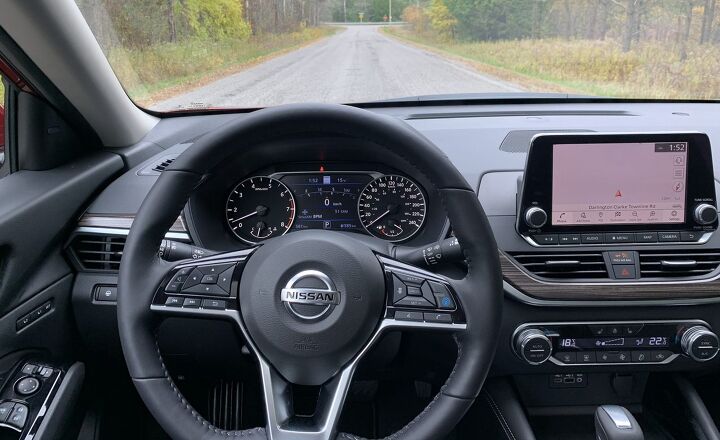 Nissan Altima: The base S trim is sparsely equipped, but still comes standard with Intelligent Forward Collision Warning, Automatic Emergency Braking with Pedestrian Detection, and Lane Departure Warning. Rear Cross Traffic Alert, Rear Automatic Braking, and Rear Sonar is available as an option on the S but standard with higher trims. Nissan's ProPilot Assist which maintains distance in traffic and steers on select roads is available as an option on the SV trim and up, but is not available on the SR trim.
Bottom Line: The Accord has a few more safety features from the get go. Features like lane keeping isn't available until you splurge for the highest trim levels on the Altima.
Tech and Features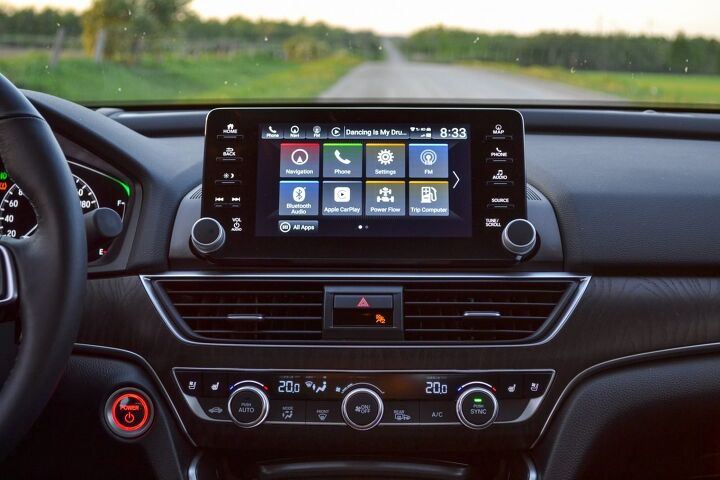 Honda Accord: The base Accord LX comes standard with Apple Carplay/Android Auto, a 160-watt audio system, 8-inch touchscreen display, and dual-zone climate control. Wireless CarPlay and wireless phone charging is available on the Sport equipped with the 2.0L engine and all above trims. Upgrade to the EX-L or Touring for a 450-watt, 10-speaker premium audio system, and seating memory. The Touring trim also includes ventilated front seats, and heating for those in the two rear outboard seats.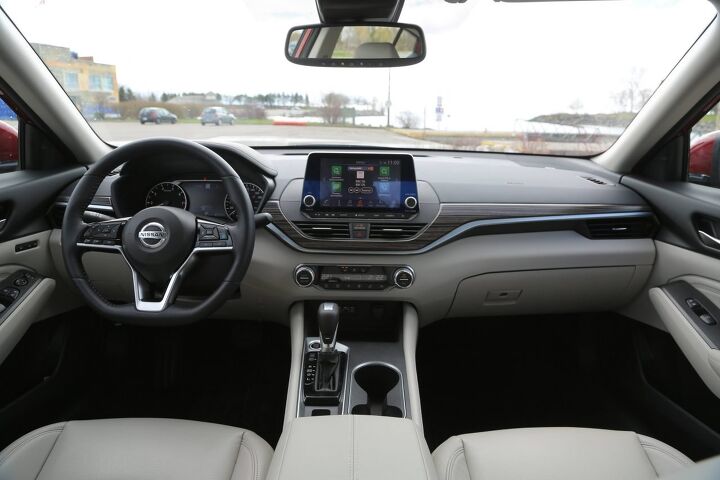 Nissan Altima: Get into the Altima S trim and you'll have to make do with streaming music from your phone via bluetooth, or hit the tuner to find your favorite radio station. Hand over more money for the SV trim and you'll get a power-adjustable driver's seat, an 8-inch touch display, and Apple CarPlay/Android Auto. The SR trim is targeted to more "driver-oriented" buyers, offering paddle shifters, a sport suspension, 19" wheels, and a selection of sporty trim pieces. The SR-VC Turbo with its trick variable-compression engine also adds a moonroof, power lumbar adjustment, and heated seats in the front. At the SL trim you get dual-zone climate control, leather seats, a heated steering wheel, and a Bose 9-speaker audio system. The top-of-the-line Platinum trim level gets you a power-adjustable front passenger seat, auto-dimming interior mirror, and seat/mirror memory.
Bottom Line: Honda's equipment list puts the Altima in a tough place. Apple CarPlay and Android Auto and an 8" display is standard on every Accord, but you'll have to spend for the SV trim on the Altima which eliminates much of the price advantage. Strangely enough, you won't get any form of automatic climate control on the Altima until you're shopping from the SL trim on the Altima, though it comes with the base Accord.
Styling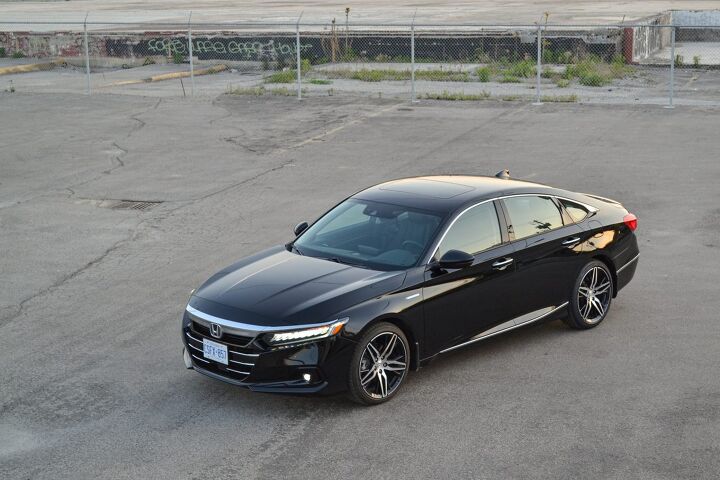 Honda Accord: With the Accord due for a redesign in 2023, the current form features the same horizontal front styling since the introduction of the existing generation, with its swooped roofline and angular C-shaped tail lights. The blunt front end may spark a bit of a debate for some, but the Honda Accord has never been the car to elicit a strong reaction with its looks.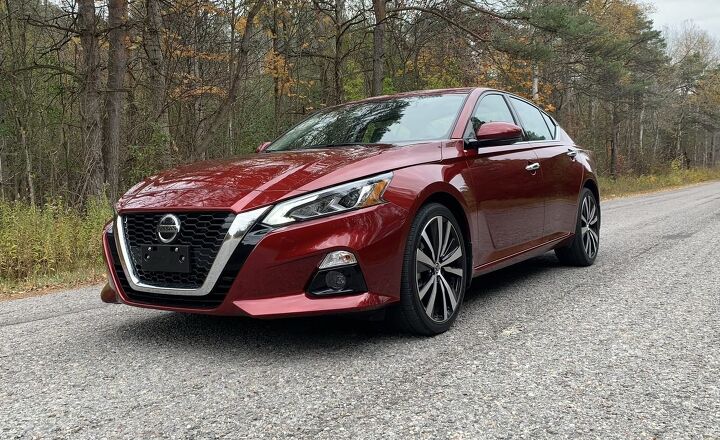 Nissan Altima: The current Altima borrows many design cues from the Nissan Vmotion 2.0 concept, and is a sharp rendition of the mid-size sedan. The Nissan 'V' grille is modern, creating a distinct sporty element that aligns itself within the Nissan range of vehicles. The black trim on the C-pillar visually forms a floating roof line.
Bottom Line: When push comes to shove, the Altima makes a stronger statement with its design, while the Accord aims to appeal to the most and offend the least.
Pricing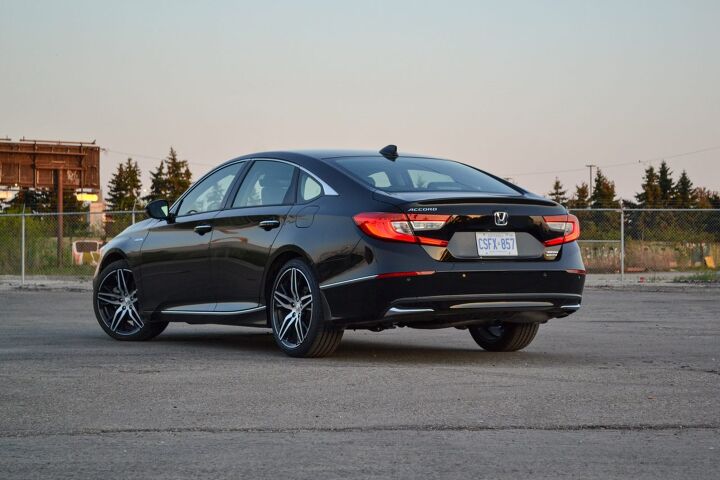 Honda Accord: An Accord LX starts from $27,615 (includes $1,095 destination charge). Going up the ladder, the Accord Sport, EX-L, and Touring trims are priced at $30,075, $33,935, and $39,545, respectively.
Adding on some batteries and motors with the Accord Hybrid will raise the starting price to $28,815, with the Hybrid Sport costing $32,165, Hybrid EX-L $35,135, and Hybrid Touring at $38,685.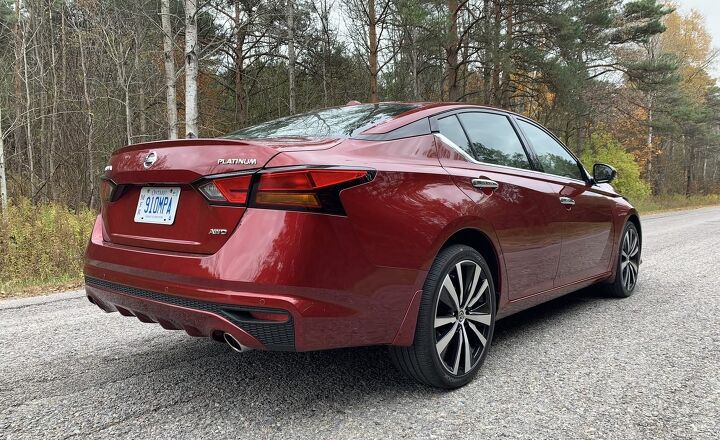 Nissan Altima: The most basic Altima you can get starts at $25,925 (including $1,025 in destination charge) for the S trim, which comes equipped with the 2.5L 4-cylinder, 16" steel wheels, cloth interior, a 7" infotainment display, and front-wheel drive. The SV will come in at $26,925, the SR at $27,925, SR VC-Turbo at $32,275, SL at $31,365. You can add all-wheel drive to the SV, SR, and SL trims for $1,400. The top-of-the-line Platinum trim comes standard with all-wheel drive and is priced at $35,625.
Bottom Line: The base Altima is sparsely equipped, but upgrade to the SV trim and the Altima becomes a fair competitor for the Accord. At the other end of the pricing spectrum, you get an all-wheel drive Altima Platinum for $3,000 less than the Accord Hybrid Touring. It becomes a question of which is more important; all-wheel drive capability or hybrid efficiency.
Conclusion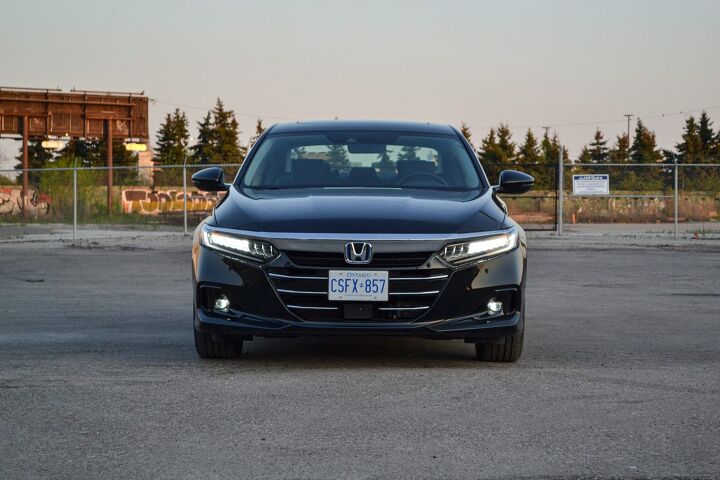 The Altima offers a handsome exterior, paired to crisp handling and fuel efficiency. The Variable Compression technology found on the SR VC-Turbo is an interesting proposition, albeit one that ultimately doesn't truly exemplify the "best of both worlds" intention that Nissan likely hoped for. The lack of automatic climate control as standard across all trim levels is surprising. Having all-wheel drive as an option should attract buyers seeking maximum traction in inclement conditions.
Honda's hybrid drivetrain options are the biggest difference with the Accord lineup. Even on gasoline-only offerings though, the Accord is more refined and offers more tech. It's why it continues to dominate the mid-size landscape, and why it's our choice in this head-to-head match up.
Become an AutoGuide insider. Get the latest from the automotive world first by subscribing to our newsletter here.
Published June 27th, 2022 11:27 AM
Popular Articles
Latest Comparisons
Car Buying Tools