959 Views
Jeep Gladiator Vs Nissan Frontier Comparison: The Work-Life Balance
July 5th, 2022 5:16 PM
Share
We're committed to finding, researching, and recommending the best products. We earn commissions from purchases you make using links in our articles. Learn more here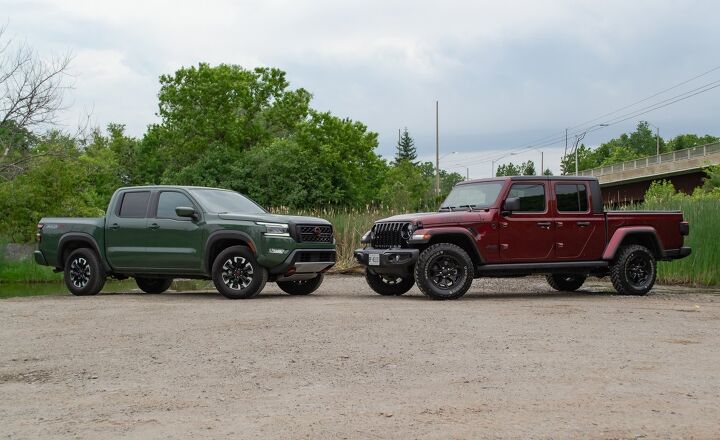 Be honest with yourself: why are you really shopping for a mid-sized pickup?
Jeep and Nissan have put out two very different left-fielders in the shape of the Gladiator and Frontier, respectively. The former bolts a bed onto the back of the Wrangler, a model that has only grown in popularity in the age of the SUV. Meanwhile, after being the butt of many jokes for being so old it needed to tie an onion to its belt, the Frontier has joined the modern world with a thorough revamp for 2022.
What we have here is a mullet of a comparison: one half business, one half party. Can one of these mid-sizers woo us over to its side? Managing editor Mike Schlee and I spent a week with both to find out.
Get a Quote on a New Jeep Gladiator or Nissan Frontier
Interior and Cargo Space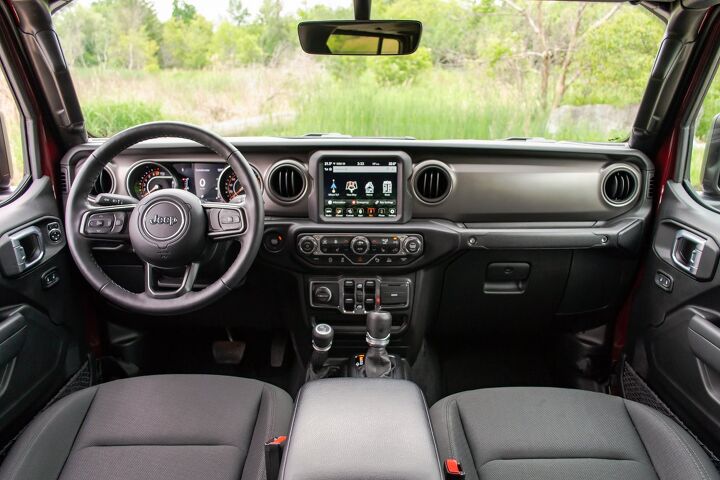 Gladiator: The Gladiator is chock-full of Wrangler eccentricities, and is essentially identical to the SUV from the front seats. The simple dashboard and upright windshield gives drivers a clear view out to those iconic wheel arches, but they'll have to crane their necks to see stoplights in the city. In fact, the view out of the Gladiator isn't great in any direction. All of the controls are grouped together with large, easy-to-read buttons and dials, including the centrally located window switches.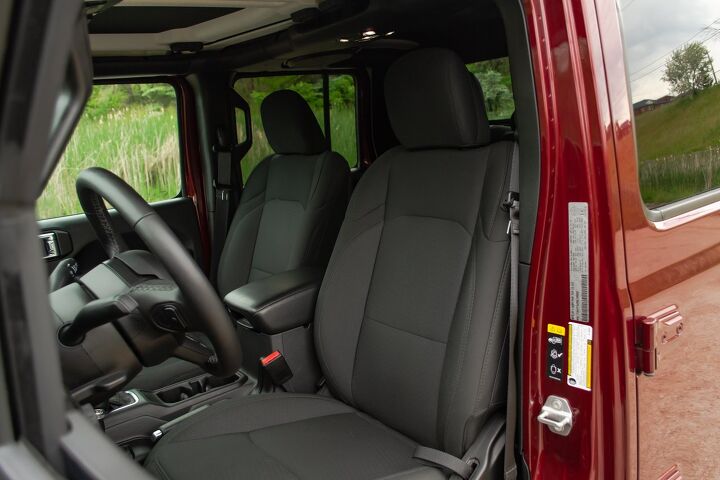 The cloth seats are stiff and low on padding, so longer drives can be tough on backs. This Willys trim level sticks to manual adjustments, too—even a Civic has powered, at half this price.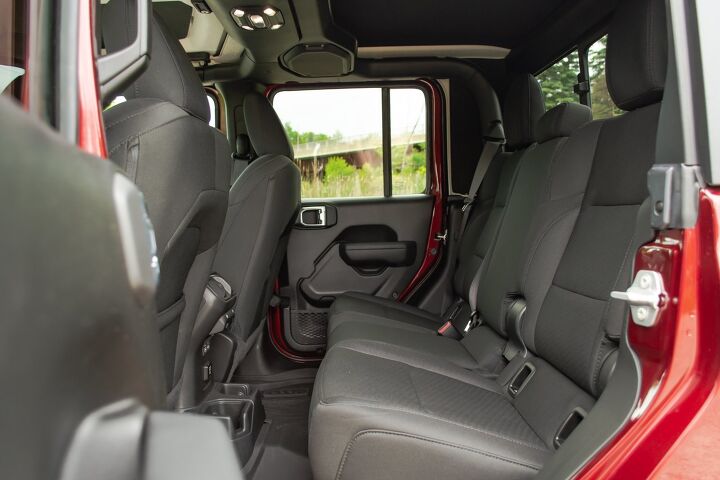 Speaking of compact cars, the Jeep's second row is about as spacious as one. On paper there's a healthy 38.3 inches (973 millimeters) of rear legroom, but in practice it feels much tighter. You can stick adults back there, but they won't be too thrilled about the small opening or flat seats, nor the big crossmember in front of their heads. A small price to pay for the ability to remove the roof and doors, though.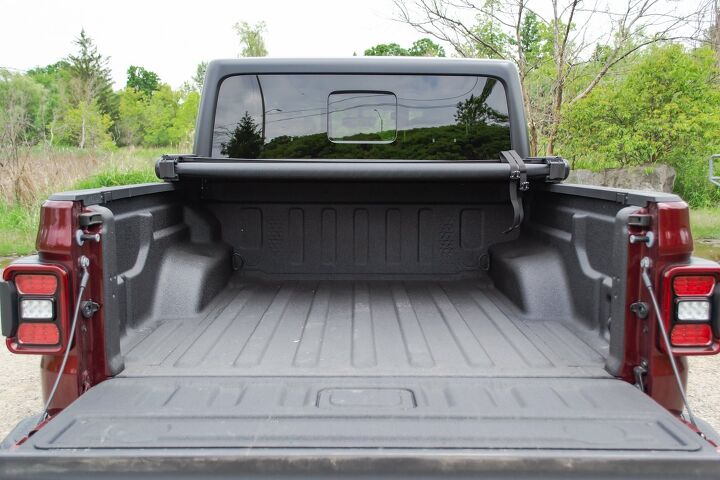 Every Gladiator comes with a 5.0-foot bed. This tester is rated to 4,500 lb (2,041 kg) of max towing capacity; other trims, when equipped with the Max Tow package, can tow up to 7,650 lb (3,470 kg).
Frontier: Even though Nissan thoroughly redid the Frontier for 2022, it doesn't feel particularly newer than the Gladiator. There's a lot of black plastic, and the design is hardly adventurous. Then again, that's true of every mid-sizer out there. Like the Gladiator, the Frontier puts ease-of-use at the top of the priority list, with lots of physical buttons and dials for major controls. There's a decent amount of storage space peppered throughout the cabin, too.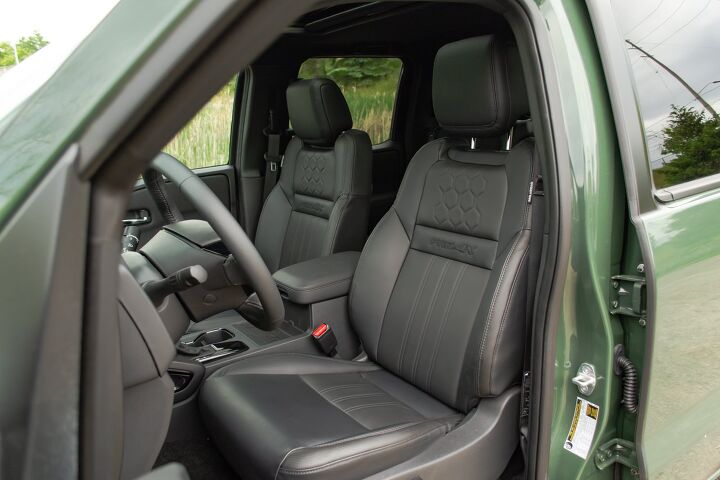 The leather seats use Nissan's Zero Gravity technology, which the company claims reduces fatigue. While I found them more comfortable than the front thrones in the Jeep, I still ended up with numb-butt on longer drives. There's less headroom in here too (39.9 in / 1,013 mm versus 42.8 in / 1,087 mm), but if you are tall, you'll be brushing up against a headliner, not a hard point. The Nissan also has more leg-, hip-, and shoulder room. It's important to point out the Frontier continues into a new generation without a telescoping steering wheel, only tilting.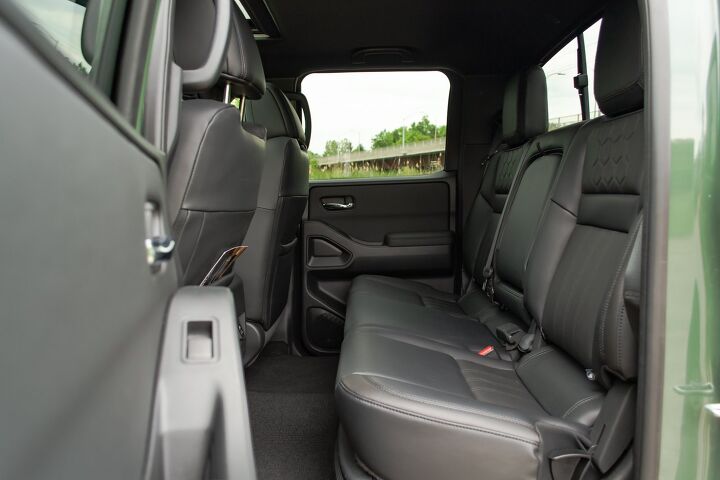 Rear-seat space is … fine. The Nissan's seats are more comfortable, sure, but there's just 33.2 inches (843 mm) of legroom to play with. At least the doors open wider, and the aperture is adult-friendly.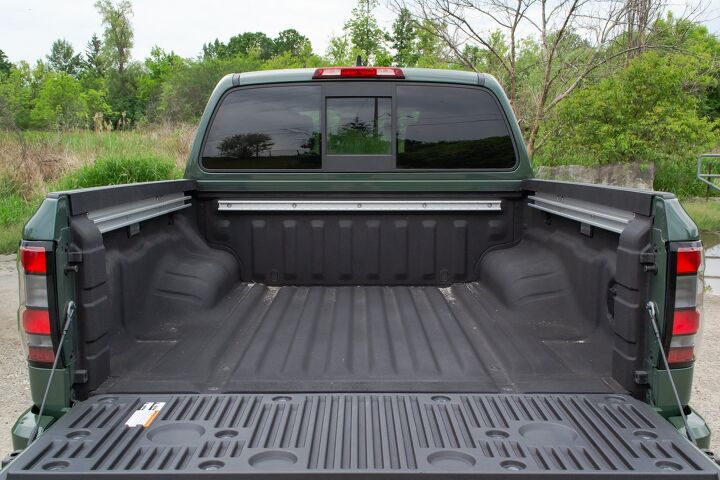 Frontier towing capacity is dependent on trim; in the case of this Pro-4X Crew Cab you're looking at 6,260 lb (2,839 kg). A basic King Cab S 4×2 will tow 6,720 lb (3,048 kg). Crew Cab models feature a 58.9-inch bed, while King Cabs come with a 73.3-inch one.
SEE ALSO:
2022 Nissan Frontier First Drive Review: Into the Thick of It
Bottom Line: The Nissan's interior is (slightly) more comfortable, but it lacks the character of its American competitor. It also can't shed its roof and doors for summer fun. On average, the Frontier can tow more, making it the better choice for work purposes.
Tech and Features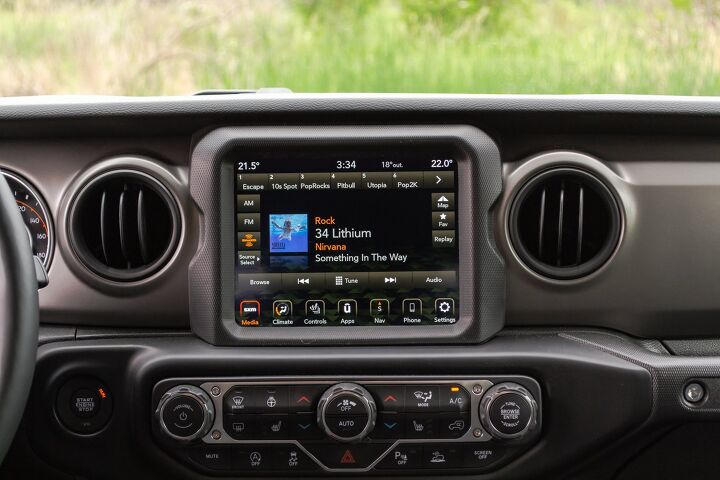 Gladiator: Stellantis' Uconnect 4 is starting to feel dated here in 2022, but the 8.4-inch screen still packs some cool features. Chief amongst them is the off-road pages, which gives you an easy-access screenshot of important measures when taking the Gladiator off the beaten path. We appreciate the simplicity of pairing our phones to the system, as well.
Just don't expect the most robust safety assists here. Auto high-beams, automated emergency braking, blind-spot monitoring, and parking assist are all here—but you've gotta pay. Sorry, no adaptive cruise control, either.
In keeping with the Gladiator's cool-guy image, there is a wireless speaker tucked away behind the rear seats.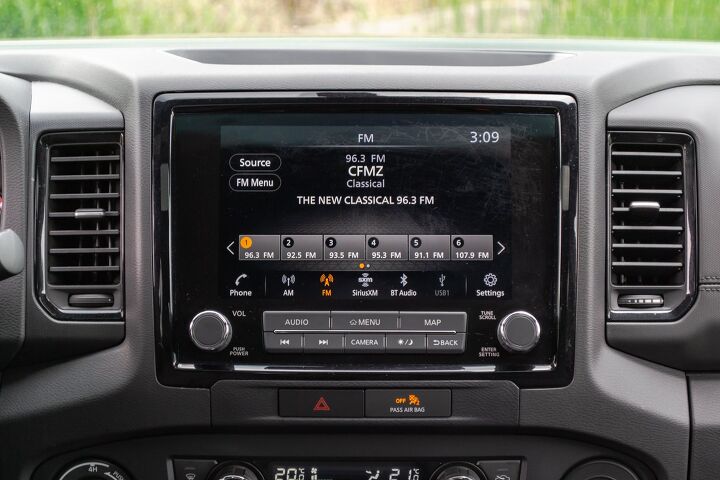 Frontier: Nissan's latest infotainment is a 9.0-inch touchscreen, with a smattering of physical controls down below. It's not a pretty setup, but it gets the job done—and quicker than Uconnect. Like the Jeep, the Nissan features wired Apple CarPlay and Android Auto support. The heated seats get properly toasty, and the upgrade to dual-zone climate control means no arguments if your front-seat passenger runs hotter (or colder) than you do.
The Nissan's big advantage is a broader suite of driver assists. This Frontier includes adaptive cruise control, rear cross-traffic alert, blind spot warning, automated emergency braking, lane departure warning, and high-beam assist. In Canada, these are all standard-fit on the Pro-4X too, whereas Jeep still demands additional outlay for many of the same features.
SEE ALSO:
2021 Jeep Gladiator EcoDiesel Review: No Apologies
Bottom Line: The Nissan's infotainment is newer and quicker. It doesn't have quite the same breadth of features, but for all but the most hardcore, that should be fine. It has more modern creature comforts and a better safety assist suite, thus it wins here.
Powertrain, Driving Feel, and Fuel Economy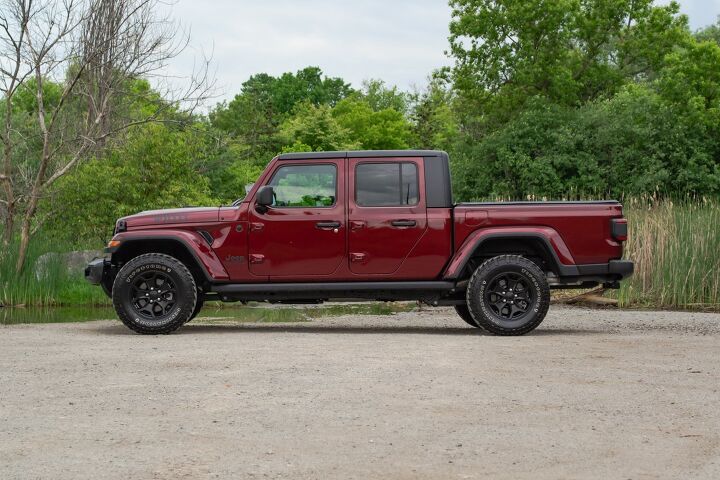 Gladiator: The Jeep's name is appropriate, since every drive comes with the level of din you'd expect of a busy day at the Colosseum. "Jeep is full of noise," reads Schlee's notes, "engine noise, road noise from the super aggressive tires, wind noise, etc." We didn't come into this comparo expecting S-Class levels of refinement of course—from the Gladiator or the Frontier—but the Jeep's constant auditory barrage makes longer trips tiring.
Both of us like the Pentastar V6. While it's down on power (285 horsepower) and torque (260 pound-feet) compared to the Nissan's newer six-pot, the 3.6-liter is urgent in its responses. The excellent eight-speed auto matches forward progress with driver intent well, and it even sounds pretty good ("like, there must be zero sound deadening" chimes Schlee). Of course, the aerodynamic profile of an elephant does slow the Gladiator at highway speeds. Here, it wanders less than the equivalent Wrangler, no doubt thanks to the longer wheelbase.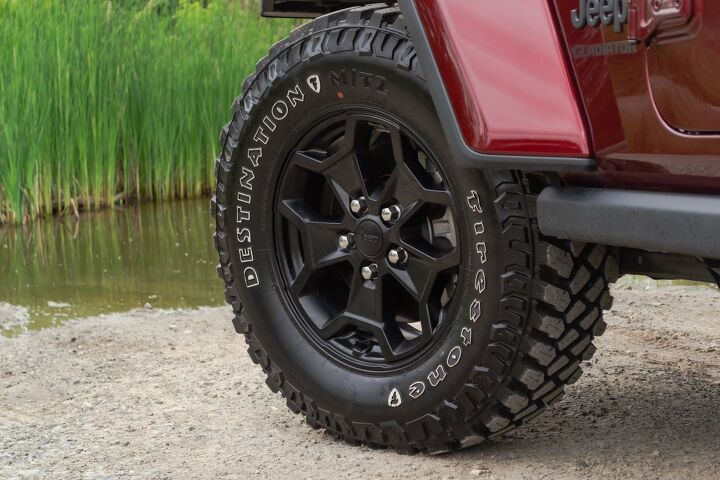 The Gladiator's knobbly Firestones and recirculating-ball steering make for a vague helm, with lots of play around dead-center.
Fuel economy isn't a bright spot, either. Official figures are 17 mpg city and 22 mpg highway, with a combined 19 mpg. (Canadian figures are 13.7, 10.7, and 12.3 L/100 km, respectively.) In practice, the Gladiator was thirstier, scoring closer to its city figure overall.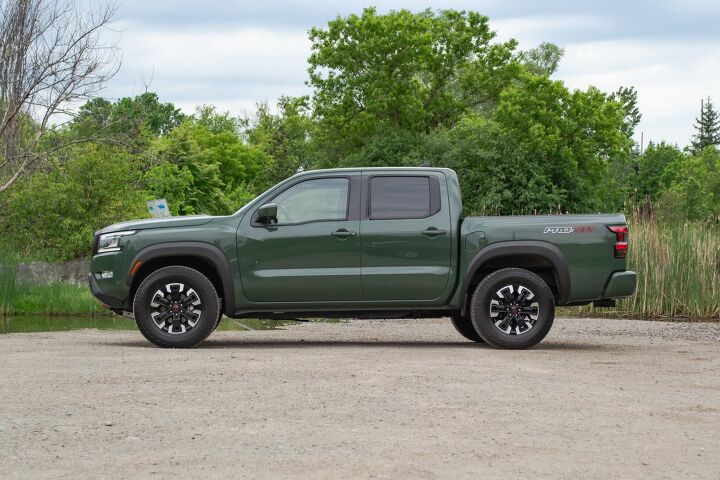 Frontier: Nissan dropped a new 3.8-liter V6 engine into the outgoing Frontier as a taster for this generation, where it's the only propulsion option. It sends its power through a nine-speed auto, with either standard rear-wheel drive or optional four-wheel drive. It's a powerful combo, and a smooth one too, but it doesn't have the eagerness of the Pentastar. That disadvantage disappears as the speedometer climbs upwards, however, with the Nissan's superior aerodynamics nosing it ahead at highway speeds.
The Frontier has some of the heaviest steering we've experienced on the market. Some folks might hate it, but personally, I loved that I had something I could really lean on. Beyond the hefty helm, the Frontier is remarkably civilized on-road, far more than I'd expect of a body-on-frame pickup. It's almost crossover-like, and I mean that in a good way. It tracks true, and it's much, much quieter in every situation than the boisterous Jeep.
Fuel economy figures, officially, are the same as the Jeep. We're talking 17/22/19 mpg (13.7/10.6/12.3 L/100 km), respectively. However, during our week, the Frontier comfortably slid under its competitor, matching its official figures.
Bottom Line: Taking the entire lineup into consideration, the Jeep has the Nissan licked on variety. V6 to V6, the Nissan edges it, with more power and better real-world fuel economy making up for slightly duller responses.
Styling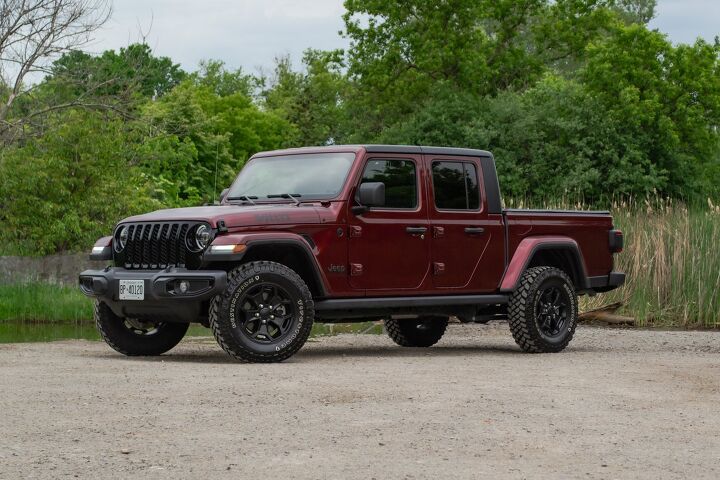 Gladiator: I don't need to describe how a Gladiator looks. We all can picture a Wrangler with our eyes closed—this just adds a bed to the back.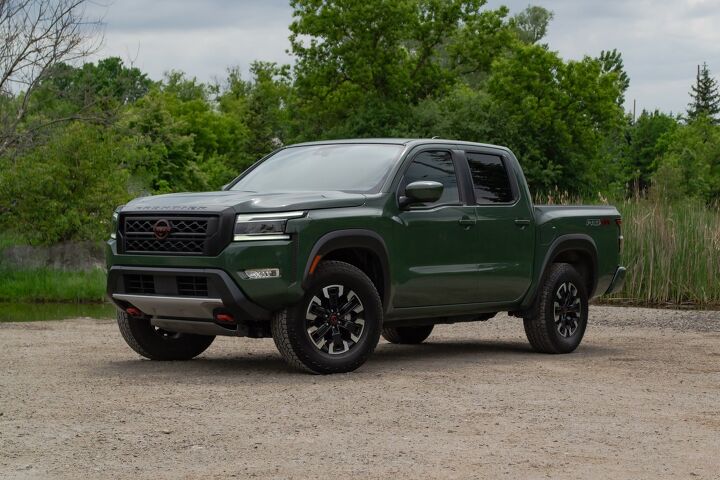 Frontier: Nissan has given the Frontier a thoroughly modern, ruggedly handsome new look for 2022. The clamp-shaped headlights give it a family resemblance to the SUV lineup, with the strong, geometric look extending right back to the tailgate.
Bottom Line: Looks are always subjective, of course, and these two take such different approaches, too. We think the Frontier is arguably the handsomest of the mid-sized pickup set. The Jeep is, well, a Jeep—like Nintendo, it exists beyond the typical back-and-forth.
SEE ALSO:
Jeep Wrangler vs Toyota 4Runner Comparison
Pricing and Value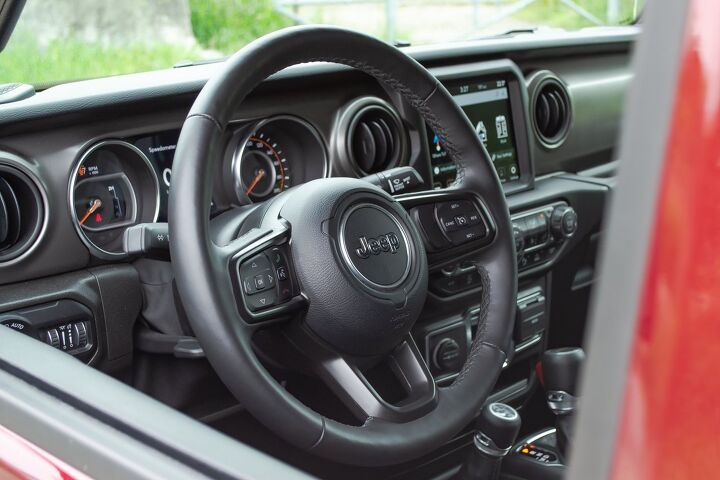 Gladiator: In America, the Gladiator lineup starts at $39,160, while this mid-level Willys trim has a going rate of ($45,060). That's before options, which this one carries a fair amount of, including the automatic transmission ($2,000) Technology Group, upgraded audio/infotainment group ($2,195) cold weather group ($895), active safety ($1,145), upgraded LED lighting ($1,295) and more. There's a hefty dose of Mopar goodness too, including the soft tonneau cover, spray in bedliner, and cold-air intake. Including the destination charges, this particular tester rings in at around $58,000; an exact match doesn't exist for our Canadian-spec tester.
In Canada, the Gladiator is comparatively pricier, coming in at $52,240 CAD to start. The Willys is the next trim up for a few thousand more, yet the long checklist of our tester swells the as-tested price to $68,860 CAD.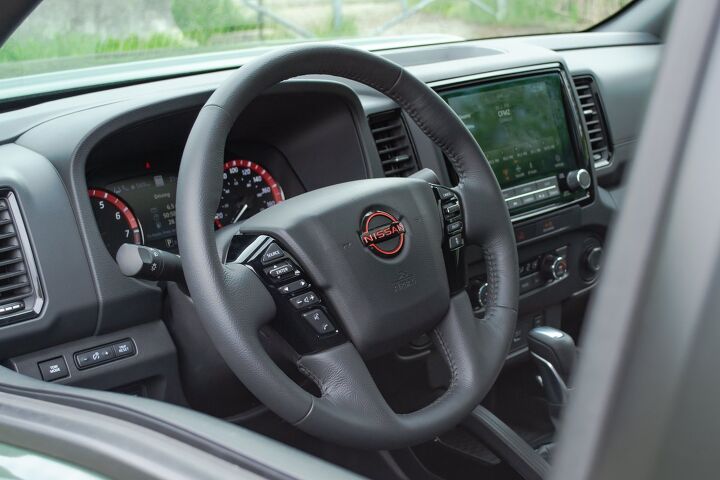 Frontier: The Frontier is a comparative bargain, its stripped-out King Cab S 4×2 trim coming in at $29,985. That trim is effectively a work truck, however. If you want modern niceties, you'll want to an SV, or this loaded Pro-4X; a two-wheel drive Pro-X is also available for this new Frontier generation. Options differ on either side of the border; American buyers can add niceties like a 360-degree camera, upgraded Fender sound system, and heated seats. The latter two features are present on our Can-spec tester, which means the closest equivalent build comes in at $42,790, including the Technology ($990) and Pro-4X Convenience ($1,990) packages.
In Canada, where 4×4 is standard-fit, the Frontier lineup starts at $42,448 CAD. Meanwhile this Crew Cab Pro-4X model is $51,748 CAD all-in, with the only add-ons being the Pro-4X luxury package ($2,000 CAD) and the pearl paint ($300 CAD).
SEE ALSO:
Ford Bronco Sport vs Mazda CX-50: Which Rugged Compact SUV is Right for You?
Bottom Line: The Gladiator is objectively poor value; you're paying a cool tax here. It's a tax many are willing to take on too, judging by sales figures. Even if the Frontier isn't as affordable as it once was, it's the deal of this duo.
Verdict: Jeep Gladiator vs Nissan Frontier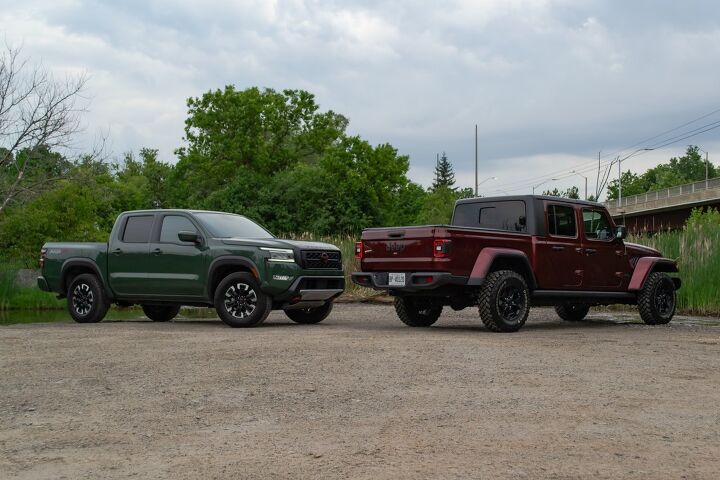 In the end, it's impossible to pick between these two, as they answer two different questions.
"Take the roof off the Jeep on a nice sunny day and all of its short comings wash away," explains Schlee. "The ultimate novelty truck and I appreciate it." We're in agreement there. If doing solid work-truck things is your desire—and you want to save some money—then the Frontier is the easy pick. Always wanted a Wrangler but might occasionally need a bed, or just want that iconic Jeep coolness in a different form factor? Go go Gladiator.
Become an AutoGuide insider. Get the latest from the automotive world first by subscribing to our newsletter here.

Kyle Patrick
Kyle began his automotive obsession before he even started school, courtesy of a remote control Porsche and various LEGO sets. He later studied advertising and graphic design at Humber College, which led him to writing about cars (both real and digital). He is now a proud member of the Automobile Journalists Association of Canada (AJAC), where he was the Journalist of the Year runner-up for 2021.
More by Kyle Patrick
Published June 30th, 2022 5:11 PM
Popular Articles
Latest Comparisons
Car Buying Tools