1.3K Views
Jeep Grand Cherokee Vs GMC Acadia: Which SUV is Right for You?
August 23rd, 2022 5:01 PM
Share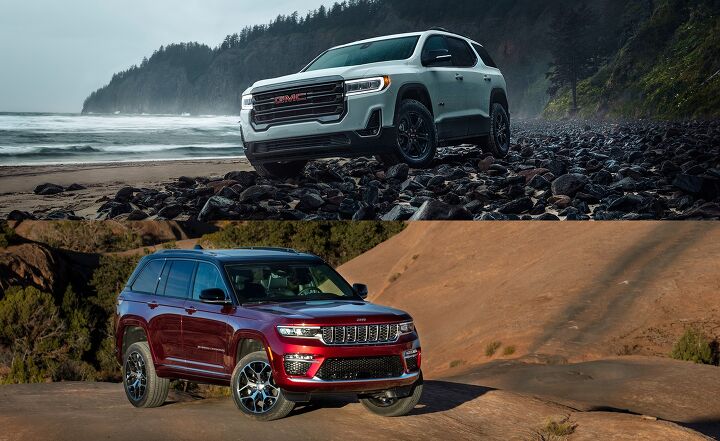 Want a home-grown mid-sized SUV? You've come to the right place. It's the Jeep Grand Cherokee vs GMC Acadia.
The Jeep Grand Cherokee and GMC Acadia are two modern, comfortable offerings that can easily fit a family and a summer vacation's worth of cargo.
The Grand Cherokee saw a whole new generation launch recently, with the three-row Grand Cherokee L arriving first, for 2021, and the staple two-row showing up a year later. It covers a broad swath of the market, from sturdy and unimposing lower trims to super-swanky Summit Reserve.
Get a Quote on a New Jeep Grand Cherokee or GMC Acadia
Not to be outdone, the GMC Acadia can come in the brand's popular Denali trim. This mid-sizer comes in just one length, yet fits three rows of seats like the GCL.
There's a lot of common ground between these two—and a few key differences. We'll detail it all below, to help you find which suits your needs best.
Cabin Space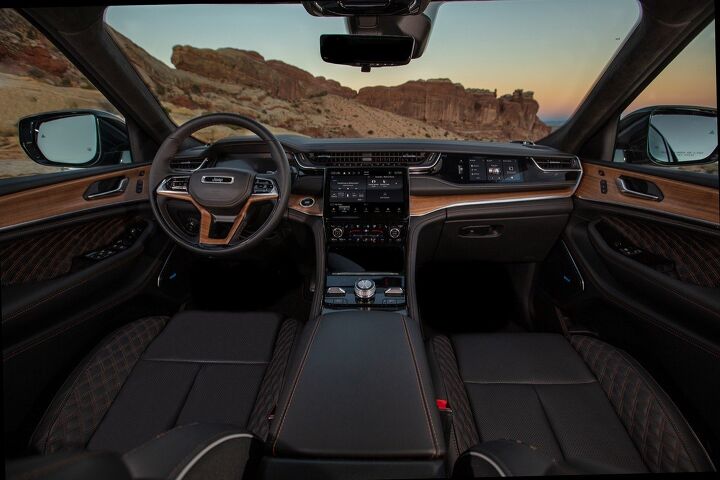 Grand Cherokee: Jeep has given the Grand Cherokee duo a clean, modern cabin design. Horizontal lines emphasize the width of the cabin, as does a chunky center console. Here you'll find the main infotainment screen, as well as a smattering of physical buttons and knurled-aluminum rotary knobs for climate controls. Move up the trim grades and you'll find open-pore wood, diamond-stitched leather, and even another screen for the front passenger. A digital instrument panel sits ahead of the three-spoke steering wheel.
Like most vehicles, the Grand Cherokee added a few inches to its length for this latest generation—especially the L. Front headroom is 39.9 inches (1,013 millimeters) in the regular Grand Cherokee, and a fraction less in the three-row. That drops by half an inch in the back of the two-row, and stays level for the L, which has 37.3 inches (947 mm) of third-row headroom. As for legroom, you're looking at 41.3 in (1,049 mm) up front in both. Second-row riders enjoy 38.2 and 39.4 inches (970 and 1,001 mm) in the GC and GCL, respectively. Third-row legroom in the L measures 30.3 in (770 mm).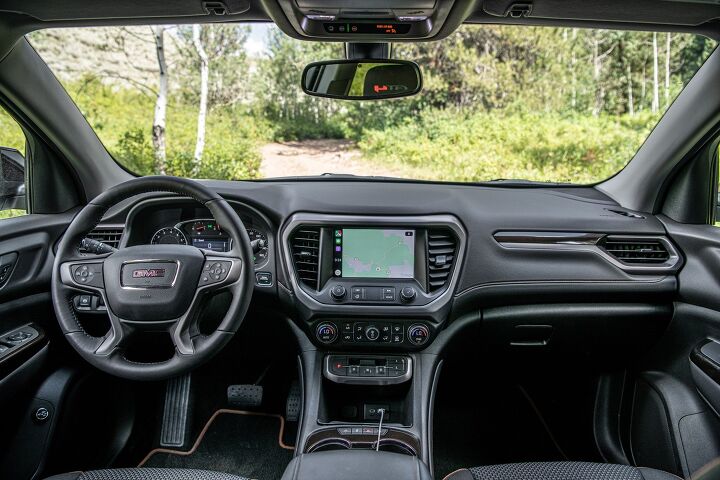 Acadia: The Acadia last saw a refresh a few years ago. Its interior is more old-school than the modern Grand Cherokee, with major design elements blistering out from the plastic dashboard.
While the Acadia is almost identical in length to the two-row Grand Cherokee, it offers nearly as much interior space as the three-row. Front-row passengers enjoy 40.0 inches (1,016 mm) of headroom, and 41.0 inches (1,041 mm) of legroom. Moving to the second row shaves a wee bit off both measures, at 39.6 and 39.7 inches (1,006 and 1,008 mm), respectively—more than the GCL. In the way-back, riders will find 37.2 inches (945 mm) and just 29.7 inches (754 mm) of legroom.
SEE ALSO:
Kia Telluride vs Subaru Ascent Comparison
Bottom Line: The Acadia's front-drive-based platform affords it more interior space than the rear-biased Grand Cherokee. Even the L only slightly shades the Acadia's sheer volume. If it's a question of which is the nicer space to spend time, however, it's no contest: Jeep.
Cargo Space and Towing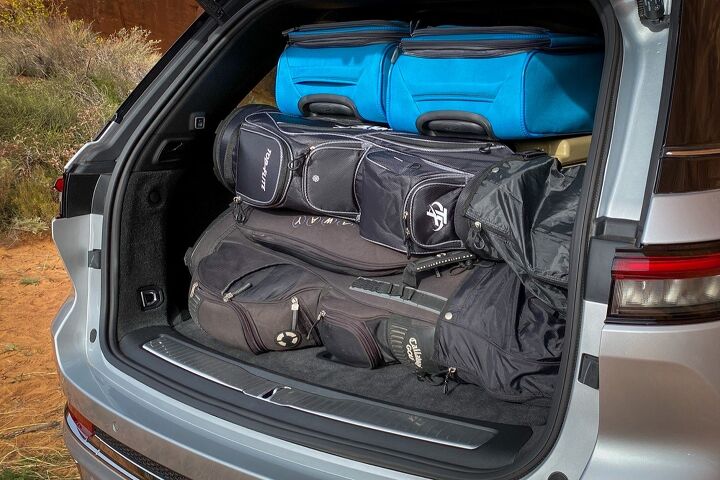 Grand Cherokee: Buyers will find 37.7 cubic feet (1,068 liters) of space behind the Grand Cherokee's second row, which expands up to 70.8 cubes (2,005 L) in two-seat mode. Meanwhile, the Grand Cherokee L will swallow 17.2 cu-ft (487 L) behind its third row, 46.9 cu-ft (1,328 L) behind its second, and 84.6 cu-ft (2,395 L) behind the front row.
Tow ratings depend on the drivetrain. V6 models will tow 6,200 pounds (2,812 kg), V8s up to 7,200 lb (3,266 kg), and the plug-in hybrid up to 6,000 lb (2,722 kg).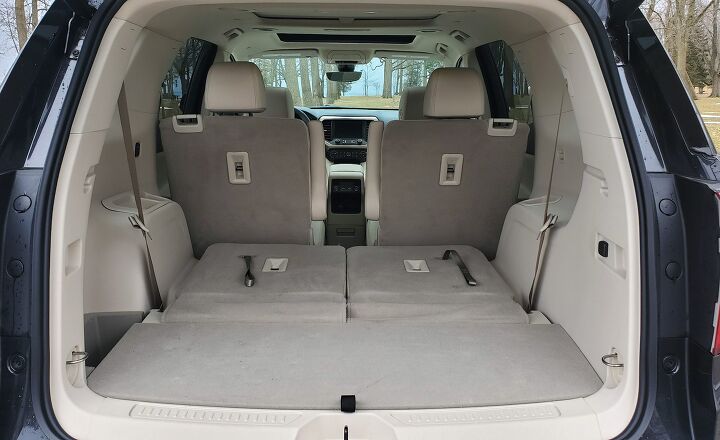 Acadia: With all three rows of its seats in the upright position, the Acadia's cargo space holds just 12.8 cu-ft (362 L) of stuff. Drop the 50/50-folding third row flat for 41.7 cubes (1,181 L), or the second-row seats for a full 79.0 cu-ft (2,237 L).
Front-drive, four-cylinder Acadias are rated to a maximum towing capacity of 3,300 lb (1,497 kg). Adding AWD bumps that slightly, to 3,500 lb (1,588 kg). V6-powered models are rated to 4,000 lb (1,814 kg) regardless of the number of driven wheels.
Bottom Line: There's no contest here; the Jeep outpoints the Acadia in equivalent three-row form in terms of cargo space. As for towing, even the lowest-rated Jeep is rated to tow 50-percent more than the top-rated Acadia.
Technology and Features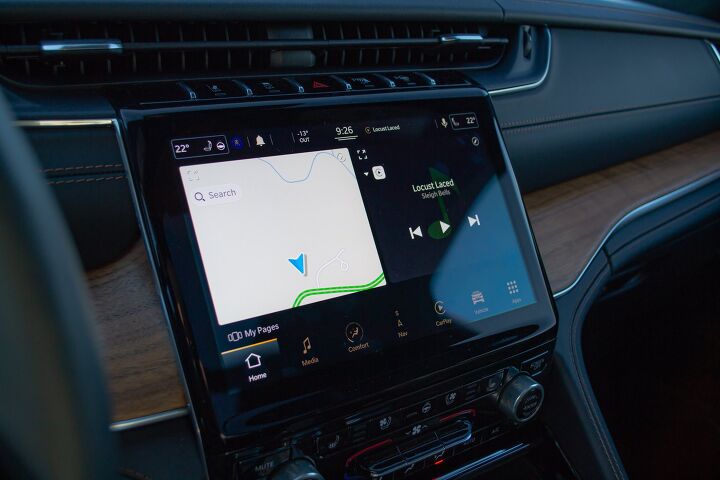 Grand Cherokee: No matter which trim (or length) of Grand Cherokee buyers find themselves in, Jeep's swell Uconnect 5 infotainment system is standard. Lower trims use an 8.4-inch screen, while a larger 10.1-inch unit is available. Wireless Apple CarPlay and Android Auto are standard on both, as well as built-in Amazon Alexa. Users can save multiple profiles and reorganize menus as they see fit. Also standard are six USB ports and a 10.25-inch digital instrument cluster.
With so many trims available, the Grand Cherokee has a whole bunch of funky tech on offer. Depending on trim and options packages, buyers will find things like a head-up display, wireless charger, 19-speaker McIntosh sound system, night vision, front-passenger entertainment screen, and digital rearview mirror. An available air suspension also provides a smoother ride and, in the case of the Trailhawk, additional ride height.
Acadia: The Acadia uses GM's tried-and-true Infotainment 3 system. It's neither flashy nor big (8.0-inches is the maximum), but it's super-easy to understand and operate. Like the Jeep, it also features wireless phone mirroring.
The Acadia plays in a lower price bracket—yes, even the Denali—but that doesn't preclude it from such tech goodies as an available head-up display, 360-degree camera, 8.0-inch driver info screen, and Bose sound system. OnStar is naturally standard, as is the helpful Teen Driver mode.
SEE ALSO:
2020 Honda CR-V Hybrid First Drive Review
Bottom Line: In Jeep's shift further up-market, the newer Grand Cherokee simply offers more techy toys than the Acadia. Even beyond those optionals, the infotainment experience is smoother in the Jeep.
Jeep Grand Cherokee vs GMC Acadia: Powertrains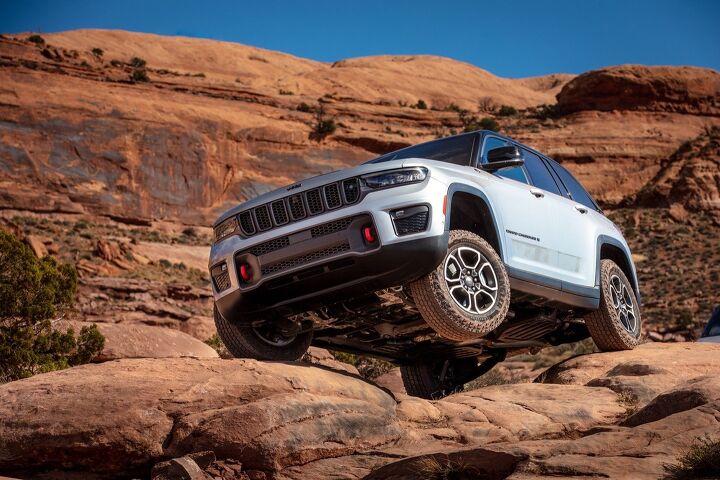 Grand Cherokee: A 3.6-liter V6 engine is standard in both lengths of Grand Cherokee. The Pentastar produces 293 horsepower and 257 pound-feet of torque, and hooks up to an eight-speed automatic transmission. Jeep offers three different 4WD systems, depending on trim. American buyers have the option to forego it for rear-wheel drive; Canadians are locked into 4×4.
There's an optional 5.7-liter V8, which isn't much quicker at 357 hp and 390 lb-ft of torque, but produces a mean growl and tows more. It features cylinder deactivation tech to run on just half capacity when full power isn't necessary. There's also a plug-in hybrid 4xe model, available only on the two-row Grand Cherokee for now. There you'll find a 2.0-liter turbocharged four-cylinder paired to two electric motors. Total outputs are 375 hp and 470 lb-ft of torque. Both the PHEV and V8 are 4WD-only.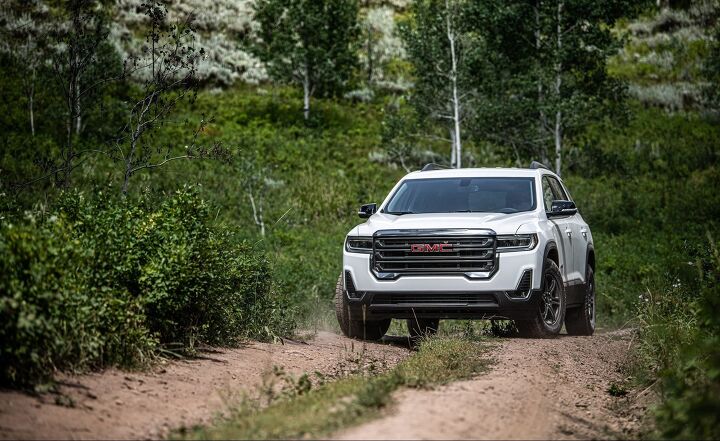 Acadia: The Acadia's drivetrain lineup is similar to the Grand Cherokee's, just minus a V8. A 2.0-liter turbocharged four-cylinder is standard, though it doesn't hook up to any sort of plug-in setup. It sends its 228 horsepower and 258 lb-ft through a nine-speed automatic transmission. Front-wheel drive is standard, with AWD optional.
Every model other than the base trim is also available with the 3.6-liter V6. This one bumps the important figures up to 310 hp and 271 lb-ft, and retains the nine-speed auto. AWD remains optional. The off-road-oriented AT4 trim locks buyers into the V6 and AWD combo.
Bottom Line: The V6s are the sweet spots of both ranges. The Jeep's available PHEV option does nudge it ahead in our books, though.
Fuel Economy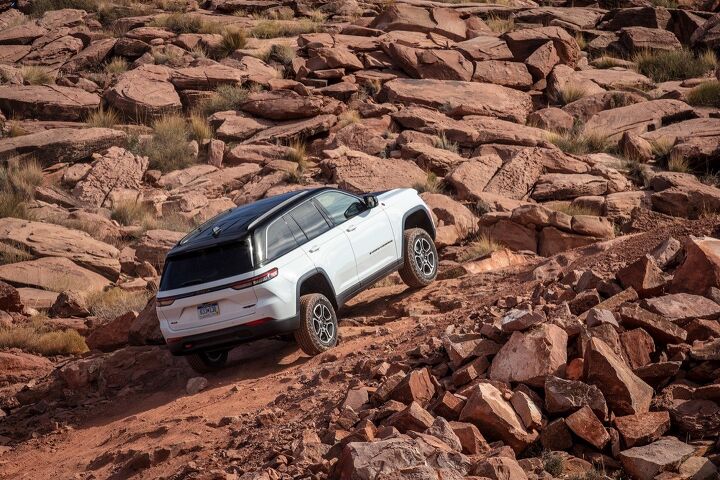 Grand Cherokee: Both the two- and four-wheel drive V6 Grand Cherokees post the same 19 mpg city, 26 mpg highway, and 22 mpg combined figures with the EPA. Dropping in the V8 drops those numbers to 14, 22, and 17 mpg, respectively. The extra cylinders also demand the richer 91-octane drink, too. Opting for the larger, heavier Grand Cherokee L naturally adds an additional penalty at the pumps.
The Grand Cherokee 4xe naturally does better. It has a quoted all-electric range of 25 miles (40 km), and a 56 mpg-equivalent rating. Even in pure-gas form it'll average 23 mpg. Note that its smaller tank gives it a cruising range of 470 miles (756 km), versus 506 (814 km) for the V6.
Canadian figures are 12.3, 9.2, and 10.9 L/100 km, respectively, for the two-row V6 model (4WD standard), and 16.7/10.9/14.1 L/100 km for the V8. The Grand Cherokee 4xe scores a 4.2 Le/100 km rating, with its gas-only scores sitting at 10.3, 9.7, and 10.0 L/100 km.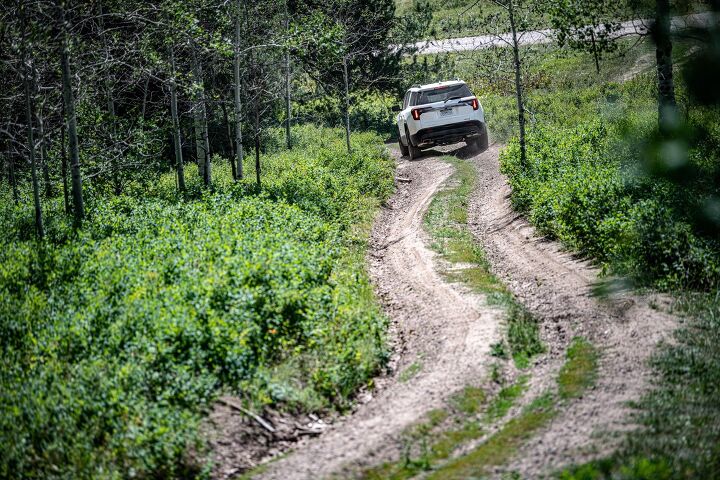 Acadia: With the four-cylinder and front-wheel drive, the Acadia will post an acceptable 25 mpg combined rating, split between 22 mpg city and 29 mpg highway. Check the box for AWD and the highway figure drops by 2 mpg, resulting in a 24 mpg combined figure. The V6 model is naturally thirstier, posting 19 mpg city and 27 mpg highway for 22 mpg combined in FWD form; AWD models score 19, 26, and 21 mpg, respectively.
Canadian figures are 10.6 L/100 km city, 8.0 L/100 km highway, and 9.4 L/100 km combined for the 2.0-liter FWD model. Remaining figures are 10.8/8.7/9.9 L/100 (2.0L AWD), 12.3/8.8/10.7 L/100 km (3.6L FWD), and 12.6/9.2/11.0 L/100 km (3.6L AWD).
Bottom Line: If you're looking for the most fuel-efficient model, then it's the Jeep Grand Cherokee 4xe. Don't want to deal with a plug-in? Then the Acadia 2.0L is the winner. The sweet spot V6 AWD models are essentially identical here.
Jeep Grand Cherokee vs GMC Acadia: Safety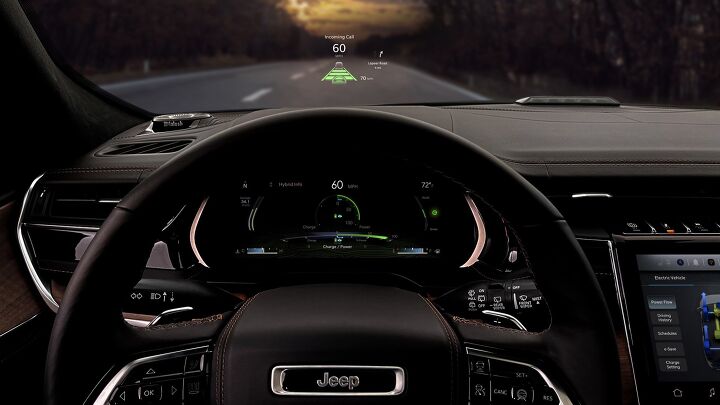 Grand Cherokee: Every Jeep Grand Cherokee includes automated emergency braking (with pedestrian and cyclist detection), rear cross-traffic alert, auto high beams, lane departure warning, lane keep assist, blind spot monitoring, trailer sway control, rear parking sensors, and adaptive cruise control with stop-and-go. Optional assists on top of that, depending on trim, can include parking assist, traffic sign recognition, 360-degree camera, intersection collision avoidance, night vision, and more.
The current GC and GCL had not been rated by the National Highway Traffic Safety Administration (NHTSA) nor Insurance Institute for Highway Safety (IIHS). The outgoing model scored a five-star rating from the former, but missed a Top Safety Pick rating from the latter.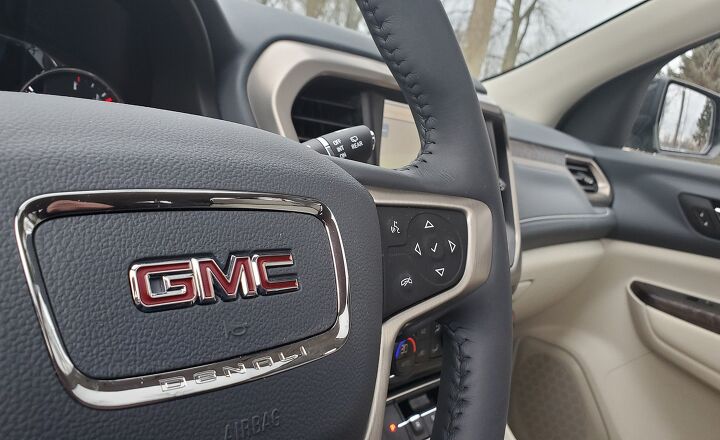 Acadia: Every Acadia includes a robust suite of driver assists. The full lineup includes automated emergency braking, auto headlights, lane-keep assist, lane departure warning, following distance indicator, blind spot monitoring with lane change alert, and rear cross-traffic alert.
The NHTSA last tested the Acadia in 2020, when it received a facelift. It scored a five-star overall rating. The IIHS did not give GMC's mid-sizer a Top Safety Pick designation.
SEE ALSO:
Kia Telluride vs Subaru Ascent Comparison
Bottom Line: Both of these family haulers fit a whole bunch of useful assists across the range. The Jeep edges ahead with standard adaptive cruise control; you'll need to move all the way to Denali to even open up the option in the Acadia.
Styling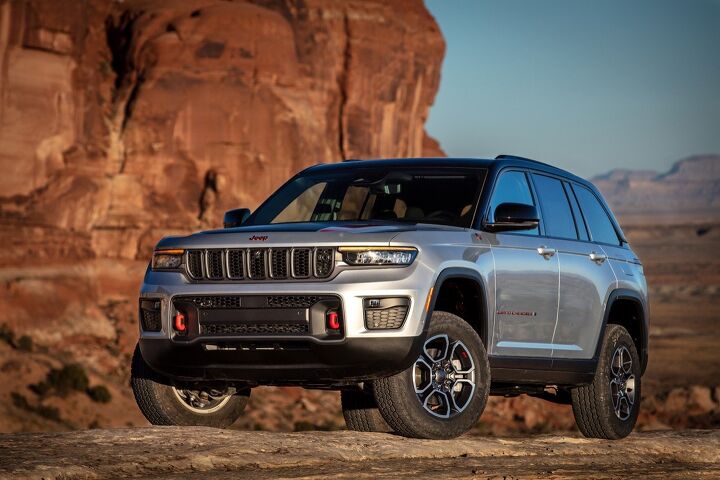 Grand Cherokee: Not much has changed with this latest generation of Grand Cherokee. It's a little squintier up front, with wider headlights emphasizing the width. An optional contrast roof picks up on a modern trend, but really, you'll clock the GC from a mile away thanks to that seven-slot grille. Trim choice plays a big role, too: the Trailhawk looks ready for, well, the trail, with chunky sidewalls and a glare-resistant hood graphic; yet the Summit Reserve is a genuine luxury cruiser.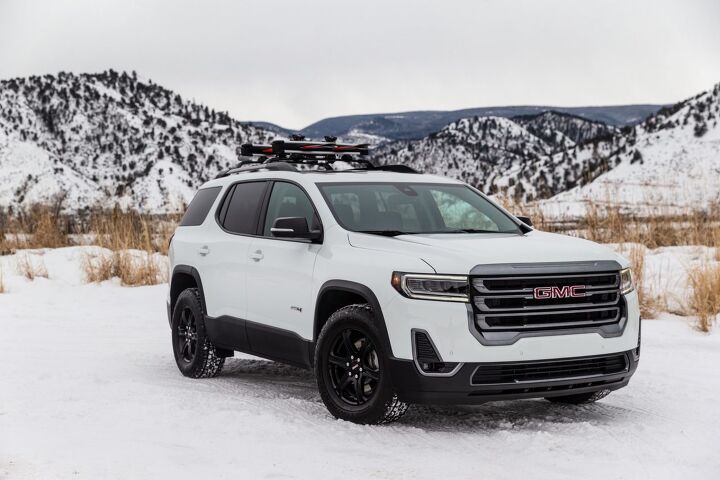 Acadia: The Acadia carries the familiar squared-off GMC look pretty well. A cleaner headlight design makes for a more assertive, SUV-like front-end than the pre-facelift model, especially with the available darker grille. The wraparound glass behind the C-pillars marks it out on the road, too. Go for the AT4 for an adventurous look; if it's bling you're after, the Denali's where it's at.
SEE ALSO:
Subaru Forester vs Nissan Rogue: Which Compact Crossover is Right for You?
Bottom Line: There's only so many ways we can write "tastes are subjective." You do you!
Pricing and Value
Grand Cherokee: Getting into a base-model Grand Cherokee Laredo will run you $40,120. From there, the trim walk consists of the Altitude ($45,225), Limited ($46,845), Overland ($56,430), Summit ($60,490), and Summit Reserve ($66,790). Adding 4WD is an extra $2,000, except on the Summit Reserve, where it's standard. Moving to the three-row Grand Cherokee L is also a two-grand upcharge.
The Trailhawk is a unique proposition, slotting right into the middle at $56,425. It's available only as a two-row, and only with full-time 4×4. The V8 becomes available here and up, where it'll set buyers back $3,795.
SEE ALSO:
Toyota RAV4 vs Honda CR-V: Which Crossover Is Right For You?
The Grand Cherokee 4xe slots in at $59,890, before covering the Trailhawk ($64,675) through Summit Reserve ($76,490) trims.
In Canada, the Grand Cherokee comes standard with 4WD, partially explaining the $54,740 CAD sticker for the Laredo. The walk is the same here, including Altitude ($58,740 CAD), Limited ($62,240 CAD), Trailhawk ($66,840 CAD), Overland ($71,240 CAD), Summit ($76,740 CAD), and Summit Reserve ($81,535 CAD). Grand Cherokee 4xe pricing ranges from $77,390 CAD to $91,490 CAD.
Acadia: For 2022, GMC has dropped the SL trim, making the Acadia SLE the most affordable rung of the ladder, at $36,195 including destination. The mid-grade SLT rings in at $41,890, then the Denali pops up at $48,845. Adding AWD is an extra $2,000, or $2,300 on the SLE. The SLT and Denali can be upgraded to the V6 for a small $545 fee. Meanwhile, the AT4 sticks to AWD and V6 power only, priced from $44,190, $145 less than the equivalent SLT AWD V6.
In Canada, GMC has limited the Acadia to AWD only, simplifying the lineup for 2022. Thus, the lineup starts at $42,248 CAD for the SLE with the 2.0-liter engine. From there you'll find the $48,598 CAD SLT, $50,598 CAD AT4, and $55,653 CAD Denali. Upgrading to the V6 on the applicable trims is the same $545 CAD surcharge.
Bottom Line: No doubt the Acadia is the more affordable buy, especially in Canada. The Grand Cherokee covers a broader range of prices, and crucially, it feels worth the price at the high end.
Jeep Grand Cherokee vs GMC Acadia: In Conclusion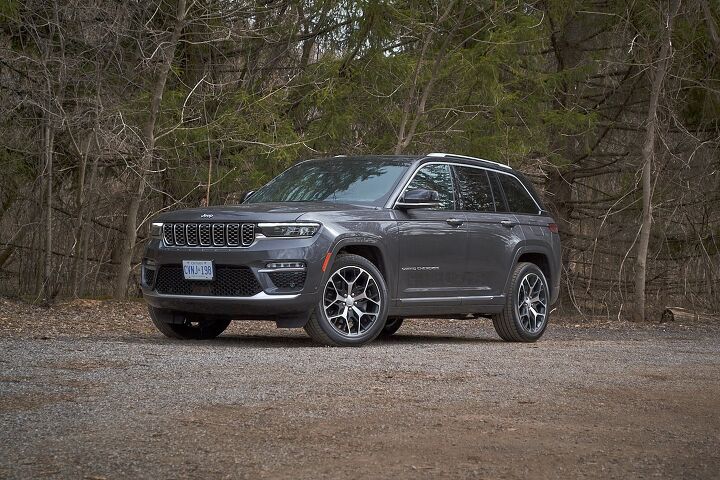 In head-to-head comparison of the Jeep Grand Cherokee vs GMC Acadia, both of these family haulers offer compelling packages. The GMC Acadia can't match the shiny newness of the Jeep's interior, but it's an affordable and spacious mid-sizer. The Grand Cherokee is a richer proposition, but by being so, is a legitimate domestic challenge to the German luxury mainstays. Its rear-drive-based architecture allows it to tow more, too.
Be honest with yourself about your needs and wants, and be sure to test drive both.
Become an AutoGuide insider. Get the latest from the automotive world first by subscribing to our newsletter here.
Published August 23rd, 2022 4:53 PM
Popular Articles
Latest Comparisons
Car Buying Tools