3.4K Views
Toyota Corolla Cross Vs Mazda CX-30: Which Small SUV Is Right For You?
October 27th, 2022 1:46 PM
Share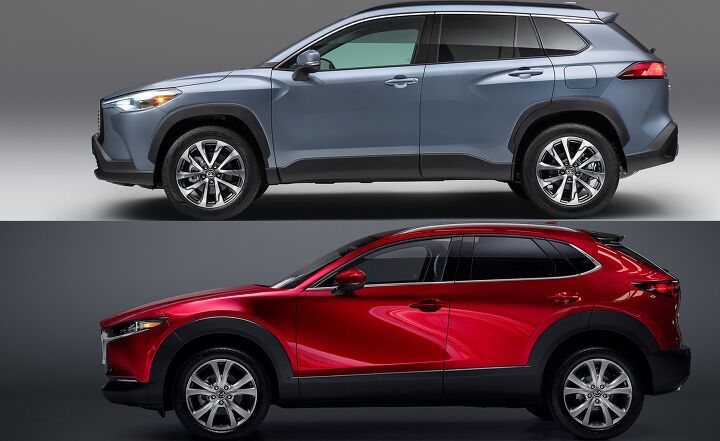 It's the era of the utility vehicle, and the market for small SUVs seems to be particularly hot right now as more and more North American new car buyers move away from sedans.
There appears to be almost a never-ending stream of brand new or completely redesigned models arriving all the time, and in the midst of all this, Toyota has just brought out the Corolla Cross. Slotting below the ever-popular RAV4 in the lineup, the Toyota Corolla Cross is a budget-conscious compact crossover with a solid powertrain, excellent fuel economy, and plenty of thoughtful standard equipment.
Get a Quote on a New Toyota Corolla Cross or Mazda CX-30
The size and price point make the Corolla Cross a practical competitor to the likes of the Mazda CX-30 – Mazda's current semi-premium small compact SUV in the North American market. But how do the two really compare? Is the CX-30's extra horsepower and stunning good looks enough to steal the Corolla Cross's thunder? Or is the Toyota such a thoughtful, efficient family hauler that it stands on its own? It's the Toyota Corolla Cross vs Mazda CX-30.
Styling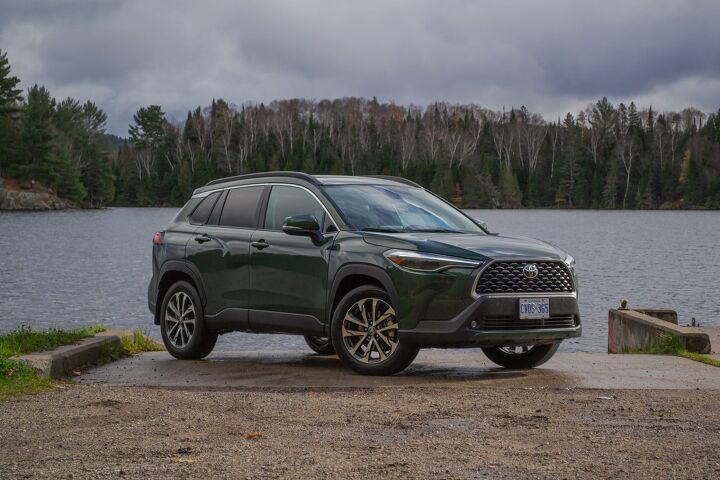 Toyota Corolla Cross: The Toyota Corolla Cross is a pleasant-looking vehicle. While it does bear some resemblance to the Corolla sedan from which it borrows its name, it more readily smacks of RAV4. With similar proportions, a similarly angry scowl, and the same angular arch shape along the bottom of the side profile formed by the black plastic rocker body panels. Arguably, it looks tougher than it has any right to, what with a continuously variable transmission and a humble 2.0L under the hood.
Inside, the dash is clean and simple, with most of the action located up high so the driver needn't pull their gaze too far off the road to find anything. But outside of the dash, there's nothing that leaves an impression, and unfortunately, like most Toyotas, it wears its thriftiness on its sleeve; the materials look predictably plain and inexpensive.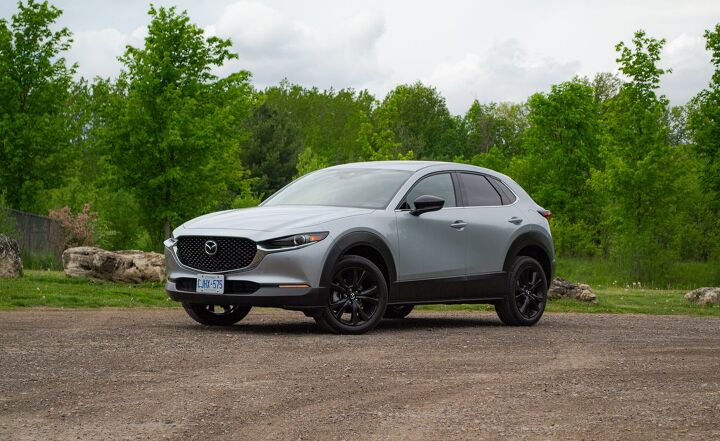 Mazda CX-30: Mazda's uncanny ability to manufacture vehicles that look about twice as expensive as they cost is almost a magic trick. This is facilitated by perhaps the best-curated, most tasteful paint palette in the industry. And the vehicle's proportions somehow mask the front-wheel-drive basis of their AWD offerings. The whole Mazda lineup at the present is, in our opinion, crisp, clean, and upscale-looking, and the CX-30 is no exception.
The story of a premium look at an un-premium price continues into the cabin. It's all swoops and gentle curves, with an elegantly minimalistic, slender dash. If we have one gripe, it's the center console, which looks clumsy by comparison.
Bottom Line: Beauty is in the eye of the beholder; far be it from us to try and force our opinions on you when it comes to the aesthetic merits of two small crossover models. But for what it's worth, we think the Mazda CX-30 is the clear winner here when it comes to styling.
Toyota Corolla Cross vs Mazda CX-30: Powertrain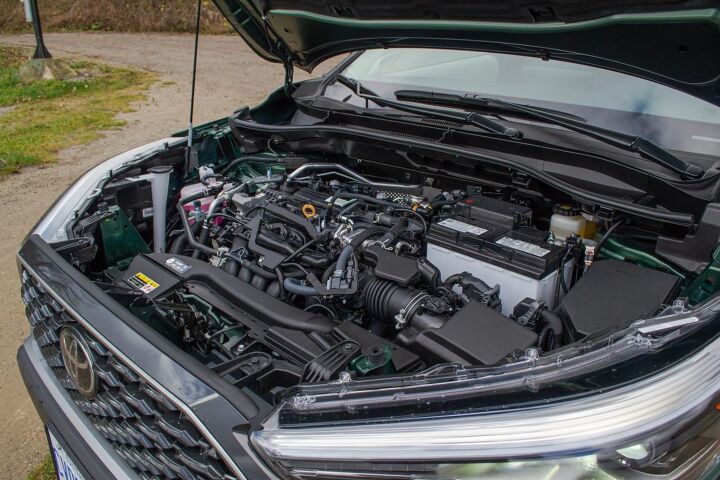 Toyota Corolla Cross: Toyota has a stellar track record when it comes to engines, and the 2.0-liter inline four-cylinder that powers the new Corolla Cross is a peach. It produces up to 169 horsepower with 151 lb-ft of torque, which is adequate for such a small vehicle. Thrust is sent to the front wheels by default, through a continuously variable transmission (CVT) with shift mode, and all-wheel drive is available on every trim level.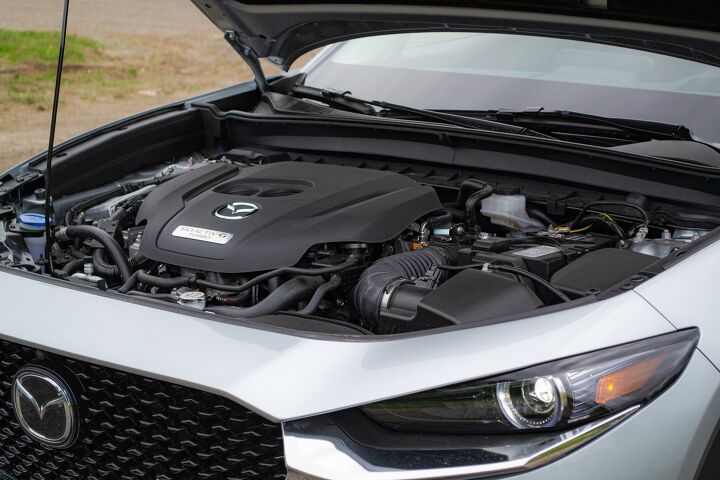 Mazda CX-30: A bit of a standout in its segment, the Mazda CX-30 offers a choice of two different engines. First, a naturally aspirated 2.5-liter four-cylinder, good for a respectable 186 horsepower and 186 lb-ft of torque. Optional is a turbocharged 2.5-liter four-pot, rated at up to 227 horsepower on 87-octane gasoline or 250 on 93-octane. Torque for the latter motor is advertised at 310 or 320 lb-ft, depending on which fuel you use. No matter the engine, you get standard all-wheel drive with Mazda's Off-Road Traction Assist, and torque is handled through a six-speed automatic transmission – not the most sophisticated gearbox by today's standards, but it handles shifting duty quite nicely.
Bottom Line: If you're looking for a budget-friendly family hauler that can meet your need for speed, the Mazda is your vehicle. The standard 2.5-liter's 186 horsepower is nice – 227 from a turbocharged four-cylinder is even better, and it's something that few if any of the CX-30's direct competitors can touch. Moreover, Mazda's decision to make AWD standard across the lineup means that buyers don't have to pay extra to get the better drivetrain configuration, and when it comes to driving enjoyment and longevity, we'll take a conventional automatic over a CVT any day of the week.
Fuel Economy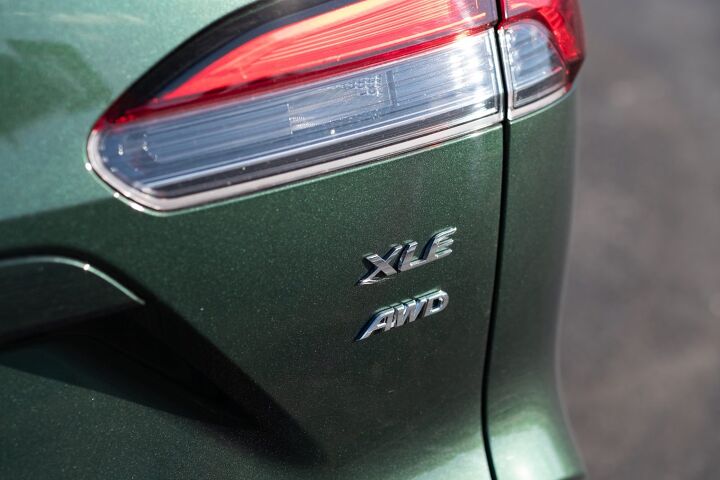 Toyota Corolla Cross: The Corolla Cross's powertrain seems a whole lot more appealing once fuel economy is taken into account. Toyota's newest compact SUV manages to post 32 miles per gallon on the combined cycle in front-wheel-drive guise, from 31 mpg city and 33 highway. All-wheel drive brings those numbers down to 29 mpg city, 32 highway, and 30 combined – still very respectable figures.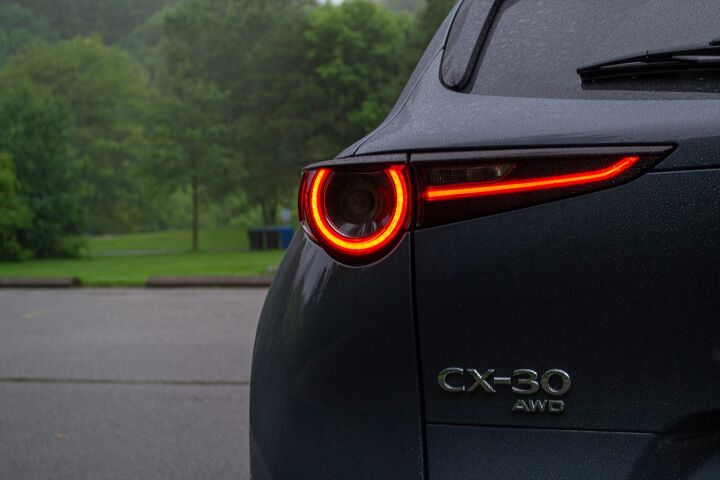 Mazda CX-30: Despite the magic of Mazda's high-compression Skyactiv-G engines, efficiency isn't necessarily the CX-30's strong suit. The small SUV delivers just 26 mpg with the naturally aspirated 2.5L, with 24 mpg in the city and 31 on the highway. Step up to the turbocharged variant and you get just 25 mpg combined, from 22 city and 30 highway.
Bottom Line: We wouldn't necessarily call the Mazda CX-30's fuel economy "bad," but it's certainly lackluster next to the much more efficient Toyota Corolla Cross, which manages 30 mpg combined even with AWD equipped. Granted, real-world fuel economy will always differ from the EPA-estimated numbers, and a case could be made that with 186 horsepower on tap, drivers won't have to work the 2.5L four-cylinder quite as hard as they might have to work the Toyota's less-potent 2.0-liter. But if we're honest, six forward gear ratios simply isn't enough for an automatic these days, and CVTs, while off-putting to some, are remarkably efficient.
Toyota Corolla Cross vs Mazda CX-30: Technology and Features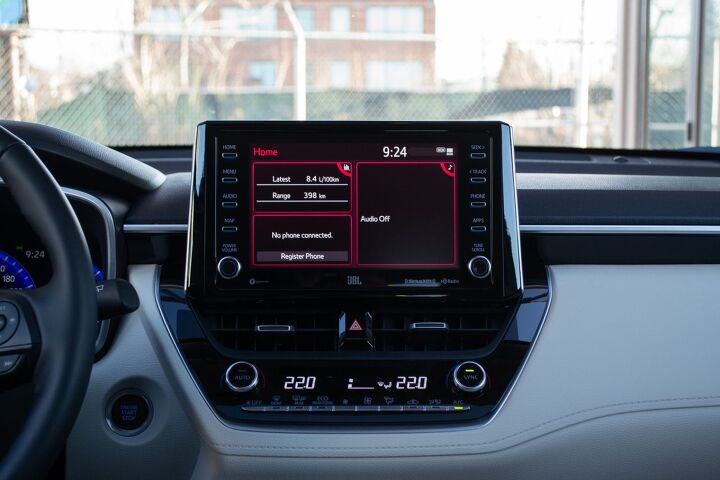 Toyota Corolla Cross: Toyota didn't skimp on the Corolla Cross's infotainment system; even entry-level models pack a 7.0-inch LCD touchscreen with Apple CarPlay and Android Auto compatibility, and the LE and XLE both have high-definition 8.0-inch screens with an available premium audio package that features a discrete amplifier and nine JBL speakers, including a subwoofer.
SEE ALSO:
Toyota Corolla Cross vs Subaru Crosstrek Comparison: Crossfight
Arguably more impactful is the standard Toyota Safety Sense 2.0 suite of advanced driver assistance systems, which bundles together pre-collision alert with pedestrian detection, lane-keep assist, steering assist, automatic high beams, and distance-pacing cruise control with road sign detection. On far too many competing vehicle models, such features are only available on the higher trim levels. Blind-spot monitoring and rear cross-traffic alert are standard on the mid-tier LE and the range-topping XLE.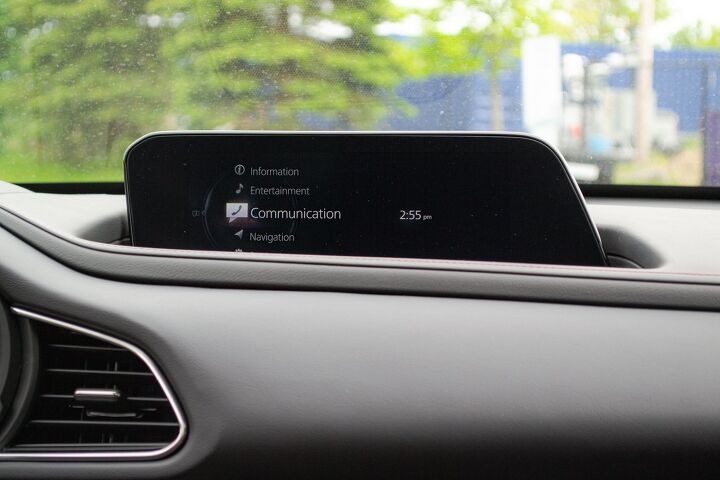 Mazda CX-30: In the CX-30, the standard audio package features eight speakers and an infotainment system anchored by an 8.8-inch screen, voice control, and Android Auto/Apple CarPlay compatibility. Even in the "basic" 2.5 S, you get HD radio compatibility and a 3-year trial to Mazda Connected Services. The premium audio system boasts a total of twelve Bose speakers. None too shabby for an affordable subcompact crossover.
What's more, LED lighting abounds in the CX-30, and every model from the base 2.5 S to the 2.5 Turbo Premium Plus features distance-pacing cruise control with stop-and-go. Incidentally, every trim save for the entry-level 2.5 S also gets keyless entry and blind-spot monitoring with rear cross-traffic alert, and a power liftgate with programmable height adjustment comes standard on nearly half of the lineup. Other standard features include driver attention alert, lane-keep assist, frontal collision mitigation, and an anti-theft system with engine immobilizer.
Bottom Line: While both the Toyota Corolla Cross and the Mazda CX-30 are very well-equipped for their respective price points, we can't help but feel the Mazda comes out on top in the technology and features category. The audio system is just that much more impressive, the infotainment screen just that much bigger, and as in the Toyota, there are plenty of advanced driver assistance features even in the base model.
And if you're on the fence about which is better from a tech and features perspective, just remember: the CX-30 features standard AWD. That's a huge selling point right there.
Safety
Toyota Corolla Cross: Apart from the driver assistance features listed above, the 2022 Toyota Corolla Cross deserves some appreciation for occupant safety on account of its IIHS Top Safety Pick Plus status. The compact SUV earned top marks in all categories of crashworthiness, and received top honors for its frontal crash mitigation system and headlight effectiveness, although that last one is trim-dependent.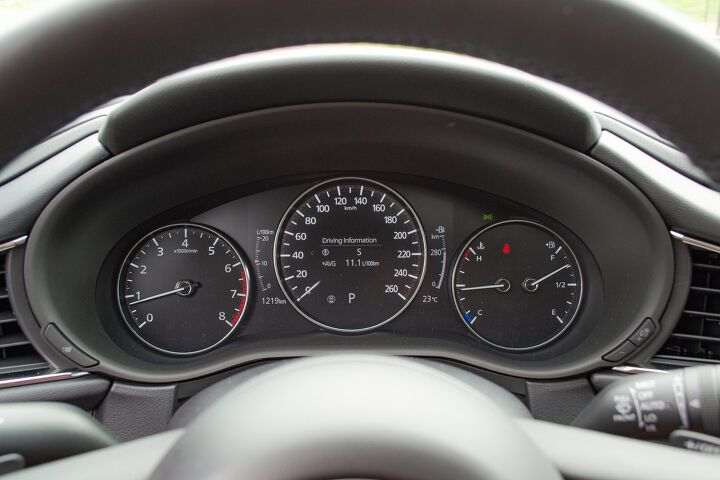 Mazda CX-30: As good as the Toyota Corolla Cross is in the safety department, the Mazda CX-30 is just a tiny bit better. It, too, has earned an IIHS Top Safety Pick Plus nod for the 2022 model year, earning top marks in crashworthiness and frontal collision mitigation. But unlike with the Corolla Cross, the Mazda's headlights have earned the highest possible rating across all trim levels.
Bottom Line: No matter which small SUV you opt for, you're probably going to be safe on the road. Both are about as crashworthy as they come, with plenty of airbags and advanced safety structures that are able to pass SORB – the small overlap rigid-barrier frontal crash test – without batting an eye. This one's a wash.
Cabin Space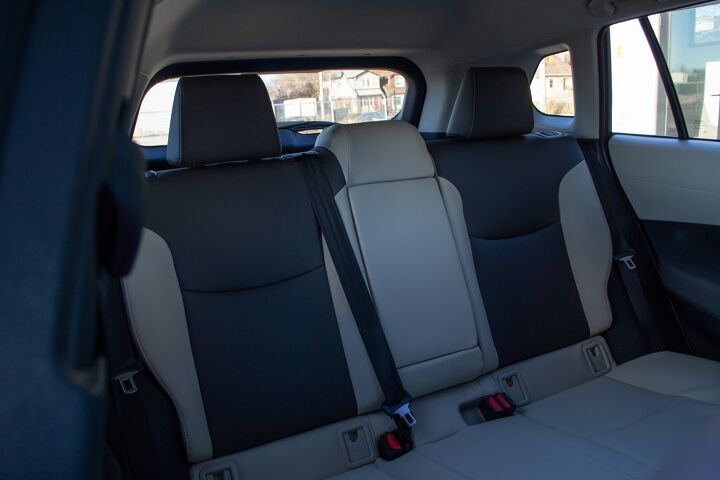 Toyota Corolla Cross: The Toyota Corolla Cross has ample space for driver and front seat passenger, with up to 39.5 inches of headroom in the front row on sunroof-equipped examples and a very comfy 42.9 inches of legroom. Things can get a bit more cramped in the second row, though. Legroom for second-row occupants is limited to just 32 inches, and hip room is advertised as a very meager 43.8 inches. It's not that you can't carry a vehicle full of full-grown adults; it's just that you probably won't want to for a very long distance.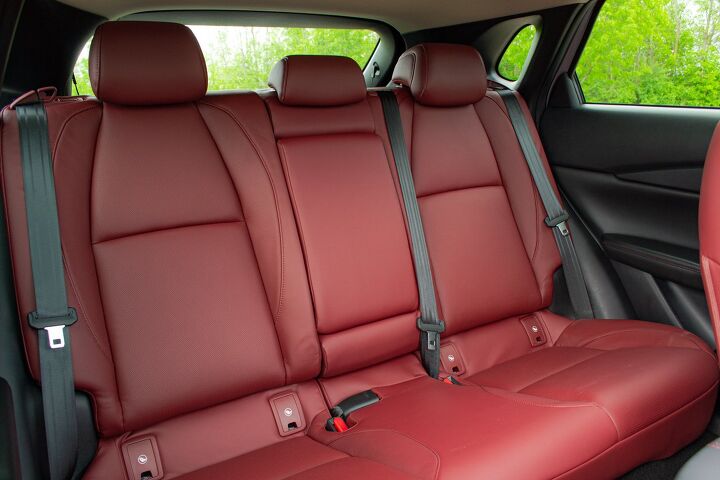 Mazda CX-30: The Mazda CX-30 is plenty comfortable for such a small vehicle, in most respects. Passengers receive roughly 38 inches of headroom front and rear, more than 50 inches of shoulder room, and plentiful hip room, even in the second row. Legroom is an ample 41.7 inches up front, with a more modest 36.3 inches in the second row – less cramped than in the Toyota, but still maybe a bit tight for full-grown adults on longer trips. In all, the Mazda CX-30 affords occupants 94.1 cubic feet of passenger volume – about the same amount of space as in the Toyota, yet it feels more spacious.
Bottom Line: The Mazda CX-30 is, by a rather narrow margin, the more comfortable, accommodating vehicle, with a second row that offers enough legroom and hip room for full-grown adults. Of course, if it's typically only children that you relegate to your back seat, the Toyota's cramped second-row quarters won't necessarily be of any concern. Still, that the subcompact Mazda manages to offer a more spacious-feeling passenger space than the larger Corolla Cross is worth noting.
Cargo Capacity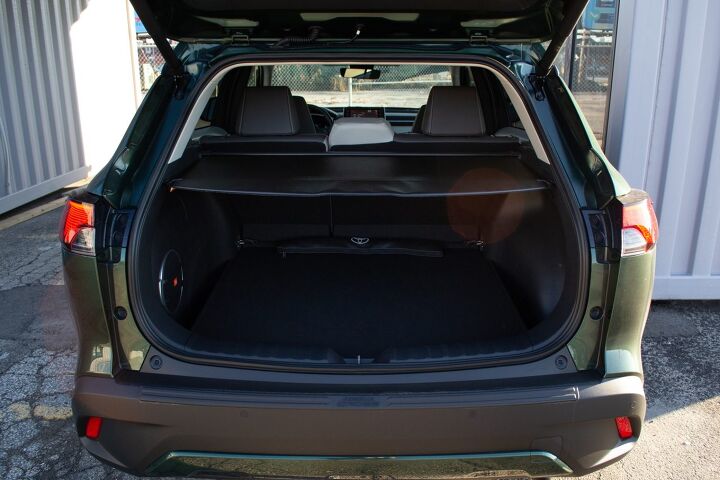 Toyota Corolla Cross: The Toyota Corolla Cross offers ample cargo space for the segment, with up to 26.5 cubic feet of space behind the rear seats – more than many of its direct competitors. With the rear seats folded, cargo space increases to 66.8 cubic feet, and fitting pieces of furniture or big home improvement materials comes more naturally than in, say, the Honda HR-V.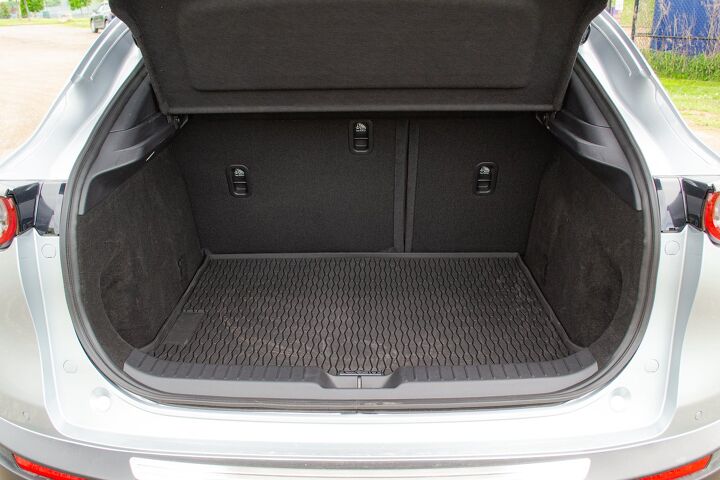 Mazda CX-30: Folks looking for the most practical, capacious small crossover might want to look past the CX-30. Behind the second-row seats, there is just 20.2 cubic feet of cargo space, making the Mazda one of the more space-limited entries in the segment. Folding the rear seats expands this number to 45.2 cubic feet, which is similarly lackluster.
SEE ALSO:
Mazda CX-30 vs Mercedes-Benz GLA Comparison: Lofty Aspirations
Bottom Line: The Toyota wins the storage wars, hands down, with an extra 6 cubic feet behind the second row and, amazingly, more than 20 extra cubic feet with the seats folded. That's a humongous gap. While it's not entirely a surprise given the Mazda's much smaller exterior dimensions, it's one you'll certainly notice any time you pack your vehicle floor-to-ceiling.
Pricing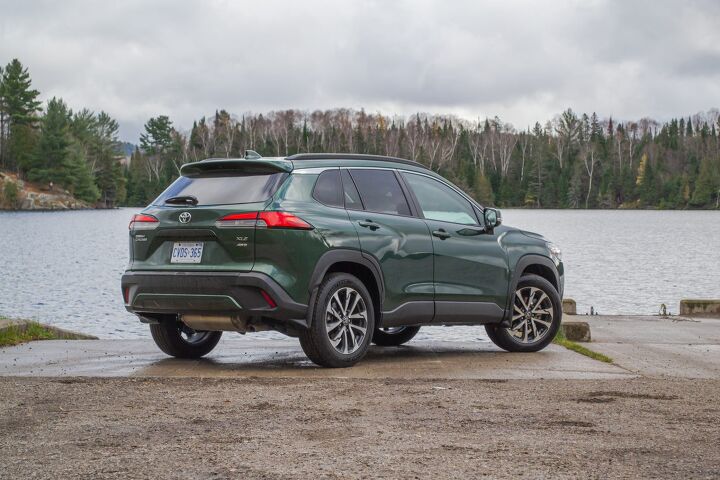 Toyota Corolla Cross: The Corolla Cross price is right for the segment, with a very attractive entry of $22,445 for the base L trim. For that, you get the standard Toyota Sense 2.0 active driver assist suite and a 7.0-inch touchscreen infotainment system. Tacking on all-wheel drive costs an additional $1,300. At the top end of the trim hierarchy, the Corolla Cross XLE starts at a very reasonable $26,575, and the price tag will have barely crossed $30k by the time you've added AWD and such frills as a power liftgate, nine-speaker JBL audio, adaptive headlights, and a moonroof.
Mazda CX-30: Mazda today has positioned itself as a premium car brand at a not-so-premium price, and the CX-30 upholds that philosophy. The base CX-30 2.5 S is remarkably affordable at $22,500 to start – and remember, that's with standard all-wheel drive. There are another four naturally aspirated CX-30s beyond that, capped off by the $30,800 Premium model – an outstandingly well-equipped variant distinguished by things like 12-speaker Bose audio and leather upholstery. If you must have the turbocharged engine, there are three additional trims to choose from, the $30,500 CX-30 2.5 Turbo, to the $34,700 2.5 Turbo Premium Plus. By that point, the CX-30 is so full of features, that there are very few boxes left to check – just a few tack-on accessories that barely do anything to change the price.
Bottom Line: While the Toyota Corolla Cross starts at a slightly lower price, but the Mazda CX-30 comes standard with all-wheel drive for only $65 more. Trim for trim, the pricing is very similar, with only the turbocharged CX-30s eclipsing the price point of the Corolla Cross. It's a wash here.
Toyota Corolla Cross vs Mazda CX-30: In Conclusion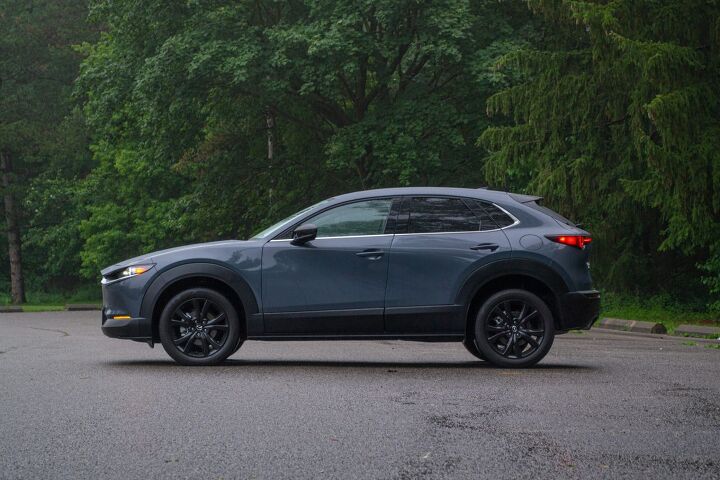 In the battle of the Toyota Corolla Cross vs Mazda CX-30, it comes down to personal priorities. If you're concerned about the cost of gas, or your primary focus is on getting the biggest possible cargo volume in a small, maneuverable crossover package, the Toyota Corolla Cross is for you.
But if, on the other hand, you sometimes like to depress the pedal to the floor, or you're a sucker for an elegant, upscale-looking automobile at a very reasonable price, and you can make the Mazda's limited cargo space work for your lifestyle, the Mazda CX-30 is tough to beat.
Become an AutoGuide insider. Get the latest from the automotive world first by subscribing to our newsletter here.
Published October 27th, 2022 1:46 PM
Popular Articles
Latest Comparisons
Car Buying Tools