376 Views
Best Extended Warranty for Cars Over 100k Miles (April 2023 Guide)
August 25th, 2023 1:37 PM
Share
---
To learn more about our editorial integrity policy and how we make money through affiliate partnerships, read our full disclosure here.
---
Cars become vulnerable to expensive breakdowns as they age, so it's smart for many drivers to consider an extended warranty for cars over 100k miles. Most factory warranties expire well before this point, so you'll be responsible for repair costs unless you have extended auto coverage.
In this article, we'll review everything you need to know about extended warranties for cars over 100k miles, including the best extended car warranty companies for older vehicle coverage. When assessing warranty providers, we consider factors such as industry reputation, coverage options, customer service, and average costs.
Table of contents
Are Extended Warranties Worth It for High-Mileage Cars?
The value of an extended warranty for high-mileage vehicles is determined largely by your chosen policy and your own car. To decide whether extra coverage makes sense for you, we've listed the pros and cons of extended warranties for cars that have crossed the 100,000-mile mark.
Pros and Cons of Extended Car Warranties
An extended warranty is worth it for high-mileage cars if drivers are looking to reduce the hassles of unexpected mechanical breakdowns. It's also a smart choice for those who'd rather know that their vehicle repairs are paid for before they even occur.
Motorists may opt to avoid an extended warranty for cars over 100k miles if they're about ready to sell it or if they'd rather pay for car repairs when they occur. This method may be more stressful for most drivers, but some may be better off without purchasing a vehicle service contract.
| | |
| --- | --- |
| Extended Car Warranty Pros | Extended Car Warranty Cons |
| Peace of mind that you won't need to pay a sudden, large repair fee | Vehicle service contract could exceed your repair costs |
| Perks like roadside assistance, rental car reimbursement, towing, and trip interruption coverage | Some issues may not be covered under your warranty |
| Helps to sell older cars as a perk for potential buyers | The wrong provider could lead to claims issues |
The main reason why an extended auto warranty makes sense is because older vehicles regularly run into mechanical issues. By purchasing extended coverage, you won't need to stress about expensive repair costs popping up unexpectedly while you're out on the road.
Do Extended Auto Warranties Cover Repairs?
Yes, an extended warranty for cars over 100k miles will likely cover most of your repair costs. While there are exclusions for regular maintenance needs and wear and tear parts, the vast majority of car components receive protection.
We ran a 2021 survey on extended warranty owners to see whether their coverage took care of car troubles. The results reveal that drivers typically receive adequate protection from their vehicle service contract provider.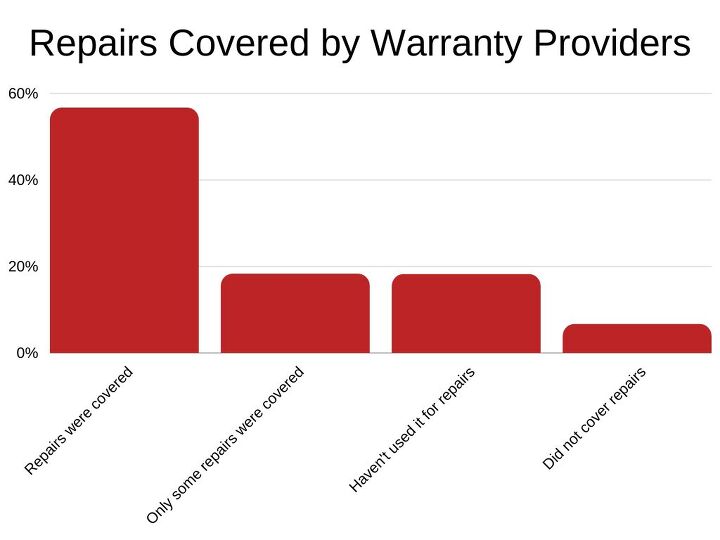 Getting extended warranty providers to cover damages is rarely an issue, and it's even less of one if you carefully read a sample contract before signing up for coverage.
Extended Warranty for Cars Over 100k Miles: Rankings
Not every vehicle service contract provider offers an extended warranty for cars over 100k miles. The companies that do offer varying mileage limits, a wide spread of coverage plans, and different ratings for customer service and warranty costs. It's important to compare your extended coverage options before picking a specific high-mileage warranty.
Comparison of Extended Car Warranty Providers
The chart below compares five of the best third-party warranty providers that offer everything from bumper-to-bumper coverage down to a basic powertrain warranty.
Warranty Provider

Highest Mileage

Limit

Warranty Plans

Coverage Score

200,000+ miles

6

4.9

250,000 miles

5

4.6

300,000 miles

6

4.6

125,000 miles

3

4.1

150,000 miles

4

4.1
While each of these providers offers comprehensive coverage for older vehicles, they're not exactly the same. Below, we'll explain what makes each provider stand out for different types of drivers.
In addition, we'll consider each company's customer reviews and added benefits to help you determine which option might work for you. If you're unsure over whether you need an extended warranty for cars over 100k miles, keep reading for potential repair costs and the exact details of long-lasting auto coverage.
#1 Endurance: Best Coverage
Customer Rating: 4.0 stars out of 5.0 on Trustpilot
Availability: Every state but California
Customers think highly of Endurance and we believe the company's popularity is justified. The extended warranty provider holds a 4.0-star rating out of 5.0 on Trustpilot from over 5,100 reviews. Endurance is transparent about its policies and provides sample contracts on its website so customers fully understand their coverage.
In our Endurance warranty review, we found that the company's Select Premier plan is excellent as an extended warranty for cars over 100k miles. The EnduranceAdvantage™ plan even combines mechanical breakdown and routine maintenance coverage.
Endurance is also known for its great customer service. When we reached out for a free quote, our questions were quickly answered by knowledgeable and courteous representatives. Endurance agents showed a lack of pushiness that's rare in the extended car warranty business.
#2 CARCHEX: Best for Used Cars
Customer Rating: 2.9 stars out of 5.0 on Trustpilot
Availability: All 50 states
CARCHEX holds one of the strongest customer service reputations in the industry. CARCHEX reviews consistently give the provider high marks in claims servicing, value, and coverage. The company also boasts an A+ rating from the Better Business Bureau (BBB) and partners with industry leaders such as Kelley Blue Book and CARFAX.
We found that CARCHEX has some of the lowest-priced contracts among used car warranty providers. The company also offers generous mileage limits of up to 10 years/250,000 miles. An extended warranty from CARCHEX also allows you to service your vehicle at one of more than 30,000 licensed repair facilities. It's a great option for an extended warranty for cars over 100k miles.
#3 CarShield: Best Monthly Payment Plans
Customer Rating: 4.0 stars out of 5.0 on Trustpilot
Availability: Every state but California
CarShield says its administrators have paid more than $1 billion in claims since the company's founding in 2005. In our CarShield review, we designated the company as the Best Value extended warranty provider because of its low average prices.
CarShield contracts can cover vehicles up to an impressive 300,000 miles, and the company offers plan options stretching from basic powertrain coverage to exclusionary and bumper-to-bumper protection. The Aluminum plan even offers coverage tailored to high-tech components that regularly stop working. CarShield has a 4.0-star rating on Trustpilot from over 32,000 reviews.
#4 Protect My Car: Best Financing
Customer Rating: 4.4 stars out of 5.0 on Trustpilot
Availability: Every state except Alaska, California, Hawaii, Missouri, Oklahoma, and Washington
Protect My Car only offers three plan options, but the coverage available with each is comprehensive. The affordable Driveline plan from Protect My Car includes full powertrain coverage as well as additional coverage for vital electrical components and the air conditioning system.
In our Protect My Car review, we rated the company 4.4 out of 5.0 stars based on its strong industry reputation, great coverage options, and reasonable long-term financing deals. Worth remembering is that Protect My Car plans only cover up to 125,000 miles, so look elsewhere for the most expansive extended warranty for cars over 100k miles.

#5 autopom!: Best Claims Process
Customer Rating: 4.7 stars out of 5.0 on Trustpilot
Availability: All states, but only mechanical breakdown insurance in California
autopom! has one of the best customer service reputations among providers of an extended warranty for cars over 100k miles. In our autopom! review, we named the company as the coverage provider with the Best Claims Process.
autopom! earns an A+ rating from the BBB and gets 4.8 stars out of 5.0 on Trustpilot. There are currently no customer complaints against autopom! on the BBB website, a rare achievement for even the best extended warranty providers.
autopom! offers four levels of coverage, including a powertrain plan suitable for vehicles with over 100k miles. While the company does not cover many luxury and high-performance vehicles, the vehicles it does protect receive coverage for up to 150,000 miles.

Extended Warranties With High Mileage Limits
An extended warranty for cars over 100k miles isn't the easiest plan to find, as companies won't cover your vehicle for infinite miles. Before picking a provider, make sure that it's willing to protect your car as long as you'd like. Below are the mileage limits from some of the industry's best extended warranty companies.
| | |
| --- | --- |
| Extended Warranty Providers | Mileage Limits |
| CarShield | 300,000 miles |
| CARCHEX | 250,000 miles |
| Endurance | 200,000 miles |
| Olive | 185,000 miles |
| Toco | 175,000 miles |
| autopom! | 150,000 miles |
| Protect My Car | 125,000 miles |
Be sure that your chosen provider offers a robust extended warranty for cars over 100k miles. Otherwise, you may end up with insufficient coverage even if you're hoping to keep your vehicle for years to come.
Why Do Mileage Limits Matter?
It's critical for drivers to consider the mileage limit of their extended auto warranty provider. Those looking for an extended warranty for cars over 100k miles in particular ought to strongly consider how long their protection can last.
If your vehicle has 110k miles on the odometer, there's almost no point in getting an extended protection plan that gives out after 115k. On the other hand, the majority of motorists won't necessarily need warranty coverage that lasts for up to 300k miles.
All high-mileage vehicles start to have issues as they age, so be aware of the repair costs that come with older cars. A few relatively common issues are listed below along with their repair price via RepairPal:
It's expensive to take care of an older vehicle, which is why so many drivers turn to an extended warranty for cars over 100k miles.
How Often Do Cars Break Down?
Drivers often underestimate just how often vehicles face mechanical breakdowns on the road. Even the most reliable car models start to face issues as they reach the 100k-mile mark, and these repairs aren't always cheap.
Below, we'll look at the frequency of mechanical breakdowns among cars of all ages:
Remember that an extended warranty for cars over 100k miles will probably be used more than for the average vehicle. After all, older cars typically cause more problems than more recent models do.
How to Maintain an Older Car
If you've got an older vehicle, it's important to perform regular maintenance on your vehicle. Some drivers believe it's easy enough to keep their cars in optimal conditions without an extended warranty, but others believe it adds peace of mind to know that their car is safe from potential repairs.
The chart below summarizes some average annual repair costs according to RepairPal. Your car will likely face issues at some point, whether due to your braking system, fuel system, or something entirely different.
| | | |
| --- | --- | --- |
| Vehicle | Average Annual Repair Cost | RepairPal Reliability Rating |
| Toyota Corolla | $362 | 4.5 |
| Honda Accord | $400 | 4.5 |
| Kia Soul | $437 | 4.5 |
| Ford Mustang | $709 | 3.5 |
| Ford F-150 | $788 | 3.5 |
| Audi A4 Quattro | $925 | 3.0 |
| BMW X3 | $1,034 | 2.5 |
| Jaguar XF | $1,066 | 3.0 |
| Cadillac Escalade ESV | $1,127 | 2.0 |
Powertrain parts such as the engine, transmission, and axles can be extremely expensive to repair or replace if they start to fail. Make sure to consider an extended warranty for cars over 100k miles that offers substantial powertrain coverage.
Maintenance Not Covered Under Warranty
While an extended auto warranty can help offset expensive repair bills, it won't cover every visit to the repair shop. Here is a list of common exclusions from vehicle protection plans:
Car repairs typically covered by car insurance and necessitated by a collision, theft, or act of nature
Regular automotive maintenance such as oil changes, wiper blade and brake pad replacements, and tire rotations
Repairs performed improperly or without authorization from the auto warranty company
Auto repairs needed because of owner abuse or vehicle neglect
It's important for drivers to review the fine print of their contract to know when their extended warranty plan covers costly repairs and when the bill is their responsibility. You'll receive exceptional coverage from one of the best extended warranties for cars over 100k miles, but it won't take care of everything.
Car Models That Last the Longest
The most dependable vehicles may not need an extended warranty for cars over 100k miles, but keep in mind that even the most reliable cars break down eventually. An extended warranty could help you out when that day finally arrives.
Below are the longest-lasting car models, according to a 2019 study by auto research group iSeeCars:
Toyota Sequoia: 7.4 percent on the road at 200k miles
Chevrolet Suburban: 5.0 percent
Ford Expedition: 5.0 percent
GMC Yukon XL: 4.0 percent
Toyota 4Runner: 3.9 percent
Chevrolet Tahoe: 3.8 percent
Toyota Highlander Hybrid: 3.1 percent
Honda Ridgeline: 3.0 percent
GMC Yukon: 2.8 percent
Toyota Tacoma: 2.6 percent
If you're buying a used car, do some research on the average annual repair costs and commonly needed repairs for your vehicle model. From your car's electrical system to its drivetrain and drive axle, repairs are pretty common for cars with over 100k miles.
Our Warranty Review Standards
Our review team prides itself on sharing accurate and unbiased information with consumers. We have accumulated data from dozens of extended auto warranty companies to formulate our rankings of the industry's best providers. Companies receive a score out of 5.0 overall, as well as a rating in each of the following categories:
Price: Comparing providers can be difficult due to the many factors that influence cost. To determine this score, we employ a secret shopper analysis using different vehicles, mileages, warranty plans, and locations.
Coverage: A wide variety of coverage is essential to support the differing needs of customers. We take into account the number of extended car warranty plans available, term limits, exclusions, and additional benefits.
Customer Service: The level of customer service and care provided by an extended warranty company is an important consideration. Our review team sifts through customer reviews and complaints from reputable sources such as the Better Business Bureau (BBB) and Trustpilot. We also consider the responsiveness of each company's customer service team based on our secret shopper analysis.
Reputation: Good extended warranty providers consistently provide quality experiences. Our team takes into account BBB ratings and the company's history of reliable service when giving this score.
Transparency: Customers value a commitment to open and honest communication when it comes to vehicle service contracts. Our team of experts takes into account the availability of money-back guarantees and sample contracts.
---
Q & A
Can you get an extended warranty on a car with over 100k miles?
Yes, you can get an extended warranty on cars with over 100k miles from various third-party providers. Consider CarShield, CARCHEX, and Endurance to protect your high-mileage vehicle.
Should I get an extended warranty on an older car?
Maintaining an older car can be expensive, so buying an extended warranty can give you extra peace of mind. Just remember that extended warranties don't cover essential routine maintenance.
What cars have 100k-mile warranties?
Hyundai and its Genesis luxury brand, as well as Kia and Mitsubishi, offer mechanical coverage up to the 100,000-mile mark as part of their factory warranties. The protection is included with the powertrain coverage plan.
What is a good price for an extended car warranty?
A good price for an extended car warranty depends on your car and coverage limits, as well as the deductible you choose. Most contract pricing ranges from $500 to $1,000 a year. Paying more than $1,600 a year for an extended car warranty is pricey, but it may be worth it for a comprehensive policy.
What does a 100k-mile warranty cover?
Every auto warranty is different. Many providers offer extended warranties for cars over 100k miles, but not all provide the exact same coverage. In most cases, you can purchase a powertrain warranty, which covers the engine and related components, or a bumper-to-bumper warranty, which is more comprehensive. Car warranties can cover anything from your water pump and air conditioning to seals and gaskets.
How many miles does an extended warranty cover?
Not every extended warranty covers the same number of miles. Most manufacturer warranties cover powertrain components for 60,000 miles and other manufacturer-installed parts for 36,000 miles when you buy a new car. Extended manufacturer warranties from a dealership typically cover 75,000 to 100,000 miles. Independent providers sell extended warranties specifically for high-mileage cars that go as high as 250,000 miles.
Is 100k miles a lot for a car?
100k miles is a lot of miles on a car. Many vehicles start to run into unexpected issues around 100k miles, which is why many people either buy a new car or pick up an extended auto warranty.
What happens when a car reaches maximum mileage?
Cars that are carefully taken care of may still perform well as the miles add up. High-mileage vehicles are more likely to break down no matter their reliability, which is why an extended warranty may be a good idea.
What is a lot of miles on a car?
Some vehicles start to run into issues regularly once they're over 100k miles. Most powertrain warranties run out after 60,000 miles, so at that number you'll likely be on your own for car repair costs.
Published January 1st, 2023 11:30 AM
Popular Articles
Latest Comparisons
Car Buying Tools