119 Views
Our Absolute Favorite Tools From SEMA 2022
November 15th, 2022 6:26 PM
Share
Every home mechanic knows there's no such thing as too many tools.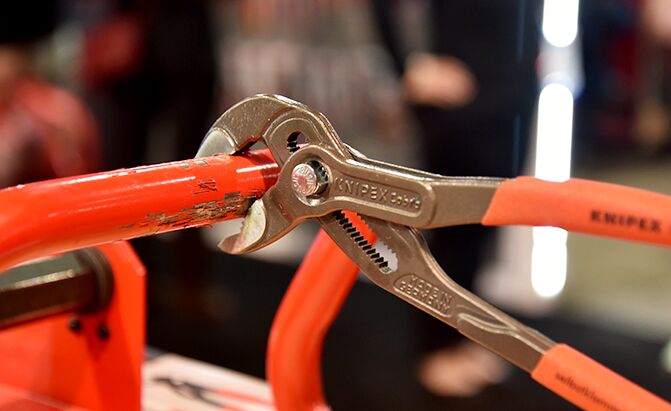 Over the last four days, our team has been on the ground at SEMA 2022 in Las Vegas*, North America's largest automotive aftermarket show. In addition to seeing all the incredible builds, we walked over 50 miles to visit every single one of the over 1,800 exhibitors, displaying every conceivable automotive part and accessory. It's the only place you can see a six-figure laser body repair jig, trailer hitch, custom long-arm suspension, and the latest miracle scratch filler side-by-more-or-less-side.
Since we all work on our own cars here too, we gravitated hard towards the big displays from Milwaukee, GearWrench, Harbor Freight, and many others. And while the big names had some very cool new product introductions at SEMA 2022, what we most loved was meeting the people with small mom-and-pop operations, building their dreams and tools.
We know from experience a lot of these are just that, dreams, that won't make it into production. Often that's just because it's hard to come up with a business plan that makes sense for a niche product; but there are a million other reasons, including not being able to tell anyone about what you're building.
So we've looked through our notes and over 3,000 photos, and picked a few of the tools and equipment from SEMA 2022 that really made an impression with us. A few of them are larger companies, but most are (very) small North American businesses that just need to catch a break, If you see something you like, tell someone about it, or maybe pick one up. It may be exactly what someone is looking for, or solve a problem you didn't think could be solved.
*One of our editors also spent a full day at AAPEX, but it's more geared towards manufacturers and you won't find many tools for the home user there.
Table of contents
1: Editor's Pick: Milwaukee M12 Fuel Extended Reach Ratchet
Milwaukee Tools—and owner Techtronic Industries—is about as far from a scrappy startup as you can get, so you can be confident that a new tool from Team Red is going to be good. We spent a long time using and going over the new 2569-20 M12 Fuel Extended Reach High Speed Ratchet, and it's competitors, and and we came away thinking it's about to get into a whole lot of toolboxes.
The tool is 13.5 inches long, which is going to enable you to get over or around many obstacles. What impressed us most, though, was the air tool-like combination of 450 RPM high speed, and just under 35-lbs.ft. of torque (plus an air-tool style paddle switch). We gave the 3/8-inch a good workout and it absolutely rips, plus the length makes managing the torque easy. Of course it'll be too long for some jobs, but if you have a M12 battery already, you're going to end up reaching for this a lot. Acme Tools will probably have it first, just in time for Christmas, and it will be available in both 3/8- and 1/4-inch drive.
| | |
| --- | --- |
| Pros | Surprising speed and torque, good battery life |
| Cons | Will be too big for many spaces, so you'll need regular length, too |
| Bottom Line | If you already own Milwaukee, you're going to want one |
2. Most Innovative: Lock Jaw Ratcheting Line Wrench
We said there are a lot of dreams at SEMA, and this is one of them, because you can't buy Strategic Tools' Lockjaw line wrench yet. In fact, the version we tried at SEMA is different from the prototype on their site, but the idea is exactly the same. You push one spring-loaded end over a flare nut (or use a little thumb toggle to open it manually), and the six-point extractor-style jaws close automatically. Because it's a six-point, you do need to rotate it 60° to turn it, but that also helps lock it in hard and keep it from destroying the flare nut. One end fits 10mm or 3/8-inch, the other 11mm or 7/16-inch and to change directions, you just turn the tool over.
There are other versions of ratcheting brake line wrenches out there, and we've used a few. In our brief exposure to the Lockjaw, it seems like the best design we've seen, and the least likely to crush or strip fittings. It sounds like the version you see here will make it to production, and we picked one up to try when it does go on sale.
| | |
| --- | --- |
| Pros | Self-tightening, very simple construction, good jaw design |
| Cons | Six-point box means wide turns, direction isn't intuitive, no guarantee it makes it into mass production |
| Bottom Line | It's going to give traditional flare nut wrenches a run for the money |
3: GripLock Ties Reusable Zip Tie
We always kind of accepted that zip ties are terrible. They're hard to use, they slip, and they cut into stuff. GripLock Ties solves almost all of those by adding a rubber strip to the bottom that both protects things like wires and soft hoses; and keeps the tie from slipping. There's a little lever that sticks out on the ratchet mechanism, so you can open it back up and take it off. If you need it to stay in place permanently, just clip it all off flush like a regular zip tie. The company developed them for use in aircraft, where they've been used successfully for several years. If they can stand up to those harsh, high-vibration environments, they'll definitely work for anything on the ground.
| | |
| --- | --- |
| Pros | Repositionable, non-slip, and can eliminate the need for wraps underneath |
| Cons | Expensive for zip ties |
| Bottom Line | Why didn't someone think of this sooner? |
4: Zero Degree Gearless Ratchet
Like the Lockjaw line wrench, there are many variations on a gearless ratchet, and this was our first time hands on with the Zero Degree brand. Their representative didn't want to tell us too much about the construction, other than it uses four caged roller bearings and a clutch. There is almost no back drag, and it can turn a fastener with right around 1.0° of sweep. It feels weird coming from a regular ratchet...actually, it's a lot like what a broken ratchet feels like, with no resistance, but it turns the nut. If you look closely, you can see extra large lugs for reversing the mechanism, because it's very stiff and you'll need some leverage.
Zero Degree ratchets are priced very reasonably, at about US$25 for the 1/4-inch, $30 for the 3/8-, and $35 for the 1/2-inch, and as sets. The company showed us prototypes of a 12-point box end wrench with this technology.
| | |
| --- | --- |
| Pros | Lifetime warranty, priced well, could be a real problem-solver |
| Cons | Not user serviceable, we don't know what the slip strength is |
| Bottom Line | Worth trying a set to see how they hold up |
5: Tite-Reach Extension Wrench
Tite-Reach wrenches aren't particularly new; in fact, they introduced their first model more than a decade ago, and this half-inch impact-rated version about five years later. The big half-inch version here is 14 inches long, and uses a chrome-vanadium steel chain and sprockets good for a claimed 225-lbs.ft. of torque, inside a die-cast aluminum housing. The company also sells an ultra-low profile socket set (top right, with the 3/8 version) that inserts directly into the tool for the tightest clearances. Other adaptors are available as well.
Tite-Reach makes three sizes of wrench and a full line of sockets and adaptors. We were impressed with the build quality and lifetime warranty of all of them. Most of wouldn't use one of these every day, but there are times when it will be the only tool to do the job.
| | |
| --- | --- |
| Pros | 1/2-inch version uses roller bearings, lifetime warranty |
| Cons | Limited applications, all wrench extenders are tricky to use |
| Bottom Line | One of those specialty tools that will completely save your bacon about twice a year |
6: Channellock SpeedGrip Pliers
By adding a pushbutton, new jaw crosshatching, and a molded grip (no more plastic dip!), Channellock has updated the classic slip-jaw pliers and moves uptown into territory previously held by Knipex. We used the SpeedGrips on a variety of pipes and fasteners, and found them to be precisely machined, aggressive, and easy to use, allowing us to put a lot of pressure on the workpiece. We really liked not pinching our fingers in the handle, which stays open about a half-inch. We're undecided on the molding, which offer a welcome larger grip, but felt hard and cheap. We'll have to see how durable they are in the long run with chemical exposure and drops in cold weather.
The jaw crosshatching is sharper and at about a 35° angle, vs. 90°, which seemed to grip very hard, although the ends aren't finished—the crosshatching just kind of ends. If you're going to pick one up and you haven't seen it in person, we'd recommend the eight or 10-inch version; the 12-inch is very large.
| | |
| --- | --- |
| Pros | Made in USA, lifetime warranty, keeps the good and fixes the bad of slip-jaw pliers |
| Cons | Jaw opening isn't as wide as Knipex in a larger tool |
| Bottom Line | Channellock moves into Knipex territory, and price |
Published November 7th, 2022 5:03 PM
Popular Articles
Latest Comparisons
Car Buying Tools