189 Views
Ford Maintenance Cost Analysis
August 25th, 2023 4:41 PM
Share
We're committed to finding, researching, and recommending the best products. We earn commissions from purchases you make using links in our articles. Learn more here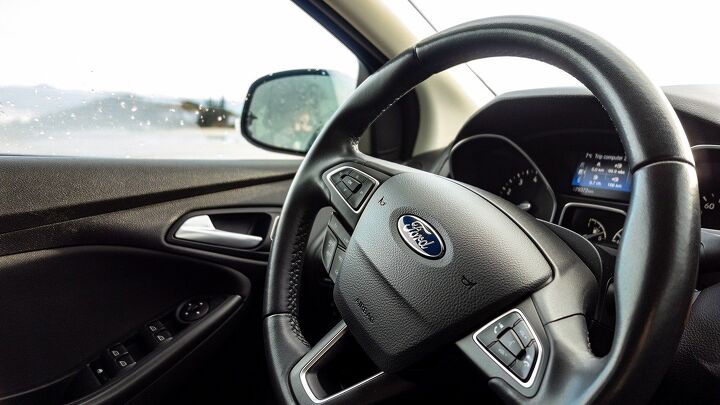 To learn more about our editorial integrity policy and how we make money through affiliate partnerships, read our full disclosure here.
---
The true cost of car ownership goes far beyond your vehicle's sticker price. But how much will your Ford maintenance cost put you out year-over-year?
In this review, learn more about the cost of vehicle maintenance, Ford's reliability, and how you may be able to make Ford maintenance costs more affordable with a vehicle service contract from one of the industry's best extended car warranty. companies.
Start seeing how much you could save by getting free quotes from the highest-rated extended warranty providers above.
Table of contents
How Much Does Ford Maintenance Cost?
Ford owners report spending around $775 annually to cover Ford maintenance costs and repairs, according to RepairPal. This cost is higher than the average across all car brands, which is $652 per year, but it may vary depending on your Ford's model, age, mileage, and where you take your car for maintenance and repairs.
RepairPal gives Ford vehicles a 3.5 out of 5.0 for reliability based on the brand's severity of repairs, average annual Ford maintenance cost, and frequency of trips to the repair shop. This seems like an above-average score, but RepairPal only ranked Ford 21st out of 32 car brands tested in its 2019 Reliability Rating.
Ford Protect Premium Maintenance Plan
Ford offers a pre-paid maintenance program called the Ford Protect Premium Maintenance Plan, which can cover the cost of scheduled services for up to eight years.
The Ford Protect Premium Maintenance Plan covers routine multi-point inspections, as well as preventative maintenance services and wear-and-tear items such as:
Engine and oil filter changes
Tire rotations
Brake pads and linings
Shock absorbers and struts
Spark plugs
Clutch discs
Engine belts
Engine coolant hoses, clamps, and o-ring seals
Wiper blades
Diesel exhaust fluid fills
Ford does not share cost information about this plan on its website, so be sure to ask your local dealership for a quote. Depending on the price of the service, this plan could be a great way to save on Ford maintenance costs.
Ford Maintenance Cost: Scheduled Service
Ford scheduled service and recommended maintenance schedules will vary depending on the model of Ford that you own. Generally, Ford recommends regular oil changes, filter replacements, and tire rotations every 7,500 to 10,000 miles. The table below shows the general Ford maintenance schedule suggested by the automaker.
| Mileage | Maintenance Service | Ford Maintenance Cost* |
| --- | --- | --- |
| 100,000 miles | Replace spark plugs | $368 to $501 |
| 120,000 miles | Replace engine air filter | $238 to $352 |
| 140,000 miles | Inspect accessory drive belts | $193 to $289 |
| 150,000 miles | Replace accessory drive belts, orange coolant, engine air filter, and manual transmission fluids | $1,264 to 1,580 |
*Data from RepairPal.
A Ford maintenance plan may be the best way to make your Ford maintenance costs more affordable.
Extended Car Warranties and Ford Maintenance Cost
Scheduled service is just one aspect of the Ford maintenance cost. You'll also want to budget for unexpected mechanical breakdowns, and one way to do this is by purchasing an extended car warranty.
Extended warranties will not cover scheduled Ford maintenance. However, they can help you afford repairs to keep your vehicle in top working condition. An extended warranty can be purchased in addition to a Ford maintenance plan for peace of mind.
It's important to note that following the recommended scheduled service as stated in your owner's manual is a common requirement to keep warranty coverage valid.
You can buy a Ford extended warranty from the dealership or from a third-party provider. Aftermarket car warranties are often less expensive and offer more flexible coverage and benefits, but manufacturer vehicle service contracts may be better tailored to your vehicle's unique needs.
Third-Party Extended Warranty Recommendations
If you're interested in purchasing an extended warranty to help make your annual Ford maintenance costs more affordable, we recommend looking into Endurance, CARCHEX and Protect My Car. Our review team has evaluated every major auto warranty provider on the market, and these three stand out in terms of price, customer service, and quality of coverage.
Endurance: Best Coverage
Endurance is known for its comprehensive coverage plans, additional membership benefits, strong customer service and easy claims process. It is the only company on our list of best extended warranty companies to be named to the 2019 Inc. 5000, a list of the fastest-growing companies in the United States.
The company offers six distinct levels of coverage:
Supreme: Bumper-to-bumper exclusionary coverage
Superior: Comprehensive stated-component coverage
Secure Plus: Enhanced powertrain coverage
Secure: Affordable powertrain coverage
Select Premier: Coverage designed for high-mileage cars
EnduranceAdvantage™: Covers mechanical breakdowns as well as maintenance
To learn more about this company, read our full-guide to Endurance reviews or use our tool to get a free quote below.
Our rating: 4.6 out of 5.0
Endurance is our pick for best coverage with its comprehensive warranty options.
CARCHEX: Best For Used Cars
CARCHEX has a strong reputation among experts in the extended warranty industry. The provider partners with companies like CARFAX, Edmunds.com, and Kelley Blue Book and has hundreds of favorable customer reviews online.
CARCHEX offers five levels of vehicle protection:
Titanium: Exclusionary coverage that's best for drivers who plan to own their car for a long period of time. Similar to a bumper-to-bumper warranty.
Platinum: High-level stated-component coverage that's best for drivers who want standard comprehensive coverage
Gold: Mid-tier stated-component coverage that's best for vehicles with over 60,000 miles
Silver: Enhanced powertrain coverage that's best for older vehicles that are more liable to need expensive repairs
Bronze: Basic powertrain coverage that's best for drivers who only need their most important vehicle systems covered
Benefits that come with every CARCHEX extended warranty plan include:
24/7 roadside assistance
Towing reimbursement
Rental car reimbursement
Trip interruption coverage
Learn more about coverage in our complete CARCHEX review. To see how much a CARCHEX warranty would cost for your Ford, get a free quote below.
Our rating: 4.4 out of 5.0
Our research found this provider to be the best for used cars.
Protect My Car: Best Financing
Protect My Car offers the most budget-friendly warranty coverage of any top provider, and Protect My Car reviews are largely positive, indicating that customers are satisfied with the coverage. The company offers three automotive warranty plans:
Supreme: Similar to manufacturer's warranty
Select: Designed for vehicles with over 50,000 miles
Driveline: Designed for vehicles 4-10 years old with over 80,000 miles
Benefits that come with all Protect My Car extended warranties include:
30-day money back guarantee
Courtesy towing
24/7 roadside assistance
If you're interested in seeing how much a Protect My Carplan could help you save on Ford maintenance costs, get a personalized quote for your vehicle.

Our rating: 4.3 out of 5.0
Protect My Car is our pick for best long-term financing.
Methodology
Our review team prides itself on sharing accurate and unbiased information with consumers. We have accumulated data from dozens of extended auto warranty companies to formulate our rankings of the industry's best providers. Companies receive a score out of 5.0 overall, as well as a rating in each of the following categories:
Price: Comparing providers can be difficult due to the many factors that influence cost. To determine this score, we employ a secret shopper analysis using different vehicles, mileages, warranty plans, and locations.
Coverage: A wide variety of coverage is essential to support the differing needs of customers. We take into account the number of extended car warranty plans available, term limits, exclusions, and additional benefits.
Customer Service: The level of customer service and care provided by an extended warranty company is an important consideration. Our review team sifts through customer reviews and complaints from reputable sources such as the Better Business Bureau (BBB) and Trustpilot. We also consider the responsiveness of each company's customer service team based on our secret shopper analysis.
Reputation: Good extended warranty providers consistently provide quality experiences. Our team takes into account BBB ratings and the company's history of reliable service when giving this score.
Transparency: Customers value a commitment to open and honest communication when it comes to vehicle service contracts. Our team of experts takes into account the availability of money-back guarantees and sample contracts.
---
Q & A
Does Ford offer free maintenance?
All 2019 Ford vehicles come with a new car warranty that covers the cost of your first scheduled service, including an oil change, tire rotation, and a multi-point inspection.
Are Fords expensive to fix?
According to RepairPal, Ford owners spend an average of $775 per year on Ford maintenance costs, which is expensive compared to the industry average of $652. This cost includes both scheduled maintenance and repairs.
How much should a 100,000-mile service cost?
According to RepairPal, a 100,000-mile service on a 2016 Ford Focus will cost between $368 and $501. If you purchase a Ford Protect Premium Maintenance Plan, it will cover your 100,000-mile Ford maintenance costs. Stephen Kenney
Stephen Kenney is a writer and editor who focuses on car insurance, auto financing, and vehicle shipping services. He's a graduate of UNC-Chapel Hill and has experience covering categories ranging from travel to sports to environmental sustainability. In his free time, Stephen enjoys going on long-distance runs, trying out new recipes, and exploring his adopted hometown of Cincinnati.
More by Stephen Kenney
Published November 25th, 2022 10:06 AM
Popular Articles
Latest Comparisons
Car Buying Tools