37 Views
Charging Ahead With the Hulkman Sigma 1 Battery Charger
December 16th, 2021 11:37 AM
Share
Keep your battery maintained and ready to work
There are few automotive-related problems more frustrating than a dead battery. Whether it's in your daily driver or the off-road vehicle reserved just for weekends, twisting its only to have nothing happen makes for a poor start to the day.
That's where products like the Hulkman Sigma 1 battery charger can help. Maintaining your vehicle's battery so it is always ready to perform goes a long way to warding off an ill-timed no-start issue. Plus, it is generally accepted that a healthy battery lasts longer than one which has not been properly cared for, making a Hulkman investment money well spent.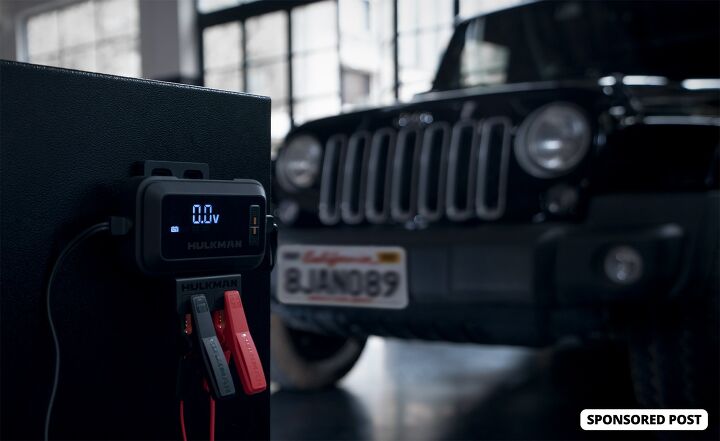 In particular, the Sigma 1 Battery Charger is described as an AI Adaptive Charger, which means it can read the state of charge in a battery and maintain it with an appropriate amount of electricity. In other words, you'll never have to worry about dangerously overcharging a vehicle battery with the Hulkman Sigma 1.
A generous 2.7-inch display screen is capable of showing up to 13 different icons and responds with a buzzer to indicate misoperation so you can't accidentally damage the battery. The screen also shows the current/voltage of the battery and allows the user to choose an ideal charging solution. The charger is even capable of identifying specific battery problems.
Speaking of the latter, Hulkman says the Sigma 1 can quickly detect bad batteries thanks to its ability to sense abnormal drops in voltage, while also keeping a record of batteries which cannot hold a charge.
Even if a vehicle 12V battery is severely damaged thanks to an abundance of use or being left dormant for a long period of time, there is a chance the Hulkman Sigma charger can help revive the thing. There is a Super Repair mode and a Force Charge mode which are designed to resuscitate even the oldest batteries.
A 360-degree bad battery diagnosis and repair feature is capable of automatically detecting battery sulfation and acid stratification. If possible, the Sigma charger will use its AI programming to recover the battery and bring it back to life. It does so thanks to Hulkman's pulse repair technology, a setting designed to remove that nasty sulfation and acid stratification which has percolated in your vehicle's battery and preparing to wreak havoc on its electrical system.
All this said, it is important to be safe while handling a lead-acid 12V battery, some of which can be quite heavy. With this in mind, Hulkman's chargers are guarded by no fewer than five smart system protections. These advanced defenses include watching over high temperature situations, short circuit events, over current problems, over voltage issues, and reverse polarity protection. These safeguards help stabilize charging performance while also prolonging battery life.
Ruggedly built for a lifetime of adventure, the Hulkman Sigma battery charger is backed by a 36-month hassle-free warranty and lifetime technical support is also part of the deal.
Sponsored by Hulkman
Published December 16th, 2021 11:37 AM
Popular Articles
Latest Comparisons
Car Buying Tools